Best Boutique Hotels in Palawan
For those looking for nature-immersed peace and quiet, Palawan is a dream destination. The archipelago in the western is a truly special, off-the-beaten-track region, where visitors will feel as if they've discovered their very own personal paradise. Small resorts are the norm here, but here are the best of the best.
See All Palawan Island Hotels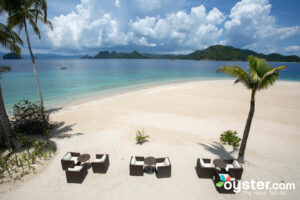 A member of Small Luxury Hotels of the World, El Nido Resorts Pangulasian Island is the very embodiment of a luxury tropical island getaway. Its 42 villas are spacious and elegant, with contemporary Balinese design, flat-screen TVs, minibars, high-end coffeemakers, and rainfall showers (straw hats and flip-flops are nice perks). The resort's beautiful wide beach is the most expansive in El Lido; it has cushioned loungers and a marine center offering equipment for kayaking and snorkeling (both free), as well as diving, boating, and island tours. The on-site restaurant highlights local ingredients, and the pool and spa are ideal spots for relaxing.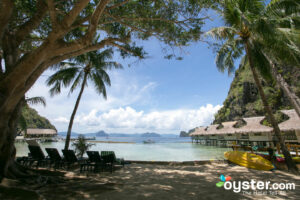 The 50-room El Nido Resort Miniloc Island is an upper-middle-range all-inclusive resort in a spectacular setting that's surrounded by natural beauty. It offers multiple activities including water sports and island tours, some of which are included with room rates. Rooms are a bit rustic and some are showing their age, but they are clean and some have unbeatable views of the surrounding karsts. Buffets are offered in the Clubhouse, and there's a bar by the beach for drinks and light fare. The simple spa, which sits over the water, is a fine opportunity for guests to relax as well. Rates are not cheap, but the all-inclusive deals and idyllic setting are worth it.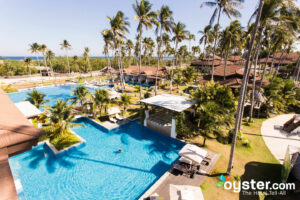 The luxury Princesa Garden Resort and Spa, located on the island of Palawan, is the snazziest hotel in the area. Its 78 guest rooms are sleek and handsome, all with balconies and many with perks such as whirlpool tubs or direct access to the enormous lagoon pool. Other attractive features include a lovely spa with massage treatments available, free use of bikes and non-motorized water sports, and five bars and restaurants with international and local cuisine (plus room service). However, while the resort generally gets good feedback, there have been complaints of poor Wi-Fi and no hot water due to the reliance on solar heating.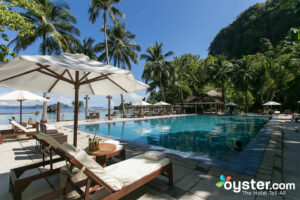 The second most upscale El Nido Resort in the region, Lagen Island has a gorgeous setting on a largely uninhabited island in northern Palawan. The only way to get to this intimate tropical retreat is by boat, which allows for breathtaking views of the thick tropical forests surrounding the property and limestone cliffs dropping into the crystal-clear waters. Most of the wood used throughout the property is reclaimed timber from old Filipino homes that has been polished and treated, and the use of nipa, bamboo, and rattan adds local charm. This elegant indigenous decor style is found in the 50 spacious, elegant rooms and common spaces, most of which have an indoor-outdoor design that makes the most of the stunning surroundings.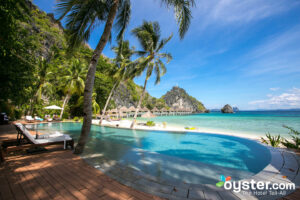 One of four El Nido Resorts in the region, this intimate property is located on a stunning remote tropical island. The 50 rooms are housed in small stand-alone thatched cottages built directly on the water. Interiors are simple but charming, with local materials such as wood, stone, and plants. These rooms are light on amenities; expect mini-fridges stocked with water and beer, ceiling fans, air-conditioning units, and free Wi-Fi, but know that there are no TVs here. The property offers a wide array of on-site activities, including water sports, a PADI diving center, and a beautiful infinity pool with beach and sea views. In line with the hotel's many eco-friendly practices, the buffet restaurant serves a menu made with sustainable ingredients, and meals are included in the rate. Getting to the hotel can be quite an ordeal -- it requires a combination of air, land and sea transfers -- but the gorgeous setting and peaceful atmosphere are well worth it.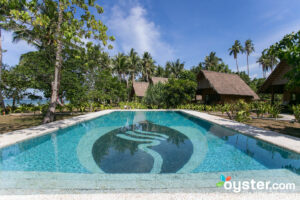 The Qi (pronounced "chi") is the only development in the area, and as such offers a level of privacy and tranquility hard to find in properties closer to El Nido town. Its seven rooms are housed in stand-alone cottages tucked away amid thick tropical forests and built around a charming pool with ocean views. Units are spacious and full of local charm, with bamboo walls, cogon roofs, rustic wooden furniture, and outdoor showers. Some may find the property a little too remote, but the free morning yoga classes, small spa, long sandy beach (beware of the sandflies, though), and free non-motorized water sports make it a great pick for travelers seeking peace and relaxation. The Qi is also one of the few wheelchair-friendly resorts in Palawan.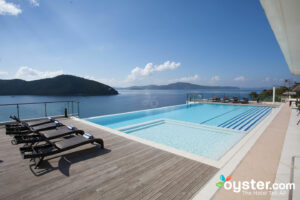 A waterfront boutique resort popular with vacationing couples, Busuanga Bay Lodge is located on the southern part of Busuanga/Coron Island. The 41 rooms and villas have streamlined (perhaps a tad underwhelming) decor, as well as minibars, individually controlled air-conditioning, iPod Docks, and 42-inch flat-screen TVs. Busuanga Bay Lodge offers a wide selection of amenities for a smaller hotel. The calm beach is tiny and has just a handful of lounger, but there's a sleek infinity pool on a bay-facing deck with lots of sunbeds and incredible views. There are also two spas, a gym, a water-sports center, a marina for boats and seaplanes, and a boutique with toiletries and souvenirs, plus mountain bikes to borrow. One of the hotel's three restaurants is right on the beach, and room service is available from early morning until evening.
The 20-room Nido Cove Resort is located on a small beach in a secluded part of northwestern Palawan. Spacious rooms have garden, forest, or bay views; simple decor; and amenities essentially limited to ceiling fans, air-conditioning units, and eco-friendly toiletries. Bathrooms have either glass-enclosed walk-in showers or wet room-style showers, but there have been complaints of poor water pressure. The hotel's restaurant serves tasty local cuisine made with produce and herbs grown in the hotel's own greenhouse. Prices are reasonable -- especially if compared to restaurants in the city center -- and outdoor seating is available on a wooden deck overlooking the ocean. There is also a small bar with cocktails and snacks throughout the day in an area between the beach and the pool. The pool is small but pleasant, and features panoramic ocean views, a few loungers, and free towel service.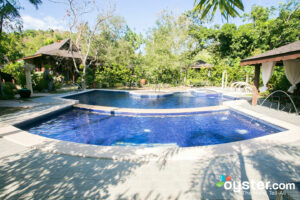 Tucked away in a quiet area amid lush tropical forests, this lovely eight-room boutique has plenty of local charm. Interiors have a blend of traditional Filipino style and marked Spanish influences, with capiz shell inlays, lots of wood accents, and touches such as stained-glass details and lace curtains in rooms. Flat-screen TVs, electric kettles, air-conditioning and free bottled water are nice amenities, but rooms lack mini-fridges, phones, and safes. Free Wi-Fi is available in common areas, but is spotty at best. The restaurant serves excellent Filipino cuisine in a beautiful manicured garden, and the pool is a lovely spot for a relaxing morning with a book, or a dip after a day out diving in the area's famous shipwrecks.
Cadlao Resort is a quiet mid-range property located on a rocky beach a 10-minute walk from El Nido town. Its 25 rooms have cute traditional Filipino decor and terraces overlooking the lovely tropical grounds, but some may find the lack of TVs, minibars, and electric kettles a little underwhelming for the price. There are a small spa with outdoor cabanas, a solid restaurant, and two pools, but the property's best selling point are the striking views of Cadlao and Helicopter Islands that can be had from a few rooms and most common spaces.
The three-pearl Floral Villarosa Pool is a low-key, six-room property a two-minute drive from the airport via a free shuttle. Most of the modestly decorated rooms surround an attractive outdoor pool and some have balconies and lovely pebble-accented bathrooms. While the pool waterfall offers relaxing ambient noise, the roosters crowing in the morning can be bothersome. Simple Filipino fare is served in an island-style restaurant with an outdoor dining terrace for all three meals. The 24-hour front desk can arrange Underground River tours and firefly or dolphin excursions.