Most Romantic Hotels in Carlsbad, California
Take a look at the most romantic hotels in Carlsbad.
See All Carlsbad Hotels
1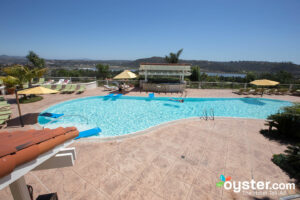 The luxe Park Hyatt Aviara Resort features Spanish colonial architecture and a picturesque setting just north of the Batiquitos Lagoon wildlife sanctuary. This property was formerly a Four Seasons, and the switch from one luxury brand to another didn't impact the hotel's luxurious ambiance. The 329 guest rooms are clean and spacious with classic decor, modern amenities, and large balconies. There are several on-site restaurant options. Though an adults-only pool and spa are attractive for couples, the hotel is mostly popular with families who stay here while visiting nearby Legoland. Most guests aren't happy to be charged for required valet parking on top of a daily resort fee.
2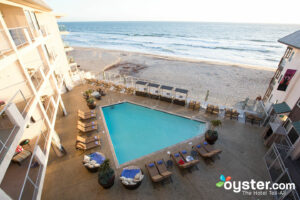 The Beach Terrace Inn is a boutique-style hotel whose stated mission is to create a climate of relaxation for its guests, which the family-owned establishment calls getting "slow." It's only a few minutes off Interstate 5, providing easy access to popular attractions in the area, such as the inimitable Legoland. The rooms are large by any standard, and many have excellent ocean views. The hotel accommodates families, including young children, but is much more suited to couples seeking a relaxing holiday.
3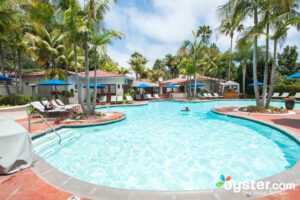 The 246-room luxury condominium complex is more a residence than a hotel, with two "neighborhoods," each with its own heated outdoor pool and well-equipped fitness center. The vibe is laid-back and expansive grounds are filled with greenery and beautiful landscaping. Spacious villas are outfitted in pleasant contemporary decor and offer the comforts of home, including fully equipped kitchens, large living rooms, and washers and dryers. There's a farm-to-table restaurant on-site, as well as two cafes and poolside snack bars, plus a stylish spa with a nail salon. Families with kids will find plenty to do here, with children's pools, a kids' club, and various organized activities. There's not much within walking distance though, so a car is necessary. Travelers might also want to consider the nearby Park Hyatt Aviara Resort.
4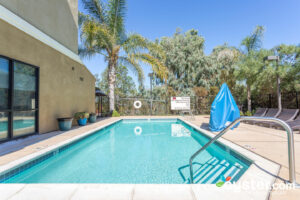 The Hampton Inn Carlsbad-North San Diego County offers tourists and business travelers alike a comfortable budget stay in a convenient location next to the McClellan-Palomar Airport. While nothing of note is within walking distance, the hotel is only a 10-minute drive to Legoland and several other popular attractions. The hotel offers Hampton's popular amenities, including a free hot breakfast, outdoor pool, small fitness center, coin-operated laundry machines, convenience store, and free parking and Wi-Fi. The 94 guest rooms are clean and bright, they come with microwaves, mini-fridges, and coffeemakers. But, rooms facing the busy airport can hear ambient noise. As an alternative, compare rates with the neighboring Homewood Suites by Hilton Carlsbad-North San Diego County, which features suites with full kitchens and a free area shuttle.
5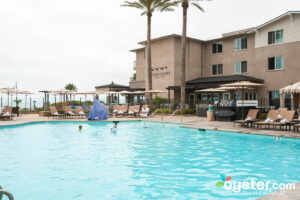 Cape Rey Carlsbad, a Hilton Resort, is an upscale, chain resort within a short walk of a sandy stretch of beach. The hotel has a posh, modern vibe and 250 clean, comfortable rooms, some with ocean-facing balconies. There isn't much within walking distance, but there's a restaurant on-site and live musical entertainment on the weekends. The hotel has several amenities for adults and children, including an outdoor pool and children's pool with sea views, a fitness center, and a chic spa. Thoughtful touches include free sand buckets for children. However, there are lots of extra fees, including a resort fee, beach chair rental fee, and parking fee. Travelers may want to also consider the Beach Terrace Inn Carlsbad, a boutique-style inn with a private beach that includes breakfast and parking but has higher rates.
6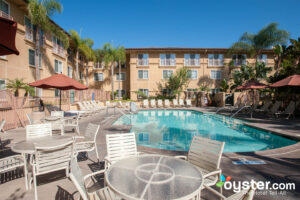 The 161-room Hilton Garden Inn Carlsbad Beach is a mid-range property across the street from the beach. It has an outdoor pool and hot tub, a small fitness center, and tiny business center. Guest rooms are comfortable and functional, and have Keurig coffeemakers, iPod docking stations, mini-fridges, and microwaves; some rooms have ocean views. There's free Wi-Fi throughout the hotel, and the on-site Carlsbad Beach Bistro gets excellent reviews. On-site parking comes with a daily fee. The hotel offers a free shuttle service to anywhere within a five-mile radius, but a car is best for getting around.