Best All-Inclusive Resorts in Playa de las Americas, Tenerife
Take a look at the best all-inclusive resorts in Playa de las Americas.
See All Playa de las Americas Hotels
1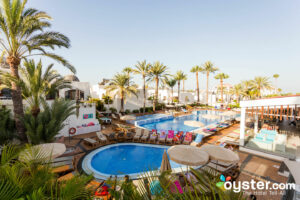 The antithesis to the showy high-rise hotels that dominate this part of Playa de las Americas, the all-inclusive, upper-middle-range Parque Cristobal Tenerife is more like a rustic gated community, with low-lying structures, open spaces, and lots of grassy grounds. All 151 rooms are one- and two-bedroom bungalows, each with front yards, kitchens, living rooms, and free Wi-Fi; some have air-conditioning, but not all. Kid Suites come with beanbag chairs, PlayStations, and bottle warmers. There are four pools, a pool bar, a tapas bar, and a buffet restaurant serving all meals. A multi-use sports court, kids' club, underground disco, and animation team are evidence of the hotel's upbeat nature, but the vibe around the outlying bungalows is peaceful. All this, and the extremely family-friendly property is a three-minute walk from the beach. Travelers who are willing to swap personal outdoor space for rooms with ocean views could try H10 Conquistador.
2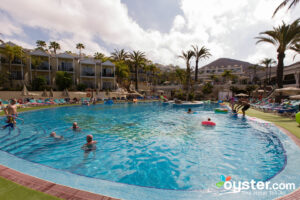 The 210-room upper-middle-range Gran Oasis Resort is located on the far edge of Golf Las Americas, about a 10-minute drive from the beach. The upscale and beachy apartments were all renovated in 2014 and 2015, and include full kitchens, living rooms, two flat-screen TVs, air-conditioning, and balconies or verandas (those with golf-course views have both). The hotel has three heated pools, three dining options, a huge game room, and a grocery store, plus it offers free shuttles to Siam Park and the beach. Travelers who don't want shuttle rides or car drives to stand between them and the ocean could try the beachfront Parque Santiago III, but the rooms there are smaller and less fresh.
3
The upper-middle-range, family-friendly Green Garden Resort and Suites is an all-inclusive optional property packed with charm and character. Its 121 apartments are attractive and spacious, all equipped with fully equipped kitchens, private balconies or terraces, and flat-screen TVs. The resort's two restaurants -- one buffet and one a la carte -- are a cut above the norm, and there's a well-stocked market on-site for self-catering guests. Extensive features for both adults and kids include three pools, a playground, daily entertainment, a small gym, and a Thai-style spa. The property is surrounded by the Las Americas golf course, but it's a 30-minute walk from the beach, restaurants, and shops -- the hotel does offer a free shuttle. Travelers looking to be closer to the action should check out the Parque Cristobal Tenerife, which is a 10-minute walk to the beach.
4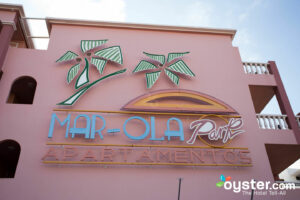 The quiet and friendly budget-friendly Marola appeals to easygoing families, couples, and friend groups in need of a pleasant and favorably located hideaway. The 72 rooms consist of studios and one- and two-bedroom apartments, each equipped with a kitchenette, sleeper sofa, and private balcony overlooking either the pool or the lively street below and mountains in the background. The low-key pool scene features a heated pool, separate kids' pool, snack and drink bar, white sun loungers, dwarf palms, and flowering plants -- but no poolside animation or music. A game room with free Wi-Fi, a simple buffet restaurant with street terrace seating, a small fitness room, and laundry facilities are also found on-site. It's worth comparing rates with next door sister property Marola Portosin, where the pool is slightly larger and rooms are a touch more modern.
5
The 217-room, upper-middle-range Marylanza Suites & Spa is a low-key, family-friendly all-inclusive next to Golf Las Americas, about a 15-minute walk from the adrenalized beach zone. Its two-story buildings form a rectangular enclosure around two large pools, plus a separate kids' pool and a poolside bar and grill. All rooms are air-conditioned apartment-style suites -- some overlooking the pool or golf course -- with kitchens, flat-screen TVs, and private patios or balconies. The hotel offers a buffet restaurant with a 15-day dinner program that prevents redundancy, as well as an a la carte restaurant, a lobby bar with local tapas and wines, and a disco with light entertainment at night. Notable are the excellent hydrotherapy spa and fitness facility, both of which incur extra fees. HD Parque Cristobal provides a similarly relaxed environment for families, but is just a three-minute walk from the beach.
6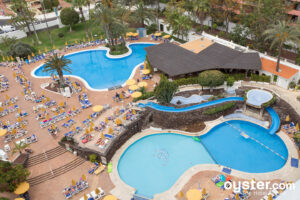 Spring Hotel Bitacora is a busy, family-friendly, mid-range resort hotel right in the bustling center of Playa de las Americas. The 314 rooms here come in two main categories: Standards and Superiors; the latter have a few perks such as bathrobes and pool/sea views, but the categories are otherwise more or less the same, with neutral decor, sofa beds, and balconies. It's the amenities that really shine here, and the hotel features two huge pools (one for kids and one for everyone), a huge kids' club with all sorts of slides and ball pits, and unusual nightly entertainment including acrobatics shows and regular performances by a popular local Eagles cover band. All-inclusive rates are available at the singular buffet restaurant. However, it's noisy and hectic overall and those without kids will probably find it unbearable. If you fit into that category, consider checking out the slightly quieter Hotel Gala instead.
7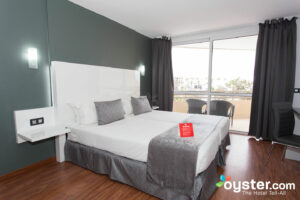 The mid-range Hotel Olé Tropical offers contemporary rooms and leisure facilities outside of central Playa de las Americas, a 10-minute walk from the nearest beach. Numerous restaurants and bars are within walking distance, but past guests have complained of late-night noise -- light-sleepers should request a room not facing the street. The 189 rooms are clean and up-to-date, outfitted with monochrome decor, air-conditioning, mini-fridges, and outdoor spaces, some with distant sea views. Features include an outdoor pool and separate kiddy pool, kids' club, entertainment team, and spa services. A buffet restaurant and two bars are available, as are all-inclusive packages. Couples wanting something more romantic should consider the adult-only Hotel Sunprime Ocean View.
8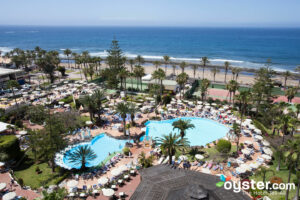 The upscale, beachfront H10 Las Palmeras was one of the first hotels in the area, but thanks to a 2015 renovation, it's also one of the freshest, with a bright, retro-modern look that is a major deviation from what is commonly found at Playa de las Americas hotels. But there's substance as well as style. In addition to trendy decor, the 519 rooms have mini-fridges, air-conditioning, flat-screen LED TVs, and balconies or terraces -- many with ocean views. Plus, Las Palmeras has so many features (three pools, five eateries, three bars, an exhaustive entertainment program...), you'd think it was in the middle of nowhere, not in the smack-dab center of town on a prime beachfront piece of land. Travelers looking for less of a big-resort experience could check out Aparthotel El Duque, a scaled-down all-inclusive that's a short walk from Costa Adeje's best beach.
9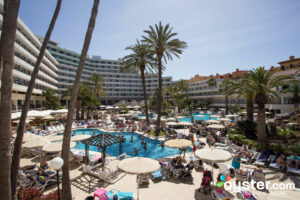 H10 Conquistador's monstrous concrete exterior commands the coastline, but the 485-room upscale resort makes up for its unsightly bulk with a surprisingly fresh and contemporary interior design, warmhearted service, and a considerable set of features. Three pools, a gorgeous spa, seemingly endless buffet, and three distinct a la carte restaurants are standouts among the substantial offerings, not to mention direct beach access. Rooms are a squeeze, but come with mini-fridges, flat-screen TVs, and balconies, many overlooking the ocean. In all, the property has across-the-board appeal for all sorts of guests -- families, couples, even the rare business traveler -- but those looking for a quieter vibe (and the same killer location) could check out Parque Santiago IV.
10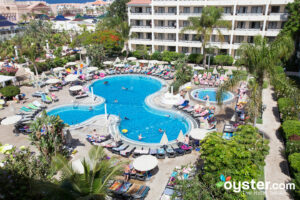 The 221-room, budget-oriented Aparthotel Parque de la Paz is a well-loved apartment-style hotel in central Playa de las Americas, a short walk from the beach. The complex has two buffet restaurants, a three-leaf-clover-shaped pool, a kids' pool, and a pool bar, plus a full activities and entertainment schedule (year-round) and a popular all-inclusive option. Tidy one- and two-bedroom apartments are extremely basic and lack air-conditioning, but they cater well to guests on longer stays with kitchenettes and private balconies or terraces; most have ocean views. Travelers who want to be directly on the beach could consider Parque Santiago III, a property with similar accommodations and atmosphere, but no all-inclusive rates.
11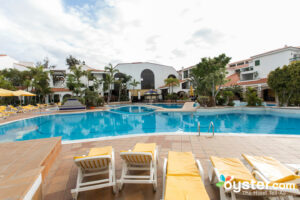 The mid-range Park Club Europe Hotel is a family-friendly property located a 10-minute walk from two beaches, one of which is Playa de las Americas. There are numerous restaurants, bars, and shops nearby, yet the property remains largely quiet. The 241 rooms have either dated decor or contemporary stylish, though standard amenities include modern mosaic-tiled showers, flat-screen TVs, mini-fridges, and furnished balconies. Unfortunately, only upgraded units have air-conditioning and free Wi-Fi is limited to the lobby. Features are extensive, including a big pool, daily activities and nightly entertainment -- which is reportedly mediocre -- various sports facilities, and some animals for kids to feed. All-inclusive rates cover all meals and accompanying wine, beer, soft drinks, and water, but food receives mixed reviews. Couples may prefer the adult-only and more contemporary Hotel Sunprime Ocean View.
12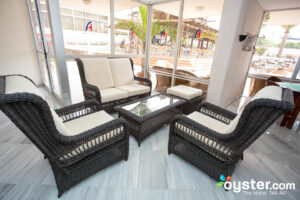 The 354-room mid-range Hotel Troya has a prime location steps from the sand, overlooking Troya and El Bobo beaches. Rooms types and views vary, but all units have air-conditioning, soundproofing, private balconies, and free Wi-Fi. Shared features are abundant and appealing: a large pool with a shallow kids' end, a buffet restaurant, a pool bar, a stylish solarium, and an enormous spa center -- a somewhat rare commodity at Playa de las Americas hotels -- with a hot tub, hydromassage pool, and thermal cabins. Note that Troya will close for three months in 2017 to complete renovations it began in 2013; this time, the hotel will completely redo the pool area and add an entire new floor of rooms. It's worth comparing rates with Troya's nearby sister property, Hotel Gala, which is slightly set back from the beach, but has equally impressive spa facilities.
13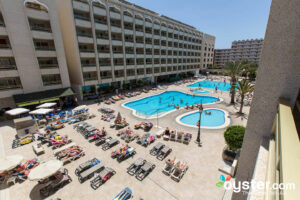 The mid-range Kn Columbus Aparthotel is a large hotel complex with generally attractive rates and a solid location a short walk from the beach. Its 580 studios and apartments are divided between the dated non-renovated rooms and the crisp, bright renovated ones with kitchenettes, though all have private balconies. The vast pool courtyard features two freshwater pools, a hot tub, and a kids' wading pool, and a bar. There is also a main buffet restaurant serving all meals, as well as a pizzeria, plus the hotel is located next to a grocery store, making it easy for guests in rooms with kitchenettes to self-cater. Kn Columbus' spa, several solariums, kids' club with outdoor playground, arcade, and business center make it a decent pick for its residing families, couples, and groups of students on break. Travelers looking for more personal space could try one of Parque Cristobal Tenerife's bungalows, all with yards and kitchens.
14
La Siesta Hotel is a mid-range resort in the heart of Playa de las Americas, a five-minute walk from the beach. The 282 rooms come in two main categories -- Standard and Club Alexandre -- the latter of which have updated decor and pool views, while the former are dated and overlook the street. Amenities are plenty and include a huge restaurant with thematic dinners, a large central lagoon pool, a fitness center, a spa with a hydrotherapy circuit, and all sorts of indoor and outdoor games and activities, like air hockey and archery. While it's a solid three-pearl choice, the lack of free hotel-wide Wi-Fi may put some travelers off; those who like to spend a lot of time online may want to consider Spring Hotel Bitacora, which offers free Wi-FI and iMacs in the lobby.
15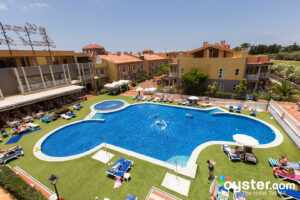 The family-focused, three-pearl Compostela Beach Golf Club is a popular 156-apartment hotel with all-inclusive options. Though the resort's name may lead travelers to believe otherwise, both the beach and entrance to the neighboring golf course are a 10-minute walk away. On-site there's a decent-sized pool with a kiddy section, plus a bevy of kid-friendly amenities such as a kids club, game room, and daily entertainment program. Spacious and bright apartments have fully equipped kitchens but some dated furnishings; all except loft studios come with small private gardens or balconies. The buffet eatery's food receives many negative reviews, but there are plenty of bars and restaurants within a few blocks. The resort offers good value overall, but it's worth comparing rates with the similar Parque Cristobal Tenerife.