We don't know about you, but when we travel to the best shopping cities in the world (or really any city, for that matter), we are pumped to be able to snoop around for something special to bring home from the trip. Sometimes it's a simple souvenir, other times it's a staple wardrobe item. Sometimes it's a splurge, other times it's a steal thanks to the local imports of that destination. But no matter the piece or price, it's something we often treasure -- and we hold those items we bought in the world's top shopping cities in high esteem. Some of the spots on our list will come as no surprise, but here we're also giving you the inside scoop on hidden gem shopping destinations that are perfect for the shopping obsessed. So without further adieu, take a look at the 10 cities every shopaholic needs to visit before they die.
Oh, New York, how we love you. Let's be honest, the Big Apple has just about everything you could ever want, so its place on this list is no surprise. Whether you're looking to spend big on 57th Street, or browse SoHo in an effort to revamp your wardrobe, you will just simply never be disappointed with your options. We recommend Century 21 for designer deals and Brooklyn Flea for the stuff you won't find at the chain stores.
Our Hotel Pick: The James New York
Tokyo is an amazing, futuristic metropolis with an energy that rivals New York's. And as home to 13.5 million stylish people, it's no wonder the city is also home to a consumer culture that could send any shopaholic home happy. For high-end garb, visit the Roppongi Hills or Ginza neighborhoods, where you'll find posh boutiques and department stores. Or if you're dying to catch a glimpse of Tokyo's famed Harajuku girls and score some similar garments, head down to the twin neighborhoods of Harajuku and Aoyama.
Our Hotel Pick: The Tokyo Station Hotel
Everyone knows Milan as one of the fashion capitals of the world, so it's fair to say that the chance to go shopping there is every shopaholic's dream. For designer threads, head to Quadrilatero d'Oro, meaning "golden rectangle," for four streets filled with world-famous haute couture at stores like Armani, Prada, and Roberto Cavalli. For a more bohemian vibe, head to the Brera district for some of Milan's best boutiques.
Our Hotel Pick: Hotel Milano Scala
Related Link: Milan's Most Stylish Hotels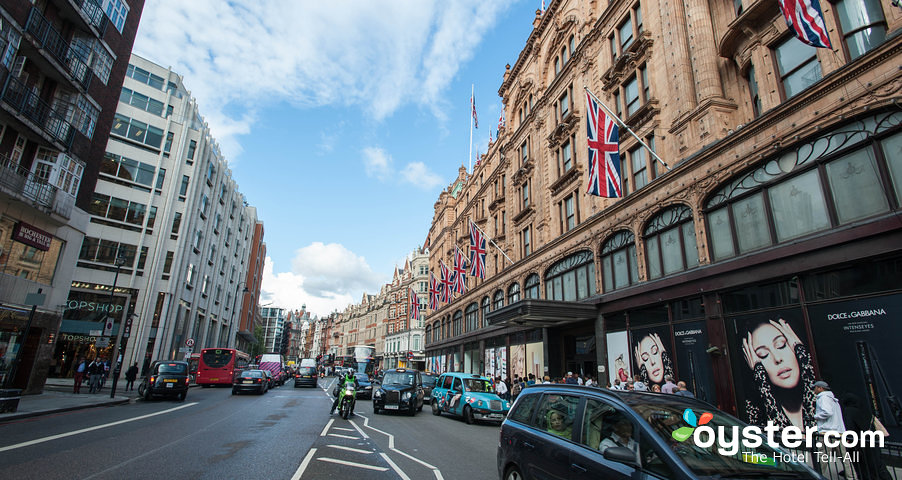 London is one of our favorite cities, considering it has everything from amazing history to fabulous shopping. While you're there you definitely have to hit up Harrods department store to have a truly London experience, and don't forget Primark for great budget finds. One of the best things about London, though, is the markets, that have everything from vintage and antiques to art and kitchy gadgets. Our favorites are Camden and Old Spitalfields, which both make for a perfect day of lunch and browsing.
Our Hotel Pick: Belmond Cadogan Hotel
Dubai is a land of excess and no taxes — and is, therefore, a shopper's paradise. There's simply nothing you can't find in Dubai, from gold and luxury items to spices and textiles galore. It wouldn't be a trip to Dubai without visiting the world's largest mall; the Dubai Mall boasts a whopping 1,200 stores and is part of a 20-billion-dollar downtown complex. Electronics in Dubai run much cheaper than in other countries because of the lack of taxes, so for new laptops and cameras make sure to check out the famous Al Fahidi street.
Our Hotel Pick: Al Ghurair Rayhaan Dubai
See the Most Luxurious Hotel in the World in Dubai
Let's be honest, most of us mere mortals don't have the luxury of actually shopping at the legendary Rodeo Drive, but Los Angeles still has something for everyone. The famous Melrose Avenue is a must see for any hipsters looking for super-cool boutiques and vintage shops — and right around the corner is Robertson Boulevard, which some are calling "the new Melrose." Robertson is home to a number of well-known designers and also quite a few smaller boutiques and cool cafes. If you stop for a bite during your day out in Tinseltown, don't let your mouth drop when you run into a few A-listers.
Our Hotel Pick: Avalon Hotel Beverly Hills
Paris, and Parisians, are as chic and fashionable as it gets, and it's easy to see why when you visit the French capital. The city is full of amazing shopping options everywhere you turn — from the famous Champs Elysées strip to the beautiful Galeries Lafayette. What Paris also does amazingly well is antiques and flea markets, where there's always treasure to be found. If you're into stylish second-hand stores try exploring the Marais or browsing the of vintage shops in Montmartre.
Our Hotel Pick: InterContinental Paris Avenue Marceau
Luckily for fashionistas, Rome has top-notch fashion to suit every budget. The most famous shopping area in Rome is probably the Piazza di Spagna at the base of the Spanish Steps. Tourists (including us) flock here daily to get a glimpse of the flagship stores of some of Italy's famous designers, like Versace, Prada, and Miu Miu. But If you're searching for a bargain (who doesn't love a deal?!) head to the Porto Portese Flea Market held on Sunday mornings for endless stalls of new and second-hand goods, antiques, and yummy food – – you might just find your dream Miu Miu garment on sale!
Our Hotel Pick: Villa Spalletti Trivelli
Hong Kong is famous for its luxury shopping centers, which can definitely be overwhelming but are absolutely worth braving for great deals…and splurges. Causeway Bay is Hong Kong's premier shopping area, with storefronts, shopping centers, and neon lights covering pretty much every square inch of space. You can find independent designers in this area as well as big shopping centers like Times Square (yes, Hong Kong has its own). For cheaper bargain fare, head to Mongkok for big crowds, massive markets, and a lifetime supply of imitation designer products.
Our Hotel Pick: Harbour Grand Hong Kong
You Might Also Like: Super Helpful Packing Tips from Top Fashion Bloggers
Like most fashion capitals, Madrid has a little something for every taste and budget. For emerging and trendy designers, head to Chueca and Fuencarral, where you can spend a few hours browsing cool comics, art, and cafes — in addition to scoring this season's latest. You can find top labels and elegant luxury brands in Barrio de Salamanca on Calle de Serrano and surrounding streets. Even if you're not in a position to splurge, a walk and some window shopping in this area are sure to be an afternoon well spent.
Our Hotel Pick: NH Palacio De Tapa
All products are independently selected by our writers and editors. If you buy something through our links, Oyster may earn an affiliate commission.