If you haven't found "the one" yet, but are planning on taking out someone new (and maybe special) this Valentine's Day, some serious impressing is in order. Hotels exude sexiness on any given day, and these bars don't disappoint: Each of them has its very own get-into-his-or-her-pants kind of charm.
The Bar: Kittichai
Why We Love It: The trendy NYC ambiance simply rules. Although the food — which is thai — is only so-so on a good day at this combo bar/restaurant, the romantic atmosphere makes up for its over salted fare. Eclectic music (think French renditions of silly American nursery rhymes) adds to the quirky-chic vibe, just be prepared to shell out a few bucks: Everything's more expensive in Manhattan.
The Bar: Carousel Bar
Why We Love It: It's everything that Bourbon Street spots aren't. Even though Carousel Bar is a mere block from the French Quarter nightlife that New Orleans is renowned for, the vibe is other-wordly here. Watch the stationary bartenders as you circle around the bar — it's kind of dizzying — while taking in Southern charm and delicious drinks. For a sweet treat, get the Tiramisu martini.
The Bar: Angels and Kings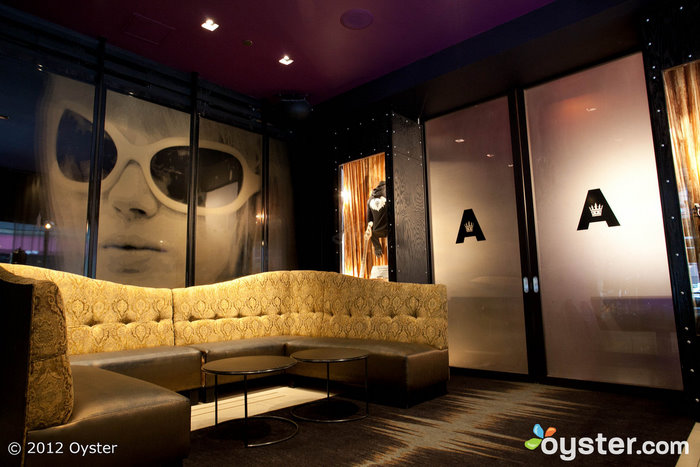 Why We Love It: Rocker Pete Wentz moved his Chicago bar into the Hard Rock's space at the beginning of the year — hopefully breathing some new life into an already old-news place. But the lush couches, cool artwork and no-velvet rope policy make this a perfect spot to get to know someone in a cozy environment. But don't bring anyone expecting a list — the bar maintains a "come as you are" policy, meaning no one's (not even sweatpants over there) turned away at the door.
The Bar: Redwood Room
Why We Love It: Impressive digital artistry makes the Redwood Room a true standout — have you noticed the portraits' eyes following you? — but the dark, seductive ambiance is suggestive of a 1930s speakeasy, which is pretty much the sexiest spot ever. Avoid the 55+, bottle-service crowd (sorry Mom and Dad!) by planting yourselves appropriately at a 2-top table.
The Bar: Bar Noir
Why We Love It: The intimate setting that Bar Noir offers is ideal for catching up on great conversation — even when its packed to its gills. Ask the (super-hot) bartender to whip you up a specialty Bourbon cocktail, but skip the daily Absinthe happy hour if you want to actually get somewhere (or to some place) on Date #1.
The Bar: Living Room
Why We Love It: The super-chic set can be found mingling at this Austin hotspot, sure to impress even the pickiest of dates with its well-heeled crowds. The bartenders here are epic — customers have sworn the drinks are some of the best they've had in their lives — just like the spicy lemonade is. Make sure there's a fire roaring for a touch of extra romance.
The Bar: Dusk
Why We Love It: This restaurant and bar combo is the perfect place to end a day or start a night with someone special — its easy lighting and plush furniture can make pretty much anyone feel right at home. The food, though, is the real draw: Small plates are inherently sexy, easily customizable, and freaking delicious (well, at least in Dusk's case).
The Bar: Highbar
Why We Love It: Come on, how could you not want to bring a date here? The 1970s-inspired lounge is complete with a rooftop infinity pool (skinny dipping, anyone?), and the seating arrangements are clearly second to none. We recommend ordering a few rounds of The Heat (tequila, cucumber and spicy sambal) to spice things up.
The Bar: Chandelier
Why We Love It: More Vegas monstrosity than intimate bar, the Chandelier takes up three levels of the Cosmopolitan, and each floor offers up its own take on the Vegas lounge scene. However, the bar is ideal for those looking for an off-the-cuff (read: non-clubby) night out. Drink the Hot Chili Dragonfruit cocktail for extra spring in your step — anything fruity is this bar's unofficial specialty.
The Bar: The Lounge
Why We Love It: The contemporary decor — look at those insanely plush couches(!) — modernize an otherwise simple spot that's great for snuggling. The food is pretty good should you grow an appetite, and if things get really awkward, grab a cue and play a few rounds of billiards with your date. At least you'll have something to talk about.
RELATED LINKS:
All products are independently selected by our writers and editors. If you buy something through our links, Oyster may earn an affiliate commission.