While tourism as we know it today is a relatively new concept, travelers around the world have been undertaking walking pilgrimages for millennia. In fact, going on pilgrimage was the often the only opportunity people ever had to leave their native villages. Though pilgrimage walks have traditionally had religious or spiritual associations, the modern pilgrim need not adhere to any faith to find walking traditional pilgrim trails a rewarding way to test their perseverance and experience the planet. From the English countryside to the forests of Japan, here are five of the world's most epic pilgrimage walks.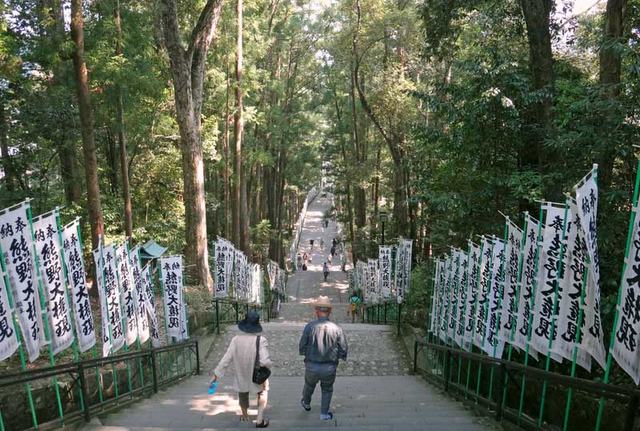 Actually a series of routes rather than a single trail, the UNESCO World Heritage Kumano Kodo refers to a collective of trails across the mountains of Japan's Kii Peninsula, all of which end at Kumano, a sacred Shinto site that's home to the Kumano Sanzan Shrines. It was in this mountainous region that priests once traveled to practice austerities in order to deepen their spiritual practices and acquire supernatural powers. Today, the pilgrimage attracts not only practitioners of Buddhism and Shinto, but also history buffs, nature lovers, photographers, and hiking enthusiasts. Local tour companies such as Walk Japan even offer guided trips starting in Osaka for those who want to undertake the pilgrimage but lack the linguistic or navigational knowledge to complete the walk solo.
Osaka Hotel Pick: The St. Regis Osaka
Rooms have sophisticated decor with delicate Japanese details, upscale bathrooms with soaking tubs, and expansive city views through floor-to-ceiling windows. Personal butlers make each stay a breeze, offering top-notch services such as packing and unpacking, free morning coffee delivery, and free clothes pressing. With wonderful on-site amenities ranging from an exclusive spa to two excellent European-inspired restaurants, and a central location near high-end shopping and attractions, it's hard to go wrong with the St. Regis.
One of the most popular pilgrimage routes in the Middle Ages, records show that the Via Francigena dates back to at least the 7th century C.E. The best-known account of the Canterbury to Rome trail was documented by Sigeric the Serious, the Archbishop of Canterbury, in the late 10th century, and his records (actually of his return to England along the route) inspire modern pilgrims to this day. While it's certainly not the most popular of ancient pilgrimage routes nowadays, the Via Francigena gets upwards of 1,000 visitors per year. However, most have to camp at least part of the time due to a lack of solid hotel and guesthouse options along the way. Those who prefer a more comfortable approach to the walk may want to consider joining a tour; Wilderness Travel offers a nine-day guided stint along the trail starting in Siena and ending in Rome.
Rome Hotel Pick: Fontana Hotel
The Hotel Fontana sits right next to the Trevi Fountain, and one of the city's prettiest views is available from many vantages inside. A former monastery, this property has 25 rooms, though decor is basic and looking worn and tired in spots. Guests can choose between rooms facing the fountain, or one of the quieter rooms in the back of the building.
The newest pilgrimage walk on this list, the Abraham Path is a modern, non-religious route that roughly retraces the travels of Abraham, the supposed ancestor of over half of humanity. It comprises a number of existing trails starting in Turkey and weaving through Egypt, Palestine, Israel, and Jordan. Developments on the path first started in 2007 and it currently stretches across 2,000km (1,243 miles), with plans to further expand the route in the future;the current route can take up to 120 days to complete. As the path is still under development, it may be tricky to undertake solo, especially for travelers who want to walk less-populated spans; tours are available from a number of providers.
Jerusalem Hotel Pick: The King David
The King David is one of Jerusalem's — and indeed Israel's — most famous hotels, drawing countless diplomats and celebrities since it opened in 1930. (Just take a look at the lobby floor, which is inlaid with the names of notable past guests.) The grounds are impressive, featuring a huge outdoor pool and a tennis court, a rarity for Israel. The lobby is usually bustling, and its high ceilings, marble floors, and bright geometric accents make a grand first impression.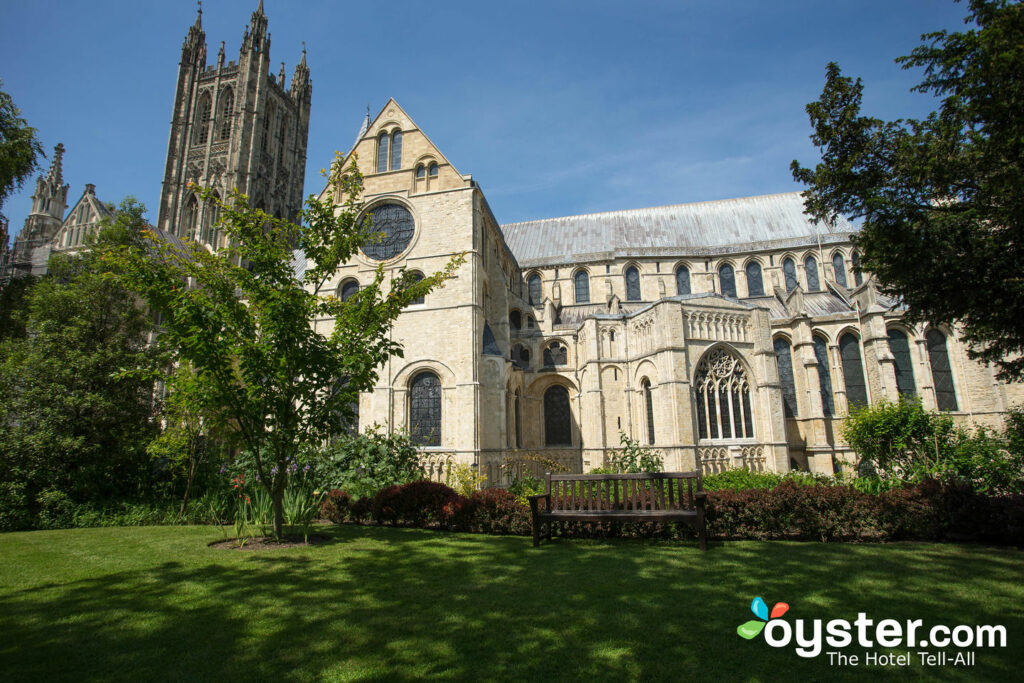 The route starts in Winchester in the county of Hampshire, and cuts across southern England, ending in Canterbury at the Shrine of Thomas Becket, who was easily one of the most venerated saints in this part of the world during much of the Middle Ages. Modern mapping of the trail is relatively recent, and while there are archaeological signs that a trackway once existed in the area, nobody is really sure if there ever was a traditional Winchester to Canterbury pilgrimage route in the days of yore. Nevertheless, it's a wonderful way to visit Southern England, and as the route passes through relatively populated towns, there's plenty of infrastructure in place for easy solo walking. Most travelers follow the newly opened St Swithun's Way from Winchester to the town of Farnham and then continue along the North Downs Way National Trail, which stretches from Farnham all the way to Canterbury and on to Dover.
Canterbury Hotel Pick: Canterbury Cathedral Lodge
With large rooms and numerous amenities all over this gorgeous scape and structure, Canterbury Cathedral Lodge is an easy pick when traveling to the area.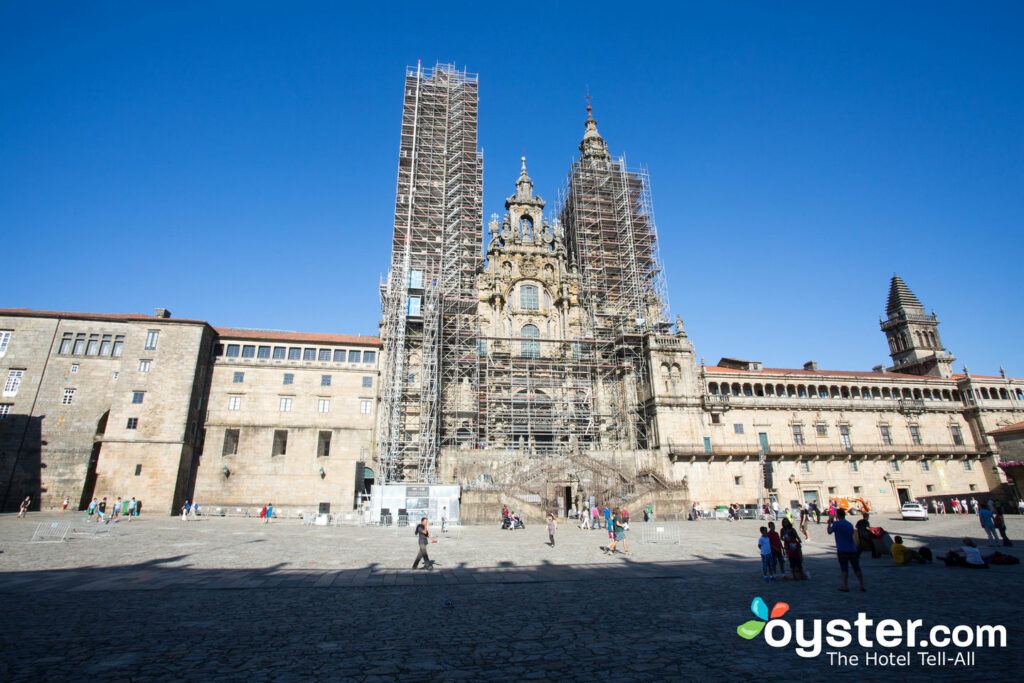 The grandaddy of all pilgrimage walks, and easily the world's best-known, the Camino de Santiago (also known as the Way of Saint James), refers to a series of pilgrimage routes that end at the shrine of James the Apostle at the Santiago de Compostela Cathedral in the northwest of Spain. The Camino was a major Christian pilgrimage during Medieval times, and today it gets upwards of 200,000 visitors annually. While some start their walk from locations as far off as Germany, Czech Republic, or — more commonly — France, the main part of the trail stretches across northern Spain. Those who have completed at least 100 kilometers of the route on foot (usually by starting at Sarria) can request a certificate of completion upon arrival in Santiago de Compostela.
Santiago de Compostela Hotel Pick: Parador Hostal Dos Reis Catolicos
The 137-room Parador Hostal Dos Reis Catolicos is an historic property — originally built as a royal hospital in 1499 to accommodate pilgrims traveling to Santiago — located on Obradoiro Square right next to the Santiago de Compostela Cathedral. Today, this luxurious, spectacular, and charming property is known for its Gothic architecture and gardened cloisters.
If you're ever on any sort of pilgrimage, you're going to wants to be cool and comfy. Depending on what type of pilgrimage one's taking, consider the lightweight and breathable Wool Runners from Allbirds.
Related Links:
All products are independently selected by our writers and editors. If you buy something through our links, Oyster may earn an affiliate commission.