After a stormy past, Berlin rose through the ashes to become one of the most culturally diverse and interesting cities in the world. Its vibrant nightlife, cutting-edge art scene, and significant history all combine for a unique setting that shouldn't be missed. Whether you're a history buff, culinary connoisseur, or art aficionado, there's something for everyone in Germany's capital. The fact that it's clean, safe, and affordable are just added perks. If you still need a little convincing, here are five reasons to travel to Berlin this year.
1. The History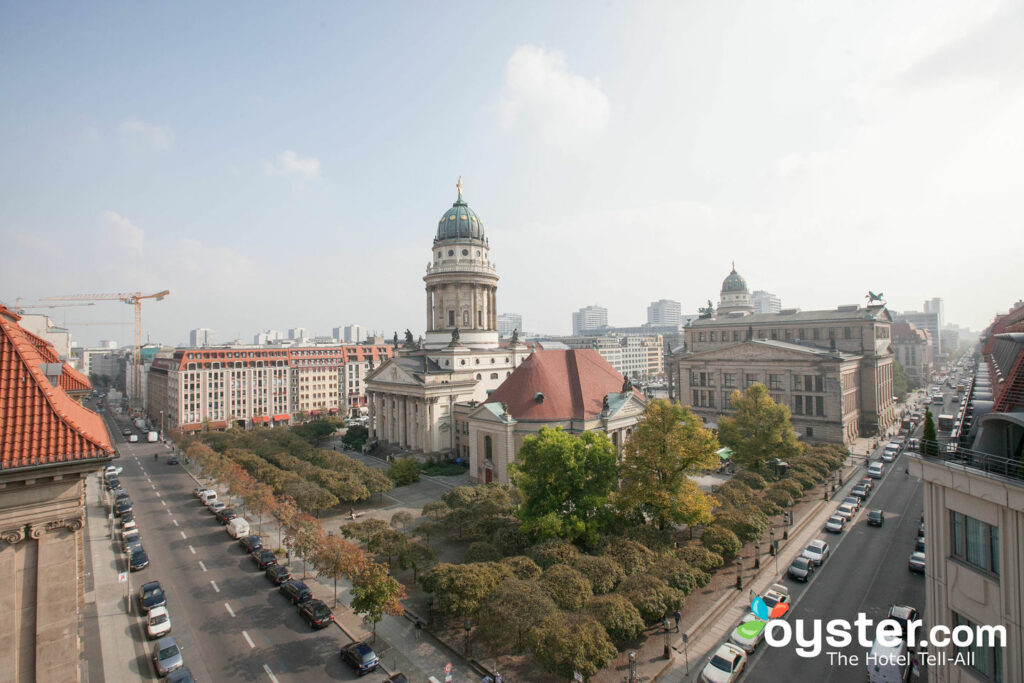 Berlin's documented history dates back to the 13th century, and it has since been filled with many highs and lows. Most well-known and still visible today is its role during World War II, having served as Nazi Germany's capital, and the Cold War, which brought the rise and eventual fall of the Berlin Wall. It was bombed, saw JFK deliver his famous speech, and hosted the Summer Olympics, in just a 30-year span. Today, graffiti-covered remnants of the wall and iconic landmarks like the Brandenburg Gate and Gendarmenmarkt steep travelers in the city's history.
Check out our roundup of Historic Hotels in Berlin
2. The Art
Berlin has been acting as a magnet for all types of artists and creative types for many years, resulting in a prominent art scene. In addition to renowned museums, there are more than 400 art galleries throughout the city, showcasing everything from classical paintings to large-scale installations focusing on light. The East Side Gallery is a 1.3 km-long section of the Berlin Wall that has been transformed into the largest open-air gallery in the world; over 100 artists have contributed to the mural. Other impressive collections can be found at Alte Nationalgalerie, Berlinische Galerie, and Gemäldegalerie. Even the hotels, like the Arte Luise Kunsthotel shown above, have infused the eclectic art scene into guest rooms.
Hotel Pick:
3. The Food
https://www.instagram.com/p/BBsSxCVncGr
From cheap eats to Michelin-starred restaurants, Berlin has it all. Grab a fresh-baked pretzel, German sausage, or Turkish doner kebab for the ultimate street food, or head to establishments like Restaurant Tim Raue (shown above) or Crackers for haute cuisine and prices to match. And of course, don't leave the German capital without tasting a Berliner, a sweet pastry similar to a doughnut.
You may also like Ein Prosit! Hotels Perfect for Celebrating Oktoberfest in Germany
4. The Museums
Aside from the dozens of art museums, there are excellent museums focusing on history, technology, and even magic. Five of the widely-visited ones are located on Museum Island in the Mitte district, including the Bode Museum and Pergamon Museum; the complex was added to the UNESCO list of World Heritage Sites in 1999. Other favorites include the Jewish Museum, Egyptian Museum, and the Museum of Film and Television, plus unique options like the Spy Museum, the Ramones Museum (completely dedicated to the punk rock band), and the Puppet Theatre Museum.
Hotel Pick: The Regent Berlin is an 11-minute walk to Museum Island.
5. The Nightlife
https://www.instagram.com/p/BB724-AJXuP
Techno-loving DJs, a thriving LGBT scene, and no fixed closing hour make Berlin one of the most party-filled cities in the world. Fueled by the city's gritty vibe, many of the clubs are underground, appearing out of nowhere and leaving just as quickly, or housed in industrial buildings that would make Brooklyn-dwellers proud. You can find just about any type of atmosphere you want, from drug-fueled dance parties to low-key jazz clubs, and everything in between. Just note that nightclubs typically don't open until 11, get going until 2, and last until it's time for breakfast. The most sought-after club is Berghain, known for its techno, gay-friendly atmosphere, and strict door policy.
Related Links:
All products are independently selected by our writers and editors. If you buy something through our links, Oyster may earn an affiliate commission.