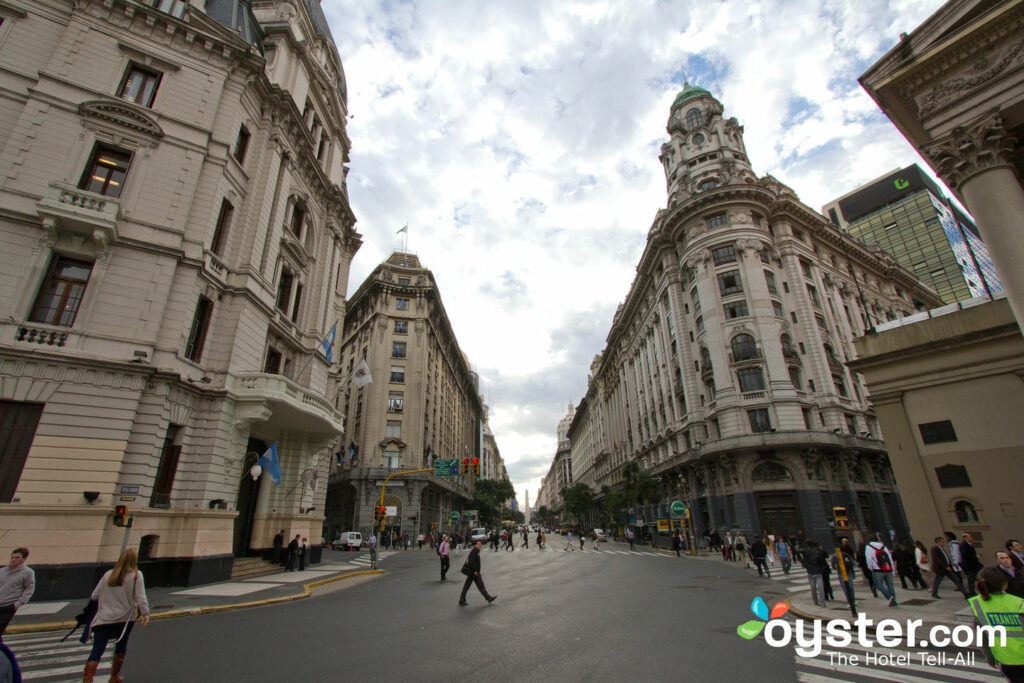 Argentina's capital, Buenos Aires, is one of the most cosmopolitan and glamorous cities in the Western Hemisphere. The city is known for its 19th-century architecture, boutique shopping, art museums, tango, manicured plazas, and a serious wine and food scene. Even better, Buenos Aires is easily enjoyed on a budget. Subway fare costs around one dollar and restaurant servers only expect a 10 percent tip. Admission to the Museum of Latin American Art of Buenos Aires is a cool six bucks. Sure, luxury hotels are widely available, but Buenos Aires also caters to the young, stylish, and, well, broke, traveler with very hip hotels for about the price of a canción (song). Read on for our favorite hip Buenos Aires hotel room deals, at around $50 per night.
Editor's Note: Hotels have been priced from time of publication and are subject to change.
The Palermo neighborhood is Buenos Aires' answer to Brooklyn. It's home to a bumping nightlife scene and has a high concentration of interesting boutique stores, coffee shops, and restaurants, plus the type of hipsters and artists who spend their time and money in scenester neighborhoods. The Palermitano Hotel is the place to stay in the heart of it all. Rooms feature Carrara marble bathrooms and mid-century modern furnishings. There's a rooftop pool and a Peruvian and Japanese fusion restaurant. Breakfast is included in the already rock-bottom rates. It doesn't get much hipper than that.
Okay, okay the brand name Howard Johnson doesn't exactly scream cool here in the United States, but hear us out. The Howard Johnson Inn Palermo is located in Palermo (see above for hip factor), and it has a smart little lobby with neon pink chairs and color blocked wallpaper. Some of the rooms have French door balconies overlooking the neighborhood. Wi-Fi and breakfast with freshly baked bread are included in the room rate. Maybe it's time for Howard Johnson to make a comeback.
Blue Soho Hotel is located two blocks from Plaza Cortazar, famous for a weekend market that sells local art, clothing, crafts, and jewelry. Back at the hotel, look for hip elements like exposed brick walls and fresh flowers. Rooms incorporate pops of color and provide small minibars stocked with local beer and bottled water. There are movies and books to borrow, and both the Wi-Fi and breakfast are free.
What's cooler than turning a 1928 Art Deco printing factory into a boutique hotel? How about adding a rooftop restaurant with panoramic views of Buenos Aires and a wine bar with over 500 varieties of Argentinian wine? And maybe just throw a jazz club into the basement while you're at it. The Moreno Hotel Buenos Aires offers all of that, plus stylish guest rooms with high ceilings. The surrounding San Telmo neighborhood is filled with art galleries and tango shows.
You don't find many rooftop pools, massage rooms, and fitness centers in hotels at this price point, but Hotel Bys Palermo has all of these facilities. Sleek rooms feature wet bars and huge windows, along with flat-screen TVs. Hints of purple add interest to otherwise white and blonde-wood elements. Breakfast is included in the price, as is Wi-Fi.
Pop Hotel is a budget boutique hotel with a fun pop art theme that's more evident in the lobby than it is in the rooms. The color palette is done in bold red, black, white, and yellow. There's a huge pop culture mural next to the reception desk. Upstairs, rooms feature black-and-white geometric wallpaper and lipstick red headboards add punch. Kettles, flat-screen TVs, and large windows are standard. Outlet shopping is located around the corner.
Check out our full travel guide to Buenos Aires.
You'll Also Like:
All products are independently selected by our writers and editors. If you buy something through our links, Oyster may earn an affiliate commission.