There are two types of people in the world: Those that love pitching a tent, sleeping under the stars, and getting dirt under their nails—and those that want to experience nature with a freshly squeeze orange juice, brioche French toast, and hot chocolate with marshmallows sent up to room number 352, please and thank you. For those of us in the latter camp, there's a whole set of properties in America's national parks that are ready to deliver ultra-swanky hotel service in the middle of remote, majestic parkland. Here are six hotels for travelers that want to get into the wild, but would rather not rough it.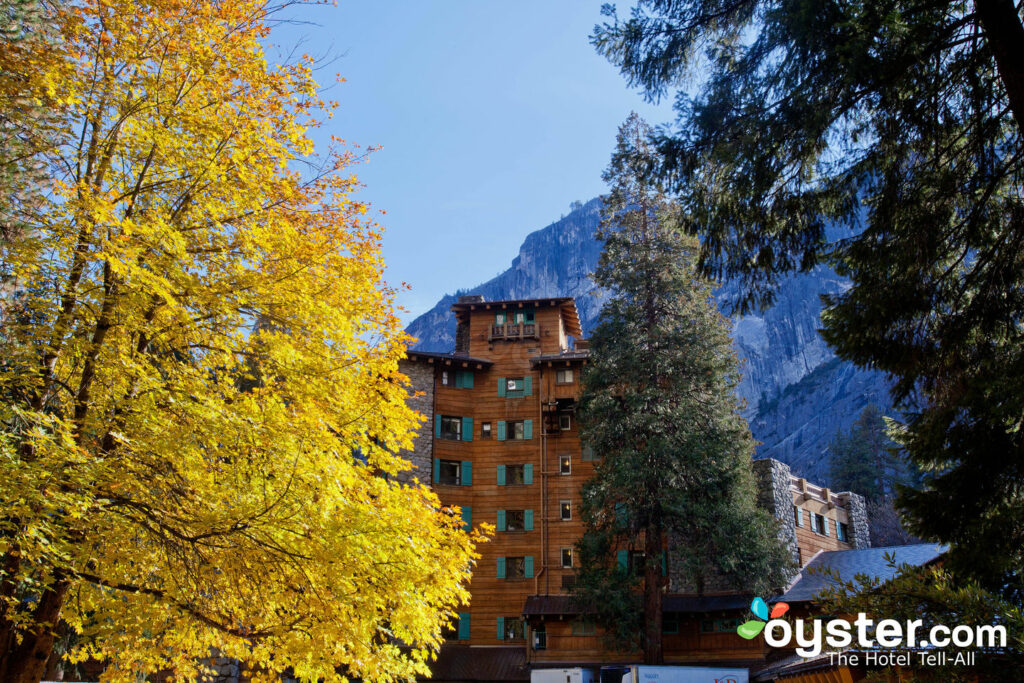 Set in Yosemite Valley, The Majestic looks every bit like a hunting lodge for aristocracy. The dining room, with a pitched ceiling set with wrought-iron chandeliers, feels like it would serve hunks of mutton and goblets of mead (the slow-roasted prime rib portioned in a king's cut doesn't seem far off. Most public spaces communicate a deep coziness, from the massive fireplaces to the plush couches, but they're still rather regal, often carpeted with Oriental rugs and adorned with Native American artifacts and textiles. Homey rooms come with robes, Earth's Wisdom toiletries, and rubber duckies in park ranger hats, just to remind you this isn't the Ritz.
With big copper bathtubs and a warm little sauna, the Della Terra Mountain Chateau seems like a lost verse to the Sound of Music's "My Favorite Things." This property in the Rocky Mountains has monumental views at every turn, adding to its heavily romantic vibe (children are not allowed). Lavish breakfasts with freshly baked pastries and a spa doling out couples massages only enhance the Della Terra's appeal. In addition to deep soaking tubs, all rooms have balconies with hot tubs. (We're sure Maria von Trapp would approve.)
3. El Tovar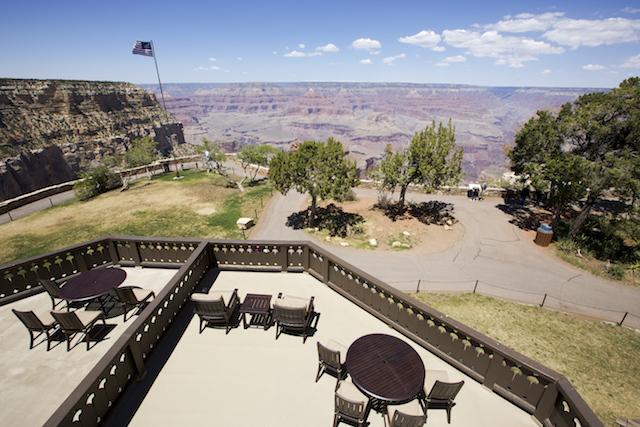 Opened in 1905, El Tovar has a Swiss-chalet-style exterior that looks unchanged since the days it hosted Theodore Roosevelt. Sitting right on the Grand Canyon rim, it's easy to see why this property has appeal that has endured for a century. Surreal vistas of the Grand Canyon are easily visible and extend out like a mirage. El Tovar does an excellent job of blending into its surroundings. Local materials such as limestone and pine wood make up the exteriors, and interiors hold a fine-dining restaurant and a grand lounge. But it's the service, which includes concierge and bell service, that truly reflects a bygone era.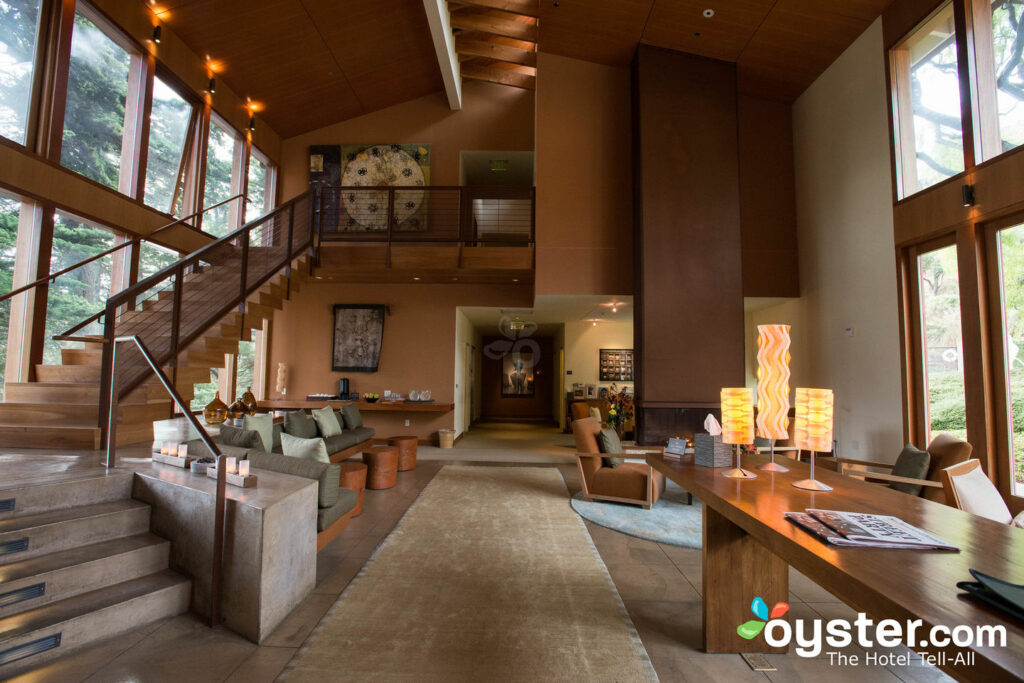 Some national parks are ginormous and remote, and others are smaller and closer to urban centers. That's the case with the Golden Gate National Recreation Area, sections of divided parkland of approximately 82,000 acres sprinkled around the Bay Area. Cavallo Point sits on a 10-acre hunk of it right by the Golden Gate Bridge. Dating to the 1800s, the building was once an army base. But interiors are firmly contemporary and California cool, with rich wood paneling, slouching leather armchairs, and crackling fire pits. Hotel cuisine is equally top-shelf, with a restaurant on the grounds reflecting Northern California ingredients. There's even a well-respected cooking school on the premises, highlighting the Bay Area's obsession with food.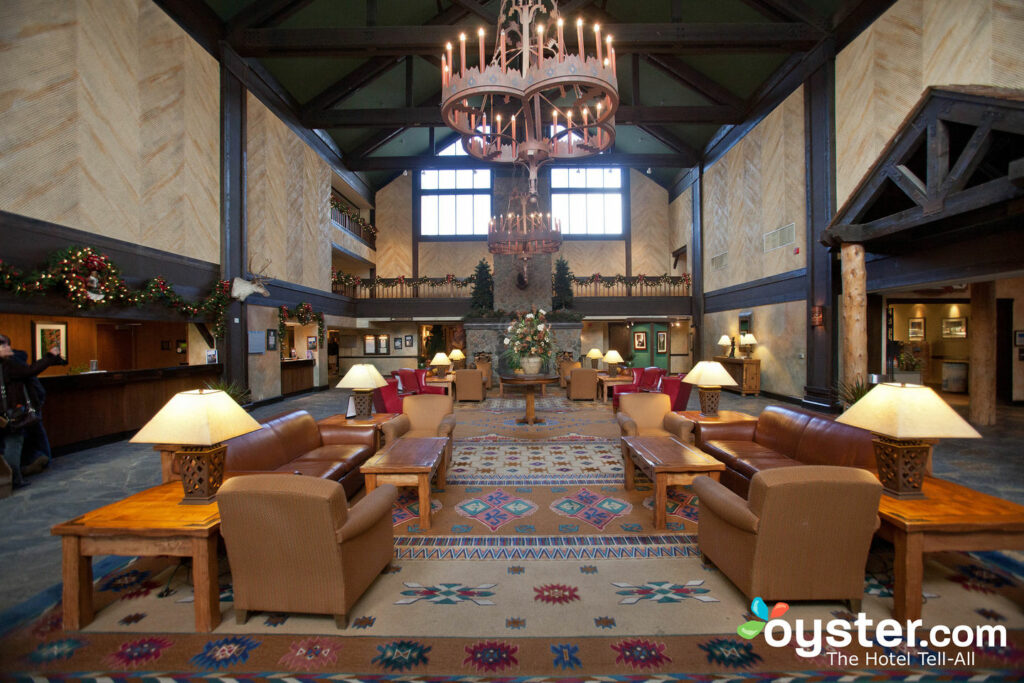 Tenaya takes normal lodge designs and stretches them to towering proportions. The front lobby hoists chandeliers three stories into the air, and the restaurant's dining room circles a stone fireplace that climbs higher and higher toward a pitched skylight. Despite these grand flourishes, this property never loses sight of its creature comforts, which include pools, whirlpools, and a spa. And it's the spa that'll give you an indulgent take on nature with river stone massages and quartz aromatherapy. One fun note about the Tenaya: Dogs are pampered here as well with treats and doggie beds on arrival.
6. Volcano House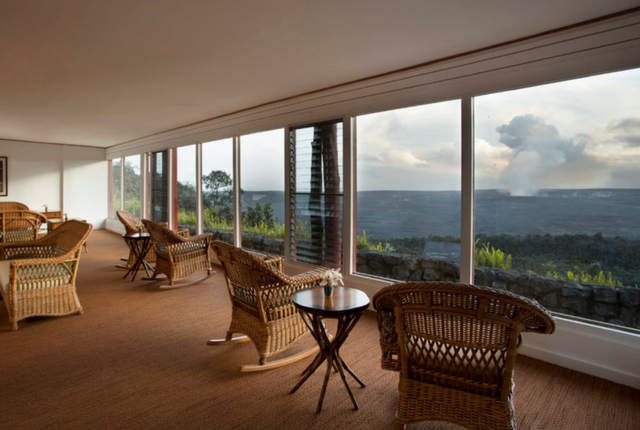 Some travelers feel that national parks are the turf of sleepy tour groups, and to those naysayers we have one word: volcanoes. Yes, Hawaii Volcanoes National Park still gets eruptions, and it's hard to think of anything less snoozy than molten lava. This lovely hotel, dating back to 1846, is right on the parkland and close enough to the action that its elegant restaurant showcases views of the Halemaumau Crater. Even better, book a room with views of the smoking Kilauea caldera, throw on a plush robe, and order room service to settle in for a night of watching your own private nature channel.
You'll Also Like:
All products are independently selected by our writers and editors. If you buy something through our links, Oyster may earn an affiliate commission.