The Hudson Valley sits along the edge of eastern New York's Hudson River, divided into three regions spanning from the tip of Albany southward to Yonkers. The towns and cities throughout vary in size, but all are lined by the river and mostly surrounded by views of gorgeous mountains. Plus, there's been a complete renaissance-type boom lately; artists, chefs, farmers, and collaborative thinkers keep moving into the area -- allowing an overflow of culture and food. Whether you're just driving through the state, or planning a trip to a neighboring towns, the Hudson Valley is worth spending some time in. It's about 45 minutes to two hours from New York City depending on where you go, and incredibly accessible by train and bus. It's easy to fall in love with this magical region and we've narrowed down our list down to the seven most convincing reasons.
1. Nature Here Takes the Cake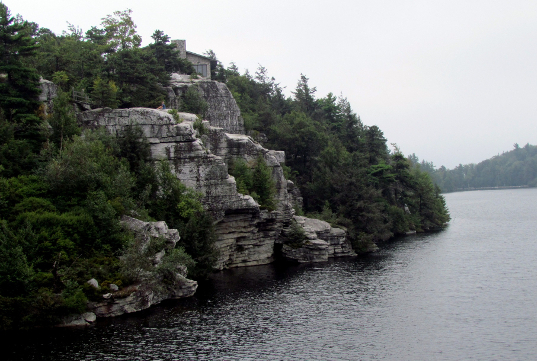 It's hard to find an entire valley
as striking as this one for outdoor lovers. Whether you're hiking, biking,
swimming, or skiing, there's always something to do. And there's something for
every season: New Paltz's dramatic Shawangunk Mountains are essential for the
fall leaf peeper's camera; Hunter Mountain has some of the best slopes for
skiers and snowboarders; Kaaterskill Falls has the tallest two-tier waterfall
in the state; and just off Westchester's Palisades Parkway, Bear Mountain State
Park offers panoramic views of the Hudson Highlands and Harriman State Park.
For just a leisurely stroll, Poughkeepsie's Walkway Over the Hudson is the
longest pedestrian footbridge in the world.
2. You Won't Run Out of Food Choices
Why not stop in the city where some
of the greatest chefs are crafting their skill? You can dine at Hyde Park's world-renowned
Culinary Institute of America restaurants, tasting an array of what students
are cooking up. The rest of the valley has everything foodies crave, from
authentic world-wide cuisine to sustainably-raised meat and plenty of
vegan/vegetarian options. Much of the produce comes straight off Hudson Valley land through
the ever-growing farm-to-table movement. And food festivals, like Gardiner's
Cupcake Festival and Saugerties' Hudson Valley Garlic Festival, are frequent occurrences.
3. Breweries, Distilleries, and Wineries Are Plentiful, Too
Few things are better than being
handed a fresh glass of brew or wine directly from the person and place that
made it come to life. During your visit, taste your way through your own version of a Hudson Valley beer trail, from
the Belgian-styled Sun Block Wheat Beer at Elmsford's Captain Lawrence Brewing
Company to the Coconut Cream Ale all the way up north at Troy's Rare From
Brewing Company. Or, find a local whiskey maker, like Gardiner's Tuthilltown
Spirits, which claims it's the first whiskey distillery since Prohibition in
New York State. As for the vino, there are more than 50 wineries to discover in
America's oldest grape-growing and wine-making region — like Washingtonville's
Brotherhood Winery, the oldest vineyard in America.
4. There's History with Every Step You Take
There's no shortage of information
for the history buff here. Before Henry Hudson accidentally stumbled into the
Hudson Valley in 1609, Native Americans had been appreciating the gorgeous
land for thousands of years; you can learn more about their story at Albany's New York
State Museum's ongoing Native Peoples of New York exhibit. Then there's New
Paltz's Huguenot Street, the oldest residential street in America. And the list
of important figures and estates goes on and on, including the Franklin D. Roosevelt
Presidential Library and Museum at Marist College and Washington Irving's
Sunnyside riverside home in Tarrytown.
5. It's an Artistic Haven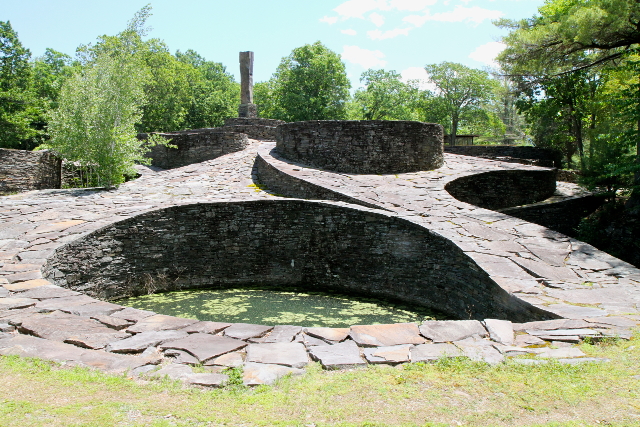 If simply basking in the scenery isn't enough, there are plenty of opportunities to take it home with you. Artists from all over the world flock to the valley to paint, draw, and sculpt the
awe-inspiring landscape around them. Towns like Beacon and Hudson are crawling
with art galleries, mixed-media collaborative spaces, and museums. And don't
miss Hudson's Olana State Historic Site, once the home to Hudson River School
painter Frederic Edwin Church, or the world-acclaimed six-and-a-half acre
bluestone quarry sculpture at Opus 40 in Saugerties.
6. Music Is Also Big Here
If you didn't know by now, the 1969 Woodstock Music Festival was not actually in Woodstock, but on a dairy farm 40 miles southwest in Bethel. Now you can visit the grounds — which still hosts live music to this day — to see the Museum at Bethel Woods, with interactive displays and artifacts from the famous all-love music fest. If you stroll into Woodstock (once home to Van Morrison and Bob Dylan), there's plenty of live music on the streets and cafes and bars, as well as the rest of the valley. Known for its folk and bluegrass, the Hudson Valley also thrives with jazz, rock, and soul. In the summer, there are numerous festivals up and down the valley, including the Croton-on-Hudson's Clearwater Festival and Kingston's O+ Festival.
7. You'll Want to Stop and Appreciate the Agriculture
There's a growing movement these days to go back to our roots — literally. Young farmers are flocking to the valley to dig into the dirt in this agriculturally-rich region. There's a dominating dairy scene (the third highest in the nation), with plenty of produce, poultry, meat, and grains. Apple and pumpkin picking is a must in the fall, with some of the best cider and donuts you'll ever taste. Plus, there are lots of farm animals waiting to be pet, like those at the Woodstock Farm Animal Sanctuary.
Related Links:
All products are independently selected by our writers and editors. If you buy something through our links, Oyster may earn an affiliate commission.