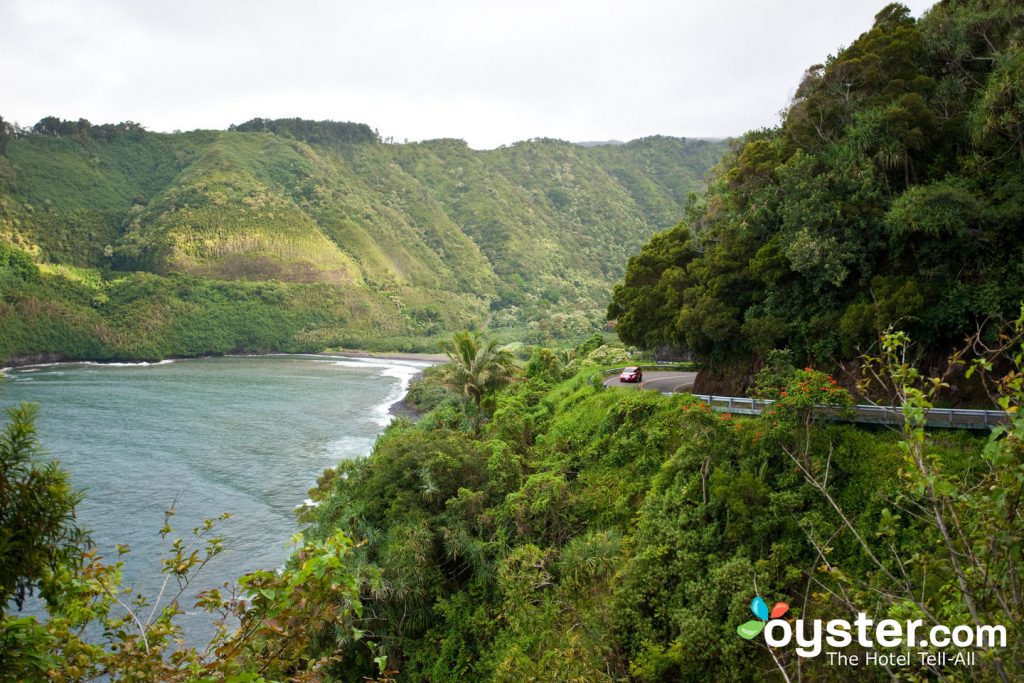 Navigating sharp curves and one-lane bridges, driving Maui's famous Road to Hana can take more than two and a half hours. The 52-mile stretch of the Hana Highway starts on Route 36 in Kahului, hugging the north coast before veering south to connect with Route 360, which eventually leads to Hana on the eastern side of the island. Along the way, there are sweeping ocean views, dozens of spots to stop for local eats, and spectacular waterfalls in lush, tropical rainforest. But this trip requires some prep so that you can relax and enjoy the ride when you hit the road. Herewith, a rundown of everything you need to know in advance.
1. Think about making it an overnight trip.
Most people set out before 7 a.m., have lunch and limited beach time in Hana, and head back in the late afternoon. By making it an overnight trip and leaving later, you'll get off the day-tripper circuit and sights will have fewer crowds. (But make no mistake, the chance of being at popular stops solo is slim to none.) There are two must-sees beyond Hana — Hamoa Beach and Wailua Falls — which you'll have more time to enjoy at a leisurely pace, and in town there are farmers markets, art galleries, and a cultural center. Hana is also an ideal base for travelers continuing on to Haleakala National Park's Pipiwai Trail to hike through the bamboo forest.
2. Study maps and mile-markers before you go.
Trust us, this is not the time to wing it. If you're preoccupied with looking at Google maps on your phone, you'll miss the drop-dead-gorgeous vistas. Also, cell service can be spotty. Sights correspond to mile-markers, which start over at zero several times along the route and aren't entirely accurate. Without having an idea of sights' locations in advance, you're more likely to sail past them — and turning around to double back on the Road to Hana isn't a fun experience. Opt for an old school paper map to get the lay of the land before you leave and bring it with you. It's also worth buying an audio CD audio guide to listen to along the way, timed to the various stops; some are usually available for sale at the Shell Station in Kahului. The Gypsy Guide app also has Road to Hana commentary. And one final pro tip: It's a good idea to commit Hawaiian directionals to mind, too: mauka (toward the mountains) and mauna (toward the ocean).
3. Pick a few key stops — you won't see everything.
You could easily spend more than a day or two driving the Road to Hana, so come up with an A-list and some alternatives. The latter will help you manage expectation — seeing your top picks may not be possible because of things like road closures, construction, and waterfalls that aren't flowing. Don't forget to factor in time to hike to and from spots, if that's your plan. Some of our recommended stops before you reach Hana include (in order) Paia Town, Twin Falls, Keanae Lookout, Ching's Pond (a prime spot to watch local cliff divers — or partake in the activity yourself), Upper Waikani Falls (Three Bear Falls), Hana Lava Tube, and Black Sand Beach at Waianapanapa State Park. Some of the off-the-beaten path stops are technically on private property, so be mindful of the signs.
4. Check the weather in advance.
This may seem like an obvious one, but it really isn't worth doing the Road to Hana in the rain. As such, it's smart to pick a few potential days during your vacation to make the trip. Rainy season in Maui peaks during December and January, and the ideal time to visit is May through September. Also, regardless of time of year, check the Maui Road Closure Notification website, particularly if you're planning to do the flip-trip on Route 31 (the "back road" — more on that below), which is sometimes closed due to flooding.
5. Gas up and pack extra everything.
Top off your gas tank before leaving Paia, because you won't have the opportunity to fill up again until you reach Hana. Also, this is one trip where erring on the side of overpacking will work in your favor. Even if you aren't planning to swim or hike, wear water shoes with treads (a Hawaii essential) and bring an extra change of clothes. Some other items on your checklist should be bug spray, sunscreen, extra memory cards and battery packs, and a light jacket, as weather can change on a dime.
6. Hit roadside stands, but also bring snacks.
While there are many roadside stands, markets, and local joints along the way, do not skip bringing water and substantial food. There will be traffic, so we advise you to do what you can to avoid becoming a hangry killjoy. Also, generally speaking — and we say this with aloha spirit — you'll quickly come to realize that life in this state runs on "Hawaii time" (read: businesses can close on a whim for no apparent reason). Obviously, check hours before you leave, and for places high on your list, make a quick call to confirm. Some of our faves include Nakihu Marketplace, fish tacos at Mama's Fish House or the more local spot Paia Fish Market, Aunty Sandy's for a slice of her famous banana bread, and Coconut Glen's to indulge in coconut milk ice cream.
7. Mind your stuff.
We can't say it any more plainly than this — it's unfortunate, but break-ins are fairly common, considering that people leave their cars for hours to hike out to waterfalls and other sights. Keep anything of serious value at the hotel, wear what you can't part with, and consider putting small items in a waterproof pouch that you can easily throw in your backpack. And, of course, don't forgot to lock the car (and put the keys in that pouch!).
8. Don't travel after dark on the drive back.
The drive back can be leisurely if you take Route 31, considered the "back road," but it isn't for the faint of heart. Several sections are unpaved (though many have tightly packed dirt) and on some stretches, the road is one lane wide, and there are precipitous drop-offs. Confident drivers will be fine taking it slowly, and while a four-wheel drive is helpful, it isn't required. For those who want to simply turn around, Haleakala National Park is a good place to do so. Either way, please, please don't travel at night. It's unsafe, and you'll white-knuckle it the entire ride.
9. Consider a guided tour.
Ideally, more than one person will take the wheel, but with hairpin turns and stop-and-go traffic, it's nearly impossible to keep an eye on the road and also steal a glimpse of scenery. Driving isn't for everyone, and there's something to be said for passing the baton to a tour guide to handle the Road to Hana. That way, no one has to sacrifice fully enjoying the experience.
You'll Also Like:
All products are independently selected by our writers and editors. If you buy something through our links, Oyster may earn an affiliate commission.