Erin Go Bragh, everyone! (FYI: That means "Ireland Forever.") With St. Patrick's Day right around the corner, you're definitely in need of a watering hole to throw back a Guinness (or two, or three) this weekend — or at least an Irish pub to fill up on some Black & White pudding. We're pretty excited about all the beef stew and Bailey's we plan on imbibing on March 17th; if you still need a place to celebrate, try out one of these Irish pubs in a city near you. From the Emerald Isle itself all the way to the DR, we promise a good time — and at least a few Irish Car Bombs.
The Oliver St. John Gogarthy, Dublin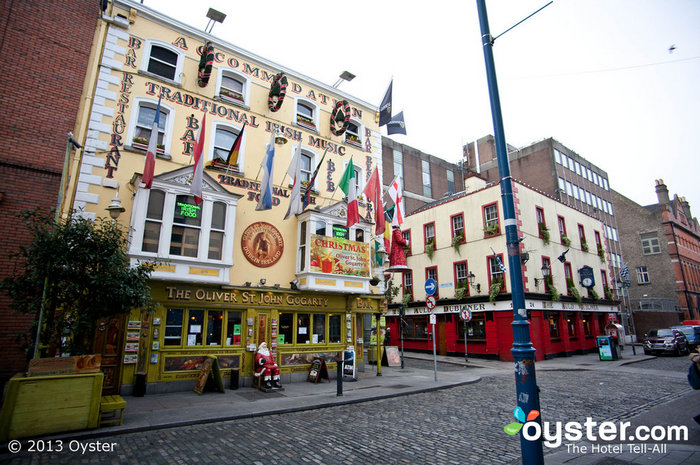 Located across the street from the aptly named Temple Bar Hotel, the Oliver St. John Gogarthy (named after the famous Irish poet, playwright, and surgeon) is one of the best spots to grab a pint in Dublin. Temple Bar is known for its bar-hopping patrons who party into the wee hours on a normal night, so expect St. Patty's to be a doubly fun event. Gogarthy's has a solid selection of pub food, live music, and plenty of whiskey to go around. And stumbling back to your hotel just across the way is almost too easy, so feel free to order as many rounds as you like!
McCabe's Irish Pub, Naples, FL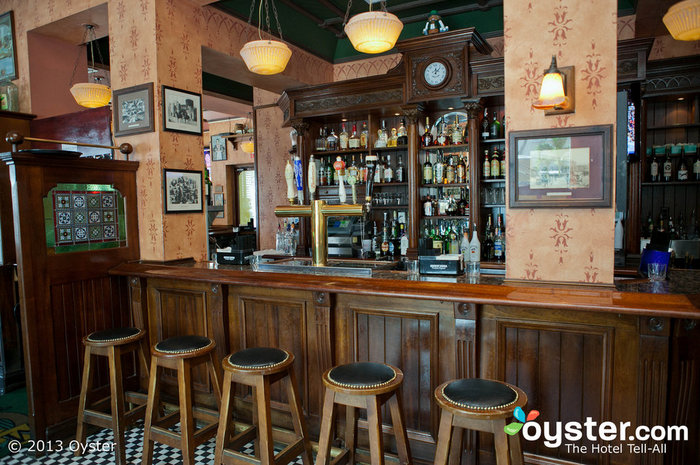 This pub in the normally sleepy town of Naples, located on Florida's Gulf coast, was opened at the Inn on Fifth in 1997 by second-generation Irish-American Philip McCabe. The pub's decor is authentic, with rich wood paneling and converted gas lamps, thanks to McCabe's self-described "pub crawl with a purpose" to the Emerald Isle before the space's opening. You'll also find tin whiskey signs, old bank notes, a County Kerry fiddle, and etched-glass window panels at the pub, not to mention authentic fare and plenty of Irish beers and whiskies. The bar hosts the largest St. Patrick's Day parade in the Southeast, with live music starting at 8 A.M.
Daddy O's Pub & Game Room, Chicago
Originally founded in 1926 on the outskirts of Chicago by two industrious Irishmen — Seamus and Finn O'Daddy — who were not okay with that whole Prohibition situation, O'Daddy's has been serving up the good stuff for over 80 years. Today, this corner pub has relocated to the Hyatt Regency Chicago. It features juicy burgers, local brews, and plenty of ways to get in the game, whether you're looking to watch the latest match on ESPN or play a round of billiards yourself.
Jose O'Shay's Irish Beach Pub, Cabarete, Dominican Republic
Located in the kite-surfing town of Cabarete in the Dominican Republic, this Irish pub may be a long way from home, but it's (almost) as authentic as its brothers across the pond. It was founded by an Irishman — Frank Brittingham –who had already made his mark on the pub scene (Brittingham had successfully opened four pubs in Philadelphia before moving to St. Thomas in the 1990s and opening Molly Molone's Irish Dockside Pub). Playfully named Jose O'Shay's, the pub serves a combination of traditional Irish fare (such as fish & chips and corned beef) alongside Caribbean favorites like conch fritters. On St. Patty's Day there will be dancing, drinking, and a parade — beachside. If you're in the DR on March 17 and staying at the nearby Viva Wyndham Tangerine or Natura Cabanas, be sure to stop by.
Rí Rá Irish Pub, Atlantic City
In addition to a comprehensive drink list and a unique twist on traditional Irish fare, Rí Rá offers weekly entertainment and a variety of traditional Irish dance performances at the Tropicana Casino & Resort Atlantic City. But the best part of Rí Rá lies in its construction — all of the wooden boards and glass windows are made from pint glasses and pieces that were salvaged from famous Irish taprooms. The pub is gearing up for a day of stepdancing, bagpiping, and drinking, with a variety of Irish bands and brews on tap. Plus, Rí Rá is a national chain, so if you're not in AC, be sure to check out its other locations.
Kitty O'Shea's, Chicago
This watering hole at the Hilton Chicago may be better known as a prime spot for catching a Bears game, but this Irish pub is all business for St. Patty's Day: Kitty O'Shea's is opening at 11 a.m. to revelers 21 and up, and is offering all sorts of discounts and deals on drinks and grub. While people have questioned the bar's service (it can be slow at times), visitors cite the bar as having a true Irish feel.
Nine Fine Irishmen, Las Vegas
A hotel of gigantic proportions (there's a roller coaster on the grounds!), the New York New York has been a mainstay on the Vegas strip for many years now. But we're more interested in its classic pub, Nine Fine Irishmen. The design team behind the bar, The Irish Pub Company, was appointed by Guinness as their sole Irish Pub Concept Designer. Come for the food — the Beer and Cheese dip is pretty outrageous — and stay for the live entertainment, which includes a nightly performance of traditional Irish dance and Celtic rock.
Cuffs, Boston
You can't get much more Irish in America than in New England — especially in its hub, Boston. Cuffs, located inside the Back Bay Hotel (in one of the city's chicest areas), has a very different vibe than the boutique hotel in which it's housed. The large fireplace and spacious design make the bar feel rather airy, even when packed to the brim with patrons on St. Patty's Day. If the weather is nice, imbibers can also set up camp on the pub's outdoor patio.
The Fitz Bar and Restaurant, New York City
One of the most authentic of the bunch, the Fitzpatrick Manhattan Hotel is owned and operated by a team of Irishmen — and folks such the President of Ireland have stayed here when visiting New York. The Fitz, the hotel's bar and restaurant, has been recently renovated into a sleek but still traditional Irish taproom space. The food is tasty, with classic offerings like the All Day Irish Breakfast, Yorkshire Shepherd's Pie, and Fish and Chips. But be forewarned: The Fitzpatrick is known to hike the price of everything for its St. Patty's celebration.
RELATED LINKS:
All products are independently selected by our writers and editors. If you buy something through our links, Oyster may earn an affiliate commission.