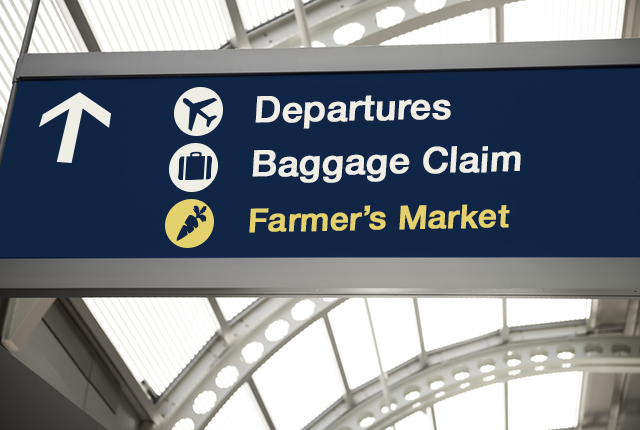 It's not surprising that airports have a collective bad rep. After all, a lot of not-so-fun things happen at airports. Flights are delayed, luggage is lost or stolen, babies cry, and food is often less than inspiring. But the good news is that it's not all doom and gloom when it comes to today's airport trends, and these negative perceptions could start to change as airports are increasingly focused on keeping travelers happy, entertained, and well-fed.
This year, more so than any other, airports have pushed to incorporate more varied restaurants and shops. As Mashable's Travel Editor, Jessica Plautz, says, "One of the biggest complaints among airport travelers is a lack of options." Though airports are primarily focusing on adding recognizable brands and celebrity chefs, plenty are bring in local favorites as well. This can help to "sell" travelers on the airport's location – whether they plan to leave the terminal or just hang out until their next flight. Amy Farley, News Editor at Travel + Leisure, adds, "Airports are now recognizing the importance of becoming destinations unto themselves."
Adding Variety
It's
become increasingly clear that dining variety in airports is crucial to
costumer satisfaction. As Jacob
Gross reports in The New York Times
Style Magazine, while only seven percent of passengers purchase food
onboard, 55 percent dine in airports. In response to this increase in traveler airport
dining, there has been a 500 percent increase in the amount of space in U.S.
airports that is devoted to restaurants and bars since the 1960s. But
improvements to actual offerings is a much more recent trend, occurring over
the last few years. Well-known celebrity chefs, such as Jamie Oliver and Gordon
Ramsay, have expanded their restaurant empires to airports, and 13 former
contestants of Top Chef Masters currently
own real estate in airports worldwide.
Retail in airports has developed similarly. Designer clothing brands have begun to infiltrate airport retail space that was once dominated by newspaper kiosks and bookstores. Designers such as Michael Kors are leading the way; he currently has about 50 airport stores worldwide. "People still want to shop in physical destinations," Britteny Dee, a writer for Fashion Times, explained to Oyster. "Airports have become the perfect venue for brands to reach both new and loyal consumers because there is guaranteed foot traffic."
And this foot traffic has increased; in fact, it has doubled over the last 15 years. Airports also generally have a more affluent, ready-to-spend crowd than your average shopping center, thanks to the presence of international and business travelers. For large, well-developed and well-recognized brands, opening an airport outlet is a relatively low-risk endeavor.
Introducing Local
In 2014
in particular, however, the main goal has shifted from solely bringing in
well-known establishments, to bringing in beloved local spots as well.
Hildegarde Assies, co-founder of airporttrends.com, points out that this is due
in part to the recent decline in consumer trust in large, national chains. For
example, earlier this month, Thrillist published
a ranking of the best U.S. airports for food and drink; the factor they
weighted most heavily was the presence of regional cuisine. Dallas/Forth Worth
International, with its four barbecue restaurants, eight Mexican options, eight
bars, and outpost of Texas native Stephan Pyles' Sky Canyon, took the top spot.
"The
general consensus is that default airport food outlets are not good," said Plautz.
"But places like the San Jose airport are becoming their own destinations, with
great additions like local restaurants in the terminals." Farley highlighted
San Francisco International Airport. "With a farmers market, that is truly a
farmers market, in the terminal, it really sells you on the San Francisco location
right away," she said.
Once again, retail has followed the trajectory of dining by shifting to include more local brands. Although an international brand, London-based Ted Baker brings some hometown flavor to London Heathrow's recently rolled out, and world-renowned, Terminal 2, and Los Angeles International Airport includes retailers that are exclusive to California, such as Kitson and Fred Segal. As Dee explained, these smaller retailers can use airport shops as testing grounds to determine the demographic – including age, nationality, and income — of those who respond most positively to their brand. Airport shops also assist with exposure for emerging brands.
Taking a Cue from International Airports
It's
international airports that have truly led the way with both the "going
high-end" and "going local" trends. Germany's Stuttgart Airport is the only
airport in the world to boast a Michelin-starred restaurant, thanks to Top Air,
a gourmet restaurant serving innovative spins on Bavarian classics. Plautz
referenced United Arab Emirates airports as being ahead of the curve in
high-end and local retail and dining as well, and Heathrow's Terminal 2 is also replete with luxury and local shops
and restaurants. Among other British favorites, Terminal 2 features The
Gorgeous Kitchen, opened this summer, which is run by a group of local chefs.
It also has numerous boutique shops helmed by local owners. Zurich Airport highlights locally made
products in its dining and retail areas by dubbing them as either "Swissness"
or "Zurichness."
Trends Continuing into 2015
So U.S.
airports may be slightly behind the innovative game when compared to those in
international markets, but a new cycle of development has begun, and they are
quickly catching up. Sure, some of the more unfortunate
trends may not be going away anytime soon. The Federal Department of
Transportation reports that domestic flight delays and cancellations have
increased by almost 10 percent in the last year. Nearly 400 TSA luggage
handlers have been fired over the past decade for stealing from passengers, and
the significantly higher number of reported thefts implies that it's even more
common. In 2010, Continental Airlines started the "no free food" trend, and the
money-saving (for airlines, of course) strategy caught on; not one major
airline today offers free meals to coach passengers on domestic flights.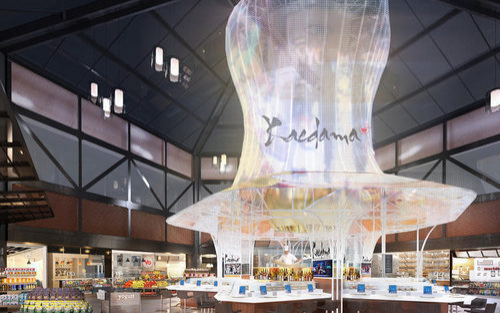 But at least travelers will be able to find great food and retail before they board. Airports are going to continue to add high-end and local airport dining and shopping in 2015. Earlier this month, United Airlines announced its plans to completely overhaul Newark Liberty Airport's Terminal C by adding 55 new dining options. Many will be fine dining, sit-down establishments helmed by the likes of renowned chefs such as Alain Ducasse, Jose Garces, and Mario Carbone, the mastermind behind New York City favorites such as Michelin-starred Carbone and ZZ's Clam Bar. Five of the 55 are slated to open this summer. Just a few weeks before this announcement, New York Governor Andrew Cuomo, along with Vice President Joe Biden, unveiled an upcoming contest for the redesign of both LaGuardia and JFK airports. Finalists will each receive up to $500,000 to shape their proposals.
Farley predicts that domestic airports will also continue to look to international ones as trendsetters. She credits the success of Vancouver International Airport (YVR) to the fact that it is run by a private company, versus the government. "This year we've begun to see more private companies offering bids to run airports in the U.S. as well," she said. So while some airport annoyances may stay firmly in place, at least this awesome trend of more and better dining and retail options, with a focus on variety by including both local and high-end, also appears to be here to stay. After all, if you're going to be stuck at the airport for an additional six hours, you should be able to enjoy a nice culinary and shopping experience.
All products are independently selected by our writers and editors. If you buy something through our links, Oyster may earn an affiliate commission.