Whether you like it or not, social media has transformed the way we travel. Case-in-point: An increasing number of travelers are turning to Instagram -- not only to document their trips, but also in search of holiday inspiration, including what to do and where to stay. After all, if you went on vacation and didn't Instagram it, did you even go at all? Although a list of Instagram-worthy hotels could hit the thousands, we pulled together 11 of our favorites. With beautiful views and snazzy designs, the following properties are picture-perfect -- #nofilter necessary.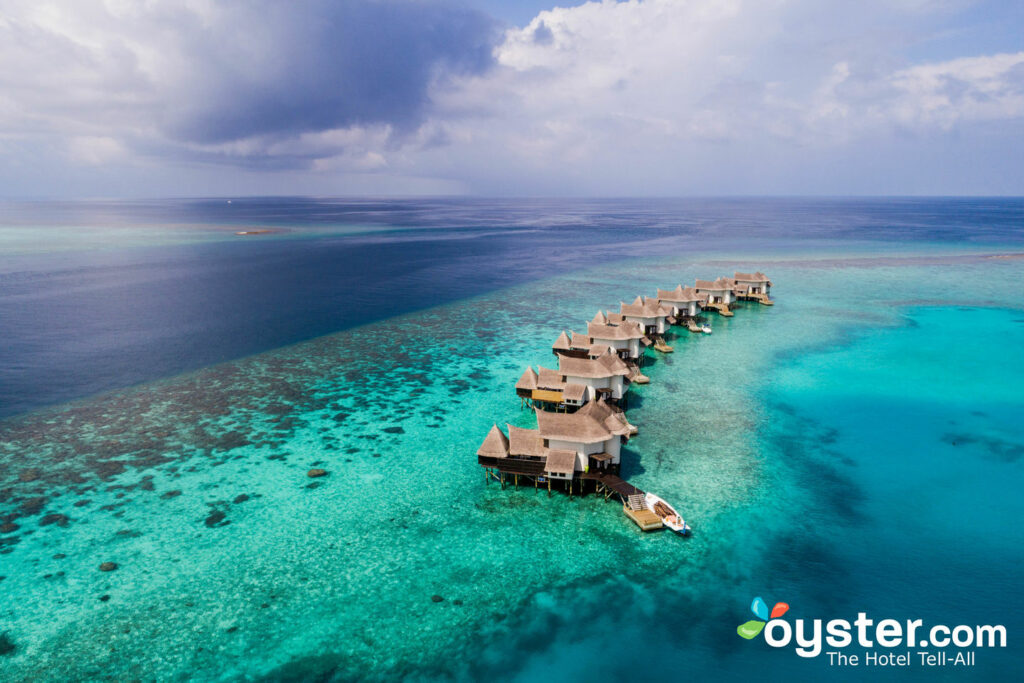 Let us count the ways in which Jumeirah Vittaveli makes for great Instagram fodder: It's located on a private island, offers over-the-ocean suites and on-land villas with private pools, showcases gorgeous views galore, and provides luxe amenities like a stunning outdoor pool, restaurants on white-sand beaches, and an overwater spa. Traditional Maldivian architecture and elegant interiors (think wooden floors and a white and cream color scheme) add to the luxe, airy vibe. Best of all, with only 89 units and an isolated address (the closest island is a 20-minute boat ride away), the resort doesn't get busy, so you won't have to elbow your way through crowds to score that dreamy, screensaver-worthy shot.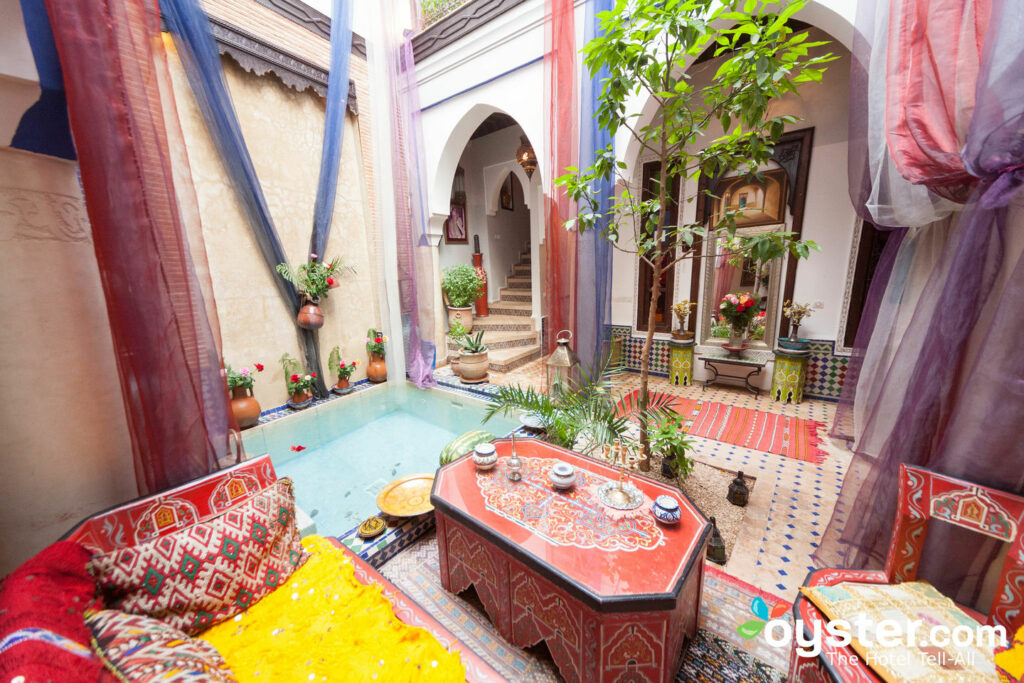 A hidden gem among Marrakech's winding streets, this charming, family-run riad has plenty of spaces to get snap happy. As the centerpiece of the property, the courtyard is hung with colorful gauze, lined with mesmerizing tilework, and filled with ornate and bright furniture. The photogenic Moroccan decor is also on display on the plant-lined rooftop, where you'll find beautiful cushions and padded benches under an atmospheric Berber tent. The lounge area, where residents escape the scorching sun, is more subdued, but equally eye-catching, with black-and-white geometric patterns on the furniture and oil paintings on the whitewashed walls.
Santorini is not in short supply of Instagram-able properties — and San Antonio Hotel, located in a secluded spot at the narrowest point on the island, is one prime example. Built into a natural cave formation within the volcanic rock of the area, the hotel stands out for its striking red stone arches that contrast the bright white facade. Its cliffside position provides unobstructed views of the caldera and Aegean Sea, which are especially impressive from the restaurant terrace and infinity pool which seems to drop into the sea. Rooms, too, have excellent vistas from their furnished balconies (some open to shared terraces), and many suites even have outdoor hot tubs. There's also a stunning spa built into a cave. In other words, have your camera handy at all times.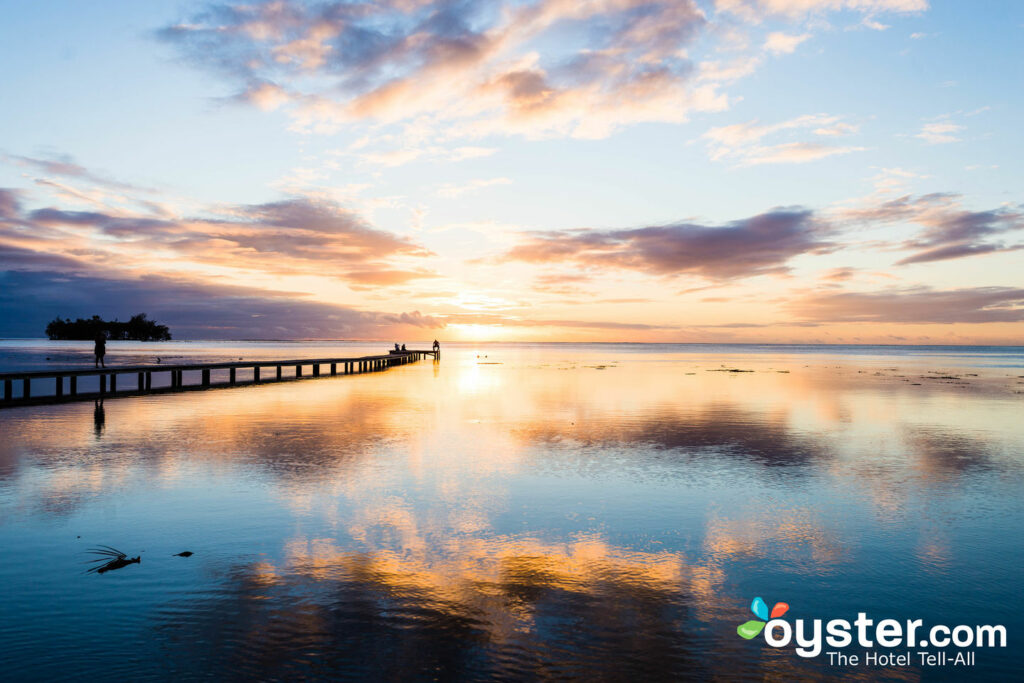 Every Instagram feed follows an identical formula: awkward selfie, mouthwatering food, adorable animal, gorgeous sunset, repeat. Those headed to Raiatea Lodge Hotel, in French Polynesia, will have no problem scoring the latter. The small, colonial-style property with a cheerful, blue-painted exterior is located across the road from a dock — the perfect perch from which to soak in the stunning sunsets. Plus, all of the rooms have colorful decor and furnished terraces facing the ocean for an added dose of Instagram envy. There's even a garden-set pool and open-air restaurant serving continental breakfasts and gourmet a la carte fare, so you're covered for that that tasty food shot, too.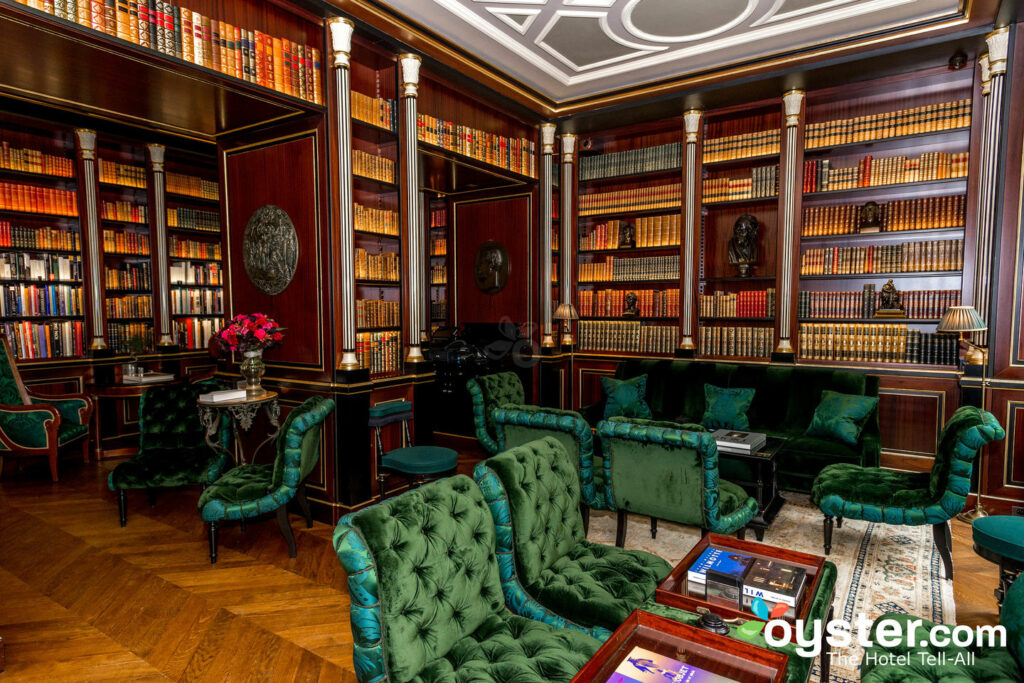 Guests of La Reserve, a luxury hotel with "Palace" distinction, have no doubt landed in Instagram gold. Originally built in 1854 as a townhouse for Napoleon III's half-brother, the property's interior spaces still maintain a private-mansion feel. Everything, from the hotel's gold-leafed Michelin-starred restaurant to the subterranean spa with red lacquered walls to the glamorous bar with red tufted wingback chairs and a marble fireplace, is likely to garner hearts in the triple digits. The emerald-hued library is the perfect place to sit by the fire and read — or 'gram — and at night, the wood-paneled space turns into a jazz club with live music. The butler-serviced rooms and suites — decked out in damask silk wall coverings, velvet drapes, period artwork, and Carrara marble bathrooms — also await their close-up. Even the hotel's enviable location, off the Champs-Elysees, will bring plenty of oohs and ahhs, or at least lots of heart-eyed emojis.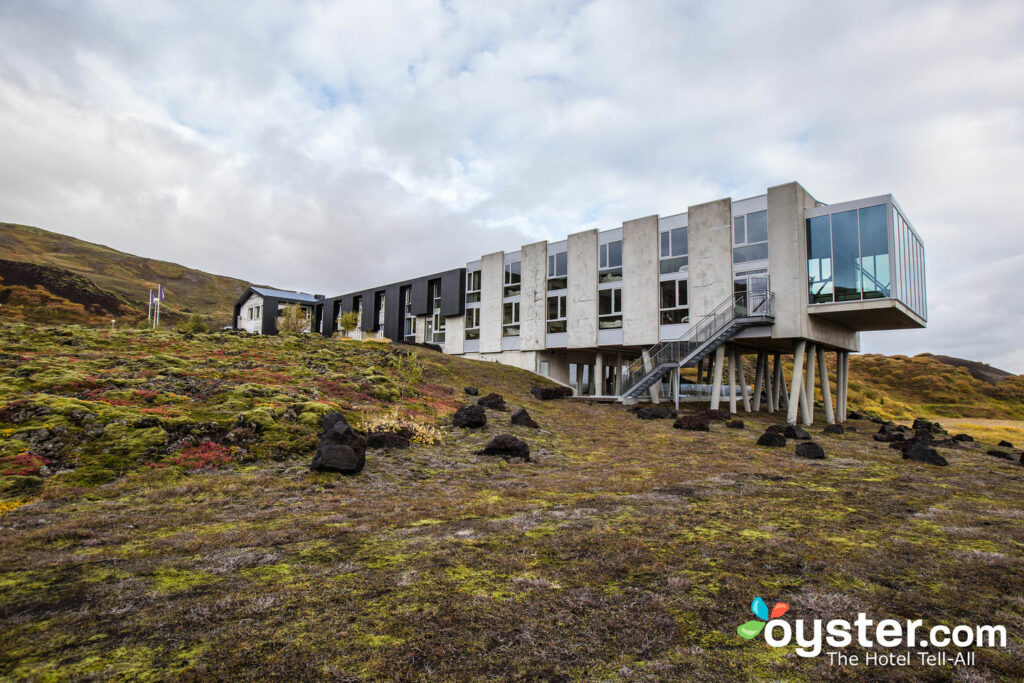 In addition to being a source of travel inspiration, Instagram is a platform where many take their design cues, too. ION Luxury Adventure Hotel, located down a road that meanders through Thingvellir's mountainous terrain, gives visitors the best of both worlds. Jutting out from the landscape, the hotel's concrete and glass facade will have you believing that you've stepped inside a fantasy film. The interiors are just as striking, with salvaged wood and volcanic rock details. With huge windows throughout the property, the stunning scenery is also on display inside. In fact, much of the hotel is geared toward the outdoors, from the stylish spa with an outdoor hot tub to the bar that was built with Northern Lights viewing in mind. To top it off, the eco-friendly hotel is powered by a nearby geothermal plant.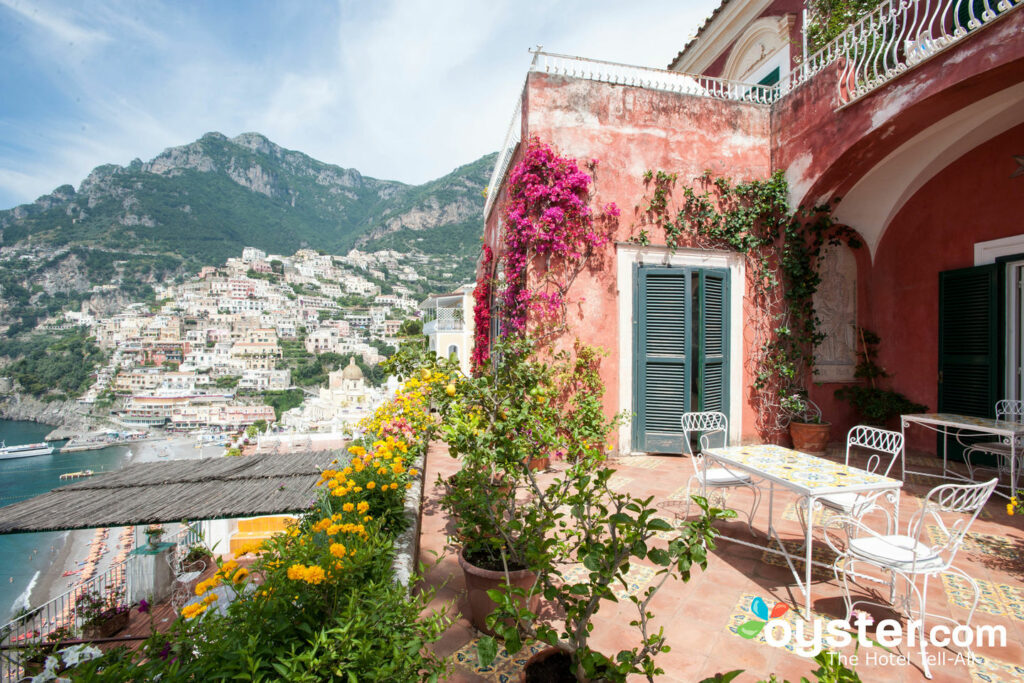 A short walk from the center of Positano, a picturesque village on the Amalfi Coast, Hotel Marincanto makes this list for three reasons: location, location, and location. The property is positioned on a cliff, giving way to gorgeous sea views that lure romancing couples. Rooms and suites have balconies — many of which also put the water on display. For a closer look, take the set of stairs down to the small sandy beach with calm waters. And the hotel's on-site restaurant terrace, full of vines and bougainvillea, and cliffside infinity pool ups the eye-candy quota even more.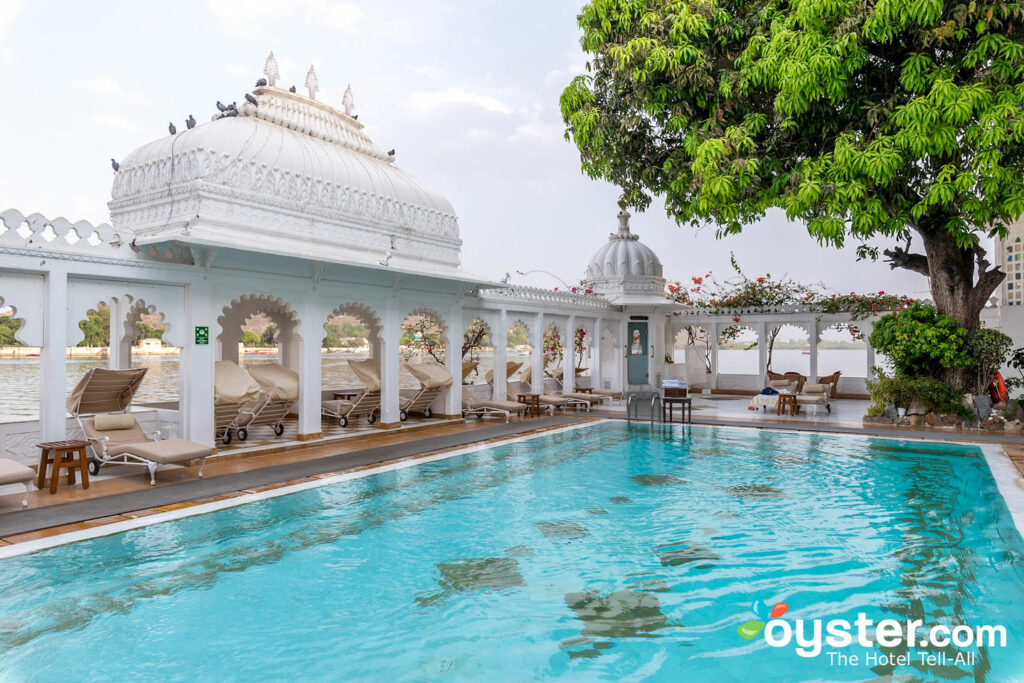 Before this hotel graced many an Instagram feed, it starred on the big screen, in the famous James Bond flick "Octopussy" — and it's not hard to see why. Occupying a gorgeous 18th-century palace, in the center of Udaipur's Lake Pichola, the hotel's good looks are evident all over. Courtyards are filled with lush tropical foliage, marble terraces are marked by swing benches, an outdoor pool boasts beautiful lake views, and the exterior displays domed cupolas known as chhatris. Inside, the attractive lobby features crystal chandeliers and ornately carved pillars and archways, the restaurants are adorned with gold-leaf paintings, and the rooms are decorated in regal Rajasthani furniture — all fit for royalty, and now you, too.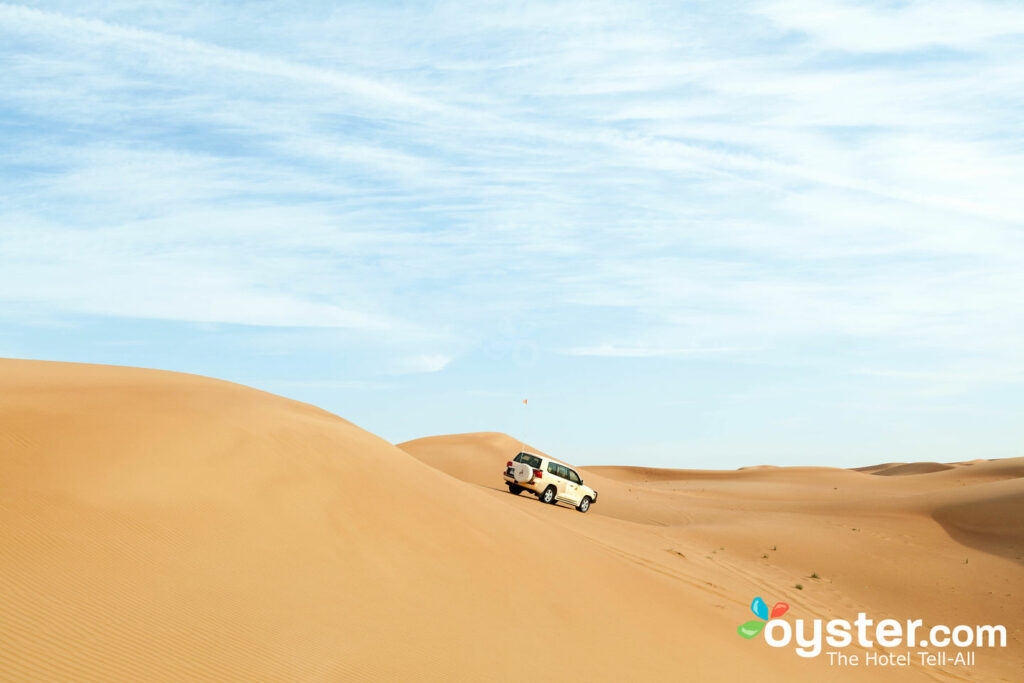 While most travelers to Dubai will be populating their social media profiles with shots of towering skyscrapers and buzzing cities, you'll stand out with snapshots of serene sand dunes. At Al Maha Desert Resort, the Bedouin-inspired architecture blends in nicely with the breathtaking desert landscape. Its secluded location also means nights are starry and peaceful. Plus, the 42 standalone suites come with infinity plunge pools overlooking the undulating sand. You might also be able to capture wildlife — gazelles and onyx roam the grounds — providing photographic evidence to that story you'll tell for years to come.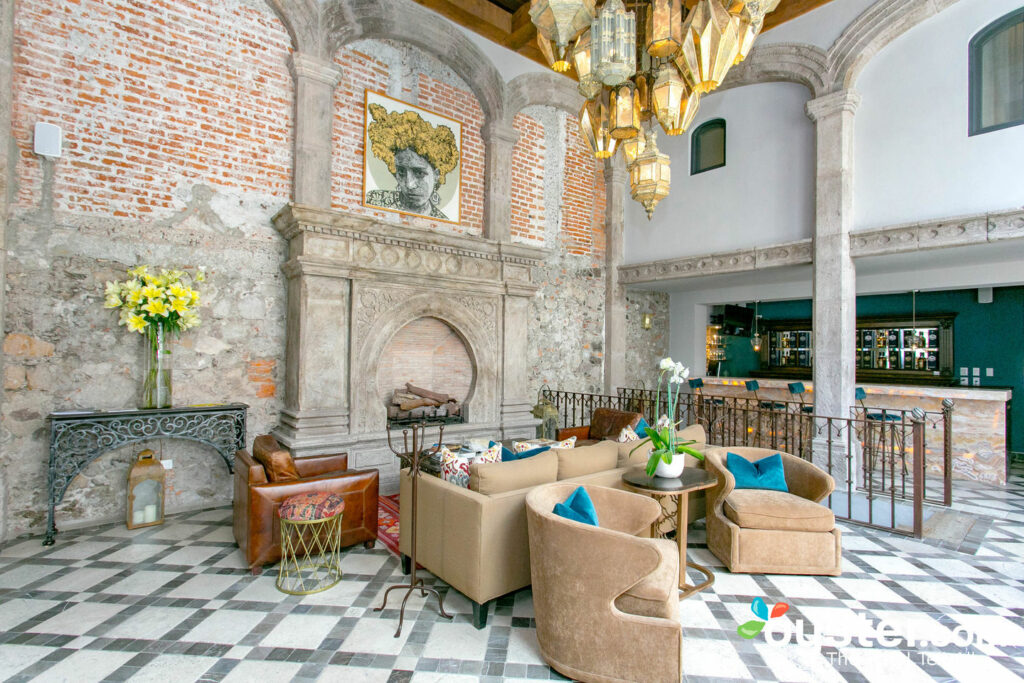 Housed in grand colonial-style building inspired by the Alhambra fortress in Granada, Spain, this boutique hotel matches San Miguel's funky, yet sophisticated, vibe. Modern details combine with traditional Mexican architectural features, like high ceilings, stone archways, and cantera columns, for a charming backdrop. And while the interior courtyard is certainly romantic and peaceful, the best photo ops are arguably up on the roof, where you'll find a chic bar, small pool, and stunning views of the colorful skyline.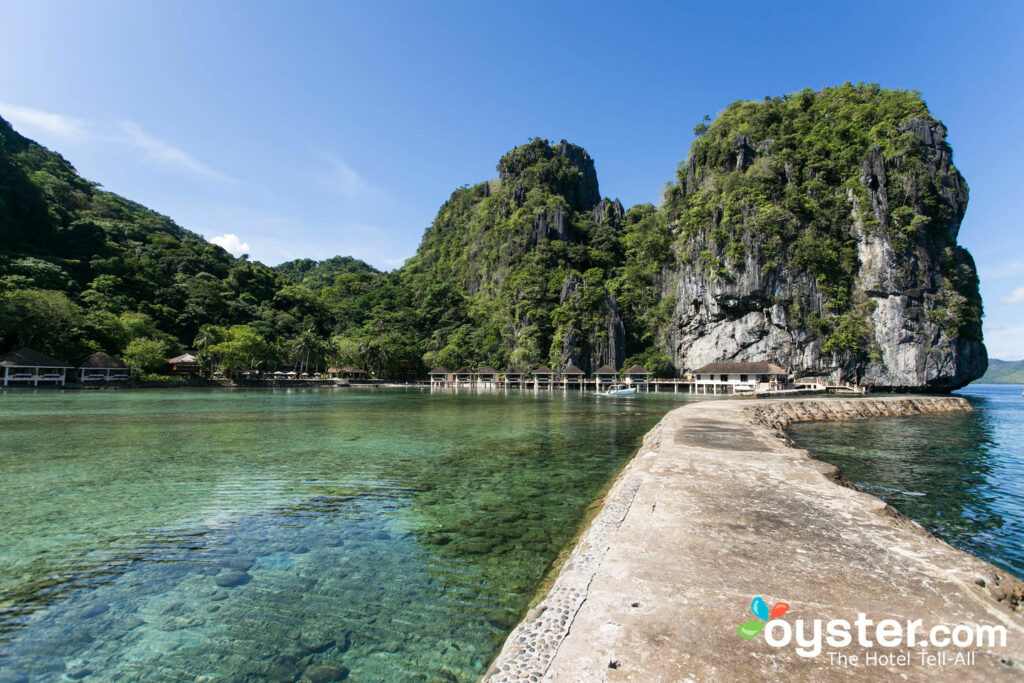 Surrounded by lush tropical forests, stunning limestone cliffs, and crystal-clear waters on a remote, largely uninhabited island in northern Palawan, this upscale property is awaiting the snap, crop, and filter treatment. There's plenty more to do beyond photographing every inch of the grounds, though. Outdoor activities, including non-motorized water sports, hiking, and island-hopping tours, plus a quiet beach and pool for relaxing in the sun, are just a few top options.
You'll Also Like:
All products are independently selected by our writers and editors. If you buy something through our links, Oyster may earn an affiliate commission.