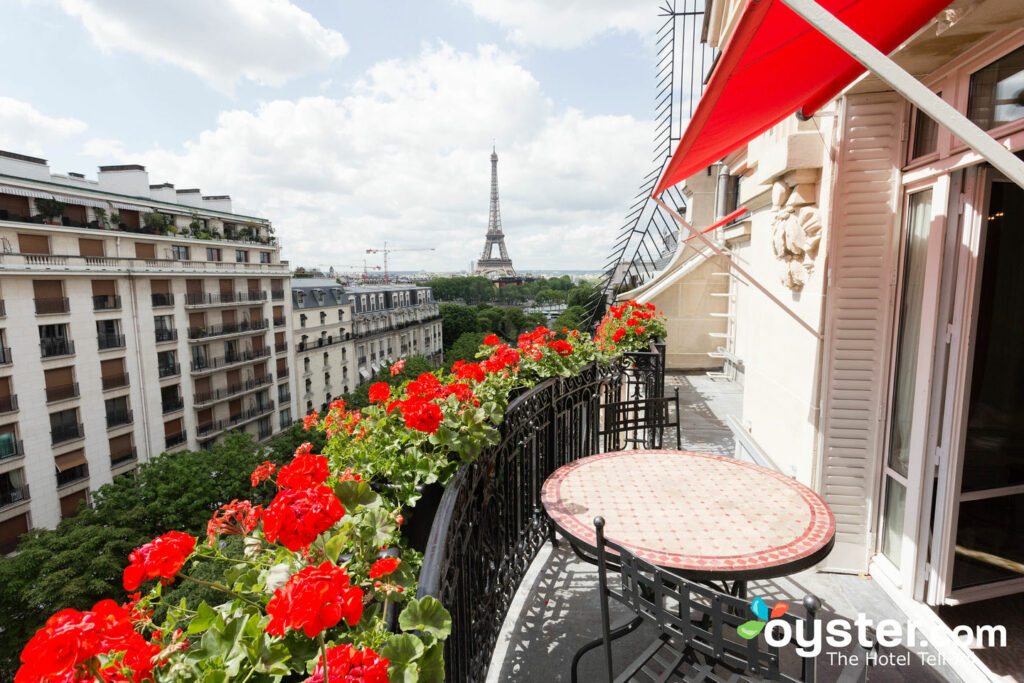 The question isn't if you should go to Paris, but rather when to visit and where to stay. With such a wide variety of hotels -- from top-of-the-line luxury stays to charming and trendy boutiques -- it can be hard to choose the right one for you. That's why we rounded up our favorite property in 10 popular Paris neighborhoods, including touristy hot spots near landmarks like the Louvre and quiet, artsy areas tucked away from the crowds. The only remaining debate: Will your first stop be a boulangerie or fromagerie?
Paris is arguably the number-one fashion capital of the world (sorry, New York), so it's only fitting that you spend the night in a stylish hotel, too. Formerly a bakery, this five-story property in the trendy Haut Marais district is dressed to the nines from head-to-toe, with eccentric designs by Christian Lacroix. Velvet chairs and colorful end tables brighten the lobby lounge, the modern elevator features theatrical wallpaper, and polka dots line the staircase. Each room is decorated by the French fashion designer — expect tres chic colors, patterned wallpaper, Venetian mirrors, faux fur throws, and damask prints. And if the hotel's look inspires you to channel your inner fashionista, you're luckily surrounded by loads of hip shops.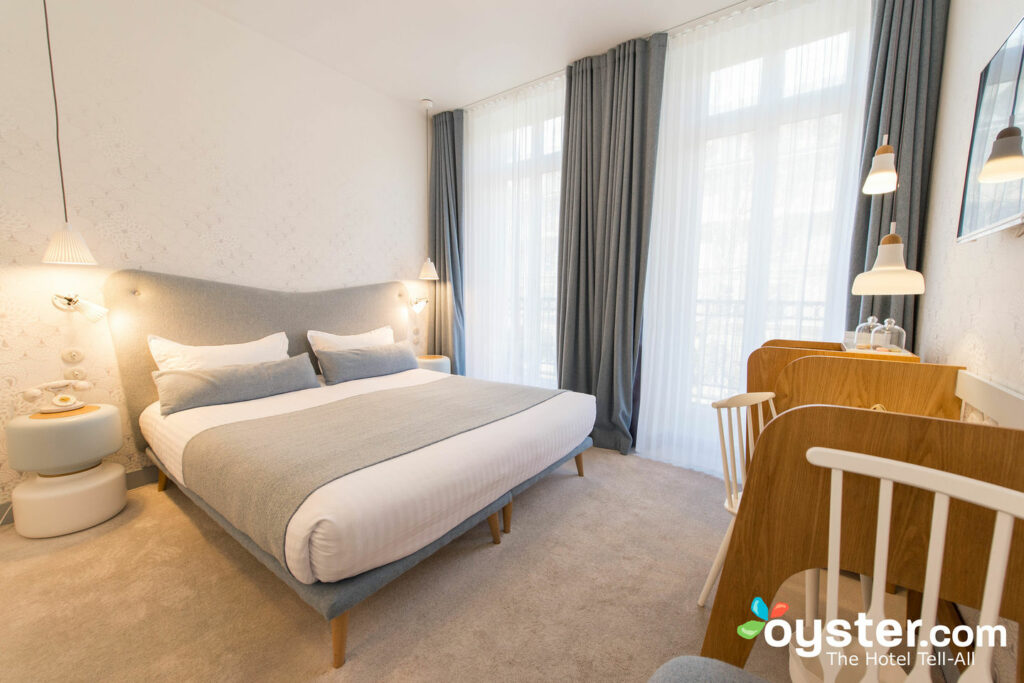 Located in the Latin Quarter — within walking distance of the Pantheon, Luxembourg Gardens, Sorbonne, and Notre-Dame Cathedral — this hotel offers a grown-up take on Lewis Carroll's children's tales. The name alone, Le Lapin Blanc (or The White Rabbit), hints at its Wonderland-themed interior. Beyond the blink-and-you-might-miss-it front door, guests will find a floor-to-ceiling mirror displaying a quote from Carroll. Alice-inspired art and artifacts can also be discovered inside. The rooms are equally Instagram-able, with clean lines and Scandinavian-style furnishings — a calming break from the hotel's busy location that's typically with locals, tourists, and students.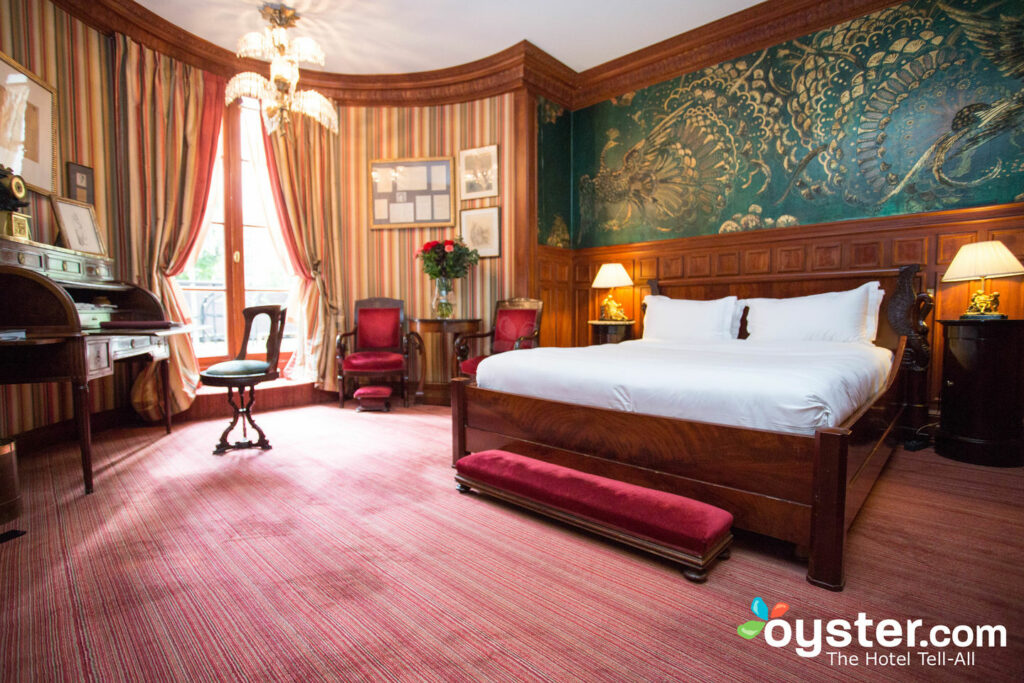 Back in the day, the 6th Arrondissement was frequented by plenty of writers, artists, and philosophers. That includes the cozy and artistic L'Hotel, which was home to Oscar Wilde in the 19th century. The chic, 20-room property, which also did a stint as a brothel before becoming a hotel, continues to host famous faces these days — and it's not hard to see why. For starters, it boasts impressive features, like an underground spa pool and Michelin-rated restaurant, despite its small stature. It's not hard to picture 19th-century bureaucrats hobnobbing in the sultry bar, amid the flickering candelabras. The restaurant offers equal eye-candy, with a small courtyard dining area featuring a mossy fountain. Of course, as is the case with many popular Paris neighborhoods, a stay here comes with a hefty price tag.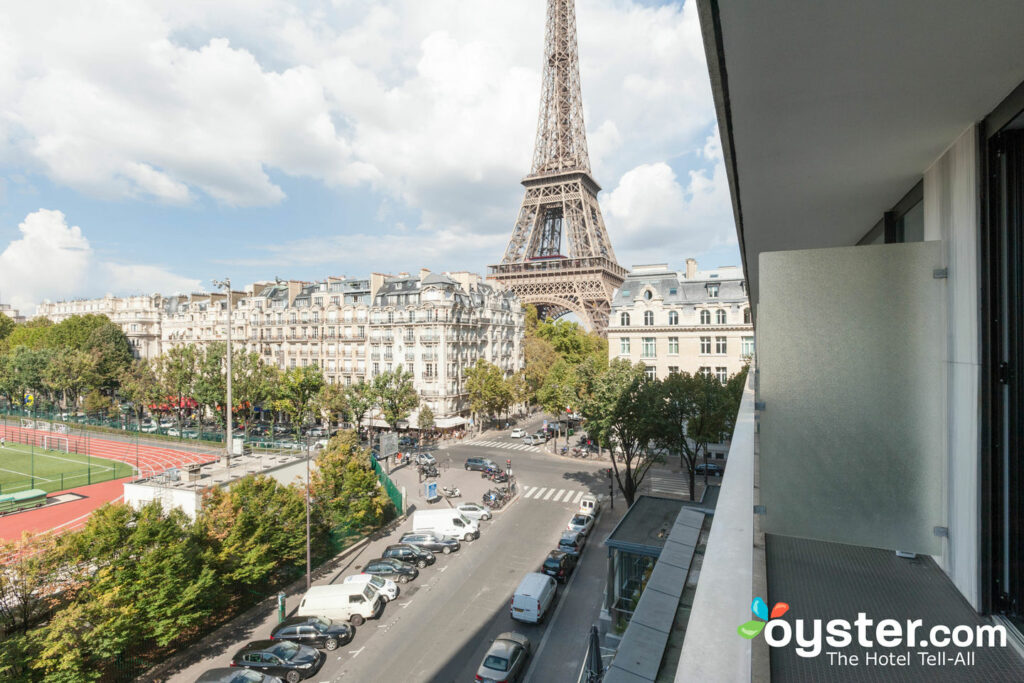 No first (or fifth) visit to Paris can exclude a trip to the Eiffel Tower. Those looking to always have the legendary landmark in plain sight should consider staying at the upscale and modern Pullman Paris, which practically stands in the shadow of the tower. Smart and minimalist, most rooms here (some with balconies) put the Paris icon on display, as does the spacious fitness room, so you can break a sweat while feeling like you're sightseeing.
Much like the bohemian neighborhood it sits in (Montmartre was a haunt of painters, writers, and other creative types), Hotel Particulier is equally artsy-chic. Guests ring a doorbell to access the private gated lane in which the five-room property is located. Outside, the 19th-century stone building is surrounded by a leafy garden with cobblestone steps. Meanwhile, the interior is filled with velvety furniture and gilded mirrors. Le Tres Particulier, the late-night bar with glass windows overlooking the garden, is a great place for nightcap, and the restaurant, with taxidermy touches and red walls, has a romantic, posh parlor feel. Even the rooms are eye-catching, with decor ranging from psychedelic wallpaper to a lime-green bathrooms to printed poems hanging off lights.
Do as legendary luminaries Marlene Dietrich and Grace Kelly did and spend the night at the Hotel Plaza Athenee. The ultra-exclusive environment begins before you even enter the property — the century-old building is set amid fashionable boutiques in the 8th Arrondissement. The upscale atmosphere continues in full force in the lobby (crystal chandeliers, red-silk couches, and marble columns fill the space), the Christian Dior-appointed spa, the restaurants overseen by Michelin-star chef Alain Ducasse, and the cocktail bar. And while the interiors surely wow, the romantic courtyard — covered in ivy — may be the most memorable feature. But romantic doesn't come cheap — especially in Paris.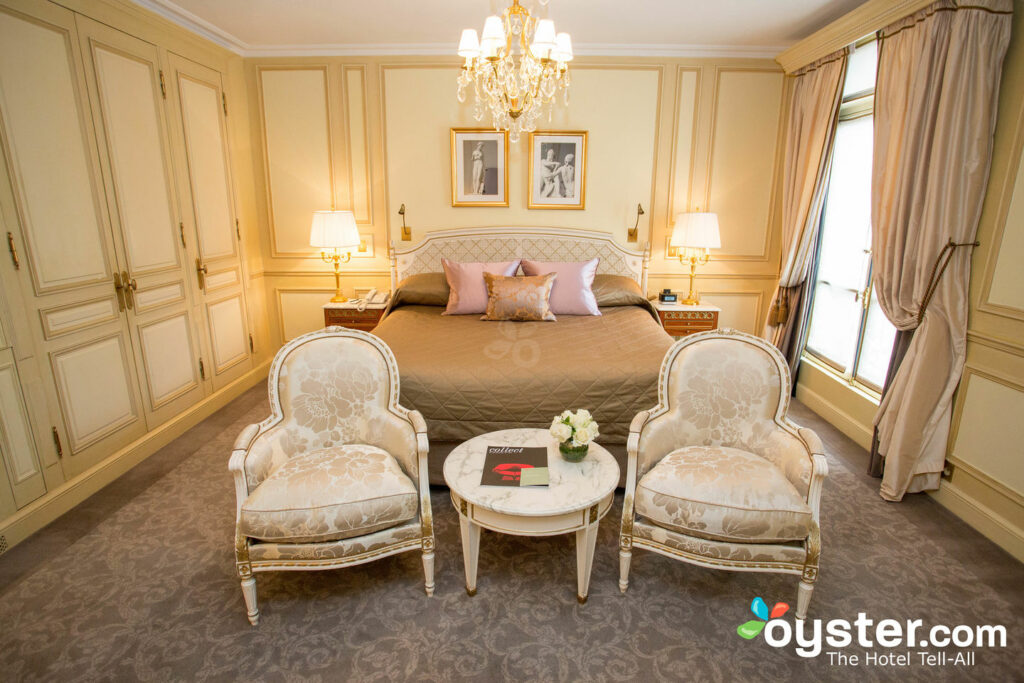 Between the luxurious Louis XVI decor and the Michelin-starred restaurant, Le Meurice is here to give guests the royal treatment from check-in to check-out. Housed in a grand, seven-story building, the property is nothing short of grand. The lobby alone features marble floors, rich carpets, and crystal chandeliers. Rooms are spacious and lavish, too, with luxe details, period furniture, and palatial marble bathrooms. The Dali-inspired restaurant (he was a frequent guest here), cozy bar, and spa are nice additions. Plus, it's situated directly across from the Tuileries Garden and a short walk from the Louvre, making it ideal for tourists — that is, if they can afford it.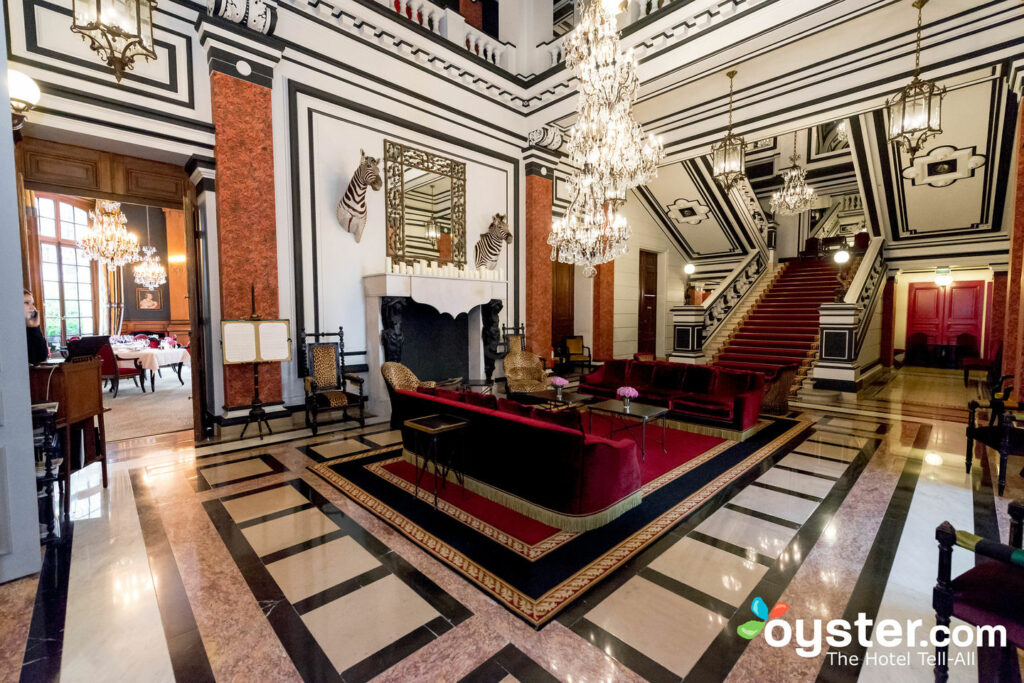 The posh Saint James Paris fits perfectly in the 16th Arrondissement, home to the city's toniest residents, including French political figures and foreign dignitaries. From the outside, the hotel appears to be a stately chateau, stuck in time with no updates since its days as an aristocratic home in the Second Empire. But that's not what you'll find inside. Yes, the atmosphere is hushed and exclusive — partially thanks to fact that it's also a members-only club — but the decor is loud as can be. Funky checkerboard floors, red-velvet sofas, taxidermy zebra heads, and a light fixture made of 14 stacked chandeliers adorn the space. Beyond the decoration, a Michelin-starred restaurant, a library bar serving cocktails, and a Guerlain spa with Moroccan-inspired treatments rooms and Turkish baths, all draw guests in, too.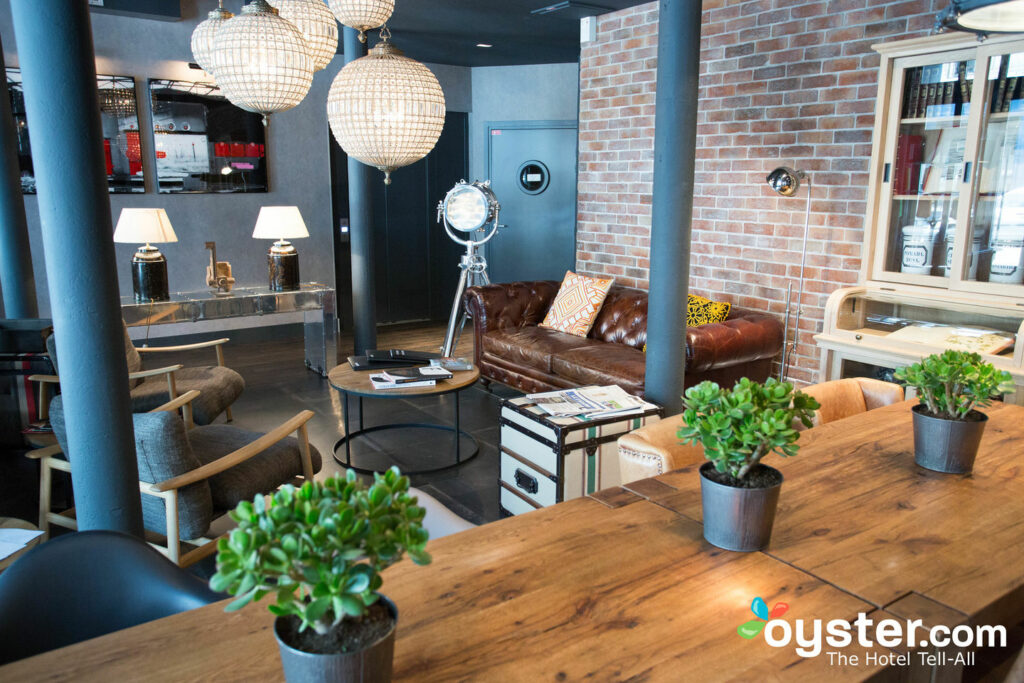 Paris has many personalities — romantic, luxurious, edgy, and trendy, to name a few. If you're interested in the latter, consider a stay at Hotel Fabric, in the 11th Arrondissement. Housed in a converted textile factory, this boutique, hipster hotel nods to its former manufacturing life — large metal windows, exposed air ducts, retro curios, classic furniture, and bare brick can be found in the lobby. The rooms, however, have a fun, playful look starring striped wallpaper and brightly patterned fabrics. The evening honesty bar and small spa are cool bonuses.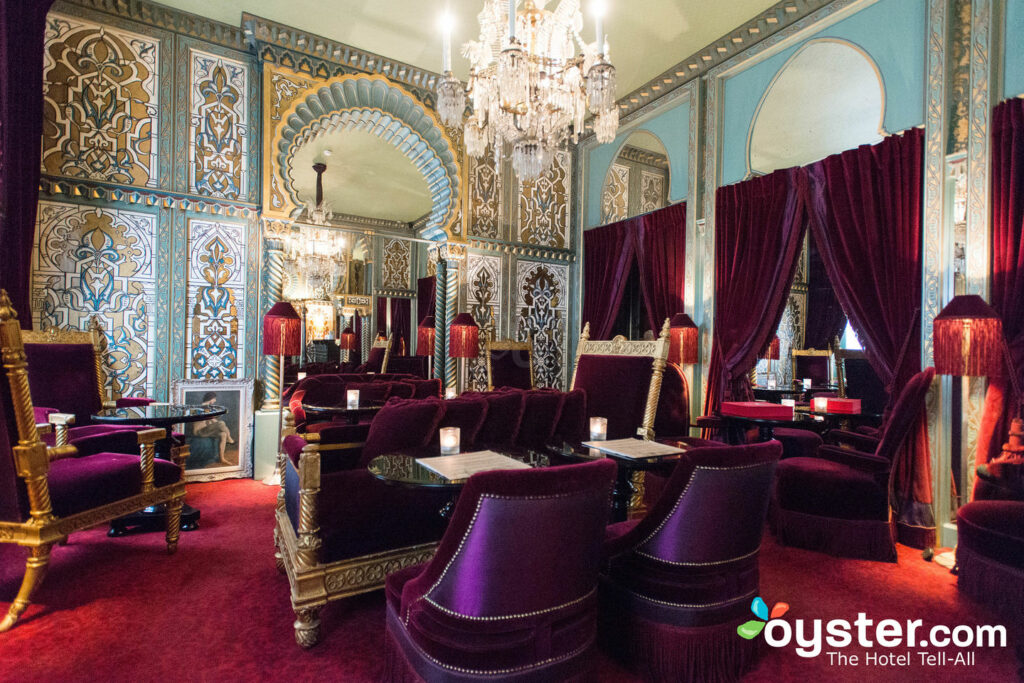 Ever see "Midnight in Paris" and wish you, too, could relive the city's sultry past? Formerly a brothel, Maison Souquet brings Belle Époque Paris to life. Step inside the fantastical interiors — dreamt up by Jacques Garcia — and you'll be transported to a time when ladies waited for high society men to greet them in their boudoirs. Speaking of the rooms, each one feels equally luxurious and risqué, with sensuous decor (like decadent silk drapery and damask wall coverings) and lavish amenities (like private butlers). Plus, they're named after 19th-century courtesans, such as Le Castiglione and La Belle Otero. The seductive aesthetic is prominent throughout the property, though, including the velvet-covered lobby, the subterranean spa, the bar, and the "winter garden" (a charming room that leads to an ivy-clad courtyard). And as you can guess, the hotel largely lures adults — namely, couples — though it's atmosphere always remains PG-rated.
You'll Also Like:
All products are independently selected by our writers and editors. If you buy something through our links, Oyster may earn an affiliate commission.