There are a lot of different reasons to travel: to practice a language, see a natural wonder, experience another culture. But for animal lovers, the reason can be as simple as watching a lineup of dogs trot around in a circle -- what's otherwise known as a dog show. And nothing beats the Olympics of dog breeding -- the Westminster Dog Show. Once again this year on February 15th and 16th the Westminster Dog Show will bring puppy power to New York City and crown one dog the Best in Show winner at Madison Square Garden. If you've watched the show on TV, you only know half the story. Attending in person means up-close and backstage moments with every type of canine cuteness. Here's our rundown on this family-friendly event.
The Greatest Dog Show on Earth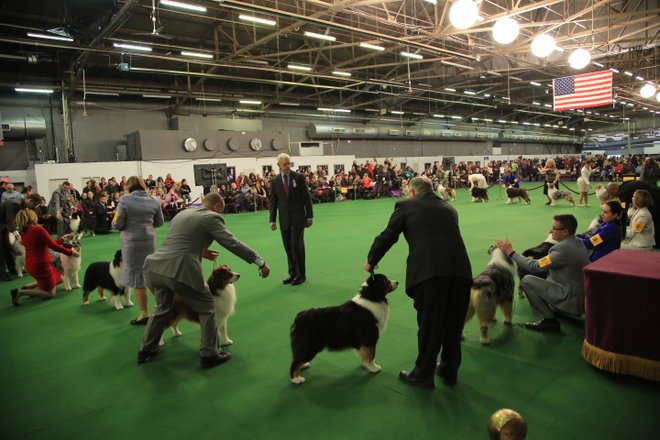 The main event of Westminster is what everyone pictures when they think "dog show": formally dressed ladies and gents walking at a clipped pace in a circle with their precious canines. Occasionally, dogs will do a solo strut away from the pack, or be placed on a table to assume a proud "chest out" position while the judges look them over. Dogs compete within their breed and then compete within their breed types: hound, toy, sporting, nonsporting, herding, working, terrier, etc. For those with an eye or understanding of dog breeding, there are many subtle things to keep in mind while viewing. But for the rest of us, it becomes a Cuteness Thunderdome where fans cheer on their personal favorites, whether that's a certain breed or a particularly adorable button-nosed face.
One thing spectators should note: Westminster is a mannered affair. Don't expect a choreographed performance with show animals. Each showing is geared toward the judges, not the audience. But those that are happy to watch a parade of dogs strut their stuff will be pleased. Shows roll on all day, and few attendees stay in their seats for every show. Most are casual about popping in and out of the arena or chatting to their neighbors. But if you're looking for more of a performance, Westminster has that covered, too.
"Meet and Compete": Feats of Doggie Daring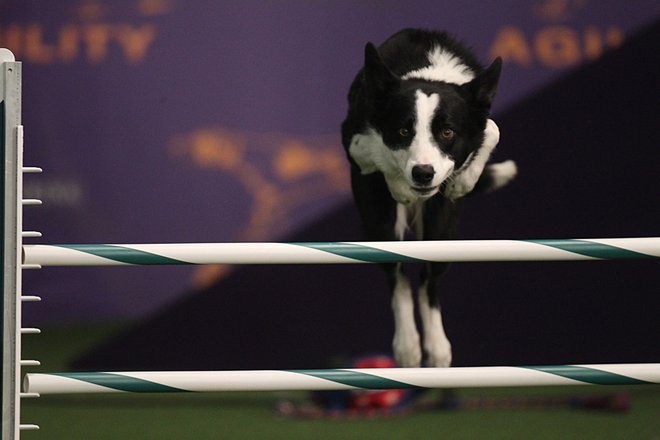 Dog lovers looking for something more flashy might prefer the "Meet and Compete" portion of Westminster where dogs (both purebred and mixed breed dogs) race through obstacle courses. This event on February 13th is a grand kickoff to Westminster held at Pier 92 and 94. Where Westminster is thoughtful and poised dog decorum, the Meet and Compete is all action. There are jumps, weave polls, tunnels, and angled platforms that dogs fly through while racing the clock. And the vibe? It's "Babe" meets "Rocky."
This event also has more info and appeal for the general spectator. Decorated booths educate the audience on each breed's skills and its history. And loads of experts — such as trainers, breeders, and groomers — are on hand to answer questions about dog selection and responsible pet ownership. If you're pondering bringing home your own little champ, this event is a great place to do some homework.
Backstage: Getting Up-Close and Pet-able
One the biggest reasons to attend the Westminster Dog Show is for everything that happens off camera. General admission tickets include a backstage pass to what's called the benching area, and that's where you can see the great canine kingdom up close and personal. The backstage area at Madison Square Garden looks like a Costco — where dogs are the inventory. Broad aisles are sorted by breed, say, "Beagles through Dachshunds." In the aisles, dog kennels are placed side by side and grooming stations are set up. This is where the magic happens: Where a dog that looks like the family's Fido gets a blowout worthy of a Hollywood starlet. But it's also the place where you can truly see dogs in all their amazing visual range. Dr. Seuss couldn't dream up a more wacky spectrum of animals, from the Pekingese, a fuzzy caterpillar in dog form, to the enormous, galumphing Great Dane.
Respectful audience members can walk down the aisles, visit with breeders and trainers, and (on permission) pet these championship dogs. Do keep in mind that some owners are trying to keep their dogs calm and focused in the middle of the circus atmosphere of the benching area, so don't be offended if a trainer tells you their pooch isn't up for a pet and needs rest. (Hey, it's tough work being that adorable.) But more often than not, trainers are happy to meet someone that's just as smitten with their fluffy contender.
The Grand Finale: Best in Show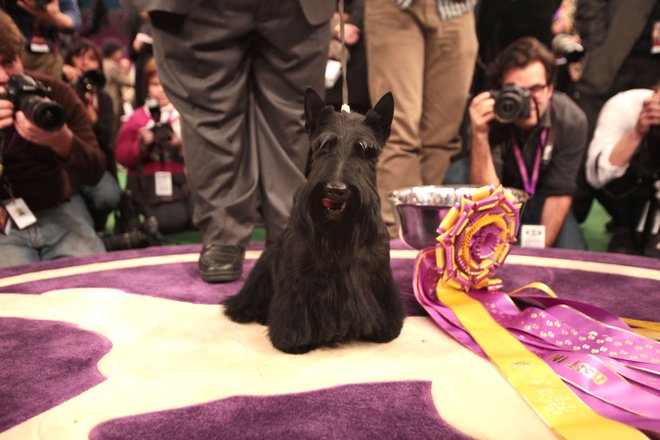 After dogs face off in their individual breeds and in their breed groups, it's time for the main event, the crescendo of this canine Olympics — Best in Show. The winner of each breed group is selected to go paw to paw with other winners on the final night of the event. It's here that the composed atmosphere of Westminster tips over a bit into giddiness. The spotlights sweep back and forth over the main area, and the announcer pumps up the audience with a simple question, "Are you ready for Best in Show?" that's greeted with hoots and applause.
One by one, the group breed winners are trotted around, inspected, and ultimately the judges select the winner with all the pomp and circumstance of Miss America. Sashes, looping ribbons, and a gleaming metallic trophy is presented to the winner, while the press snaps photos of the new champion. And all the animal lovers in the stands share in the glow and electric energy, roaring their approval.
Getting There
Ready to get your puppy love on? Events for Westminster take place in New York City at Madison Square Garden and Piers 92/94. Tickets range from $32 for pre-sale "Meet and Complete" tickets to $110 for reserved seating for both days of Westminster. Children also have discounted tickets starting at $10. General Westminster tickets are available through TicketMaster, and "Meet and Compete" tickets are sold on Westminster's website.
Where to Stay
Even if you're not traveling with a pooch, staying at a pet-friendly hotel means you'll pick up the Westminster buzz and increase your chances of coming face to furry face with a Westminster pup in the elevator. Two options relatively close to Madison Square Garden include The Muse – Kimpton and Manhattan NYC–an Affinia hotel.
For a full list of pet-friendly New York City hotels, see this roundup.
All photos courtesy of the Westminster Dog Show.
Related Links:
All products are independently selected by our writers and editors. If you buy something through our links, Oyster may earn an affiliate commission.