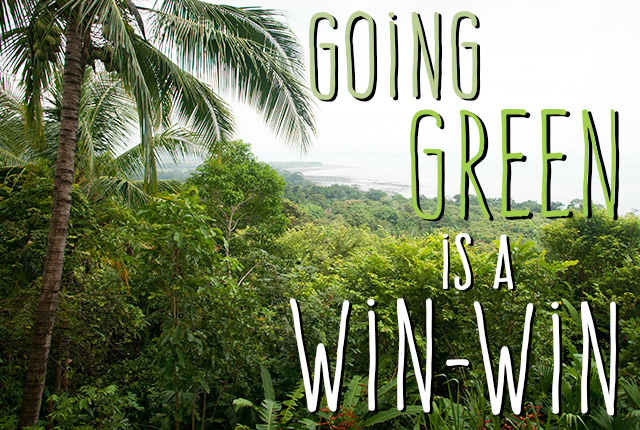 Reusable totes, eco-friendly clothing, rechargeable batteries -- it seems "green" products are now readily available, no matter your needs. But the trend of going environmentally friendly perhaps got its earliest boost, and today is still most apparent, in the hotel industry; after all, we've seen shampoo in bulk dispensers, key-card energy systems, and low-flow toilets at numerous properties during our travels over the years and around the globe. Still, navigating the nuances of the green hotel trend can be a bit confusing, so we decided to take a closer look at what's happening in the industry -- from what these practices cost (or actually end up saving) hotels, to what types of initiatives are most valuable to the environment, to how travelers can tell if a hotel is truly eco-conscious.
Read on to find out what we uncovered >>
Greenwashing: Simple, Inexpensive Means of Being Green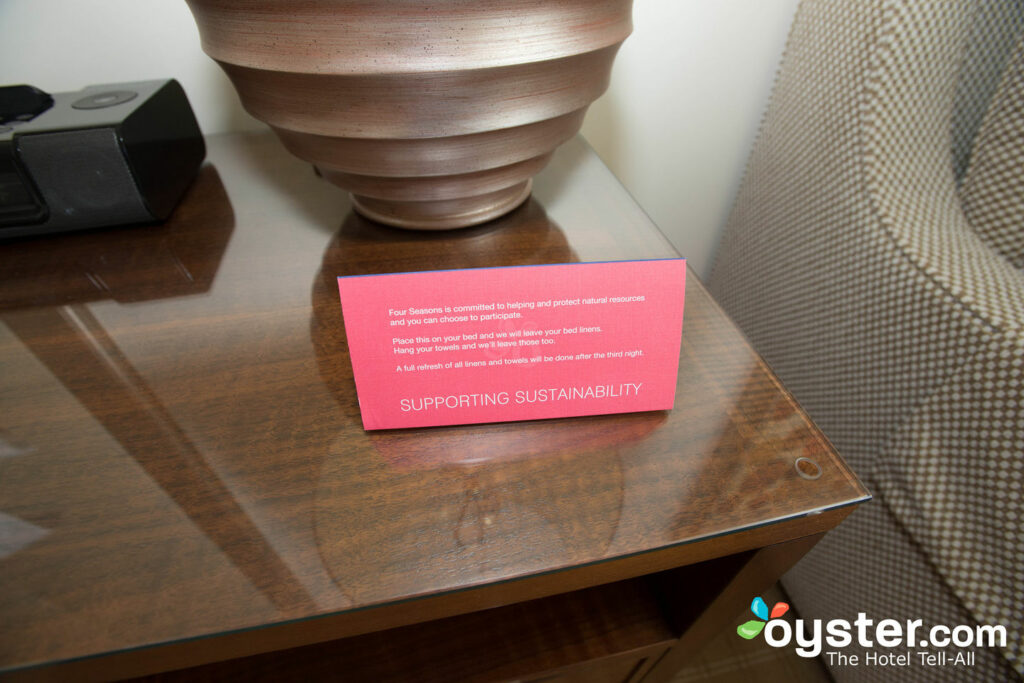 A term coined by environmental researcher Jay Westerveld; "greenwashing" is the increasingly common practice of companies, particularly hotels, spending more money advertising their green practices and eco-friendly initiatives than actually instituting them. Hotels placing cards in the rooms that inform guests that towels or sheets will not be washed (in an effort to save the environment) unless requested is one of the most apparent examples of this.
Of course, this is an environmentally friendly way to dramatically cut down on water usage and the amount of chemicals released from laundry detergent, but hotels end up saving a large amount of money through the practice as well. According to the Green Business Bureau, "this simple sign can save tens of thousands of dollars a year in lowered electricity, water, detergent, and manual labor costs." While this practice does fit the often negatively perceived greenwashing definition, it's beneficial to all parties involved, so we certainly don't see a problem with it. After all, who needs a fresh towel each day anyway?
Paybacks That Also Make Green Practices Easier for Hotels to Implement
Other eco-friendly choices made by hotels may initially have a larger price tag, but they often result in profits down the line as well. Take for example the W San Francisco, which has instituted several water-saving practices; public restrooms now have waterless urinals, and the exterior landscaping includes drought-tolerant plants that require little to no irrigation. The U.S. Green Building Council notes that this cost the hotel about $4,000 to implement, but thanks to the reduction in water use, they had a payback less than a year after incorporating these changes.
Water reduction is an important conservation effort that the Orchard Hotel in San Francisco has also gotten behind. The hotel installed low-flow toilets and showerheads, as well as flow restrictors that reduce water consumption by 20 percent. The showerheads now generate just 1.5 gallons of water per minute, compared to the 2.3 gallons previously; very few guests have reportedly commented negatively about the change. And the hotel certainly has no reason to complain, either. Thanks to rebates from the California Public Utilities Commission and a no-cost premium on the toilets, the plumbing changes only cost the hotel about $3,500, and it has a payback of two to three years.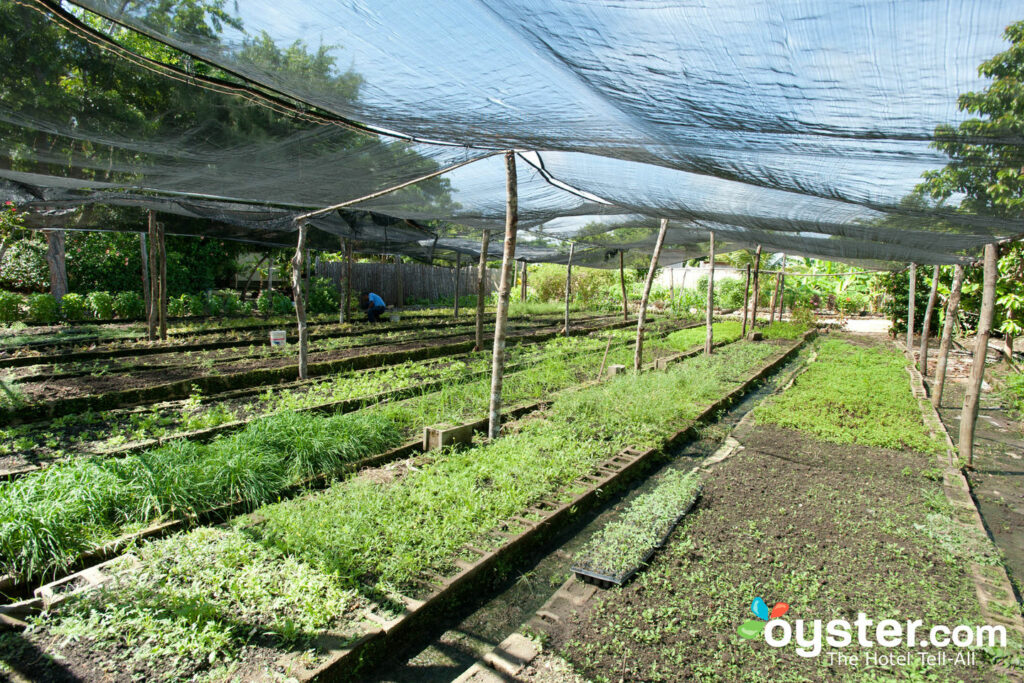 Just this year, InterContinental Hotels Group (IHG) announced the rollout of its environmental sustainability program, IHG Green Engage, across all the company's hotels, including InterContinental Hotels & Resorts, Crowne Plaza Hotels & Resorts, and Holiday Inn. The system measures and monitors the daily usage of energy, carbon, water, and waste for each hotel, so properties can create action plans specific to their needs from those numbers.
"Honestly, the business case makes itself. Because of the tool's ability to compare similar hotels, it is easy to see what on-site solutions work to reduce energy, water and waste," said Paul Snyder, V.P. of Corporate Responsibility for IHG. "This reduction in resource use directly translates into financial savings, so hotels also see the impact to their bottom line. IHG Green Engage is divided into four levels, and Level 1 certification has been proven to pay back in less than a year, while having a significant positive impact."
Some Green Practices Do Cost Hotels Significantly Upfront
While it seems that many green practices end up being profitable for hotels, there are some that are a premium product, and cost like one, too. Today, solar panels are a burgeoning energy source for hotels and businesses that are serious about reducing their carbon footprints. While recently on vacation, I stayed at Hotel Santa Fe, the only property in town with a majority Native American ownership. Scattered throughout the public spaces and guest rooms were placards noting that the hotel was 100 percent solar powered and the pink key card read "Stay.Solar."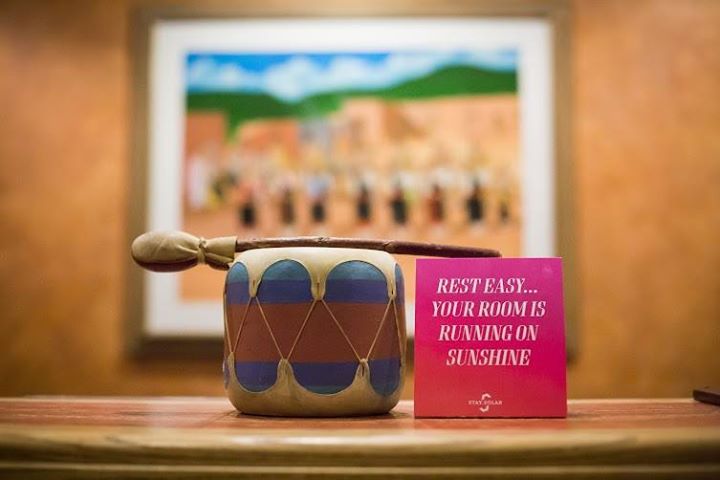 Stay.Solar, the company responsible for the hotel's new sustainability feature, fully instituted the solar energy in December. Due to on-site solar installation not always being viable as a result of factors such as the roof's construction not facing the sun adequately, Stay.Solar instead utilizes large solar panel installations off-site that power the property through a smart grid system. After researching who the company's first (and so far only) partner would be, Stay.Solar found Hotel Santa Fe, which "turned out to be a really good choice," said Don Hicks, President of the company. Hicks notes that the company has received tremendous feedback, far exceeding their expectations, and hopes to work with properties in Arizona and Colorado next.
Noting how colored TVs were first installed in hotels and then expanded to private homes, Hicks says, "We want to do that with solar panels and bring solar demand and consumption into the general population."
Thanks to tax credits, both on the federal and state levels, some solar energy investments have a payback of only a few years. The Proximity Hotel in Greensboro, North Carolina, is a particularly green hotel with a LEED Platinum rating, the highest award from the U.S. Green Building Council. The hotel's 4,000-square-foot rooftop consists of 100 solar panels that help to provide approximately 60 percent of the hot water used by the property, thus saving $18,000 in natural gas costs annually. After a combination of federal and state tax credits for the solar hot water system, the initial cost was $450,000, a hefty fee for the hotel to take on. But by both reducing natural gas consumption and selling renewable energy credits at $20,000/year, the hotel will make up the cost in four to five years.
Innovative Sustainability Efforts We Love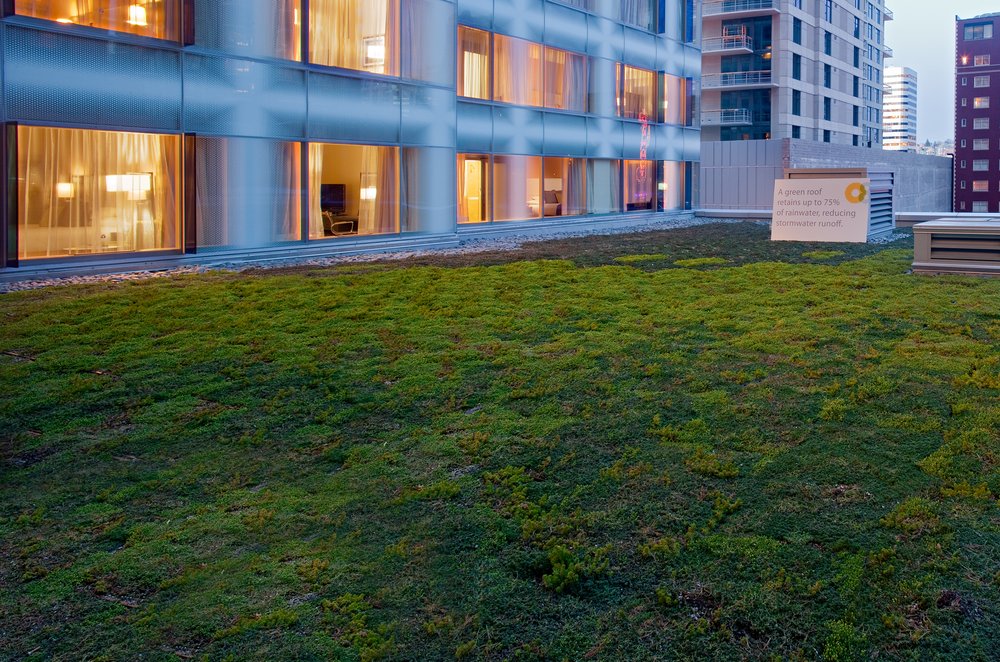 Solar panels are one way for hotels to prove their eco-friendliness, but we've encountered a wide range of impressive and innovative green initiatives, many designed with a hotel's specific needs in mind. The Hyatt at Olive 8 in Seattle, for example, has a green roof containing over 24,000 native sedum plants that reduce storm water runoff by 75 percent, thereby not only reducing the amount of energy required to heat and cool the ballroom underneath, but also providing a habitat for wildlife like birds and bees.
The Venetian in Las Vegas has an extensive program that diverts 55 percent of the property's solid waste from landfill disposal. More than 75 percent of the property's food waste, which averages more than 10 tons daily, is either composted or used as animal feed by a local farm.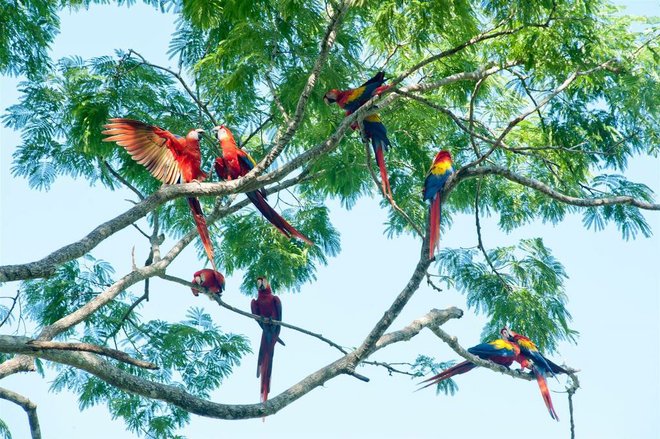 Hotel Punta Islita in Costa Rica partnered with a nonprofit organization in a unique project to save the endangered macaw populations. In addition to hosting the program's headquarters, providing living quarters and wages for a biologist, and having a specialized aviary cage, the resort offers an education and viewing center for guests to learn about the recovery efforts.
Kimpton, a boutique hotel chain and strong proponent of green practices, has had a longtime partnership with The Trust for Public Land and Nature Conservancy. "Guests who book using the special rate codes "TPL" and "TNC" receive discounts and a portion of their daily room rate is donated directly back to the organizations," said CEO Mike DeFrino. "Our guests are always candid with their feedback and it's been overwhelmingly positive when it comes to our eco-practices."
Indeed, hotel guests (like President Obama) around the world are actively choosing hotels with green practices. "Our research shows that over 70 percent of frequent travelers prefer hotels that are positively engaged with their environment, and we expect a growing number of guests who want to book greener hotel rooms," said Snyder.
So how do you find and support these green hotels?
Green Certifications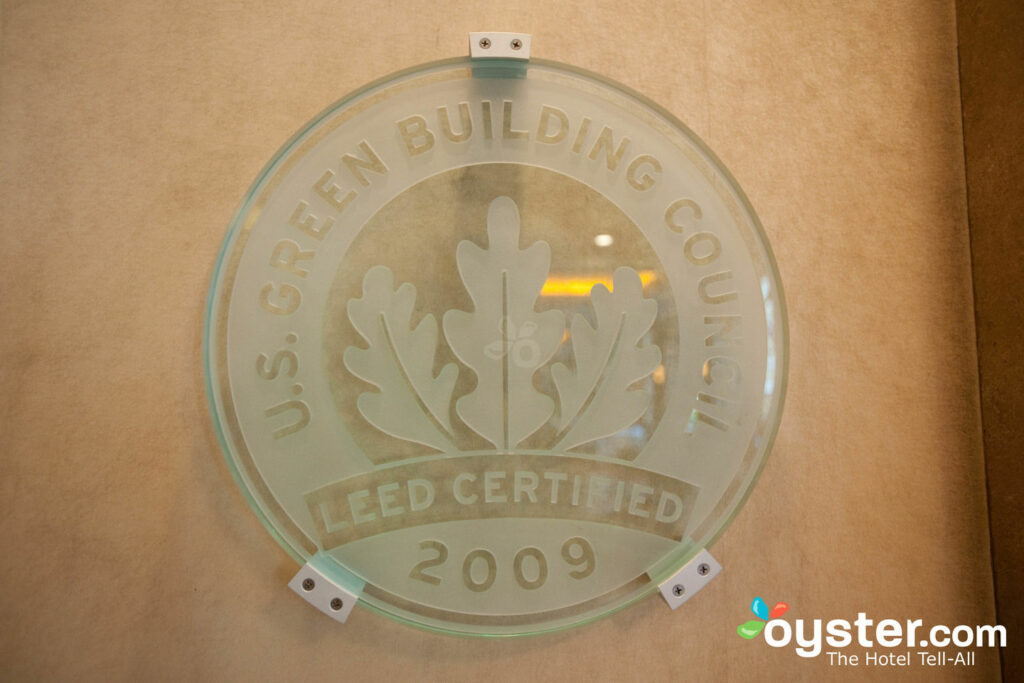 As mentioned earlier, the U.S. Green Building Council's (USGBC) LEED rating system is probably the most well-known of the green labels that hotels hope to receive. According to the USGBC site, "LEED is a voluntary, third-party green building certification that awards points to buildings for satisfying specified green building criteria." Bearing in mind that in the United States alone, hotels account for $4 billion in annual energy use, LEED buildings must be constructed and operated to cut CO2 emissions. Based on a 100-point system, certification levels include Silver, Gold, and Platinum, with a baseline of 40 points. Currently, there are approximately 248 LEED Certified hotels worldwide, and 177 LEED certified hotels across the United States.
Christopher Gray, Media & Communications Specialist for the USGBC, finds that the Hyatt hotel brand is leading the "green" way in the industry. "As of 2015, Hyatt has mandated that all of its new construction and major renovation projects for wholly owned full service hotels and resorts must achieve LEED certification."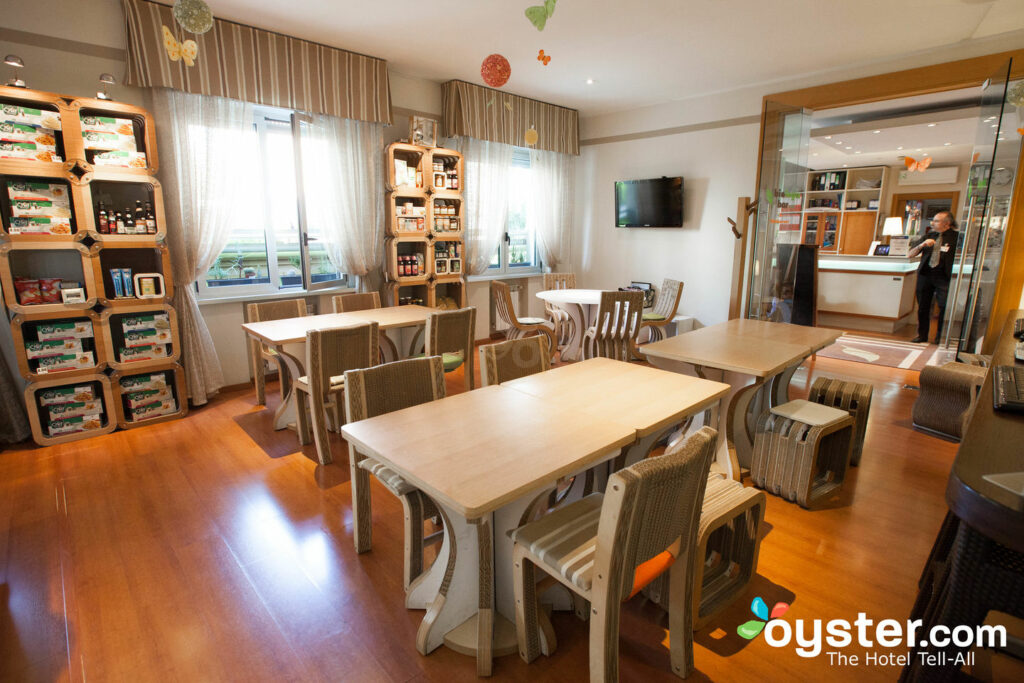 The LEED rating system does a solid job of demonstrating how environmentally conscious various hotels are, but when researching or staying at properties, hotel guests will find that other green certificates — Green Key Global, Green Seal, and Green Globe International, to name a few — are widespread as well. So how do you know which are legitimate? Although it's always a great sign that a hotel has gone through the process of applying and obtaining a green certificate, it's more important to ask a hotel manager for examples of practices used by the hotel, or peruse the hotel's website for specific green initiatives. If a hotel is simply washing fewer towels, that's not nearly as impressive as hotels that have furniture made of cardboard or organic mattresses, for example (at least in our book).
The Takeaway?
Regardless if a hotel is spending thousands of dollars on green practices or making a substantial profit from incorporating them, any initiative aimed at benefiting the environment is a good one. If you can take a relaxing trip and help the planet in the process, we see it as a win-win.
Need a green suggestion? Well considering this crazy cold weather, the Turtle Bay Resort in Oahu — a beautiful, remote, and eco-conscious hotel — is looking particularly nice right about now. Or check out our roundup of LEED-certified hotels.
All products are independently selected by our writers and editors. If you buy something through our links, Oyster may earn an affiliate commission.