"Who packed your bags?" I stood there frozen, while trying to force the words out of my mouth. "I did," I muttered to the El Al airline official. The two-word answer was simple, but held so much weight. "What's your relationship with each other?" It was February 2014, and I was traveling to Israel with my now-husband, who is an American-Israeli and had briefed me on the likely, but standard, round of questioning we would receive. "We're dating," he jumped in and answered -- in Hebrew, this time -- an attempt to show that this wasn't his first time heading to the country. They continued: "Where are you going and what are you doing there?" Following this five-minute back-and-forth, which felt more like a bizarre conversation than an interrogation, we were told we had to go undergo a second screening in addition to the customary TSA security line. The gate agent directed us to a room, where we were detained for two hours.
The room was as I had imagined it would be -- cramped, locked, and white-walled. We sat, along with three fellow Americans, as two female officers informed us that we not only had to surrender our bags and cell phones, but that we couldn't be present while they poked through our belongings. Though they conducted their inspection behind a curtain, we were able to catch a glimpse of them rummaging through our clothes and thoroughly examining every corner, expecting to uncover a hidden clue. When we asked why we were being investigated, they refused to provide an answer.
It's worth noting that these were airline officials, not Customs and Border Protection officers. Plus, they did give us the option to roam freely prior to the luggage inspection. Once our luggage was checked, however, we were required to stay confined to the room. After this, we were escorted by officials onto the plane with our luggage -- half embarrassed, half irritated -- a knee-jerk feeling that returned every time we flew to Israel.
Though this was more of an inconvenience than a scare, it raised the question of what rights travelers have upon getting detained at a U.S. airport, especially with concerns around international terrorism, immigration, and digital security today. To help answer this question, we spoke with immigration lawyers, travel experts, a homeland security law professor, and a former TSA employee. Here's what you need to know.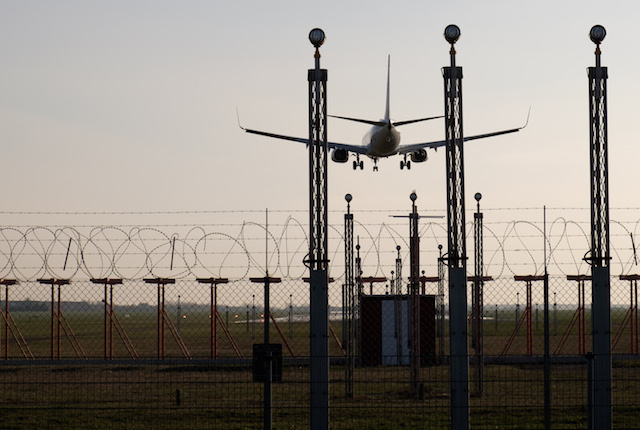 Why might someone get detained at the airport?
From a simple random search to being suspected for a serious criminal offense, a person may be detained for a number of reasons. Intelligence, observations of behavior, and lawful forms of profiling — which can include flight information to and from troubled areas — might also come into play, says Matt Pinsker, a former employee in the Office of Chief Counsel for the TSA and a current Homeland Security law professor at Virginia Commonwealth University. "Most commonly, it will be a random search or a brief detention to verify details about your travels," says Manny Haddad, a criminal defense attorney. "Immigration status has become a more common cause for detention, but if your paperwork is in order, you typically aren't detained simply because you aren't a citizen," he says. Criminal charges (including outstanding traffic tickets!), or if your name appears on a "watch list" kept by the U.S. government, could also raise a red flag.
Susan Cohen, an immigration lawyer and founder of Mintz Levin's Immigration Practice, adds that a CBP officer will likely detain someone who they believe does not have valid travel documents. "For example, if someone is coming on the ESTA (via waiver) program, or with a B-1/B-2 visitor visa, but the officer suspects the individual is actually coming to work in the U.S., he or she will take the person into a 'secondary inspection' (inside a private room in the airport) for lengthy questioning," she says.
CBP officials are not legally permitted to stop or detain anyone due to their race, religion, national origin, ethnicity, gender, or political beliefs, but keep in mind they do have the right to refuse you entry into the U.S. if you are not a citizen and decline their line of questioning. "If you have a well-founded fear of returning to your home country on the basis of race, religion, national origin, political opinion, or membership in a particular social group, you may tell the CBP officer that you wish to apply for political asylum," says Cohen. "They are required to admit you into the U.S. in order for you to pursue your asylum claim."
What's the first thing you should do if you get detained?
First things first, determine if you are actually being detained. "Many times, people were actually free to leave, but misunderstood the situation," says Pinsker. "Law enforcement is trained to phrase questions and comments [strategically] so people do not realize they are free to leave." The best thing to do is ask: Are you detaining me, or am I free to leave? If you are not free to go, don't talk yourself into trouble. It's wise to refrain from making any statements or admissions without first speaking to a lawyer. You can ask the Customs and Border Protection (CBP) officer to explain why you are being detained, and for permission to call an attorney — or a friend or relative alerting them about your delay.
What are the other general dos and don'ts?
It's not only what you say, but how you say it that counts. Being detained is certainly a hassle, but the last thing you want is to be found flippant or sarcastic by customs and immigration officials. Be polite, resist the urge to make jokes (even if the officer is friendly), and maintain eye contact with the officer when answering questions. "Make sure you understand the legal basis for entering the country and that you articulate your purpose clearly," says Cohen. "Make sure any documents you are carrying — and emails or texts on your phone or laptop — are consistent with your purpose for entering the country." Another tip: Carry the phone numbers of several people you can call, including an immigration attorney.
As previously stated, make sure to travel with the proper travel documents. "Arriving in the U.S. is not when you want to find out that there's an error with your paperwork," says Haddad. Many types of visas (student or exchange visitor visas, plus various work visas) require the traveler to carry other official documents in addition to having a valid, non-expired visa stamp on their passport, says Cohen. "If you travel frequently to the U.S., consider applying for one of the U.S.'s Trusted Traveler Programs, such as Global Entry or Nexus." Acceptance into one of these programs will likely streamline the entry process.
Do CBP officers take into account citizenship?
While entitled to enter the U.S., American citizens are still subject to questioning by CBP officers. The CBP also has authority to search handheld devices and laptops belonging to U.S. citizens, lawful permanent residents (green card holders), and travelers with visas or those entering on ESTA, says Cohen. If you are not a U.S. citizen, you don't have the right to an attorney, unless you are being charged with a criminal offense or the subject matter is no longer about your immigration status, according to Haddad.
Travel plans and destination also play a vital role in where and when people may be detained at the airport. "The basis doesn't have to be that you are traveling to or from a country with ties to terrorist organizations. You may be detained for having traveled to a country where contamination from soil, seeds, or water could be a biosecurity risk," says Haddad.
Can security officials seize your electronic devices?
The short answer is yes, CBP officers can confiscate your electronic devices to conduct an examination. The Fourth Amendment, which protects people against illegal search and seizures, does not apply the same way at the border. If your electronics are taken during a security screening, the ACLU recommends jotting down the name, badge number, and agency of the person conducting the search, as well as filing a complaint with that agency. You are allowed to contest their request, and can even refuse to divulge password and log-in information, but be warned that this will most likely result in a longer detainment, or denial of entry for a permanent resident, visa holder, or traveler on ESTA, says Tracy Stewart, an editor at Airfarewatchdog. These searches must be conducted in the presence of the individual being examined, unless it compromises "national security, law enforcement, or other operational considerations."
The TSA doesn't have the same right to confiscate and search electronics as CBP officials. In fact, there has been an increase in the number of reports in the past year, resulting in a lawsuit filed last December against the TSA by the ACLU.
If you are entering the U.S. in a state covered by the Ninth Circuit Court of Appeals (California, Arizona, Nevada, Oregon, or Washington), the Court has ruled that CBP must have "reasonable suspicion" of criminal activity in order to engage in a forensic examination of the device. Despite this decision, however, it's possible that an officer in one of these states will attempt to seize your electronics without properly articulating their reasoning, says Cohen. If this is the case, ask to speak with a lawyer.
Although Americans are not exempt from having their devices and suitcases searched, citizenship can play a role here. "For example, non-citizens could be denied entry into the country if considered to be non-cooperative. U.S. citizens, on the other hand, eventually have to be let back into the country," says Haddad.
What should you do if you miss your flight?
Keep in mind you could be detained up to a few hours (or more), depending on the issue and country you're visiting, meaning you could miss your flight. CBP officers, who are employees of the Department of Homeland Security, aren't affiliated with any airlines. As such, they are required to abide by federal rules and regulations. "People are more likely to be detained when they are seeking admission into the U.S., not exiting the country," says Cohen. That said, if you are transiting through the U.S. and miss your connecting flight, you should contact the airline and rebook your flight once you are released from custody. "If CBP decides to 'remove' or deport you, they will make the flight arrangements and put you on the next flight back to your country," she says.
Pinsker adds, "There are a number of rules and protections about how long you can be detained, but the general rule is that after a brief detention, if the authorities do not have probable cause of a crime, they must let you go. Other times, especially when trying to come over the border, a foreign national may be turned away."
What if your travel companion is the one detained?
CBP does not permit third parties into their secure airport area. If your travel companion is detained, call an attorney to request advice, says Cohen. (The ACLU provides you can reach out to.) The reason for the detention should indicate what kind of attorney to contact (i.e. for immigration detention, you should seek an immigration attorney, while detention for criminal charges are best handled by a criminal defense lawyer). Cohen recommends texting or emailing your travel partner the attorney's name and phone number, as CBP officers may or may not allow the individual to look at his or her phone.
You can find more information about Immigration and Customs Enforcement (ICE ) detainees on their website, or you can contact that local ICE Enforcement and Removal Operations office near you, Haddad recommends. "Bottom line is you just never know what can happen when you're traveling."
Though it'll never save you from a detainment situation at an airport, the Carry-On from Away will protect you from any unwanted hands going through your things. With a TSA-approved lock system in place and a hard shell exterior, no one's getting into this bad boy unless you wanted them to.
You'll Also Like:
All products are independently selected by our writers and editors. If you buy something through our links, Oyster may earn an affiliate commission.