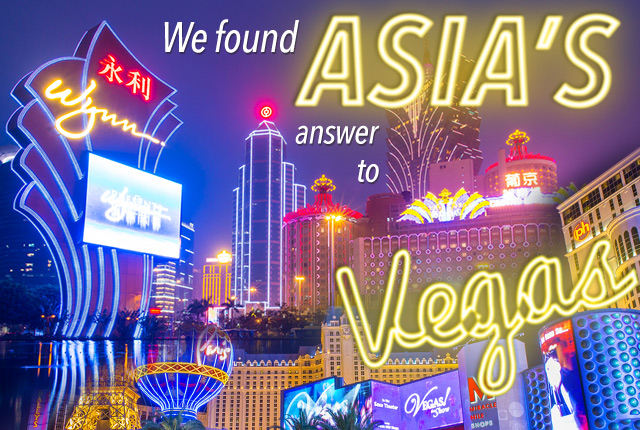 Every 15 minutes, enormous jets of colorful water and flames fly into the sky to the beat of "Colors of the Wind." Mick Jagger and the rest of the Stones are playing at a sold-out arena. Dare devils jump off the world's tallest commercial bungee jump, GoPro cameras strapped to their heads. Foodies are digging into dinner at 11 Michelin-starred restaurants across the city.
A 20-story luxury hotel designed by Karl Largerfeld is set to open in two years. A Hello Kitty-themed plane will fly in direct from Taipei. Leonardo DiCaprio and Robert DeNiro are filming a commercial directed by Martin Scorsese. High rollers in Dior suits place $200 minimum bets at the roulette table.
Sounds like just another day in Las Vegas, right? Wrong. This is Macau, China's answer to Sin City.
Background on Macau
Gambling, and the tourism
revenue that comes with it, can be enormous moneymakers for any economy that embraces gaming (which, of course, is why some cities choose to legalize it). And
yet, Atlantic City has recently suffered some devastating casino closings, thanks to a lack of visitors, and other stateside gambling destinations haven't fared much better. So nowadays, Las
Vegas' main contender can no longer be found in New Jersey, but, rather, in
Asia.
Macau, (or Macao, in Portuguese)
once a Portuguese trading post, is now ruled by China through the same "one country, two systems" policy that governs Hong Kong. The tiny
peninsula (smaller than Washington D.C.), is accessible via a one-hour ferry ride from Hong Kong and is the only
place in China with legal gambling. And that little piece of land made seven times as
much moolah as the Las Vegas strip last year.
We won't go so far as to say
there's a war for poker chips between Las Vegas and Macau, but both are vying
for players — and the extra money big winners spread around in retail shops,
restaurants, and hotels. We took a closer look at what's happening in the
gaming industry and placed our bets on what the future holds for both cities.
Las Vegas: Past and Current Situation
Gambling was legalized in Nevada
in 1931, but it wasn't until 1946 when The Pink Flamingo opened its doors as
the first luxury hotel on what's now the iconic Strip that gambling became
synonymous with Vegas. By 1960 Cuba was no longer a safe place for Americans to
gamble, so a string of hotels and casinos (allegedly fronted by the mafia)
opened their doors in Vegas to take the city into the gaming
stratosphere. And they did: In 1975, the city had made over one billion
dollars worth of gaming revenue. By the 1990s, the city's notorious mob and
gangster connotations had transformed into a romanticized memory, and the focus shifted
to providing tourists (and families) with a unique and safe vacation
destination, complete with elaborate shopping malls, jaw-dropping casinos that
replicated other destinations like New York City and Egypt, and a pedestrian
mall known as the Fremont Street Experience, completely closed to traffic.
The recession in the aughts
heavily impacted revenue, but today Las Vegas has bounced back into an
internationally beloved gaming destination with 75 casinos (technically,
casinos have to have table games, not just slot machines), world-class
stage shows, celebrity chef restaurants, epic pool parties, and a hint of that
old school glamour leftover from the 60s. The city relies not only on American
visitors, but also Asian travelers who choose to forgo Macau. Las Vegas
Convention and Visitors Authority has offices in China, South Korea, and Japan,
and actively advocates for faster visa approval for visitors from Asian
countries as they are some of the most notoriously high spenders. Mike Zanolli, former manager of the butlers at the Venetian casino, told The New York Times, "One difference between our domestic and Asian guests are that our Asian guests spend much more time gambling." And it's not just that they're spending more time at the tables — they're putting down more cash too. William P. Weidner, the president of Las Vegas Sands, told The Times in the same interview that it's not uncommon for Asian V.I.P.s (nicknamed Whales) to put down $50,000 or more on a single hand.
Macau: Past and Current Situation
It's fair to say that Macau gets
only a small fraction of the press and attention that Las Vegas picks up every
year (though that's slowly changing, as evidenced by the commercial directed by
Martin Scorsese) so it's still not common for Americans to visit. Only about 14,000 United States citizens crossed into Macau in both 2013 and 2014. As far back as the 1500s, the island was
an important part of the Portuguese trade route, and Portugal claimed it as a
trading post, though it was still under Chinese authority. In 1999, the island
was officially handed back to the Chinese, though Portuguese culture has left
its mark. Today, there's still evidence of the Colonial past through language,
food, and the ruins of a 17th century church.
There's no question that Macau's
legal gambling has been a major boom to the Chinese economy; more than 50 percent of Macau's revenue comes from gambling. The culture of placing bets in Macau goes back to sailors putting money on Chinese games of chance
in the 16th century, but legal casino gaming came on the scene in
2002. Big name casinos like The Wynn and The Venetian have set up shop on the
peninsula (complete with their famous canals and fountains) to lure not only
Chinese tourists but also the international set as well. According to a report
by the United Nations World Tourism Organization, Macau hosted
more tourists than both the United Kingdom and Italy in 2013. The largest portion of Macau's tourists come from mainland China, with over one and a half million visitors last year alone. The Macau Government Tourist Office reported over 31.5 million international visitors to Macau in 2014.
But it looks like the same shady practices that purportedly propped up Vegas in its early years are coming to a head in Macau. Mainlanders (the majority of gamblers) aren't allowed to take out more than about $3,300 in cash while in Macau, so they rely on smuggling in cash for big bets. And as there's no legal way of enforcing gambling debt in Macau, casinos don't give out lines of credit like they do in Vegas. These laws have created a black market system of junket workers who supply gamblers with illegal credit lines through a system of scams like fake credit card sales, pawning jewelry, and wiring funds from Hong Kong. Organized crime has also been reported, along with occasional violence, though generally not towards tourists. Last summer, the government began to crack down, requiring casinos to report suspicious transactions and monthly, detailed player lists with wins and losses. A new money laundering law will allow authorities to freeze and seize assets as well.
What's the Difference?
So both Las Vegas and
Macau offer luxury casinos, shady pasts (and, maybe, presents), and all the entertainment trimmings. So what's the
difference? Alcohol and nudity, or lack thereof, according to Shannon
Troy, the US Media Manager of the Macau Government Tourist Office. She says,
"The gaming culture in Macau is very different from that of Las Vegas. The
boisterous, drunken, over-the-top fanfare that Vegas is known for on their
casino floors does not exist in Macau. In Macau, gaming is a serious endeavor
and not for the faint of focus — or funds. For instance, you'd be hard-pressed
to find any alcohol on many of the casino floors. Instead, elegant,
fully clothed women distribute water bottles to visitors." Compare that
with the seemingly never-ending bachelor-and-bachelorette parties, risque
cocktail waitress uniforms (entire blogs are dedicated to, shall we say, "tracking"
the hottest cocktail servers in Vegas), and club scene that
allows open containers of alcohol on the streets of the Strip.
Also, due to growing health
concerns, smoking was banned in Macau's casinos earlier this year. Meanwhile, cigarettes and cigars are allowed in designated areas of almost all casinos
in Las Vegas, though multi-million dollar ventilation systems work to suck the
smell out of the air in the high-end properties. Travel writer Kelly
Lewis visited Macau last year (she won $300 in 10 minutes on a
roulette table before walking away) for a press trip sponsored by Sheraton Macau. She
says, "The hardest part about visiting was probably a combination of the
long flight it takes to get there, and the language barrier you face upon
arrival." U.S. passport holders don't need a visa to visit Macau. When
asked for her comparisons between Vegas and Macau, she shared, "It's
similar in that you'll see the same names of hotels: MGM, the Venetian, et cetera.
But Macau seems more a place to shop, relax, and maybe gamble — whereas Vegas
is all about gambling and partying."
Madeline Grimes, a world
traveler, spent a long weekend in Macau as a side trip from Hong Kong in 2010
and agrees with Lewis. Grimes says, "Vegas seems to function solely as
casino cities, whereas Macau has this wildly rich history — a huge port city
with ties to Africa, Europe, and Asia."
Who Wins?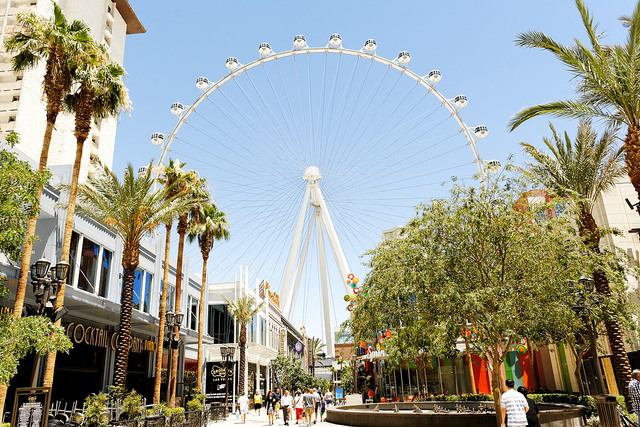 In terms of size, numbers, and publicity, it's difficult to
beat Las Vegas — and even though gambling numbers are down, the tourism mecca
definitely isn't out. In reference to a 20,000-seat conference arena currently under construction, MGM Resorts CEO Jim Murren
told CBS News, "These indoor-outdoor
spaces are really the future of Las Vegas, so that's what we're accomplishing
here." He points out that the old model of casinos — namely, keeping guests
indoors — is on its way out, and that savvy CEOs are courting families
and millennials with outdoor spaces and experiences as an alternative
to uninterrupted hours of gambling. Caesars spent half a billion dollars
building The High Roller, the world's tallest
observation wheel. The Delano and the SLS, smaller boutique-style
casinos zeroing in on a scenester crowd, opened last year, complete with
trendy shops, relaxing spas, and chic guest rooms as perhaps the main focus of the properties, versus the casinos. Gambling will likely always be part of Vegas' appeal, but it's
no longer the only appeal. Sin City is expected to host 40 million visitors
this year, and they're certainly not all coming with gambling on the brain.
It looks like Macau may be currently going through some of
the growing pains — like corruption and the adverse effects of a building boom
— that Las Vegas has experienced on its rise to the top. But it nonetheless
has demonstrated a staying power over the past several years as a spot that's
dedicated to drawing in as much tourism as possible — even if that means making
some changes. Move over, Scorcese; maybe The Hangover Macau will begin filming
soon.
All products are independently selected by our writers and editors. If you buy something through our links, Oyster may earn an affiliate commission.