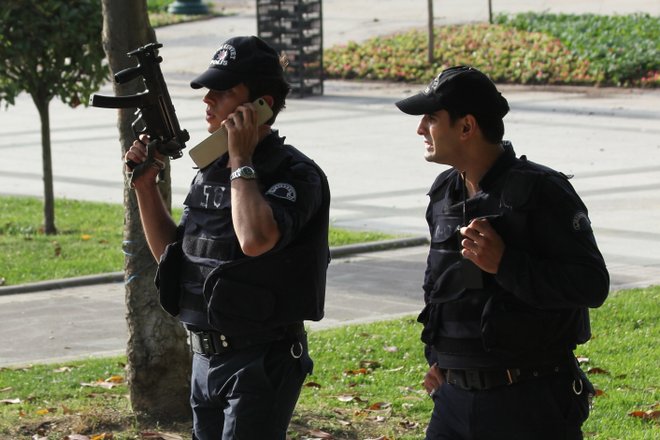 Over the last year, there have been scores of horrific terror attacks around the world -- including in popular international tourist destinations. Many travelers who have been considering trips -- or already booked them -- are now wondering: Is traveling to Europe still safe? Is traveling to Egypt, Jakarta, Tunisia, or Bangkok safe? The crash of EgyptAir Flight 804 Thursday has only increased anxiety for many. So we decided to take a look at the most high-profile vacation destinations around the world where there have been large-scale attacks within the last year, and break down the official safety statuses you need to know before you go. We've focused specifically on attacks that targeted tourists or tourist areas, and listed these attacks starting with the most recent.*
Matthew Steele from the U.S. State Department's Office of Overseas Citizen Services advises that concerned travelers "get information, get the required documents ahead of time, enroll in the Smart Traveler Enrollment Program (STEP), and get overseas insurance. Those are the key elements that will help travelers determine whether or not they should travel." Those seeking information should head to Travel.State.Gov for country-specific information, travel warnings and alerts, STEP enrollment, and insurance and medical evacuation information, he says. "Over 80 million Americans traveled overseas last year, and the vast majority, the overwhelming majority, came back without having any issues whatsoever."
It's also important to remember that when U.S. citizens are injured or die abroad, it's more likely going to be as a result of a traffic accident or drowning. "Terrorist attacks, while very, very frightening, don't represent a huge number in any stretch of the imagination of U.S. citizens who are injured or die overseas," Steele says. "You are statistically much more likely to be in a car accident than to be the victim of a terrorist attack." To provide some context, the U.S. Bureau of Counterterrorism reported that there were around 18,000 deaths due to terrorism in 2014 (the most recent report available), and that 78 percent of those took place in Iraq, Pakistan, Afghanistan, India, and Nigeria. In comparison, there were over 32,000 traffic fatalities in the U.S. in 2014, according to the National Highway Traffic Safety Administration.
Former CIA Officer Jason Hanson, founder of Spy Escape & Evasion, says there are a few things travelers can do to reduce their risk abroad. One is to avoid staying in the most popular tourist hotel in the area, which is more likely to be a target. "Stay in the second or third best hotel there," he says, and request a room on the third through sixth floors -- the first two floors would be more at risk in a melee attack, but it's harder to get down from the highest floors if there is a fire or explosion (in the U.S., fire ladders only go to the sixth floor). "I want to make sure I can be out of that hotel in just a matter of seconds," Hanson says. At museums, he advises travelers to know where two exits are and agree on a meeting point with their companions if they get separated.
"Every traveler is different; they have different levels of comfort, different levels of experience, and different expectations for traveling overseas," Steele says. "You need to make the determination: If you feel like you are putting yourself in an unsafe situation, it's up to you to decide whether to go."
*Editor's Note: We are aware that this list is not comprehensive; unfortunately because of the high number of attacks, we had to narrow the scope of this piece to focus on the large tourism markets of greatest relevance to our travel audience.
What Happened: On March 22, five attackers exploded two nail bombs at the Brussels Airport and one at the Maalbeek metro station. There were 32 casualties, including people from Britain, the United States, Germany, Spain, and Peru.
Who Travels There: Belgium is a popular tourist destination, attracting around eight million foreign visitors a year, statistics portal Statista reports; it's especially popular for Europeans, and the Netherlands, France, and the U.K. are the largest markets.
What to Know Now: Since the attacks, Brussels has increased military and police presence in the subway, implemented car and passenger screening on the airport access road, and is performing random controls at the entrances of the 11 biggest train stations in the country, according to Visit Brussels. On Gov.UK, the threat level for Belgium remains at Level 3 — a serious and real threat — and police operations are ongoing. However, tourists can expect most museums and other tourist attractions to be open.
What Happened: On January 12, there was a suicide bombing in Sultanahmet Square (aka the Hippodrome), and 13 were killed, many of them part of a German tour group of mostly retirees. On March 19, there was another suicide bombing on a major pedestrian shopping street in Beyoglu called Istiklal Avenue, and four were killed (excluding the bomber). Both are popular tourist areas.
Who Travels There: Istanbul is a modern, cosmopolitan city of 14 million, known for some of the world's most impressive ancient wonders. It is one of the most visited cities in the world, drawing a whopping 12 million international visitors in 2014; Germany is Turkey's biggest tourism market.
What to Know Now: The city quickly returned to business as usual in wake of the attacks, and security in tourist areas is tight, with police patrols and metal detectors in many museums, malls, and hotels (such as the Ciragan Palace Kempinski). The U.S. State Department advises tourists to stay at hotels with identifiable security measures in place, and to avoid larger crowds, even at popular tourist destinations. Note that Blue Mosque (aka Sultan Ahmed Mosque) is an active place of worship and does not have the bag checks found at many other sights. Hanson notes that open plazas can be harder to patrol than contained sights, and travelers should practice situational awareness, especially at any iconic sight that might be more likely to be targeted. "When your head is up, you'll notice someone in a black coat in the summer when it's 100 degrees, you'll spot something that doesn't look right," he says.
In terms of crime, Istanbul is considered one of the world's safest large cities, though the U.S. State Department and Gov.UK agree that the threat from terrorism remains high. The State Department issued a warning against travel to southeastern Turkey, near the border with Syria and Iraq — which is around 1,000 kilometers (over 600 miles) from Istanbul.
What Happened: On January 14, there were multiple bomb blasts at an intersection near Sarinah shopping mall and a Starbucks, and gunmen opened fire on civilians and police. The Islamic State took credit for the attack, and there were four civilian casualties.
Who Travels There: There were nearly 10 million international visitors to Indonesia in 2014, and Jakarta was one of the top destinations, along with Bali and Java. Singapore, Malaysia, Australia, and China are major markets.
What to Know Now: The Australian Government's Department of Foreign Affairs and Trade advises travelers to "exercise a high degree of caution in Indonesia, including Bali, at this time due to the high threat of a terrorist attack." It also notes that the Indonesian Government has increased security across the country, and that travelers should be particularly vigilant in places of worship and during holiday periods.
What Happened: On November 13, 2015, there were coordinated attacks by three groups across the city that left 130 victims dead; targets included the Stade de France, Bataclan concert hall, and restaurants and bars, and attackers used both suicide bombs and guns.
Who Travels There: Paris received nine million foreign visitors in 2014, according to the Paris Convention and Visitors Bureau; 1.5 million were from the United States, Paris' largest tourism market.
What to Know Now: "Authorities believe the likelihood of terror attacks in Europe will continue as European members of ISIL return from Syria and Iraq," the U.S. Embassy in Paris warns. It cautions U.S. citizens to exercise vigilance in public transportation systems, hotels, restaurants, high-profile sporting events, and shopping malls, among other areas. The French Parliament approved a state of emergency following the attacks that allows the government to create zones of protection; this is currently in effect until May 26, and the government is seeking to extend it to allow for increased security at the upcoming Euro 2016 football championship and the Tour de France.
What Happened: Metrojet Flight 9268 departed from Sharm el-Sheik International Airport on October 31, 2015 and crashed half an hour later, killing all 224 people onboard, almost all of them Russian. The Islamic State took credit, saying that it had concealed a bomb in a soda can.
Who Travels There: Nearly 15 million tourists visited Egypt in 2010, and numbers declined sharply following the Arab Spring in 2011; around nine million were projected for 2015, the Wall Street Journal reported. Russia was a primary market for Egypt, accounting for one in three foreign tourists, but instituted a flight ban to the country after the crash; the U.K. and Germany banned direct flights to Sharm el-Sheikh (Germany is allowing them again as of May 12). Tourism fell 45 percent in February of 2016 compared to last year, mainly due to the decline in Russian tourists.
What to Know Now: Prior to May 19's EgyptAir crash, it was rumored that the U.K. and Russia may lift their flight bans this year. The U.K. Foreign and Commonwealth office advises against all but essential travel to the Governorate of South Sinai, with the exception of the area within the Sharm el-Sheik perimeter barrier — though it still warns against all but essential air travel to and from Sharm el-Sheikh. According to the FCO, there are enhanced security measures in place in the Sharlm el-Sheikh and Hurghada resort areas.
Though there's nothing you can do if a bomb goes off on a plane, there are a few things travelers can do to increase their chance of survival in the incident of a crash. Hanson says that the FAA has found that the first three minutes and last eight minutes of a flight are when the plane is most likely to crash, and Hanson recommends keeping your shoes on and your headphones off during those time periods. In addition, he advises sitting within five rows of an exit seat. "Most people do not die in plane crashes, they actually die on the ground because of smoke inhalation or fire because they can't get off the plane in 90 seconds," he says.
What Happened: On August 17, 2015, a bomb exploded in the Erawan Shrine in Bangkok's city center, killing 20, most of whom were tourists.
Who Travels There: Bangkok received nearly 30 million international visitors in 2015, according to Thailand's Department of Tourism, most of them from East Asia. The U.K, U.S., and Australia accounted for 947,000, 868,000, and 921,000 visitors last year, respectively.
What to Know Now: The FCO considers the threat of terrorism high, and the U.S. Bureau of Consular Affairs "is concerned that there is a continued risk of terrorism in Southeast Asia, including in Thailand."
What Happened: On June 26th, 2015, Tunisian gunman Seifiddine Rezgui Yacoubi concealed an assault rifle in a beach umbrella and opened fire on the sunbathers in front of the Riu Imperial Marhaba in Port El Kantaoui, a tourist resort area near Sousse. He killed 38 people, mostly British.
Who Travels There: Tunisia saw six million international tourists in 2014, according to the World Bank; top markets include France, Germany, Italy, and the U.K.
What to Know Now: The U.K.'s Foreign and Commonwealth Office advises against all but essential travel to Tunisia. It warns that the threat of terrorism remains high and that further attacks are likely. Those on Djerba Island should expect heightened security due to the annual Jewish pilgrimage to El Ghriba synagogue May 25 and 26. The U.S. State Department warns against travel to southeastern Tunisia and mountainous regions in the west. There is a state of emergency in effect in Tunisia, which grants security forces more authority to maintain order.
Related Links
All products are independently selected by our writers and editors. If you buy something through our links, Oyster may earn an affiliate commission.