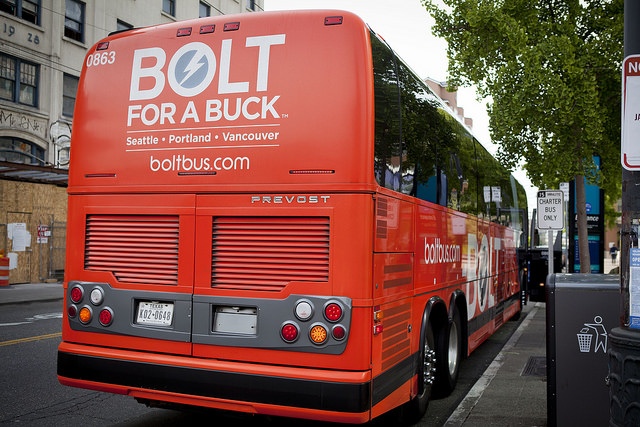 In February 2016, a Megabus traveling from Chicago to Milwaukee exploded. A fire spread from the wheel well to the engine, engulfing the coach in a tunnel of smoke and flames. In May 2015, a Bolt Bus rolling from New York City to Boston caught on fire and the windows shattered; the scene was captured on video. No one was hurt in either of these incidents. But in March 2011, a World Wide Tours bus speeding from Mohegan Sun Casino just before dawn swerved and collided with a metal pole that sliced off the top of the vehicle and killed 17 people.
Curbside buses, which pick up riders outside of bus stations, and Chinatown buses, which usually originate in a city's Chinatown, have seen a huge increase in passengers since 2008. Between 2008 and 2015, the number of rides on these alternative bus lines rose from 6.5 to 16.9 million. But in 2011, a National Transportation Safety Board study confirmed what many anecdotes suggested: Curbside and Chinatown buses aren't as safe as conventional ones. Since that study, there have been crackdowns on companies that ignore regulations and the industry has matured.
So we wonder, nowadays in 2016, are non-conventional buses any safer?
The Questionable History of Chinatown Buses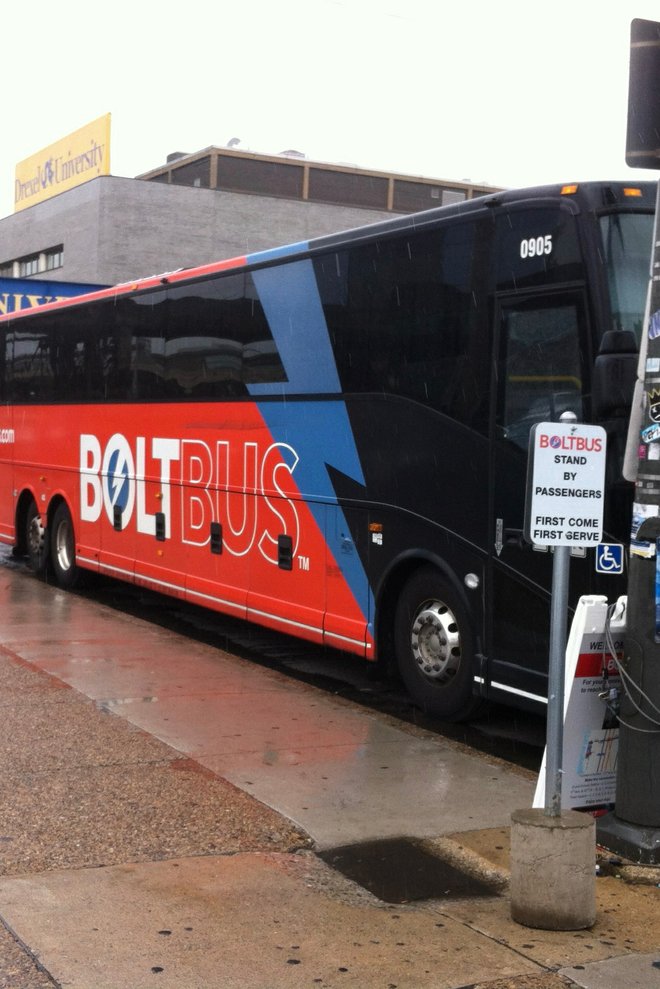 After I tell a friend I'm going to ride a Chinatown bus for the first time, she remembers how bad they were when she commuted between Philly and New York three times a week to see an ex. "Because of traffic violations, a three-hour trip could be done in 90 minutes on a speedy morning," explained Elizabeth. But the seats were janky and the bathrooms so rank she'd only use them in emergencies.
Questionable travel methods similar to those she described led to Fung Wah bus lines being shut down in 2014, after receiving several citations from Massachusetts and federal authorities. Their buses caught on fire, rolled over — one even lost its two back wheels. Doesn't this all sound like the making of "Speed 3"? When Fung Wah and another 100 bus lines were shut down from 2012 to 2014, Chinatown bus ridership dipped a bit, but it nonetheless saw a resurgence in 2015.
Curious, I decide to take a trip from New York City to Philly on Bolt Bus, which is one of the larger curbside services. The bus line has been cited for speeding and has had numerous accidents that have left passengers dead or hospitalized.
The Price of an Alternative
Curbside buses can have pick-up and drop-off points that are just around the corner from a major bus station — or ones that are extremely inconvenient. Bolt's stops in Manhattan are either so far west they're practically off the island, or in a Tribeca dead zone that's tough to get to by subway. I opt for the latter and click on an eticket for $10.50.
On some of the alternative lines, it's possible to reschedule your travel time, but on Bolt the ticket is forfeited if you miss departure. When I'm running late for a 12:15 p.m. bus, I get a little nervous. Losing $10.50 is equal to two cheesesteaks or a fistful of hot pretzels. Out of the subway and two blocks away with about seven minutes to spare, I start looking around for the stop and don't see anything. After crossing the street, I eventually see a line of 20- to 40-somethings and assume it's the place to be.
"Is this the line for the bus?" I ask a guy sporting a hoodie with sunglasses and a short beard. "Yea-uh," he responds as if there could not possibly be any other reason for hipsters to congregate this far from a pour-over coffee shop. I get in line, look up and see a sign for the Bolt Bus that's about the size of a postcard.
Curbside Goes Corporate
It's only a couple of minutes before a Greyhound bus drives up. Guess what? Since Greyhound didn't want to be left out of low-cost curbside fare craze, the company bought Bolt and Yo Bus, and apparently use Greyhound buses on the Bolt lines. What's the price difference between buying a Bolt ticket and Greyhound? In this case, not much if the ticket is purchased online. From New York to Philly, it's $11 for a Greyhound ticket if the ticket is bought online and $18 if bought offline. Still, there's a perception that curbside and Chinatown bus fares are cheaper — even though Greyhound has reduced its prices to compete. One of the passengers I spoke with on the return trip echoed what most people say about the alternative buses — "You can't beat the price" — even though the Chinatown bus we were on was actually a dollar more expensive than the Greyhound alternative.
The Greyhound bus is one of the newest I've ever ridden: Black leather seats, three-prong jacks to plug in a computer, seat belts, and Wi-Fi. Well, theoretical Wi-Fi. The network never appeared on my computer, and when I asked the bus driver about it he said, "I don't know if it works on this one."
Even Greyhound doesn't have a perfect safety record. It's fairly easy to research the inspection and accident history of a bus line at the U.S Department of Transportations Saferweb site or by using the app SaferBus. Look for the "Company Snapshot link," skip searching by USDOT and MC/MX number, and go directly to Name search.
In the past 24 months, Greyhound buses have been inspected 3,273 times, and 76 times the inspectors knocked a bus out of service for mechanical reasons. Sound bad? At a rate of 4.1 percent, that amount is well below the 20.72 percent average.
"Keep in mind that a bad tail light could fail it," explains James Carl, an insurance broker for Brown & Brown who sells a lot of his policies to bus operators. Before my trip, I asked him if there are any visual cues that a bus is safe.
"Part of what makes an operator safe is that they're going to invest in safety," Carl explained. "You have cameras; telematics systems that monitor speeding and monitor hard braking; a GPS system to know where the vehicle is."
Commercial bus driving is impressively high-tech compared to when you got in the back of the school bus and clamped onto the bench in front of you as the only hope of survival.
On the front window of the Greyhound bus is a small black box about four inches wide with a camera lens pointing into the coach. If there's an accident or a question about the bus operator's driving, representatives from the bus line can play back the recording.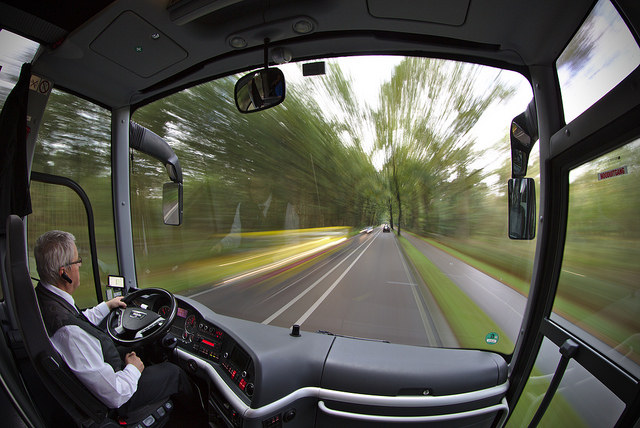 "In my experience, when a smaller thing hits a bigger thing, people tend to sue the bigger thing," says Carl. Some studies have shown that in the majority of bus accidents, the bus driver isn't actually at fault. Yet given the construction of buses and cars, car passengers and pedestrians are much more likely to be hurt.
Higher-quality buses now install cameras as a way to collect potential evidence. "Video evidence eliminates a lot of claims that wouldn't have been eliminated in the past," say Carl. The Telematics monitor various stats, including sharp stops, and whether a driver is following the route and speed. Greyhound actually first tested a Telematics system on the Bolt line before rolling it out to its name-brand fleet.
"Without a shadow of a doubt, the ones that don't invest in those safety measures are the cheaper-run organizations," adds Carl.
In the past two years, Greyhound has had five crashes that led to fatalities and 60 that led to injuries. Since Bolt is rolled up to Greyhound in the Department of Transportation system, it's tough to know if violations and accidents are occurring more often on the lower-level line. Anecdotally, Bolt has had speeding violations and accidents that led to death and injury, but without knowing the number of miles these buses ran compared with Greyhound and other lines, it's tough to definitely say the subsidiary is better or worse.
However, the SaferBus app does show an on-road performance percentile for different lines based on numerous factors such as violations and crashes. Greyhound is 36 percent for unsafe driving (meaning it's better than 64 percent of other lines) and 17 percent for vehicle maintenance. On the other hand, Peter Pan is two percent for unsafe driving and five percent for vehicle maintenance. Fox Bus, one of the smaller lines that services Philadelphia ( with only seven buses, according to SaferBus) has a zero-percent rating for unsafe driving and 32 performance percentile for vehicle maintenance.
A Different Focus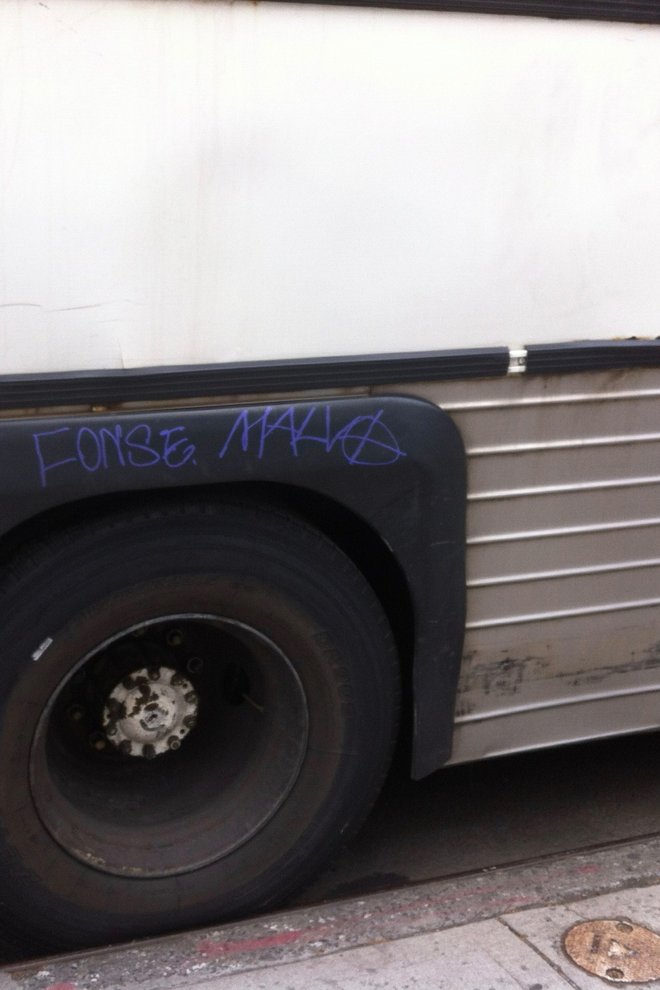 For the return trip from Philadelphia back to New York, I book a ticket on Focus Travel, a line of buses that isn't listed in SaferBus or on the NTSB site. A friend of mine named Mike said he decided to stop taking curbside and Chinatown buses because he was sick of waiting outside in the rain. Coincidentally, Philadelphia's clouds were pouring raining down when I disembarked from the Bolt Bus, about a half-block away from 30th Street train station. As I walked toward the station, I noticed a large pack of passengers huddled underneath a nearby bridge.
As boarding time gets close for the Focus Travel bus, rain starts again, but the station is located beneath an underpass on the edge of Philly's Chinatown between Septa's Jefferson Station and the Greyhound depot. The age of the bus shows in several places on the body, most notably where there's a long line of rust around the black rubber window trim. Plus a part of the bumper is ripped off the side and the wheel well has been tagged with purple marker.
Inside, the white plastic doors of the luggage compartments have yellowed with age and the beige leather seats are comfortably worn-in. Although power and Wi-Fi are also promised on the ticket, a USB port is on the ceiling space above the seats, so phone charging cords dangle down like a plane's oxygen masks. No bus Wi-Fi appeared on my computer.
Not long after I sit down, the man sitting across from me asks, "Do you want any chicken? A friend bought me chicken as a joke 'cause he knows I like it, but he bought me too much."
My friend Elizabeth, who used to ride Chinatown buses regularly, warned me that her trips would occasionally be full of a fishy smell because purveyors transported ingredients between restaurants in the baggage bay.
I look at the bag of food and wonder if this is some sort of little-known chicken scam. However, I don't eat chicken so I just say "No, thanks." The father and son sitting in front of me accept the bag, which, as far as I can tell, came with napkins and wasn't scam chicken. For a good portion of the ride, the chicken-giver spends much of the trip listening to his headphones and quietly rapping and singing to himself. Bolt Bus definitely doesn't provide food and entertainment.
On the highway the seats rattle, not too much, but noticeably enough. As far as I can see, the bus doesn't have a camera or Telematics system. When someone goes to the bathroom, there's a sound like a cord being whipped against a large block of metal, and it's tough to say what causes it. I feel less safe on the Focus Travel bus than the Bolt Bus.
Buses: The Safe Choice?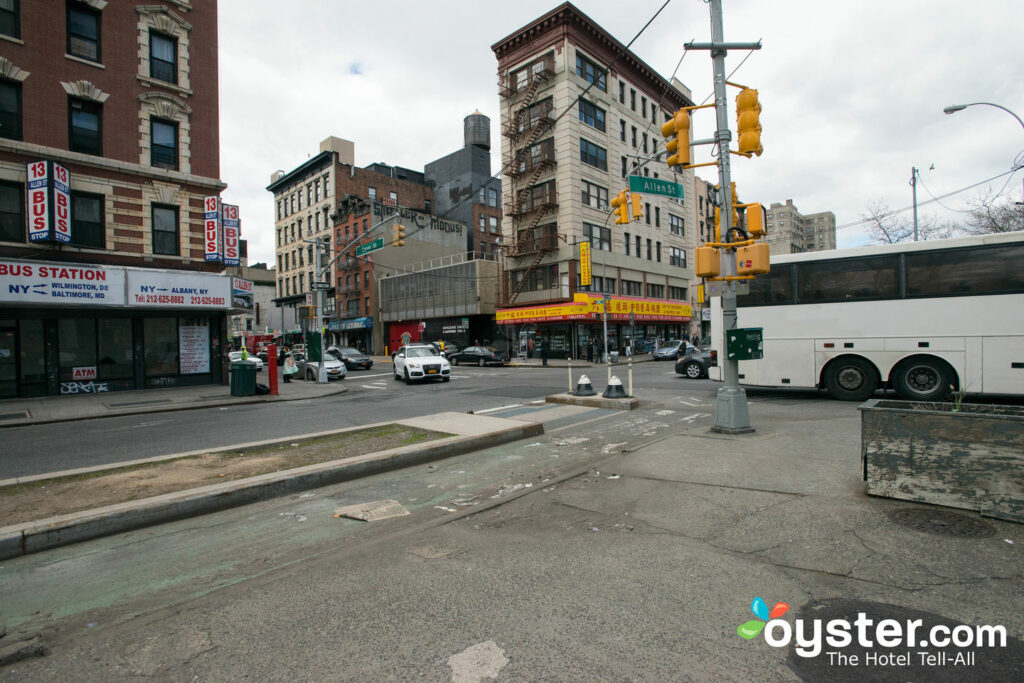 Todd Lipman, a consultant with the Victoria Transport Institute, wonders why news outlets cover bus and train accidents with a lot more shocking detail than car accidents. According to several sources, buses are about 10 times safer than cars.
"Even if a Chinatown bus is half as safe as a conventional bus, it's still safer by an order of magnitude than a car," notes Lipman. "Why are automobile traffic risks accepted as normal whereas public transit risks are considered exceptional?"
Lipman adds that safety is among the biggest benefits of public transportation, but they're rarely highlighted in public policy discussions about the value of supporting bus, rail, and subway systems. "These low-cost carriers, by attracting people who might normally drive to take a bus, are actually making the roads safer overall."
The drop-off area in New York City's Chinatown is an ad-hoc, open-air bus station, with several tour companies that have buses parked in front of their offices. One of these buses has a torn-off side bumper and dent; another has a back bumper that's been cracked and glued together in numerous spots.
As I'm walking away, I see a cop put a parking ticket on a bus that already has a ticket wedged under its windshield wiper. If that's a sign of the future, there are probably more violations to come.
Would I take a Bolt/Greyhound bus again? Definitely. A Chinatown bus? Maybe. Given the cost of gas and tolls, the ticket price is lower than driving. A train ticket is even higher at about $17. Using the SaferWeb site or SaferBus app makes checking the history of a bus line easier, but not every small line is covered. For those who want to ride the Chinatown buses, sites like GotoBus make it easier to book in advance.
Of course, there's no guarantee you'll get free chicken with your ride.
Related Stories:
All products are independently selected by our writers and editors. If you buy something through our links, Oyster may earn an affiliate commission.