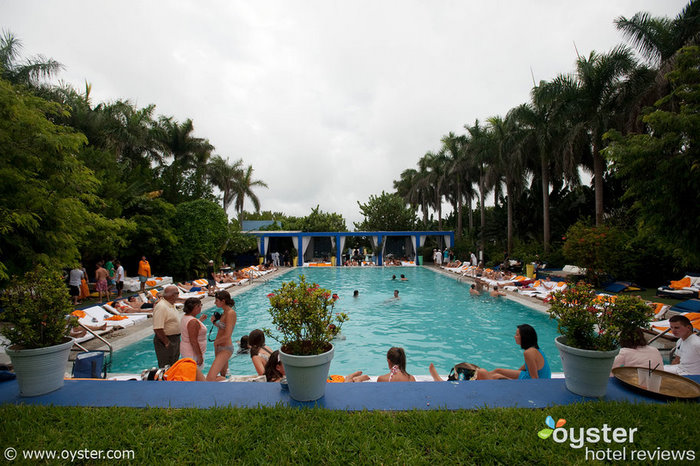 [js_single_hotel_rates_cta hotel="99913" /]
It's official: the Colts and Saints will face off in the Superbowl. And enthusiastic fans who held out to buy tickets — and book their hotel rooms — until they knew their team would make the big game are jumping to action. Today. There's a good chance hotel rates are going to start to skyrocket, so if you've been dreaming of watching your team win, it's decision time. Fortunately, almost all of our favorite Miami Super Bowl hotels still have availability; keep reading for their updated prices.
Located right on the beach, the Townhouse offers bright, stylish rooms, but little else. Still, it's a great, comparatively clean alternative to many of the sketchy, similarly priced hotels throughout the area. Young singles might appreciate the Townhouse's proximity to clubs. Read full review
Fortune House
Its a condo-hotel, meaning that all 200 units — one-bedroom luxury condos with full kitchens — look a little different from the others, but have the same basic features. For the price, the features are solid — a large pool, restaurant, gym, Jacuzzi, and sauna — but its downtown location is a 15-minute drive from the beach and most attractions. Read full review
Something for everyone: for the guys, world-class golf; for the ladies, a full-service spa; for the kiddies, a 125-foot waterslide. And it's all graced with warm, friendly service in a scenic resort setting. Just know that you're isolated on-site, you're nowhere near the beach, and everything costs extra — often quite a bit extra. But as we learned in the comments section of our previous Super Bowl post, the hotel eliminated its three night minimum, making this a real Super Bowl value. Read full review
Built in 1926, this 28-room B&B-style property in upscale Coral Gables — about a 25-minute drive from the beach — is a unique departure from the sleek minimalist hotels found just about everywhere else in Miami. Rooms are a bit worn, however, and features are scarce — no pool, no gym, and no restaurant (yet). Read full review
The recently renovated President Hotel has clean rooms and a central South Beach location — one block to the beach and an easy walk to shopping, drinking, and dining. Beds are a bit uncomfortable and the pool is dirty, but it's hard to complain when the price is this shockingly low. Although the reservation agent said the minimum stay requirement was four nights, it seems easy enough to book only one night through online booking engines — just be extra careful, since the staff sometimes loses track of reservations, leaving guests in a pickle. Call to verify your reservation ahead of time and bring a printout of your booking conformation to be on the safe side. Read full review
With apartment-style suites, a huge assortment of kid-centered activities, and a beachside location in safe, suburban Sunny Isles — the Newport is an excellent family option. Even the standard rooms come with pullout sofas, making sleeping accommodations a breeze – and you'd be hard pressed to find a cheaper beachside option for Super Bowl weekend. Read full review
A two night minimum is a rare thing in South Beach over Super Bowl weekend, so if you're planning a short trip but want to be near the South Beach party action, you could do worse than the Century. (While the reservation agent said the minimum stay requirement was three nights, booking engines and the hotel website give you the option to book for only two.) A quaint Deco hotel hailing from 1939, the Century's hospitality brings a European guesthouse to mind (or maybe it's the small, shabby rooms and absence of a pool). Located one block from the beach and a short hike from the less pretentious SoBe party scene, the Century is a decent place to crash. Read full review
Shore Club
The Shore Club has eclipsed the Mondrian as the better deal for a swanky South Beach party hotel this Super Bowl weekend. While the Mondrian only has high-end suites left, you can still book less expensive room categories at the Shore Club, such as the Deluxe King room. This beachfront hotel prides itself on being a be-seen haunt, with celebrity-fueled restaurants and bars, and a boisterous infinity pool where DJs spin the latest hits. The pretty, minimalist rooms are large for South Beach and the service is attentive.
Debuting in 2009 and designed by Marcel Wanders, the off-the-beach Mondrian is as stylish as its party-centric South Beach siblings, the Delano and Shore Club, but lacks the hyped-up clubbers. Its impeccable service, kitchen-equipped rooms, and notable after-parties at the Sunset Lounge draw well-heeled singles but also families seeking more than the PG-13 kitsch of most family hotels. Read full review
If Tiger Woods were to attend the Super Bowl, we'd recommend he stay here. It's the perfect pick for both professional athletes and overexposed celebs — or someone like Tiger, who is both. Part health services spa, part luxury beach resort, Canyon Ranch is a zen beachside haven on an isolated stretch of Collins Avenue, where it's easier to be discreet (and where, if the Lamborghinis and Ferraris parked out front are any indication, there are more than a few high-profile guests who value their privacy). One of Miami's best fitness centers, with a rock climbing wall and dozens of daily fitness classes (included in the price of the stay), make it easy to keep up with your exercise regimen, and the enormous, beautifully decorated guest rooms ensure celeb-worthy pampering. Read full review
Sold out: Shula's Hotel and Golf Club
Shula's has great golf, business amenities, fitness activities, and family features. But over Super Bowl weekend, the main reasons to go are the hotel's proximity to Land Shark Stadium, and the price. At $319 a night, it isn't exactly cheap, but it's still one of the best deals in town this weekend. The tradeoff, of course, is that Miami's attractions (and beaches) are a world away — though for diehard football fans, the resort owned (in part) by football legend Don Shula is the place to be. Read full review