When you sleep in as many hotels as we do, you're bound to be disappointed in some hotels and pleasantly surprised by others. We've stayed in some world-famous hotels that failed to impress, while some of our favorites have been little-known spots that are, at times, a bit removed from the touristy hubbub. The next time you're planning a trip, consider skipping the big name hotels and opt instead for one of these stylish, off-the-beaten-path gems.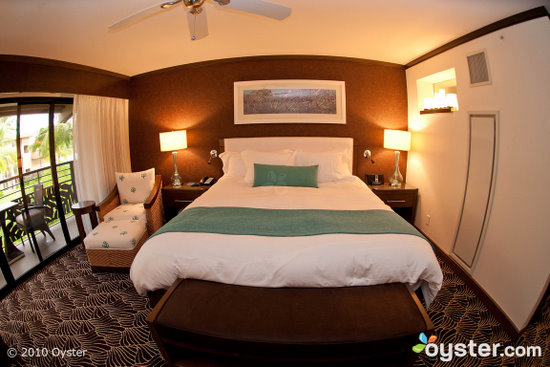 Although Hawaii is, in general, unimaginably gorgeous, many of its hotels often don't live up to the stylish, modern standards that American hotel-goers have come to expect; unexciting floral-print, polyester-blend bedspreads abound. But there are notable exceptions: the Koa Kea Resort being one of them. This beautifully designed boutique has a sleek lobby, luxurious rooms, and Italian marble bathrooms. CHECK RATES*
When people think of Los Angeles hotels, several classic names come to mind: Beverly Hilton, Beverly Hills Hotel, Chateau Marmont. All are good options, but there are plenty of new kids on the block that offer style and a bit of funky flair. One of them is this Philippe Starck-designed hotel that wows with its chic rooms (and bathrooms!) and an outdoor lobby (pictured above) full of forest-inspired furniture. Plus, check out these whacky, giant picture frames on the pool deck. CHECK RATES
New York City has no shortage of stylish hotels, but most of them are in hip downtown areas like SoHo and the Meatpacking District. For that reason, this hotel is a special gem in its not-especially-cool Midtown West neighborhood. Besides the attractive modern design in the lobby (seen above), the hotel also boasts two restaurants from celeb-chef Gordon Ramsay and impressively large, plush guest rooms. CHECK RATES
Forget San Fran's old dames (Sir Francis Drake, InterContinental Mark Hopkins) and head to the Financial District's waterfront for this charming, calming hotel outfitted in light woods and white stone. The 200-room boutique (from California-chain Joie de Vivre) opened in 2005 and features a spa with a rooftop garden (try the outdoor bath), two public terraces, and lovely rooms decorated in soothing earth tones. CHECK RATES
*For all four hotels above, "CHECK RATES" will bring you to our Rooms & Rates page for pre-selected dates. This will give you a sense of the hotel's prices, but please feel free to click on "Change Dates" to see rates for your specific travel dates.
All products are independently selected by our writers and editors. If you buy something through our links, Oyster may earn an affiliate commission.