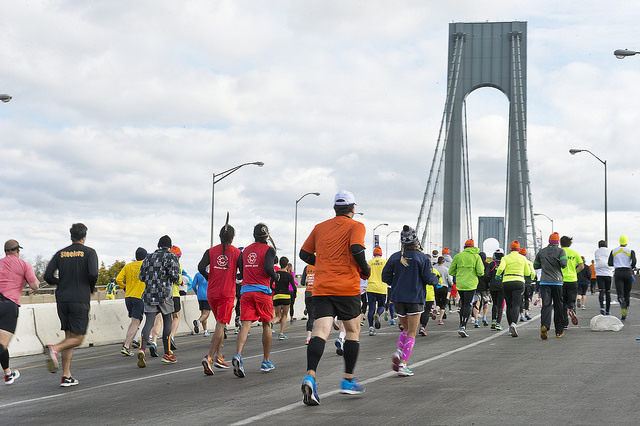 New Yorkers have a reputation of being tough, but The New York City Marathon proves the city is full of softies. To be clear, those runners (many hailing from the city) trucking a grueling 26.2 miles are tough. But the outpouring of love to the 50,000+ participants would melt the hardest heart. Crowds cheer runners past the finish line with words of encouragement and signs like, "Great job, random stranger!" or "You could've chosen chess." (Hey, it's not the Big Apple without a little bit of snark.)
Whether you're coming to strap on a race bib or just cheer, be inspired, and maybe kickstart your own running routine, NYC hotels are ready to cater to runners of all levels and their supporters for this year's marathon. Check out these packages and programs that could lead to your next P.B. (personal best).
Running a marathon is bucket-list territory, so it makes sense to splash out on a hotel that's equally once-in-a-lifetime. The Pierre, with its full-tilt baroque interiors and white-glove service, certainly fits the bill. For the NYC Marathon, it's offering the aptly named "Ultimate Marathon Package," which includes free sneakers, house-made energy drinks, a gourmet pre-race pasta dinner, chauffeured transportation to the race, and a drawn bath post-race, among other perks. And the hotel itself is on Fifth Avenue, right by the base of Central Park (read: close to the finish line).
Gansevoort Meatpacking and Park Avenue
As runners get more and more serious, the energy gels and recovery drinks pile up. Thankfully, you can leave that blender at home, because the Gansevoort has you covered. The brand's "Get Laced" package includes Gu Energy Gels, bottled water, vouchers for Juice Press juices, custom running maps, and a recovery kit, which has bath salts, Tiger Balm, and a discount at Exhale Spa. Travelers can book this program year-round, but we're guessing those bath salts feel even better after clocking in 26.2 miles. Note that both the Gansevoort's hotels (in the Meatpacking District, and on Park Avenue and 29th Street) are farther downtown and off the marathon course, which can be a boon if you're looking to shake off the post-race crowds.
Kimpton Hotels (Ink48, Eventi Hotel, The Muse, and 70 Park Avenue)
When did running get so hip? Just witness New York's treadmill running studio, the Mile High Run Club, where flashing disco lights and a bumping beat help you push through running drills, and you'll agree it has. The best feature at this "club," though, is the trained staff that can offer plenty of been-there-done-that input on marathon training. Fortunately, free Mile High classes are part of the Kimpton Hotel's "Run the City" package. Other perks include meals to fuel up your runs, wellness gift bags, and free bike rentals and in-room yoga mats (helpful if you need to stretch out some tight hips). Kimpton's Ink48 also offers a free Runner's Amenity Kit, which can cover those forgotten items. Note that this package keeps going until November 30th, so anyone inspired by the New York City Marathon can book it post-race and get a jumpstart on training for 2016.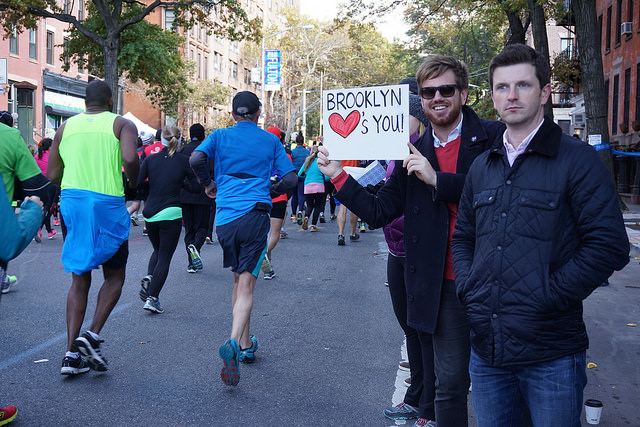 Not everything is for the runners. Sometimes, it's the support crew that needs a helping hand. That's why the Ritz-Carlton New York, Battery Park will be hosting sign-making stations for all guests to write their words of inspiration and wisdom, so you can leave the poster-board at home. Be aware that this hotel, down in the southern tip of Manhattan, is nowhere near the marathon, which crosses the Upper East Side, Harlem, and Central Park to the north. But that doesn't mean guests should stay away from the sidelines. Take that sign onto the 2/3 subway. From there, it's a straight shot to Atlantic/Barclay Center, AKA mile marker eight. Here you'll have the added bonus of cheering with a local Brooklyn crowd. Leave these runners hanging? Fuggedaboutit!
This property may be off the race route, but the Hyatt's concierge is well-schooled in marathon needs. Transportation to and from the race or tips on the best spots to watch is all part of the service. Guests are also directed to several local spots for carb loading pre-race. (Our vote: All'onda or The Smith). And runners can book the "Stay Fit with Hyatt" package, which includes a "Superfood Smoothie Kit" from ALOHA, an in-room yoga mat, and bottled water, among other healthy treats. (This package is also available year-round.)
Many runners have the same two thoughts when they finish a marathon: "Ouch my feet!" and "Ouch my legs!" That's why the Mandarin Oriental, New York has two spa treatments at the ready to pamper bodies that have hit 26.2 miles of pavement. The Sole Remedy Pedicure, an 80-minute-long treatment, goes beyond a soak and polish to include "reparative heat treatment" and a lower leg massage. And the Runner's Retreat massage is deep-tissue work with arnica oil. The Mandarin's location in Columbus Circle is mercifully close to the finish line, meaning aching bodies can get relief that much sooner. (Treatments are only offered October 28th through November 4th.)
On any given day, the Westin is front of the pack when it comes to amenities for runners. Not only does the RunWESTIN program set up guests with loaner New Balance gear and running maps, but a running concierge is also on staff to lead group runs and offer runners support and info. So you can bet that marathon weekend, the Westin NYC Grand Central will kick its running program to the next level. The on-site restaurant will be serving up a carb-focused pasta dinner, and refueling snacks like fruit, energy bars, and water will be on hand in the lobby. But best of all, the hotel will host a "shakeout run" the Thursday before the marathon (October 29th) when guests can race alongside two Olympic marathoners staying at the hotel and amp up everyone's motivation.
Race-day treats generally fall into three categories: good food, massages, and long soaks. And The Chatwal hits that trifecta with its "Sprint and Rejuvenate" Package. A power-up breakfast and a welcome basket with healthy treats take care of the food; discounted massages at the famed Red Door Spa cover the post-race rubdown; and the steam room, whirlpool, and indoor pool with forest tableau meet the need for a long soak. Keep in mind this package must be reserved by October 26th, so consider this your starting gun to get booking.
Other Events You Need to Book Your Travel for Now:
All products are independently selected by our writers and editors. If you buy something through our links, Oyster may earn an affiliate commission.