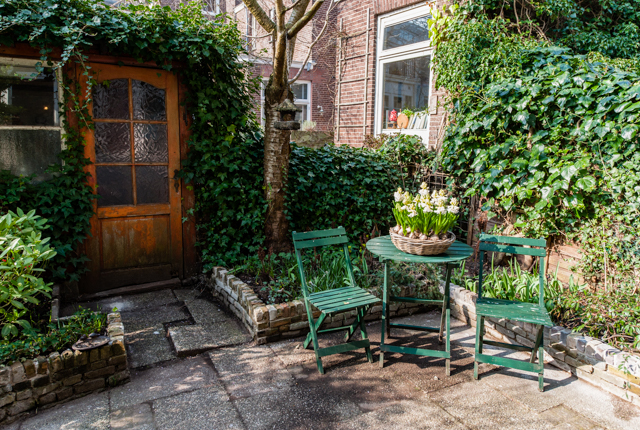 Allow us to nominate Amsterdam as the European capital of adorableness. Picture the canals, the arching bridges, the bicycling locals, and the tulip stands. Now add in those cute-as-all-get-out gabled houses with ornamental facades that are so precious their likeness is stamped on cookies. All together, it's an overload of adorable.
Even better, travelers visiting Amsterdam can immerse themselves in this scene by staying inside the city's historic canal houses, several of which have been converted into charming hotels and bed-and-breakfasts. Take a look at our list of six properties below, and try to stop yourself from squealing in delight.
This teensy two-room bed-and-breakfast is the postcard version of Amsterdam, complete with a red-brick gabled facade. Inside, a narrow staircase leads to its rooms, both airy spaces done up in a soft, creamy white palette. But the highlight in each is the narrow balcony trimmed in wrought-iron and overlooking the pretty street scene that's set with more historic houses. It's the perfect perch to nibble on a free breakfast that includes croissants and Bonne Maman jams.
With its rich, jewel-toned colors and lavish antiques, The Toren is almost too glamorous to be considered "adorable." But underneath those embellishments is a charming 38-room canal house that's brimming with historic details, from the chandeliers and herringbone floors to the stained glass windows. The detail that bumps up the cuteness factor to 11 is the hotel's back patio, a snug little space bordered by greenery and tucked away behind a picturesque row of town houses.
Hotel IX Amsterdam has a distinctly hip brand of adorable on offer. Don't be fooled by its trendy photo murals, edgy exposed brick, and black-and-white decor — at its heart, this five-room property is classic Amsterdam charm. Wood beams, vaulted ceilings, and tilted windows convey its historic roots and plenty of preciousness. The cherry atop this design sundae is the Berenstraat Suite, offering a wee patio space among the city's tiled rooftops.
The location alone, along a broad, sunny canal, would put this bed-and-breakfast on our list. But the property itself also delivers some serious cuteness, from the flower-printed curtains and wrought-iron beds in rooms to the charming little terraces set off from them. The B&B's communal kitchen has French-press coffee, tea, and lemon cakes set out, adding to the atmosphere. Plus, each room comes stocked with a carafe of black currant gin for the perfectly appropriate nightcap.
"Must love dogs" could be the mantra for this cute little bed-and-breakfast. Each of its two rooms has a canine theme (Jack Russell and pug, respectively), and they have just enough needlepoint pillows and knickknacks to keep the adorable theme going without becoming annoying. The owner's pair of Jack Russell pooches can be found in the common areas, for those that want to snuggle up with the real deal. A cozy fireplace and homemade baked goods add to the B&B's absolute charm.
Smothered in moody purple, black, and gray decor, Canal House delivers a gothic and sexy vibe. But this slate-gray town house can't help but be adorable despite its edgy surface. Beamed ceilings, French doors, and wood-handled umbrellas tucked by the door are just some of its charming details. But the most delightful feature is the hotel's back garden. Two fountains trimmed in greenery are set on the terrace, and a garden house with a glass-paneled sunroom is the perfect spot to take it all in.
You'll Also Like:
All products are independently selected by our writers and editors. If you buy something through our links, Oyster may earn an affiliate commission.