As Thanksgiving and Christmas approach, we're starting to get our holiday gift list in order. While we've had our wish list in tip-top shape since March, figuring out what to get everyone on your list can be a sometimes daunting endeavor. Fortunately, we've found the cure -- holiday markets filled with local vendors, live entertainment, and delectable eats. Shopping for others (or yourself!) becomes extra fun when dozens of vendors are set up under twinkling lights while jovial music plays in the background. You'll get to buy unique jewelry, children's toys, and original art, all while enjoying apple cider and roasted nuts. Take a look at our list of the seven most cheerful holiday markets across the U.S.; these are the best spots for getting into the spirit of the season, and finding that perfect gift for your cousin who you always end up just giving socks...not this year!
1. Winter Village at Bryant Park, New York City
https://www.instagram.com/p/909SiclPgv
There are holiday markets throughout New York City, but the Winter Village at Bryant Park takes the (yule log) cake. Located at the edge of Midtown East, the "jewel box kiosks" have more than 125 vendors selling all sorts of goodies — fine jewelry, baby gifts, glass art, and more — until January 3rd. In the middle of the shops, an ice skating rink runs from 9 a.m. to 10 p.m. for family-friendly fun and photo ops. Once you've bought all your gifts, walk 10 minutes north to see the stunning tree at Rockefeller Plaza.
Hotel Pick: The Bryant Park Hotel overlooks Winter Village.
2. Christkindlmarket Chicago
Mimicking the traditional open-air holiday markets of Germany, Christkindlmarket in Chicago is a wonderfully German affair. Over 60 percent of the vendors are from Germany and goods include winter clothing, Polish pottery, Peruvian jewelry, and other typical fare. Serving as an unofficial continuation of Oktoberfest, here there will be plenty of bratwurst, pretzels, sauerkraut, and strudel to satisfy your hunger. The festival runs from November 20 to December 24 at Daley Plaza in downtown's The Loop area.
Related Link: The Best Christmas Brunches and Dinners at Hotels Around the World
3. Armadillo Christmas Bazaar, Austin
The Armadillo Christmas Bazaar runs from December 15 to December 24 at Palmer Events Center in Austin. Being that Austin is the self-proclaimed Live Music Capital of the World, the holiday market has live bands playing three times each day, including local favorites like Dale Watson, Asleep at the Wheel, and Ray Wylie Hubbard. Considered an art fair, the market has handmade items from more than 160 artists, including leather bags, metalwork, and clothes for the little ones. Food and drinks, both alcoholic and nonalcoholic, are available as well. Note that admission is $8 for attendees ages 13 and over.
4. Downtown Holiday Market, Washington, D.C.
https://www.instagram.com/p/wFaJXcmIjk
The 11th Annual Downtown Holiday Market in Washington, D.C. will take place from November 27 to December 23. With over 160 vendors selling an array of handcrafted goods, you can expect to find something for everyone on your shopping list. There will be food items for sale to keep your energy up and musical acts ranging from jazz to rock for your entertainment. The open-air market sits in front of the Smithsonian American Art Museum & National Portrait Gallery on F Street from noon to 8 p.m. each day.
Another DC landmark for getting in the holiday spirit? The Jefferson, Washington DC
5. Christmas Village in Philadelphia
Another German-inspired market, the Christmas Village in Philadelphia is packed with local and German vendors at LOVE Park (JFK Plaza,) nicknamed so for the well-known sculpture. Over 60 booths fill the space, with shops selling ornaments, leather wallets, organic soaps, Moroccan goods, and even edible birdhouses. Santa's Hut is also set up so you can snag a picture with Jolly Old St. Nick. And save room for the crepes, Belgian waffles, potato pancakes, and apple cider! The village will be open from November 26 to December 27.
Coming in from out of town? The Hotel Palomar Philadelphia is a quick seven-minute walk from LOVE Park.
6. The Great Dickens Christmas Fair, San Francisco
https://www.instagram.com/p/ftQCDytDtD
If you'd rather eschew the modern holiday season for a more traditional affair, head to The Great Dickens Christmas Fair in San Francisco. The organizers recreated Victorian London, packing the fairgrounds with lamplit walkways, draft ale and mulled wine pubs, and jovial actors and dancers dressed in their finest period wear. The family-friendly event does cost $25 to $30 for adults, but it's worth the price for the various stage performances and unique shops. And of course, there are plenty of food and drink options to satisfy both your savory and sweet tooth. The cheerful event runs for five weekends beginning November 21.
Related Link: SO Downton Abbey: Gorgeous English Manors and Estates
7. Denver Christkindl Market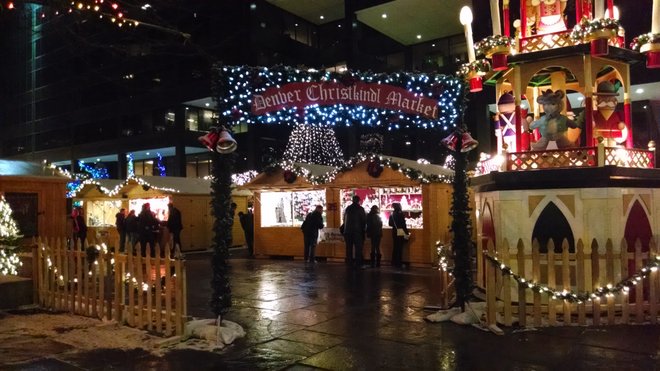 The 15th Annual Denver Christkindl Market will take place from November 20 to December 23, and it even stays open on Thanksgiving Day. Located at Skyline Park in Denver, the German event will have it all — live music and dancing, a plethora of shops, and delectable eats. The market also features its own traditional Christkind, a German Christmas gift-bringing figure, who will kick off the opening ceremony and be around throughout the event for photos. Enjoy polka, pretzels, and pastries while browsing children's toys, pottery, and alpaca scarves.
Related Links:
All products are independently selected by our writers and editors. If you buy something through our links, Oyster may earn an affiliate commission.