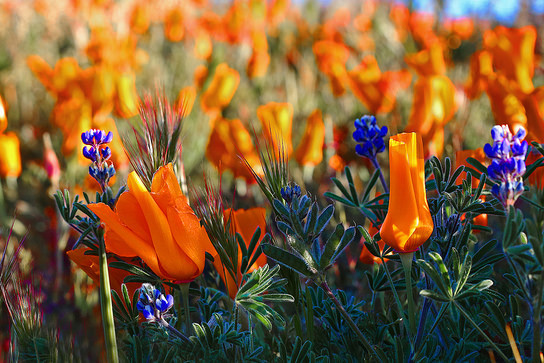 The Spring Equinox is just around the corner. Come March 20, it's officially spring, meaning it will once again be one of our favorite times of year. (Who are we kidding? We love every time of the year!) But spring holds a special place in our frozen winter hearts. Besides promises of warmer weather, green grass, and leaves sprouting on trees, we get especially excited about all the gorgeous colors that start popping up. Over the years, we've realized that some spots put on a better springtime show than others, so grab some allergy meds and check out the top places to celebrate spring in 2016.
Got a spot you think should have made the cut? Let us know in the comments!
1. Central Park, New York City
As we're based in NYC, it shouldn't be surprising that we've got soft spot for Central Park in spring. We can't wait until the first green leaf appears on a tree here, signaling it's soon going to be time to bust out the picnic baskets, strap on our tennis shoes, and grab our cameras. Spring in Central Park means gorgeous blooms, weeping willows, tall and leafy trees, and especially beautiful scenes by the lake — if you're in Manhattan from March to May, spending at least a few hours strolling through the park is a must.
Central Park Hotel Pick:
2. Keukenhof Gardens, near Amsterdam
Tulips are so beloved in Amsterdam that they were once used as currency. Though people have since realized it wasn't a stable way to spend and save, the tulip remains a point of pride — and beauty — for the country. Head to Keukenhof Gardens, about 30 minutes outside of Amsterdam, and you'll get an eyeful of bright bulbs. Make sure to bring your camera.
Amsterdam Hotel Pick:
3. Cherry Tree Gatherings, throughout Japan
Cherry blossom season in Japan is a sight for sore eyes — or any eyes, actually. It's a fleeting few weeks that are not only engrained in Japanese culture (the act of hanami is practically a rite and ritual in Japan), but it also brings in a huge amount of foreign tourists looking to sit under and stroll next to these delicate and beautiful blossoms. At full bloom, the trees look almost magical with light pinks, bright pinks, and white bursting from nearly everywhere. While you are likely to spot a hoard of cherry blossom trees no matter where you are in the country, Kyoto, Tokyo, Nagano, and Sapporo are particularly gorgeous go-to spots for us.
Sapporo Hotel Pick:
4. Tidal Basin, Washington D.C.
If you can't afford the time or the ticket to Japan, don't worry — we've got a popular cherry blossom destination right here in America. Given as a gift from the Japanese in 1912, beautiful cherry trees that blossom in the earlier part of spring each year line Washington D.C.'s Tidal Basin. In fact, there's an annual Cherry Blossom Festival filled with full-bloom trees, family-friendly activities, and even live-feed cameras so you can watch the action from home.
Washington D.C. Hotel Pick:
5. Northumberland, England
Feel like strapping on some twinkling red slippers or building up some courage this spring? Then head to Northumberland County, England where you can get lost in a bright field of poppies just like in the "Wizard of Oz." Or, if you're a '90s kid, you can put Nirvana's "Heart-Shaped Box" on repeat as you skip through the red poppy fields.
Northumberland Castle Hotel Pick:
6. Yosemite National Park, California
Flowers not your thing? We don't believe you, but we will still offer you something (we think) just as refreshing. Okay, so there are still flowers here, but unlike some of these other spots, they aren't the main draw. Instead you'll get the whole package: gorgeous waterfalls, stunning landscapes, and seemingly endless views of Mother Nature. Spring is a great time to visit Yosemite National Park because you can witness the circle and cycles of life, just as they are beginning to restart.
Yosemite National Park Pick:
7. Texas Hill Country, Texas
Think Texas is just fantastic barbecue, leather boots, and SXSW? We'd like to introduce you to Texas Hill Country, comprised of over 20 counties in central southern Texas, and home to tons of beee-autiful bluebells in the springtime. Since the lively city of Austin falls within Texas Hill Country, you can actually have it all in March — bluebells, barbecue, bands, and boots!
Austin Hotel Pick:
2016 Honorable Mention: Death Valley, California
Death Valley grabs its name from the harsh conditions that only a select number of plants and animals can survive in. Thanks to a freak amount of recent rainfall in late February, though, Death Valley — one of the hottest and driest places on earth — is experiencing a rare blanketing of beautiful yellow wildflowers. With nearly three inches of rain over the last few weeks, little seeds that could, well, did. The last time a Super Bloom like this happened was in 2005, so if you're headed that way, definitely check out this colorful phenomenon.
Check out the park's map to see exactly where you can catch this rare and gorgeous sight.
Related Links:
All products are independently selected by our writers and editors. If you buy something through our links, Oyster may earn an affiliate commission.