Exploring a new city on a long layover is the perfect way to squeeze another destination into your trip. But it's a science that's difficult to perfect without ample time to roam around -- so why not make an amazing airport your bonus destination? Spending hours in a terminal won't give you cabin fever if it's at one of these action-packed air hubs, with events and amenities to rival those in nearby cities.
Treat yourself to fine dining and a concert, mini golf and an IMAX movie, or even an indoor surfing session. Yes, actual surfing. Here's where to find them.
1. Hong Kong International Airport
HKG, China's behemoth international airport in Hong Kong, welcomes 63 million passengers per year to its wonderland of high-tech diversions. The airport's Aviation Discovery Center turns passengers into pilots in a flight simulator. The Dream Come True Education Park encourages kids to play pretend by dressing up in their dream job uniforms, and is sure to keep them busy while adults take to an 18-hole round of simulated golf at GreenLive AIR. And without ever leaving the airport, passengers of all ages can catch a 3D movie at Hong Kong's biggest IMAX screen. HKG is also known for its cleanliness, and relaxing in a movie theater without a sticky floor seems like an experience worth the layover.
Related Link: Walking the Great Wall of China: A Bucket-List Trip You Can Actually Afford
2. Munich Airport
How does Germany reinvent the layover? With a gourmet beer garden, an authentic Christmas Market, and — surfing? An indoor standing wave called Surf & Style has been a crowd-garnering staple at Munich Airport for the past five summers, beckoning to elite and novice surfers alike. That's just one of the airport's many seasonal events, which also include an authentic Christmas Market and outdoor ice skating in the busy winter months.
Munich Airport is the only airport in Europe to receive one of a handful of five-star ratings from SkyTrax, a global airport reviewer. Check out amenities like sleeping pods (called Napcabs), showers, spa services, and exclusive lounges. Kids can enjoy mini golf, jungle gyms, and playgrounds. The airport is opening a new satellite terminal in April 2016 in order to handle the 38 million passengers that pass through it each year, and only time will tell what trendy amenities it will bring.
Take a look at the top hotels in Munich.
3. Seoul's Incheon International Airport
A surprising spot for international and local musical attractions alike, Incheon's Skytrax rated five-star airport is the largest in South Korea. A capella, orchestra, and band concerts fill each season at Incheon Airport's passenger terminal, where daily performances are held. Incheon is also home to the largest duty-free shopping center in the world, an ice rink, spa services, scenic gardens with fountains and sculptures, and baby lounges that are exclusively for passengers with infants. Safe to say it's a relaxing place to spend your layover.
Related Link: 10 Best Cities to Visit in Asia
4. Singapore Changi Airport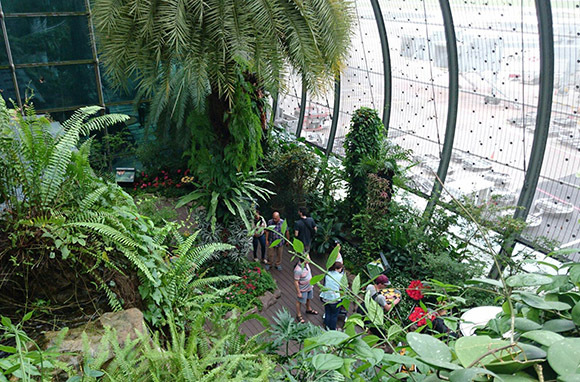 This gateway to Singapore looks more like a botanical garden and spa than an airport, and it consistently comes out on top in the SkyTrax World Airport Awards. Changi offers tons of leisure activities — a pool, movie theater, local craft-making stations for kids, Playstation 3 games, playgrounds, and a collection of gardens including a butterfly garden, sunflower garden, and motion-sensing flowers that bloom only when approached. This is definitely the airport of your dreams.
Check out the prettiest secret gardens.
5. Tokyo Haneda International Airport
If you're even slightly germaphobic, airports probably gross you out. Tokyo's Haneda Airport, however, is a different story. The main airport for bustling Tokyo, Haneda is world-famous for its cleanliness, customer service, and proximity to the city. The Skytrax five-star hub has two extensive duty-free shopping centers — one of which is six stories. Though it has helpful information desks and comfy lounges at every turn, what makes this airport so swanky is largely unseen by most — a separate terminal for VIPs (read: presidents and prime ministers) has parking spots for private aircraft, and an abundance of other undisclosed amenities as well.
Related Link: 11 Things Locals Want You to Know About Tokyo
6. Copenhagen Airport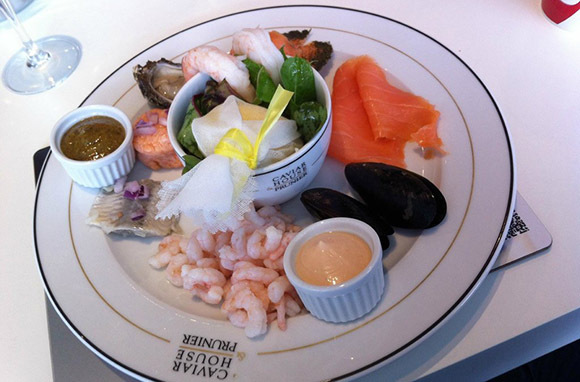 With extensive shopping, dining, and its own "Kids Airport," Copenhagen airport is both upscale and family-friendly. CPH sees 20 to 30 million passengers per year, and is consistently ranked among the world's top ten airports of its size. The airport is extremely accessible to the city and has amenities like swim centers and showers, museums, Nordic cuisine, and gardens. It's also a hub for most flights to Scandinavia, especially since Scandinavian Airlines recently launched direct service flights from several U.S. airports. Flights commence this March — making Copenhagen a likely stop for Americans heading to Denmark, Norway, Sweden, and Finland.
Be inspired by the 5 best views in Copenhagen.
7. Abu Dhabi International Airport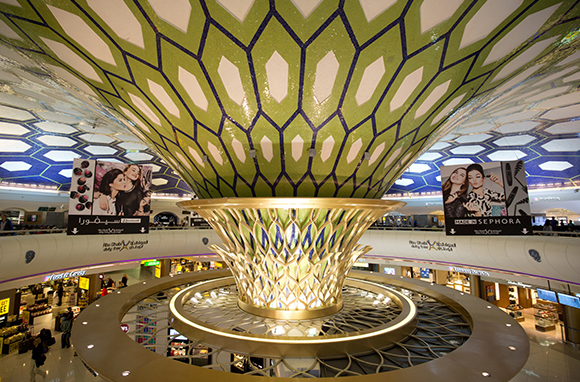 There's no shortage of lounges and spas where passengers can unwind at Abu Dhabi's luxurious international airport. Frequented by business travelers and billionaires, the gateway to the U.A.E.'s capital is rife with VIP lounges, fine dining spots, and duty-free shopping.
But this isn't just any duty-free splurging. Upscale shops offer all things extravagant — Bulgari jewelry, Swarovski crystal, Hermes scarves, even solid gold and precious stones from a jewelry store aptly named "Pure Gold" — in case you didn't spend enough money on your travels already.
Related Link: The World's Most Expensive Hotel Cities
8. Zurich Airport
Critics give Switzerland's swanky airport four stars. It boasts sports activities that will tire you (or the kids) out before your flight. Rent bicycles, inline skates (and helmets), or walking poles to get some physical activity in before you're cooped up in an airplane cabin. Lounges, day rooms for naps, showers, and a "play haven" for kids are also available, and are perfect for a post-workout rest.
Take a look at Zurich's design-conscience hotels.
More from Oyster.com:
More from SmarterTravel:
Read the original story The World's Most Extravagant Airports, by Shannon McMahon who is a regular contributor to SmarterTravel.
All products are independently selected by our writers and editors. If you buy something through our links, Oyster may earn an affiliate commission.