Whether you're a cruiser or looking to experience an upscale beachfront property without the high room rates, day passes are popular options for visitors to Caribbean destinations. Travelers who purchase these tickets often get a full eight hours of access to a resort's sandy beaches, relaxing pools, non-motorized water sports (such as kayaks and snorkel gear), and even food and drinks. Many hotels sell day-pass bookings directly online or "at the door," while others are offered through booking sites -- but all aren't created equal. So we've rounded up those passes that offer an excellent value, particularly when compared to the going rate for a standard room. Check out the best bang-for-your-buck day passes in Caribbean locales and start planning your island getaway. And if you're really loving what's on offer at each spot, you may just want to consider staying the night at these awesome resorts.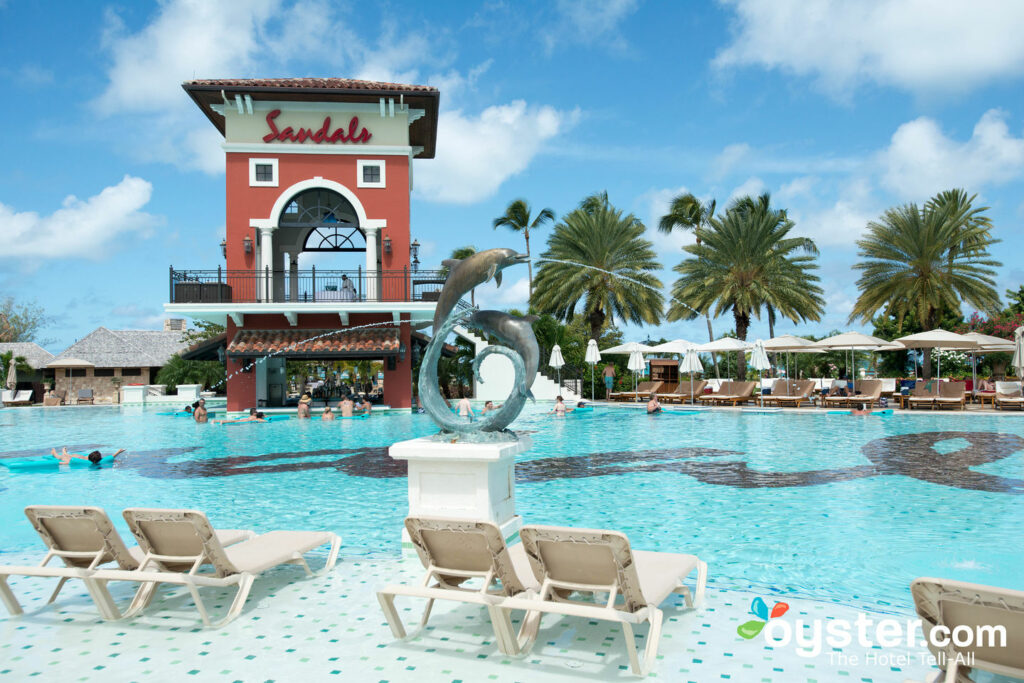 The Sandals brand is known for building he epitome of a couples-only mega-resort on almost every Caribbean island. The Antigua outpost has 11 restaurants, 373 luxurious rooms, and six pools spread throughout the 27 acres of meticulously groomed gardens. A room at the Grande Antigua Resort will cost from several hundred dollars to over a thousand, so purchasing a day pass is a great alternative. For $200, travelers can spend time soaking up the romantic, if a bit generic, atmosphere that has made the brand so popular — while taking advantage of the all-inclusive food and drinks.
For a longer getaway to Antigua, combine a day pass at Sandals with a night at the more intimate (and wallet-friendly) Siboney Beach Club Hotel down the beach.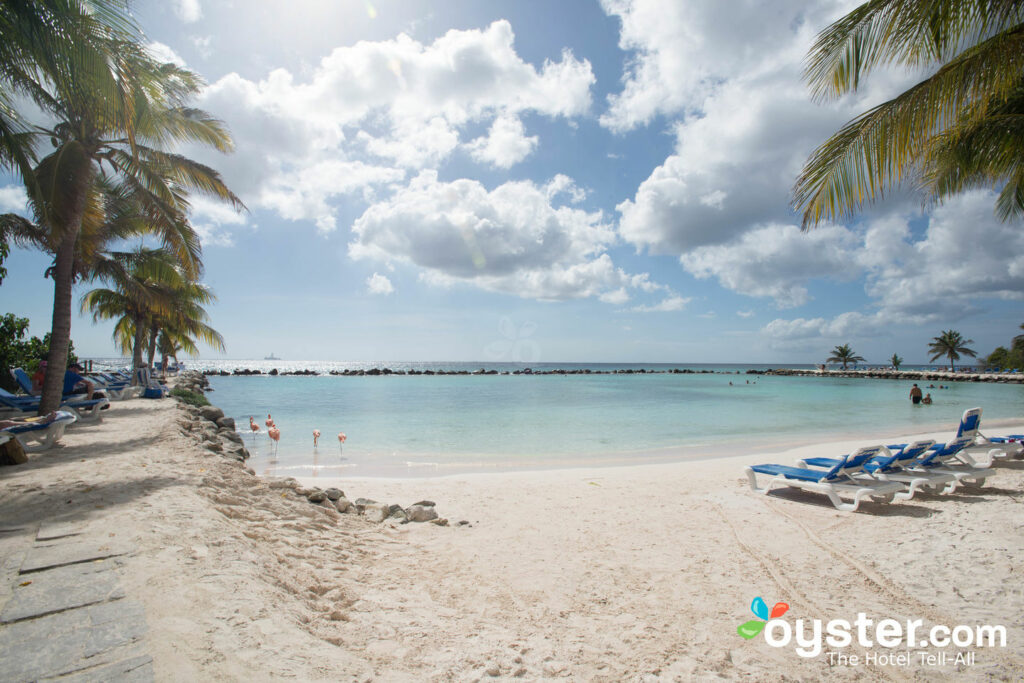 The upscale Renaissance Aruba Resort & Casino is located in Oranjestad's cruise port, making it a convenient option for cruise travelers to Aruba. Guests can utilize the resort's many stand-out features that include two casinos, several bars and restaurants, two pools, and a luxury mall. A day pass to the property costs about $100 and includes beach towels, lunch, a drink, and an hour of non-motorized water sports. For those who choose to book an overnight stay, all 556 rooms are modern, with a blend of sophisticated and retro decor — plus coffeemakers, MP3 players, and flat-screen TVs. While the lagoon beach is a little underwhelming, it's hard to beat the hotel's private island (and visiting flamingos).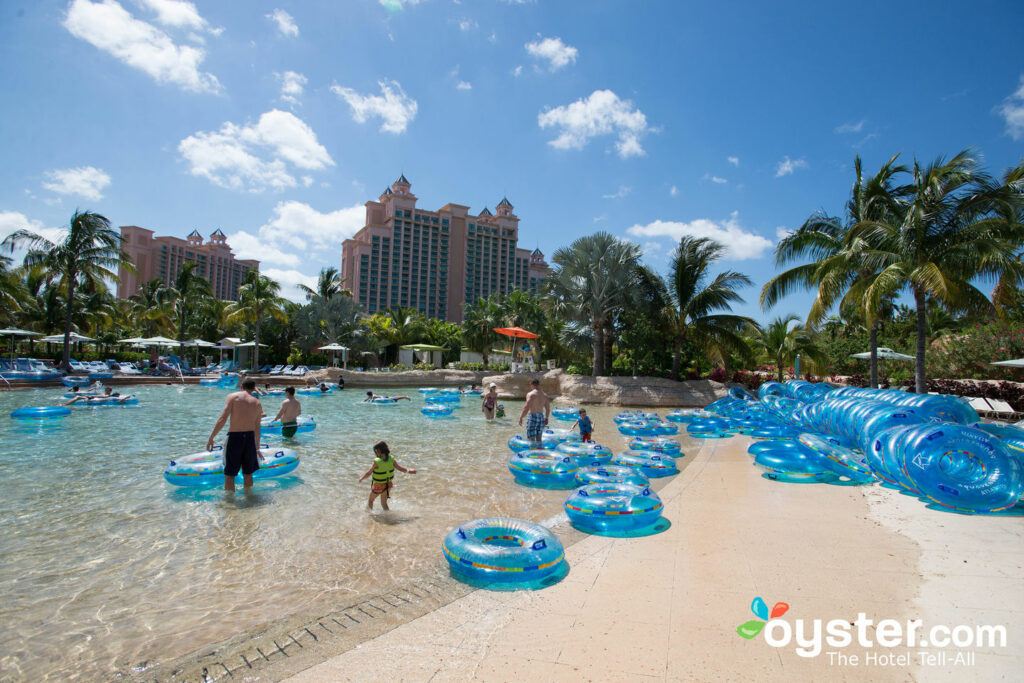 If you're looking to pack as much into your day in the Bahamas as possible, then the best option is Atlantis' Aquaventure Water Park Day Pass. Priced at $120 for adults and $80 for children, the bookings give guests access to the world-famous 141-acre water park, 11 pools, and four stunning beaches. Marine offerings such as swimming with dolphins or stingrays are available as add-ons. This certainly isn't for the day-trippers who prefer peace and quiet over loads of lively water activities, but Atlantis day trippers certainly won't be bored. Families may find it more cost effective to book a room for the night instead of purchasing multiple day passes.
Another pro tip: A stay at the budget-friendly Comfort Suites Paradise Island, just a five-minute walk from Atlantis, also gets you free daily access to the mega-resort.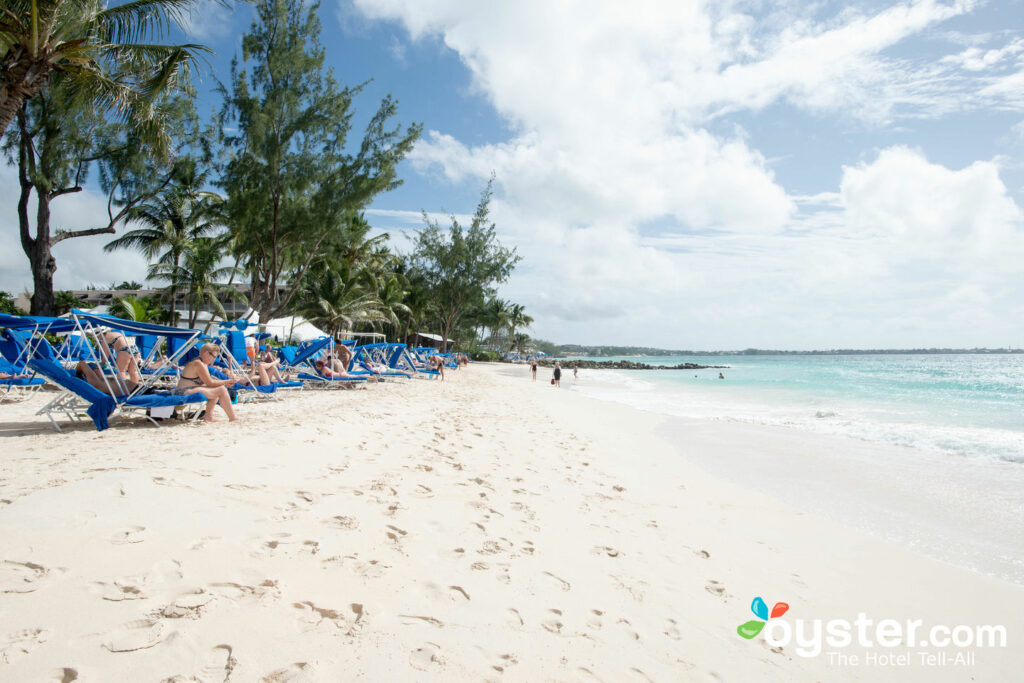 The all-inclusive, upscale Turtle Beach by Elegant Hotels is located on a beautiful stretch of Dover Beach and the St. Lawrence Gap. The beach is spacious and scenic with palm trees, white sand, and turquoise blue water. Plenty of amenities populate the property, including three on-site restaurants, a spa, fitness center, two pools, a kids' club, and an on-site water sports provider. However, seeing as the rooms are a bit basic for a four-pearl hotel, and rates are high, this resort makes a great option for a day trip. A $110 day pass is all-inclusive, meaning travelers have access to all of the resort's facilities, plus food and drinks.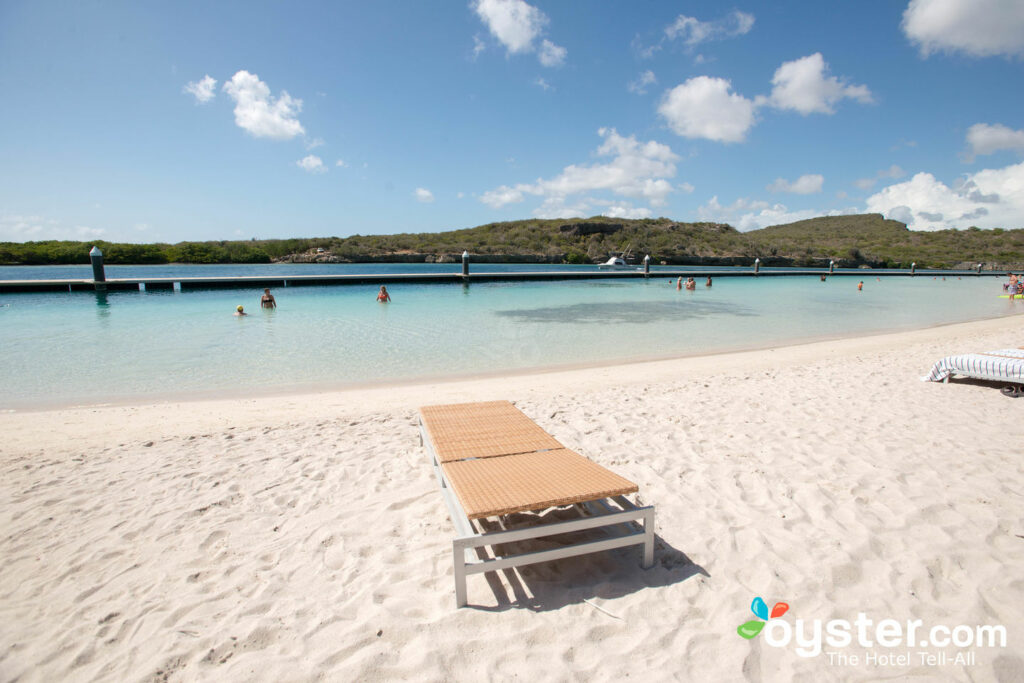 The sprawling and immaculate Santa Barbara resort is a luxury property that attracts both couples and families with its lovely spa, tennis lessons, kids' camp, and three pools. Its wide, white-sand beach and protected swimming area are also highlights, as is an 18-hole golf course. This is easily one of, if not the, top hotel in Curacao, and those with day passes can have access to all of its all-inclusive offerings for just $112. The resort and its surrounding location are quiet, so it's best for those seeking serenity.
For travelers sans kids, the Secrets Wild Orchid in Montego Bay, Jamaica is an excellent pick for a day getaway. A $99 pass from resortforaday.com will get you access to the luxurious adult-only property that sits on a gorgeous stretch of sand. Passes will also grant day trippers access to the all-inclusive property's pool complex, beach, and land and non-motorized water sports, as well as those at sister property Secrets St. James next door. Dining-wise, lunch, snacks, and both non-alcoholic and alcoholic drinks are included in the rate. For a chance to experience one of the top properties in Jamaica, the day charge is a small price to pay.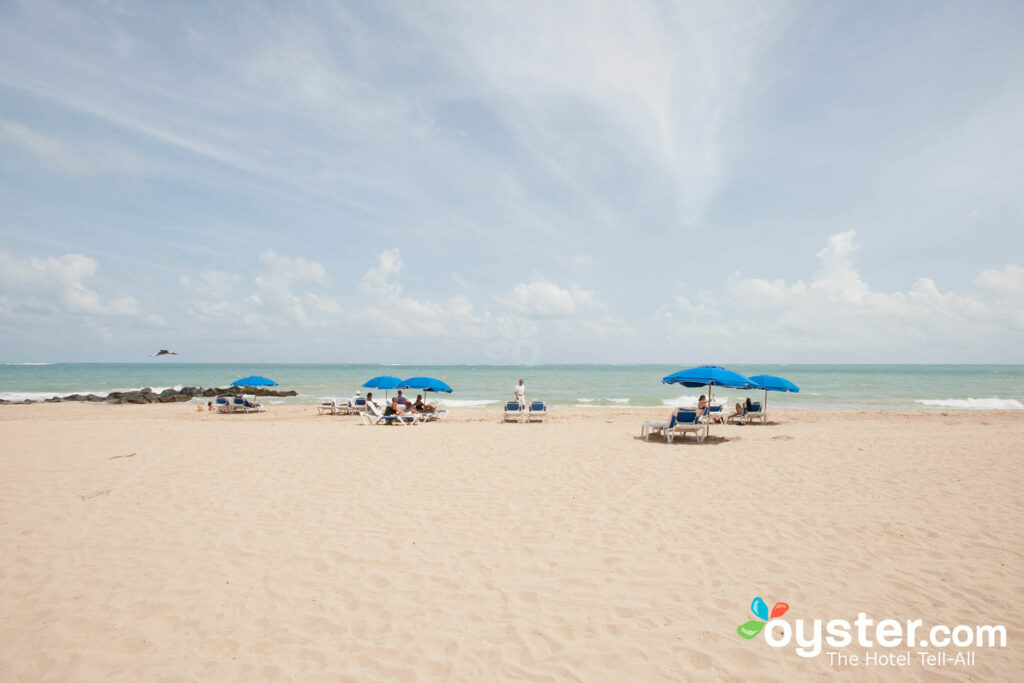 Puerto Rico has long been a popular destination for cruise stops, and those on longer vacations, thanks to its white-sand beaches and colonial architecture. For travelers who have a short time on the Caribbean island, a day pass to the upscale San Juan Marriott Resort & Stellaris Casino is money well spent. In high season the pass will cost $80; it includes a $20 food and beverage credit. During the eight-hour allotted time, guests can use the pool, beach, water slide, sauna, and children's activities. It's one of the best options in the area, and both families and couples will find facilities for keeping busy or relaxing.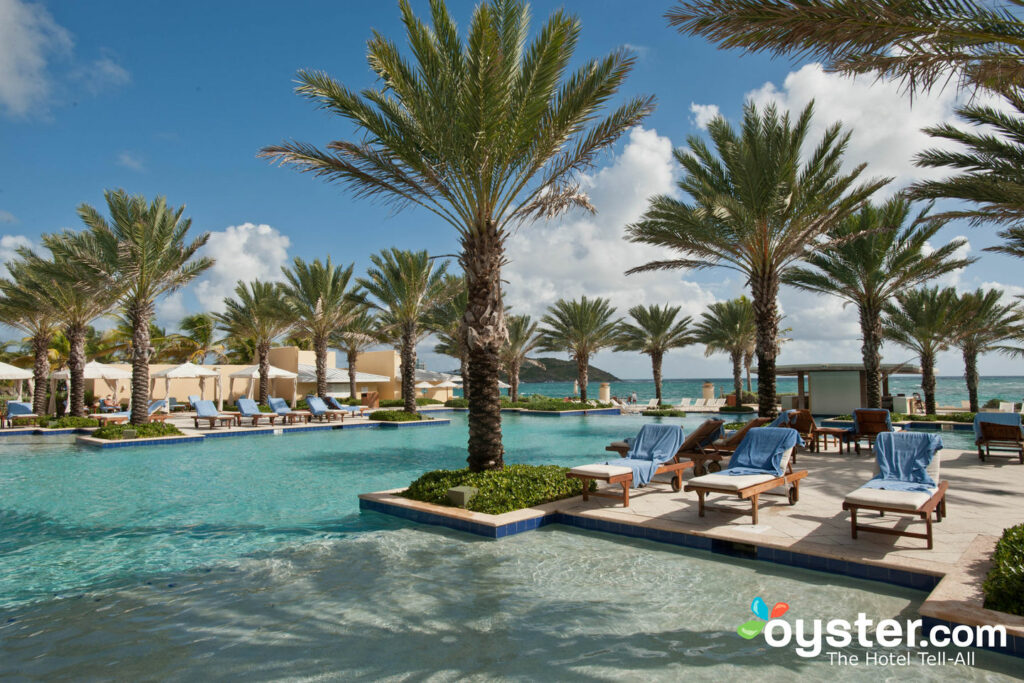 St. Martin/St. Maarten has both a French and Dutch side and The Westin Dawn Beach Resort & Spa is conveniently located just about in the middle (but technically on the Dutch side). The upscale property makes for a particularly great day trip option for families as the $179 day pass is good for up to four people (regardless of age) and even includes use of a room. The hotel is located on the lovely Dawn Beach and has a double-decker infinity-edge pool that's a stunner; day visitors have access to both. Note, however, that umbrellas aren't allowed due to high winds — though there are cabanas available for rent if you want some al fresco shade. Guests also have access to unlimited free internet during their time at the resort.
East of Puerto Rico is the island of St. Thomas. The locale has the only airport in the U.S. Virgin Islands, plus the busiest cruise ship harbor in the West Indies. Add in its beautiful beaches, excellent sailing, fishing, scuba diving, and snorkeling, and it's easy to see why it's such a popular Caribbean destination. Located just a 12-minute drive from the Charlotte Amalie ferry terminal, the upscale Frenchman's Reef & Morning Star Marriott Beach Resort is a top pick for day trippers. A $75 adult pass includes use of the pretty beach, multiple pools, sports facilities such as volleyball and ping-pong, and internet. Passes for children ages six to 12 cost $55, while children five and under are admitted for free.
The small Caribbean country of Trinidad and Tobago sits at the end of the Caribbean chain of islands, near Venezuela. Trinidad is the larger, more industrialized island, while Tobago is the more natural, resort-centric area. Located in Tobago, The Magdalena Grand Beach Resort is an upper-middle-range property that's part of a small gated community on the beach. For $105, the Grand Ultimate Pass gives day-trip travelers access to the laid-back hotel's beach, pool, and fitness center, plus all-inclusive dining and drinks from 10 a.m. to 10 p.m. There are a ton of wallet-friendly hotel options in the country, however, so it may be worth comparing room rates with day passes if you're thinking of staying over for a night or two.
Related Links:
All products are independently selected by our writers and editors. If you buy something through our links, Oyster may earn an affiliate commission.