The Best Road Trips is a weekly summer series highlighting our favorite getaways from major cities all over the United States.
Los Angeles is awesome whichever way you look at it. Despite its reputation of having few attractions for tourists and huge distances to cover to get to any of them, L.A. has plenty to offer with top-notch restaurants, world-class museums, a vibrant nightlife scene, and wonderful beaches that attract millions of visitors every year. But it's good to take a break from all the buzz sometimes and head somewhere new, be it a more relaxed spot for some serious R&R, or the perfect stretch of sand for surfing. So whether you're in town visiting and want to mix it up a bit, or you're a resident and want to get away from it all, start packing and hit the road! We've got the perfect nearby spots that are just a short drive away.
Road Trip #1: Los Angeles to Orange County, CA
Total Driving Time:1 hour
Distance Covered:51 miles
Take This Trip If: You're ready for some pampering
Orange County is known for its well-heeled residents and high prices, but if you want to get some serious R&R, it's the place to be. This string of uncrowded beaches is a good pick for families, but the area is popular among couples as well for its bucolic landscape and unparalleled sunsets. The beaches (and the waves) are definitely the main draw. If you're planning a trip with the family, the ultra-luxe Pelican Hill is a wonderful choice. The property boasts two great golf courses, along with a plethora of other amenities, such as two gorgeous pools, a world-class spa, a fitness center, and a top-notch kids' club. If it's just you and your significant other, the Montage Laguna Beach is great for spending some quality time together. It offers an excellent spa, impeccable grounds, and beautiful rooms with breathtaking views.
Top Driving Tip: The fastest and shortest way to get there is the Santa Ana Freeway, but if you've got some time to spare, Cabrillo Highway (SR 1) is the most scenic. Along the way you'll see gorgeous beaches and rolling hills.
Road Trip #2: Los Angeles to Santa Barbara, CA
Total Driving Time: 1 hour, 45 minutes
Distance Covered: 95 miles
Take This Trip If: You want to shop till you drop (and eat like a king).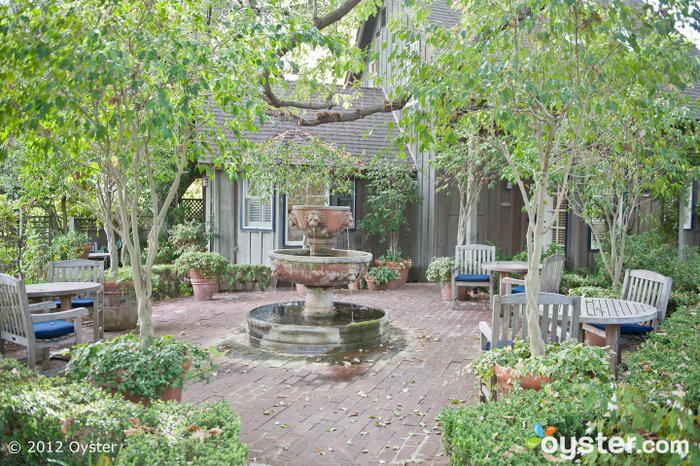 Santa Barbara is just short of two hours from Los Angeles, but feels a world apart — there's no traffic here, no attitude, and no nightclubs open till the break of dawn here. Instead, it has a small-town vibe and Mediterranean-style charm unlike any other town along the coast, with Mission-style buildings, pretty storefronts, art galleries, and quaint restaurants along the tree-lined streets. One of the most popular activities is shopping along State Street and at Paseo Nuevo, which boast some of the best stores in the region. Lovely B&Bs abound in Santa Barbara, but the Simpson House Inn is one of the most beautiful and romantic. The grounds boast flowering hydrangeas and lime trees, and the small garden, with weathered benches and a fountain, adds to the old-world charm. For those ready for some pampering, the Canary, a Kimpton Hotel has been a notable luxury property in the city for a number of years. It offers a real boutique experience, with free nightly wine hours, an attractive restaurant focusing on local produce, a small rooftop pool attached to a patio with pretty views, and beautiful rooms with four-poster beds and bathrooms featuring Spanish tile.
Top Driving Tip: A little over an hour from into your trip, you'll hit Ventura, a town famous for its great surf. It's definitely worth a stop on the way to Santa Barbara.
Road Trip #3: Los Angeles to Palm Springs
Total Driving Time: 1 hour, 54 minutes
Distance Covered: 107 miles
Take This Trip If: You need some relaxed fun.
Set in the middle of the California desert, Palm Springs is for those who need to get away from it all. There's no such thing as a vibrant nightlife here (some would even say the restaurants are nothing to rave about either), but that only adds to the appeal if all you need is a little sun, some art galleries, and maybe a few quiet rounds of golf. While senior citizens make up most of the city's residents, there is a surprising number of stylish spots, all set against the backdrop of gorgeous mountain and desert landscapes. The Parker Palm Springs is one of them, with a stylish, eclectic décor; impressive rooms; an 18-hole golf course; a full-service spa; four gorgeous pools, and even a helipad. Modeled after a Mediterranean B&B, adults-only Korakia Pensione is equally striking in a more rustic-chic kind of way. It features individually decorated rooms, beautiful outdoor grounds, yoga classes, and two charming pools perfect for sunbathing and relaxing.
Top Driving Tip: Riverside, located roughly half-way between L.A. and Palm Springs, is home to the stunning Mission Inn, the largest Mission Revival style building in the U.S. and the perfect place to stop for lunch or even just to grab a few of its famous Casey's Cupcakes.
Road Trip #4: Los Angeles to San Diego
Total Driving Time: 2 hours, 6 minutes
Distance Covered: 121 miles
Take This Trip If: You want to surf and party without the L.A. attitude
World-class shopping in La Jolla, great surf in Del Mar, nightlife in the Gaslamp Quarter, miles and miles of beach everywhere, and some of the best Mexican food around: That's San Diego for you. A mini-L.A. with a more laid-back vibe, San Diego offers everything from chic, ultra-modern spots to charming little B&Bs perfect for a romantic getaway. The Andaz San Diego, with its luxurious rooms, a popular nightclub and rooftop bar, and an outstanding Japanese restaurant, falls into the first category. The Britt Scripps Inn is a charming, Victorian-style inn that looks straight out of a fairytale, with only nine rooms, butler service, and free wine and cheese hours every evening.
Top Driving Tip: If you can't wait to get to San Diego to unpack the surfboard, make a quick pit stop in Encinitas, home to Swami's, a world-renowned surfing spot.
RELATED LINKS