Beaches and pools are undoubtedly refreshing places to cool down, but cenotes, which are commonly found in Mexico's Yucatan Peninsula, offer a special, secluded spot to beat the heat. In simplest terms, cenotes are sinkholes that form when limestone collapses and leaves a hole (many times with gorgeous turquoise-colored water) in the earth. Plus, their history runs deep -- Mayans built villages around these subterranean portals, as they offered a source of water back in the day. Some, which were believed to be gateways to the gods and afterlife, were also used for sacrificial offerings (the word cenote even translates to sacred well). And while there are approximately 7,000 centoes scattered south of the border, here are eight that top our list.
Ik Kil
Sure, Ik Kil's proximity to Chichen Itza makes it a popular pick among tourists, but that's not the only thing that has made this cenote somewhat of a celebrity. About 130 feet deep (and 85 feet from the surface), Ik Kil, which is draped in hanging vines, offers a surreal swimming experience. From above, expect to see swimmers bobbing up and down. If you want to get in on the fun, take the carved staircase down to the blue waters. Oh, and did we mention that the swimming hole also comes with a restaurant, store, and changing rooms?
Where to Stay: Paradisus Playa Del Carmen La Esmeralda
Dos Ojos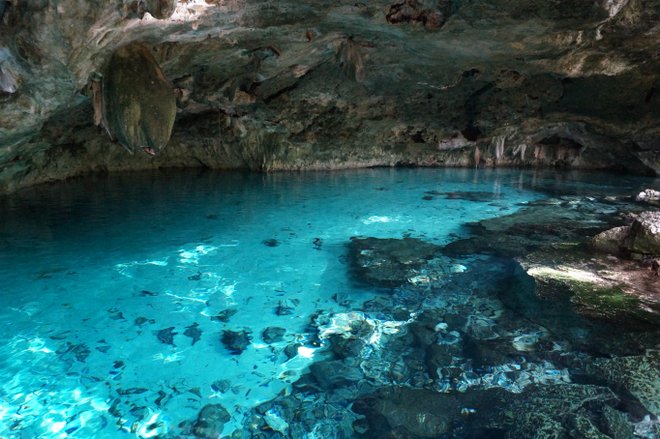 Located a short drive from Tulum, this cenote is in fact a cave system that extends at least 38 miles. The name Dos Ojos translates to "two eyes," and refers to the cenote's two main pools: the Blue Eye and the Black Eye. While both are suited for diving, the former is filled with pristine blue water, while the latter has virtually zero visibility. The light-free environment calls for flashlights — an eerie, yet exhilarating experience. Those who prefer to remain above the surface can walk through the dry caves and watch bats flitter among the stalactite formations.
Where to Stay: Dreams Tulum Resort & Spa
Gran Cenote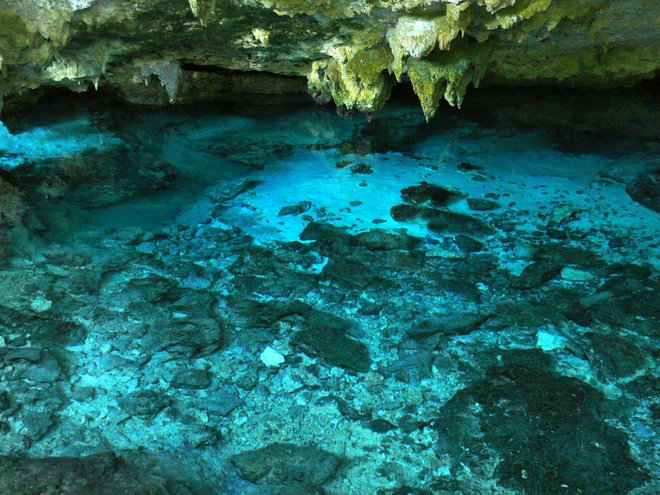 Tip: On your way to the ancient city of Coba, make a pit stop at Gran Cenote. With a sandy bottom, crystal clear water, and a center garden with palm trees, this magical cavern is akin to an underground beach. Snorkeling is the main form of entertainment here, and swimmers can get up close and personal with fish and turtles, plus stunning stalactites and stalagmites. When you need a break from swimming, stake out a spot and sunbathe.
Samula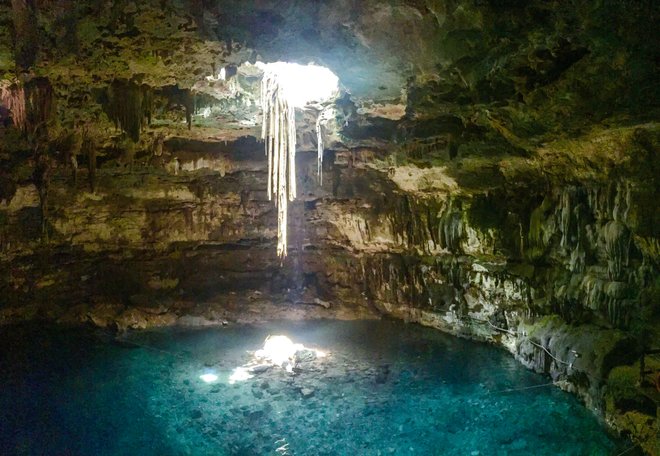 They say Samula, which is located near Valladolid, is one of the most photographed cenotes in the Yucatan. It's true. From the moment you walk down the stone staircase and into the beautiful waters, you'll see the photo ops are aplenty. Look up and you'll not only see a natural skylight, but also photogenic tree roots reaching down toward the water. Come nightfall, colored artificial lights set the mood for swimmers and give off the vibe that you've stepped into another dimension. While certainly a stunner, this cenote is above all a spot to cool off from the intense heat.
Calavera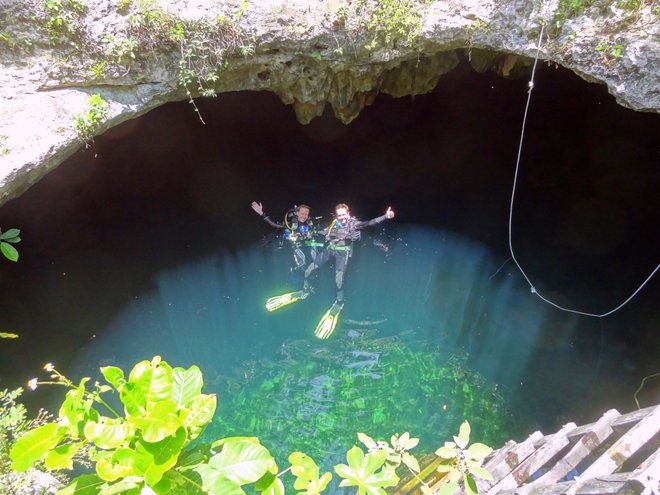 Cenote Calavera, which means skull, is also known as the Temple of Doom. But this enclosed cavern is nothing if not inviting. The name refers to the three holes in the ground that resemble a human skull. After a day of trekking around Tulum, slip into this cenote for a rejuvenating soak. A short walk through the greenery will bring you to an opening in the ground — about 33 feet in diameter. Jump off the edge, or lower yourself to the clear, crisp water with the assistance of a ladder. Swim, snorkel, rinse, repeat.
Where to Stay: Mi Amor Colibri Boutique Hotel
Azul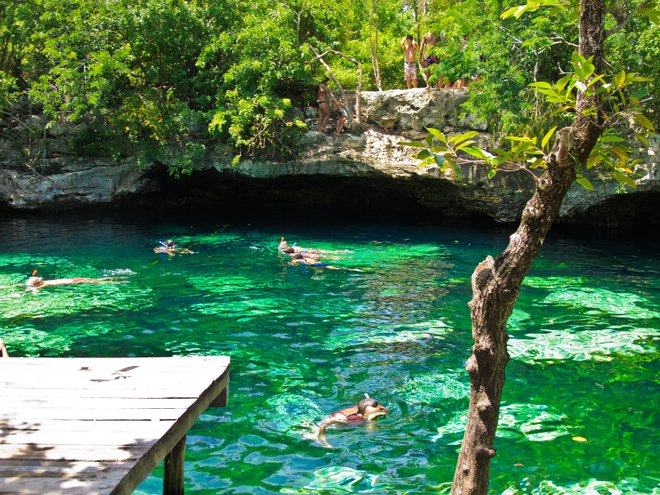 About a 20-minute drive from Playa del Carmen, this cenote is a diver's dream, as fish dart to and fro in the turquoise waters. Not a fan of snorkeling? No problem. Spend the day soaking in smaller pools, launching off the mini cliff, walking along the paths, or picnicking in the area. All ages welcome.
Where to Stay: Royal Hideaway Playacar
Ponderosa
https://www.instagram.com/p/BQcUwn4hji0
Also known as Jardin del Eden (or Garden of Eden), this 50-foot-deep cenote was once a place where Mayans sacrificed humans and made offerings in the form of gold. While you might not find any treasure (or bodies) here these days, you can rent snorkeling equipment, leap from the ledge, and scout out fish that scurry back and forth. Plus, a rocky ceiling, which hovers over part of the gaping hole, offering a shady respite from the heat.
Where to Stay: Rosewood Mayakoba
X'keken
https://www.instagram.com/p/BObXUoGAEed
Sunlight shines through the hole of this cenote, creating a spotlight-like effect on the water below. Don't expect to have the place to yourself, though — it's quite popular among tourists for swimming and lounging. That being said, the impressive stalactite formations are worth braving the crowds alone. Pro tip: Visit in the afternoon.
Whether your cenote excursion entails just a quick dip or a full-on deep-dive, Lululemon has the swimsuit for you.
You'll Also Like:
All products are independently selected by our writers and editors. If you buy something through our links, Oyster may earn an affiliate commission.