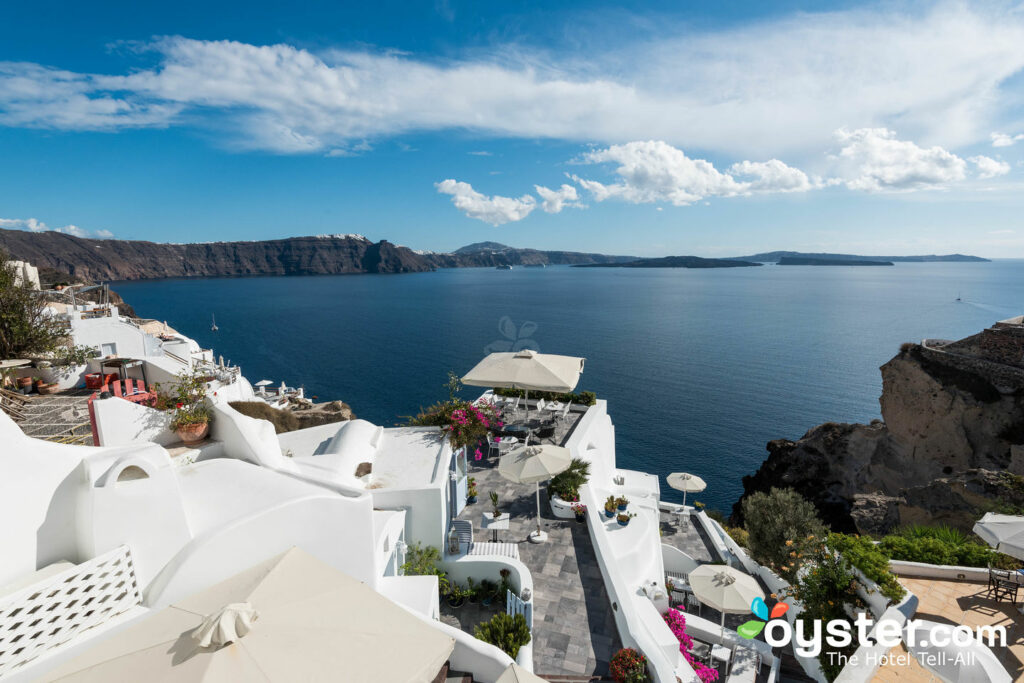 Fishermen used to live in cave-like lodgings carved into the cliffs of Santorini. Today, Aris Caves has totally refurbished historic dwellings overlooking the Aegean Sea and caldera in Oia, converting them into a cozy, seven-room boutique hotel with some of the best sunset views on the island. A beautifully landscaped roof terrace overflows with bright flowers and has a few sun loungers for admiring the sweeping views of the water. The homey boutique has always been locally owned and operated, but in 2015, a new owner renovated the rooms (most have heated outdoor whirlpools) and added an additional villa. The location down a set of steep stairs provides more privacy than you'll usually find in Oia, along with fast access to the village's shops, restaurants, and tour departure points.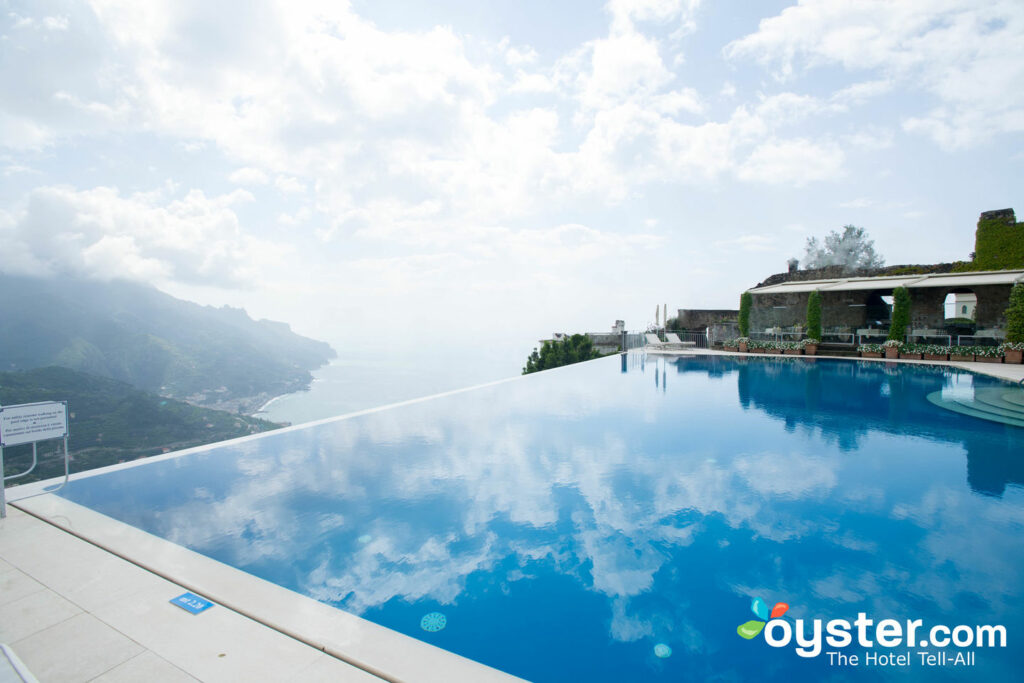 One of the top luxury hotels in all of Italy, Belmond Hotel Caruso occupies an ancient hilltop palazzo with gorgeous terraced gardens and truly spectacular Tyrrhenian Sea views. It commands the highest point of Ravello, a sky-high resort town along the iconic Amalfi Coast, and offers full-on views of the sea and village. The hotel's incredible infinity pool takes full advantage of the hotel's position, appearing to drop off into the Amalfi scenery. Other on-site amenities include two restaurants (one formal and with a free breakfast, one for pizza), piano and poolside bars, a small spa and gym, and boat rides. The 50 rooms and suites have beautifully tiled floors and marble bathrooms, and many offer terraces or balconies overlooking the water. Guests seem to find the hotel well worth its considerable price tag; during our visit, it was fully occupied.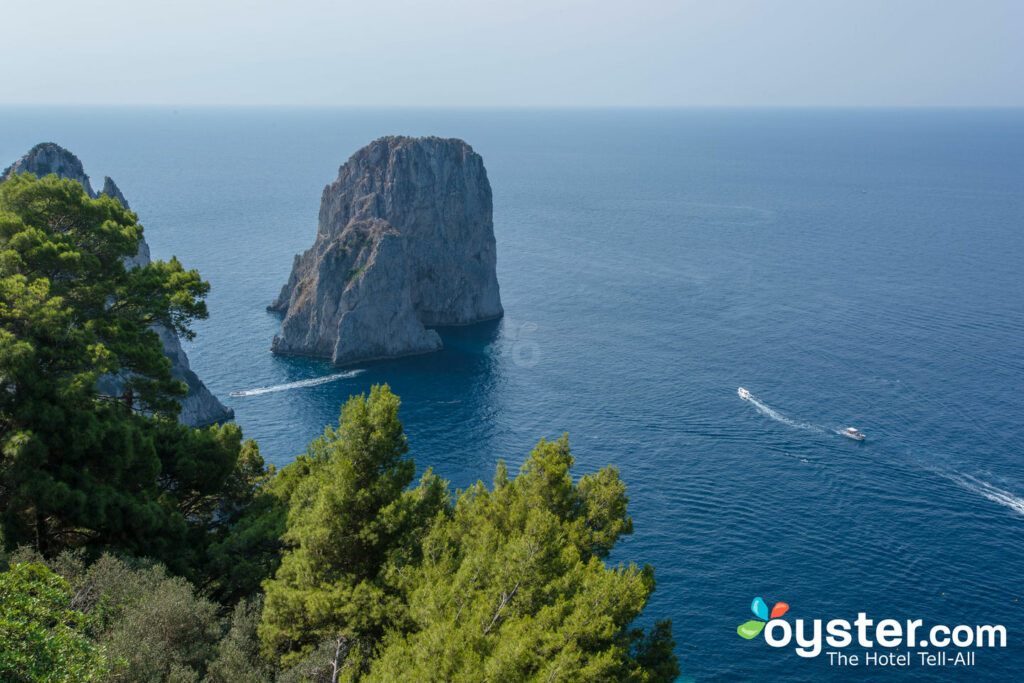 Originally a private villa, the clifftop Punta Tragara on the southern outskirts of Capri town was built in 1923 on the suggestion of modernist master Le Corbusier. The seriously romantic and refined villa hotel (reachable only on foot) has a peaceful setting and offers some of the best views on the island. The hotel is set within lush garden terraces with two outdoor pools, both of which offer spectacular views over the Tyrrhenian Sea. The poolside Pergola bar serves drinks, including sunset cocktails and romantic candlelit dinners can be arranged with Monzu, the on-site restaurant with an outdoor terrace offering panoramic views. All 44 rooms open to terraces or balconies — most with outstanding sea views — and suites provide particularly luxurious accommodations. In all, this is one of the finest hotel's in the area — at a price tag to match. (At least an extensive buffet breakfast with a la carte choices is included.)
From its entrance on a narrow cobblestone street in the Andalusian mountaintop town of Ronda, there's little to hint at the jaw-dropping views that lie on the other side of Hotel Montelirio. This charming and classic boutique hotel is housed in a 17th-century palace on the edge of Ronda's famous El Tajo Gorge, a deep gorge runs through the heart of the city, with the vertiginous Puente Nuevo spanning its highest point. Inside, classic decor matches the hotel's dramatic and historic setting. Paneled wooden ceilings, chandeliers, candelabras, and a fireplace are just some of the details that make this intimate hotel ooze traditional charm. Features include an Andalusian restaurant, a terrace with spectacular views, a cozy lounge and library, and a small pool. The 15 traditional rooms are individually styled, but all have amenities like air-conditioning, coffee- and tea-making facilities, and free Wi-Fi.
This quiet bed-and-breakfast in Vernazza, one of the five storybook villages of Italy's Cinque Terre, books quickly thanks to its stunning sea views from its perch on the coast. The friendly owner, contemporary decor, and amenities — far more than other small hotels in Cinque Terre — are additional big draws. La Mala's four airy, whitewashed rooms contain comfortable beds, minibars, and modern bathrooms with rainfall showers. Rooms 31 and 26 overlook the sea, Room 19 overlooks the village and the harbor, and Room 20 provides views of the ancient watchtower at the town's center.
One of the biggest complaints about luxury properties in Santorini is the lack of hotel features (due to the lack of space). But lack of space isn't a problem at Ambassador Aegean Luxury Hotel & Suites, located in the quiet village of Akrotiri, about a 45-minute drive from tourist-friendly Oia. The luxurious whitewashed cave hotel has a gorgeous fine-dining restaurant open for lunch and dinner (room service is available) and a large infinity pool with a pool bar serving specialty cocktails and local wines. Ambassador's spa is accessed via a candlelit tunnel cut directly from volcanic rock; inside, the cave-style spa has a couples' massage room and one of the island's only thermal circuits. The hotel even a helipad for guests arriving by air. The 40 rooms are as luxe as the hotel features. Each one has a private pool and furnished outdoor area, along with epic views of the caldera and Aegean Sea. Free made-to-order breakfasts are delivered to rooms each morning.
The 163-room Belmond Reid's Palace is a palatial hotel with a pastel-pink facade, opulent interiors, and a rich history. Perched dramatically on a clifftop a short drive from Funchal city center, this historic luxury hotel was founded in 1891 as a luxury retreat for the upper classes, with George Bernard Shaw and Winston Churchill famously frequenting the hotel. The local institution has lost little of its original 19th-century glamour — marble pillars, grand chandeliers, and antiques are scattered throughout. The classic vibe extends to the bright rooms, complete with furnished balconies or patios; some suites have kitchenettes. Stunning sea views are found from numerous vantage points, the property offers extensive dining options, and leisure facilities include several outdoor pools, lovely gardens with lounge chairs, outdoor tennis courts, and a spa.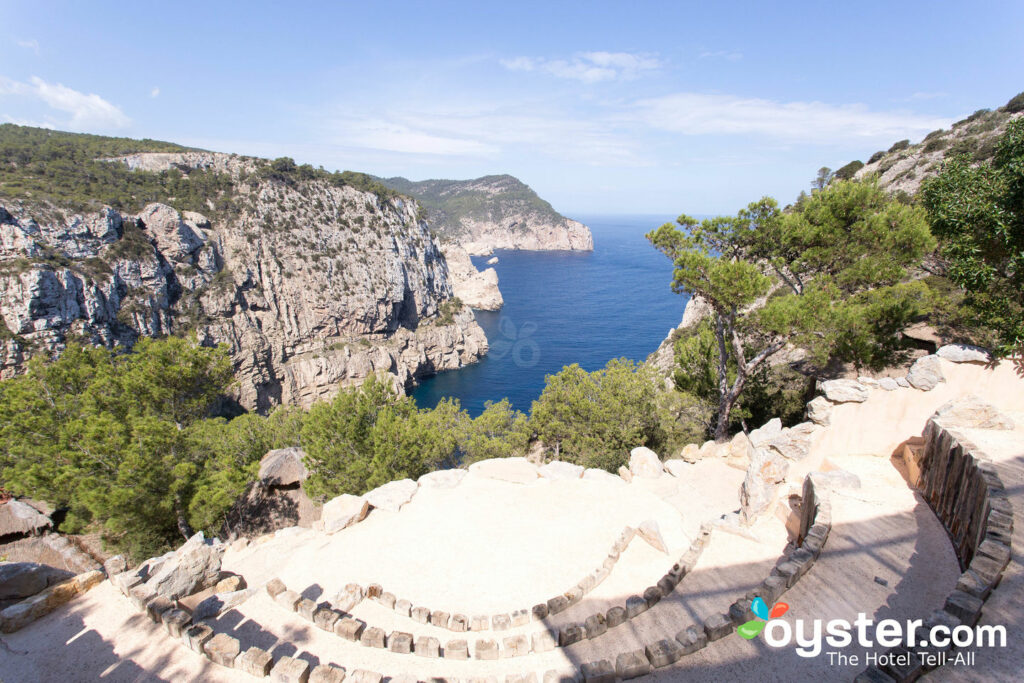 Lush gardens with palms and bougainvilleas, traditional white Ibizan buildings, and stone Buddha statues greet guests (often celebs) at the remote Hacienda Na Xamena, one of Ibiza's most luxurious hotels. The peaceful hotel is built around rocky cliffs that drop sharply into the clear Mediterranean below, and the views are seemingly endless. The spa puts this secluded clifftop spot to strategic use, with cascading pools overlooking the ocean along with indoor relaxation areas with Bali beds and private areas full of pillows. Striking panoramic views await in the 77 rooms and suites, which feature rustic-chic all-white decor and jetted standalone tubs. If you're after utmost privacy — and your pockets are deep enough — the hotel's eponymous suite features a private terrace with sun beds and a private plunge pool overlooking the sea.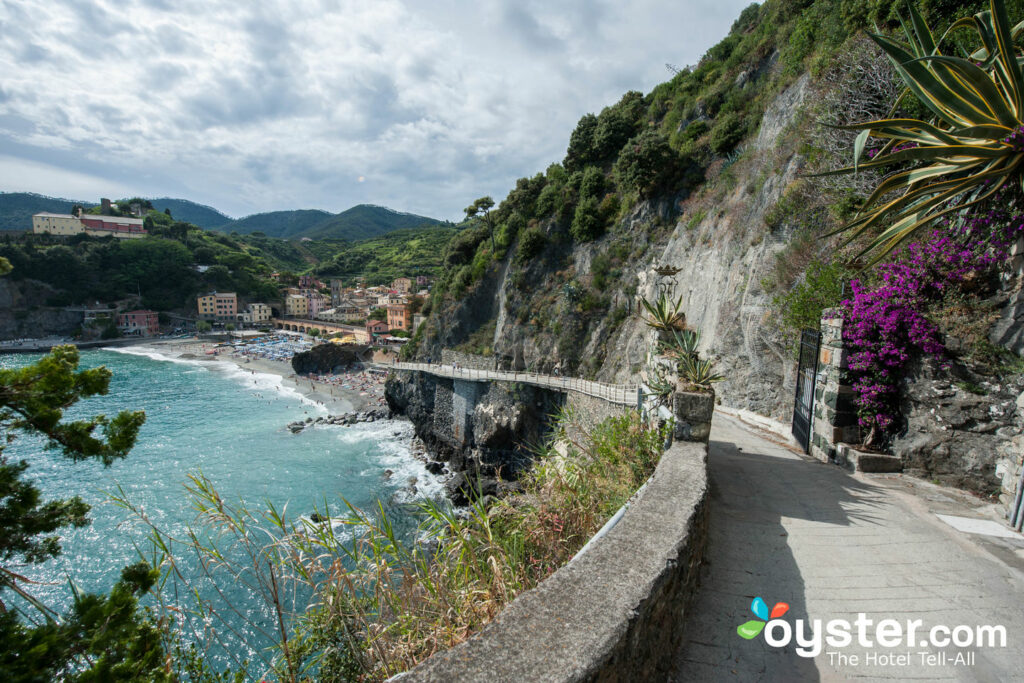 High above the town of Monterosso al Mare sits the 40-room Hotel Porto Roca, one of the most romantic hotels in Cinque Terre. The beautiful views of the Ligurian Sea and lush hillsides are the main selling point here, and they can be enjoyed from various spots throughout the property — the outdoor patio, the wooden deck solarium, the outdoor hot tub, or the mosaic-tiled saltwater infinity pool with a pool bar. (There's also a lobby bar.) La Terrazza del Porto Roca, the on-site restaurant, has panoramic views from its indoor dining room and outdoor covered terrace; the restaurant attracts hotel guests and the public thanks to its regional cuisine and gorgeous vistas. A free buffet breakfast is served at the restaurant (and on the outdoor terrace in the summer). Guests that take the five-minute walk down to the beach can relax in a private area with loungers and umbrellas.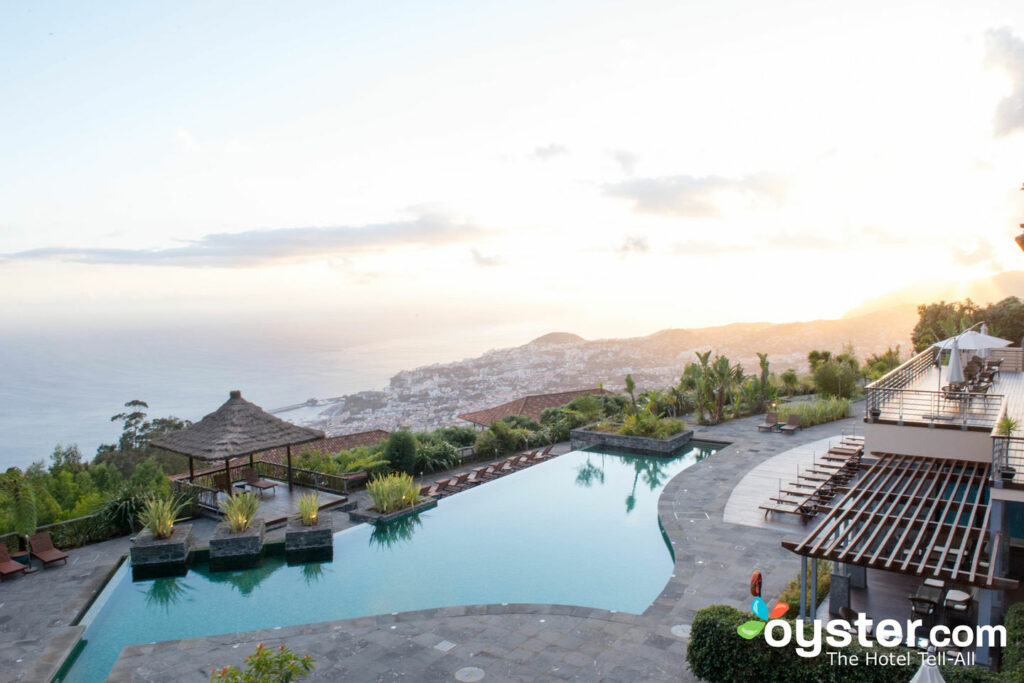 With its stylish bungalows set on stilts, the contemporary Choupana Hills Resort & Spa seems like it belongs in the remote jungles of Asia and not atop a cliff in Madeira. The resort's interiors look and feel as exotic as its 42 lush acres of eucalyptus trees. The 62 bungalows are a stylish blend of rustic and contemporary; all include four-poster beds, vaulted wooden ceilings, minibars, Nespresso machines, and balconies (some with sea views). Suites have whirlpool tubs on the balconies. The hotel's infinity pool, outdoor terraces, and restaurant/bar with floor-to-ceiling windows all overlook the town of Funchal below and the Atlantic beyond.
Boutique Hotel Vivenda Miranda is a beautiful and quiet boutique hotel set among gardens on a sea-facing cliff in southern Lagos, near the beach and the walled Old Town. Decor in the 25 rooms and suites is split between traditional Portuguese and contemporary, and all units have minibars and private balconies or terraces. A sufficient array of amenities are on offer, and the spa and dining options (upscale Mediterranean and traditional Portuguese-style barbecue, as well as afternoon tea service and free breakfast buffet) are stand outs.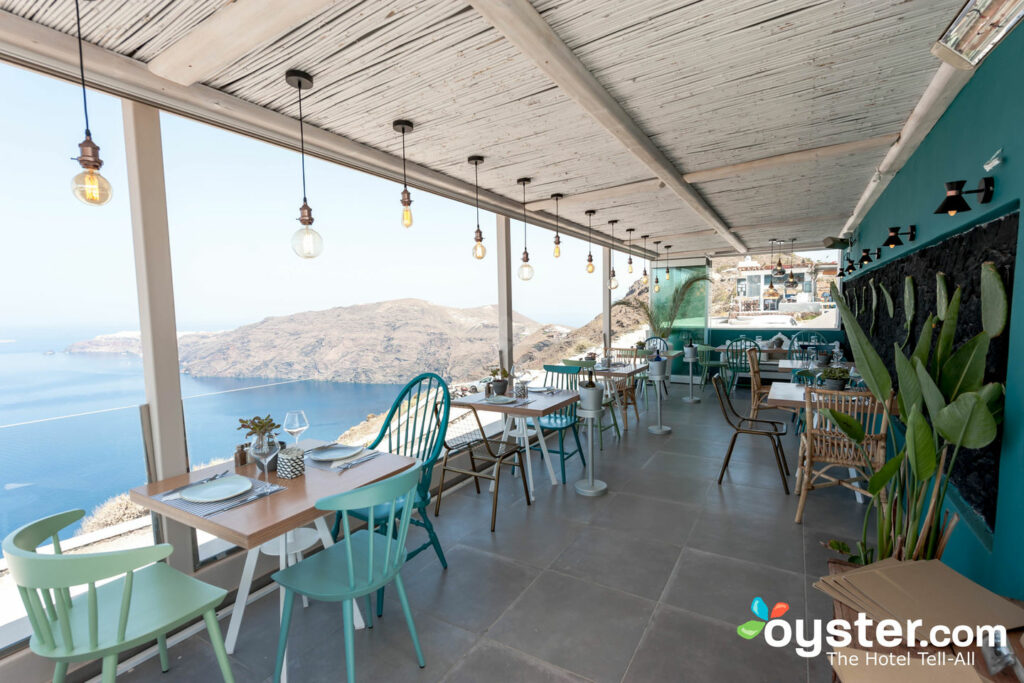 Honeymooners and couples love the exclusivity, space, and views that Pantheon Villas, located on the far northern edge of Imerovigli, provides. The chic boutique hotel is set on Santorini's "neck" (the narrow strip near the island's north), so it offers sunrise Aegean views from one side and sunset Aegean views from the other. This slightly out-of-the-way location means there's ample space for garden grounds — something that's practically unheard of in Santorini. The aqua-blue rectangular pool is one of the largest (and chicest) on the island, and it offers views of the caldera across the pedestrian path that meanders from Fira all the way to the tip of Oia bay. Of Pantheon's 20 rooms, five are private villas with kitchenettes and private pools. All guests get free breakfast and half-board packages are available at the excellent restaurant with indoor/outdoor seating.
With its cliffside, peninsular setting high above the sea, Grand Hotel Tritone near Praiano offers breathtaking panoramas from just about everywhere, from its restaurant terraces, pools, and all 60 rooms, to the lido-style beach club far below. Staggered patios, potted flowers, and a romantic lookout dot the several hundred steps dividing lofty main structures from the private beach, although a built-in elevator affords easier access. Interiors are on the tired side (common for the region); the ceramic floors and '70s furnishings could use updating, but no matter — guests are here for the stupendous vistas.
Like Aria Caves, Ambassador Aegean, and Pantheon Suites, Canaves Oia Hotel is an upscale Santorini property with a dazzling cliffside setting. Founded on 17th century caverns carved out of the hillside, Canaves is luxurious and chic in every way, from the discreet entrance to flawlessly whitewashed facades and pristine interiors. Canaves' particularly beautiful suites feature minimal decor, polished marble flooring, and a blend of contemporary and traditional wood furnishings. Each suite extends to a private terrace with sun loungers and stunning views overlooking the sparkling blue Aegean Sea. A range of spa treatments are available in-room. Guests can also enjoy candlelit fine dining experience from their private balcony, with a personal waiter.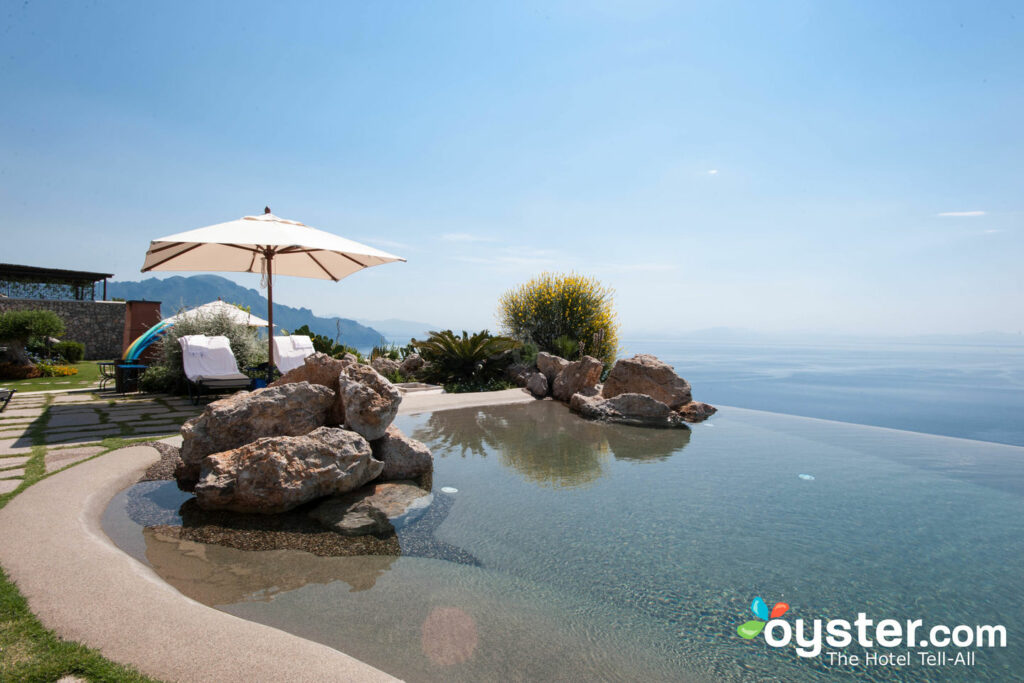 Situated atop the Amalfi Coast's plunging cliffs, Monastero Santa Rosa Hotel & Spa has a luxurious vibe that famously attracted the Kennedy clan in the 1960s. With only 20 rooms and suites — each with a gorgeous view of the sea — plus terraced gardens and an infinity pool, the hotel makes for an incredibly romantic retreat. The finest suite in the house, the Rosa, is spread across two floors and has a bar, fireplace, and curved staircase that leads up to a luxurious bedroom with panoramic views. Candlelit spa treatments for two take place in vaulted treatment rooms, while the highest point on the terrace is reportedly a great proposal spot.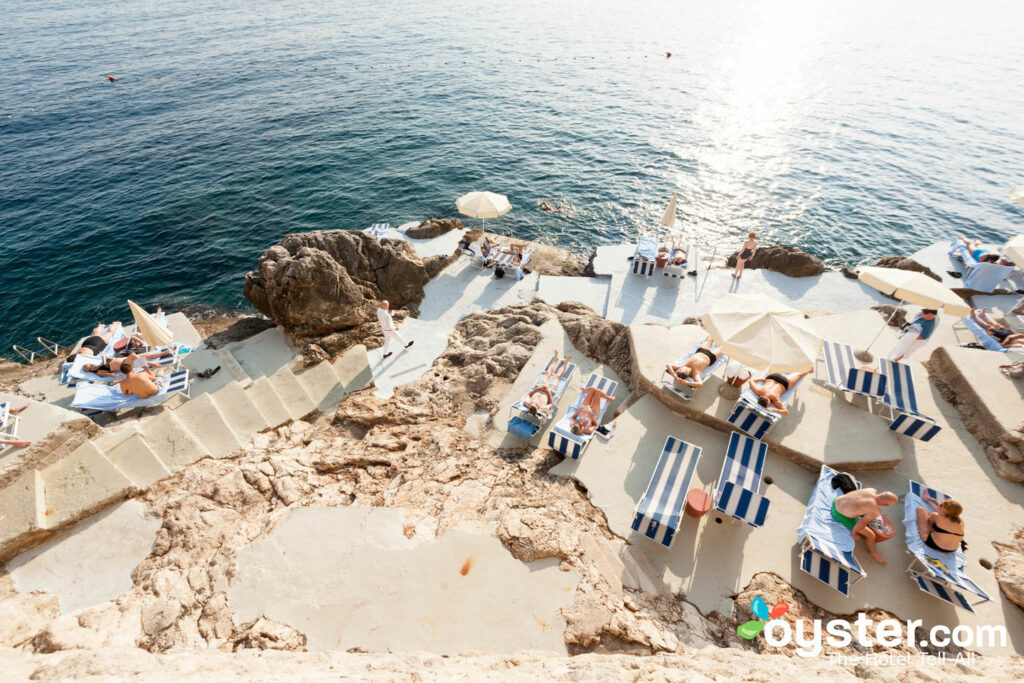 Overlooking the pristine Adriatic Sea, the slick and stylish Villa Dubrovnik is located away from the main tourist hub, yet still has easy access to the Old Town of Dubrovnik. The hotel's sense of seclusion blends with impeccable service and a romantic setting to create something rather special. Privacy is paramount in the 56 inviting rooms, six of which are luxurious suites with hot tubs and extended terraces. Bathrooms include nice extras like ETRO luxury toiletries and under-floor heating. There are also multiple restaurant and bar options, an indoor pool, and a spa. This is certainly one of the pricier hotel options in the area, but for those who can afford it, it's worth every penny.
If cool, contemporary minimalism within minutes of Mykonos' famous party scene sounds like a winning combo, then Cavo Tagoo is for you. Hugging a cliff high above the Aegean, this 80-room boutique hotel whispers "barefoot luxury," and offers one spectacular view after another. The hotel very much sells itself as young and sexy, with perhaps more of an emphasis on seduction than romance, but in terms of luxurious romantic locations with incredible views, it's high up there. The hotel pairs whitewashed surfaces, exposed stone walls, and thatched ceilings with gleaming gold mosaic accent walls. This palette of gray, white, and gold contrasts the blue sea and sky glimpsed from every door and window. The property also has a variety of one- and two-bedroom suites and luxurious villas with kitchens and private pools. Dive into the town's nonstop party scene — five minutes away via the hotel's free shuttle — or opt for a more tranquil experience at the hotel.
Now, watch our video on the most romantic cliffside hotels in Europe.
https://www.youtube.com/watch?v=DPQJwZhOD1k
You'll Also Like: