When it comes to romantic canals, Venice and Amsterdam naturally come to mind first. After all, with curving watercourses, historic buildings and bridges, and charmingly dressed gondoliers, you can't help but fall in love. But there are plenty of other magical waterways that can steal your heart away, too. From canals surrounding an ancient sunken city in Micronesia to thousand-year-old channels in China, we've rounded up nine of the world's most romantic waterways. So whether you want to propose or rekindle an old fame, get ready to cozy up with your lover on a canoe, gondola, or thatched houseboat.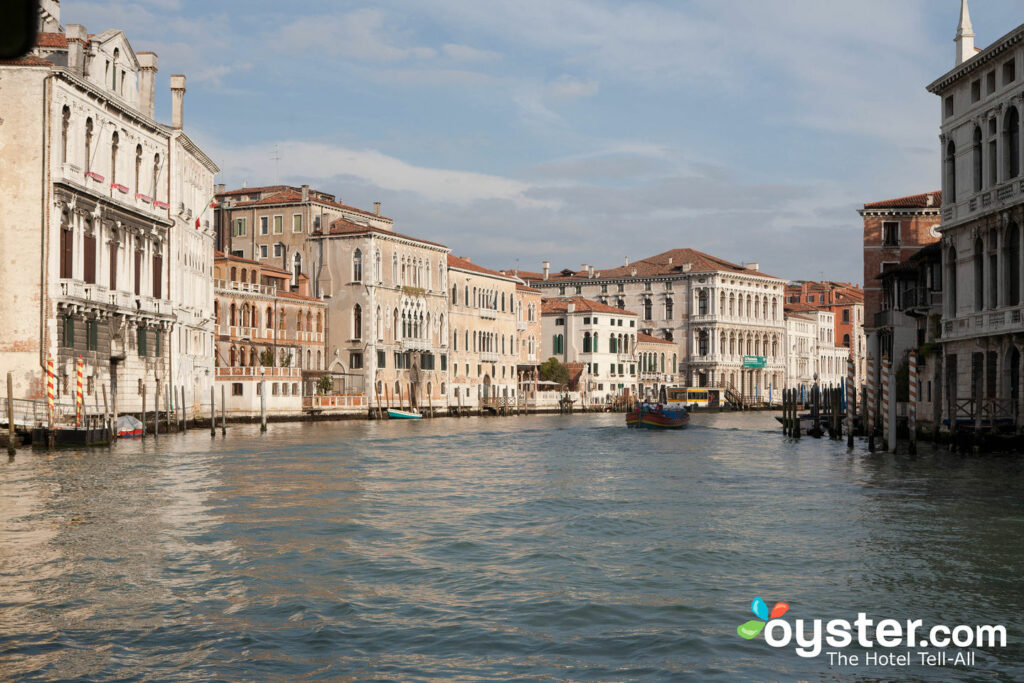 While the Grand Canal in Venice, Italy is often teeming with tourists, you'll be smitten while cuddling close to your sweetheart as you float past the 15th-century Ca' d'Oro palace and under the Rialto Bridge on a gondola. Shaped like a backward S, the Grand Canal is Venice's main waterway and connects to other smaller channels. One of those even drifts under the white limestone Bridge of Sighs. As the legend goes, sharing a kiss under this structure leads to eternal love.
Hotel Pick:
Although there are 165 canals in Amsterdam, the Prinsengracht, Keizersgracht, and Herengracht canals are the three major waterways in the city. Take a boat ride to see No. 502, the Amsterdam mayor's residence, as well as No. 81, the oldest house in the city, which was built in 1590. And when in Amsterdam, do as the tourists do and snap a selfie with your sweetie at the picturesque seven bridges of the Reguliersgracht canal.
Hotel Pick:
Suzhou, China
https://www.instagram.com/p/BA6jhUWM0kJ/
Dubbed the Venice of the East, the Grand Canal in Suzhou flows through eastern China and is best experienced in a traditional wooden Chinese boat. Dating back 1,400 years, the canal stretches from Beijing to Hangzhou's industrial center. Riders will receive a unique vantage point of life in Suzhou while drifting past women doing laundry, waterside gardens and temples, and lovers strolling on the banks.
St. Petersburg, Russia
https://www.instagram.com/p/6SEoH6DBDs/
The Griboyedov Canal, which was named after Russian playwright Alexander Griboyedov, flows for about three miles, from the Moyka River to the Fontanka River, and under 12 bridges. Cruising down the water offers a front-row seat to the magnificent Church of the Savior on Spilled Blood, which was built in 1881 to mark the spot where Alexander II was assassinated. If you're planning on taking a cruise, hop aboard a small boat, so that you can explore the narrower canals as well.
Hotel Pick:
Bruges, Belgium
https://www.instagram.com/p/BKl-7Yahzwl/
Those who visit Bruges, or Venice of the North as it's fondly called, must hop on a boat and travel the canals that weave around the city's old fortifications. Despite the tourist crowds, it's hard not to fall in love with the city and its medieval buildings. Tip: after fueling up on Belgium chocolate and fries slathered in mayonnaise, head to the point where the Groenerei and Dijver canals intersect. This junction, called Rozenhoedkaai, is considered the most romantic and photographed spot in Bruges.
Hotel Pick:
Nan Madol, Micronesia
https://www.instagram.com/p/BCu4Od9HmQp/
A series of canals wind around this ancient, semi-sunken city in Micronesia. Often called the Venice of the Pacific, the city was built atop a coral reef with 92 islets that were constructed from basalt boulders. Much about this magical place, which has inspired books like H.P. Lovecraft's "Cthulhu Mythos" and James Rollins' "Deep Fathom," remains a mystery. For example, it's unknown how the boulders were transported to the site. Keep in mind that this isn't a conventional tourist destination, so it can be difficult to navigate without a guide and landowners often charge entrance fees for those commuting by car.
Annecy, France
https://www.instagram.com/p/BKjPwyChyPA/
Bienvenue (that's French for welcome) to the Venice of the Alps. The canals in this southeastern French town are fed by the two-mile Thiou, the shortest river in Europe. Lovers should head to Annecy's old town, or Vieille Ville, where bridges are adorned with flowers and cafes are bustling with people on outdoor patios in the warmer months. Another must-see is the triangular Palais de I'lle, a former prison that forms a fork in the canal. To up the ante on your romance even more, take a stroll to the end of the canal and share a kiss on Pont des Amours, or the lovers' bridge.
Hotel Pick:
Alleppey, India
https://www.instagram.com/p/BKiaQaBAgZQ/
Alleppey, or Alappuzha, in southern India is the other Venice of the East. This agricultural town gets its name from the labyrinth of freshwater, palm-shaded canals that weave through the villages. Climb on a thatched houseboat and venture past residents fishing and farming for prawns. Hop off the boat and learn more about Alleppey's famous coir rugs (it's one of the largest exporters of the coconut fiber rugs). Note: the water becomes packed during the snake boat races, which are held in August for Onam, the harvest festival.
Stockholm, Sweden
https://www.instagram.com/p/BHuFBALBD-N/
Built in the 19th century, the Gota Canal in Sweden is a massive feat of engineering. The waterway stretches for about 382 miles, linking Stockholm to Gothenburg, and took about 22 years to finish. Along the canal are 12th-century churches and palaces plus two museums, The Gota Canal Exhibition in Motala and Sjotorp Canal Museum. Rent a boat, canoe, or kayak to see it all. There are also numerous moors along the canal, where tourists can dock (for a fee) and explore the restaurants, cafes, and pubs. It's not particularly romantic, but many enjoy watching boats pass through the canal's 66 locks, which raise and lower vessels to accommodate the difference in water elevation.
Hotel Pick:
Related Stories:
All products are independently selected by our writers and editors. If you buy something through our links, Oyster may earn an affiliate commission.