Florida is famed for its beaches, theme parks, sunny weather, and delicious seafood, but as much as you think you know about the Sunshine State, there's just as much that you don't. Here are 13 easy-to-make mistakes (that are just as easy to avoid) when visiting Florida. However, the biggest mistake would be to not go at all.
1. Only Coming to Visit the Beaches in Florida
We can't fault you for immediately thinking of beautiful beaches when someone says Florida — a state with 825 miles of coastline. In fact, Florida consistently ranks high on lists for both the country's and the world's best beaches. Plus, the variety is practically unparalleled. You've got the fine, white sands of the Emerald Coast up in the Panhandle, natural beaches with swaying tall grass and vegetation in places like Fort De Soto off the Gulf coast, and trendy, hip stretches like in Miami Beach. That being said, there's so much more to the Sunshine State than just lounging on the beach with a drink in hand (though that does sound pretty perfect). You'll also find great shopping (especially if you like outlet malls), a unique art scene, menus with fresh-caught seafood, tons of wildlife and nature activities, some of the world's best theme parks, and some seriously great Old Florida history. It would be a shame to skip it all and just lie on the beach.
2. Feeding the Seagulls in Florida
That said, if you do decide to stay on the beach the whole time (no judgement here), there is one colossal mistake to avoid: Don't feed the seagulls. It may seem cute at the time, but they are just playing coy. Once you offer up any food, you can expect the entire flock and all of their closest friends to swoop in. And if you don't deliver, well, you've seen that movie "The Birds." Long story short: Keep your food to yourself or you'll end up spending your relaxing day at the beach (or meal at the beachside restaurant) fending off greedy beaks and maybe even some bird droppings.
3. Getting Handsy With the Wildlife in Florida
You should also just generally stay away from the wildlife in Florida, and never touch, pet, or pick up any animals. While several of the wild animals in Florida are harmless, many are quite dangerous. In the Floridian swamps and forests, you'll likely come across alligators, rattlesnakes, or even panthers. Unlike some countries, the wildlife in Florida often comes into the city. It's not uncommon for alligators to waltz right onto a golf course or lounge in the shallow waters in the pond behind someone's house. Rattlesnakes often lurk in people's backyards and cottonmouths (another venomous snake) are common in the rivers. If you come across some of the state's famed wildlife, play it cool, back away slowly, and let it be. A cool selfie is not worth your life.
4. Assuming All the Theme Parks Are in Orlando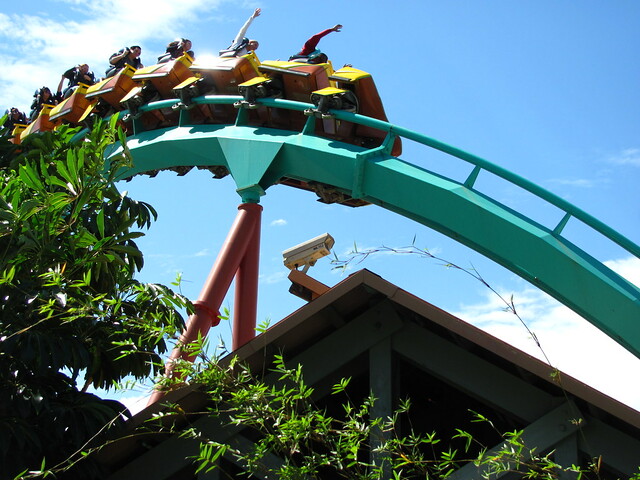 Sure, the Orlando area is full of fun theme parks, including Disney World (comprised of The Magic Kingdom, Epcot, Hollywood Studios, and Animal Kingdom) as well as Universal Studios, Universal's Islands of Adventure, SeaWorld, and Legoland. But you can also find great amusement parks in other spots. Visit Tampa's animal-themed Busch Gardens and Adventure Island water park; hit up Jungle Island, a local favorite in Miami; or enjoy the carnival-like experience at Uncle Bernie's Amusement Park in Fort Lauderdale. If you're looking for something mythical, check out the mermaids in Weeki Wachee.
5. Thinking Orlando Is Only Good for Theme Parks
Another common mistake people make is thinking Orlando is only good for theme parks. In addition to its thrilling amusement parks, the city has a ton of tourist attractions. Solve a mystery with your dinner at the Sleuths Mystery Dinner Show, let your jaw drop at the Ripley's Believe It Or Not museum, take advantage of the sunny weather on one of the city's many biking or walking trails, play with science at WonderWorks Orlando, or treat yourself to a nice meal at one of the many fine-dining restaurants. Orlando is a fun, family-friendly destination with something for everyone, so make sure to explore it beyond its world-class theme parks.
6. Not Catching a Sunrise or Sunset in Florida
Make time for a beautiful sunset during your visit to Florida. It may seem like a trite addition to your itinerary, but Florida has some of the best sunrises and sunsets on the east coast — and its peninsular shape means you've got double the chance to score a great view. Both happen pretty quick, so get your camera ready and watch as the sky turns a variety of colors that can include blood orange, bright yellow, deep purple, crimson, and violet.
7. Forgetting the Sunscreen in Florida
While we're on the subject of sun, it would be a terrible mistake to forget your sunscreen or think that you don't need it. They don't call Florida the Sunshine State for no reason; it sees 250 or more sunny days per year, depending on where you are. That's a lot of UV rays. The sun here is also strong, so it's worth picking up a higher SPF than you might normally wear, and be sure to account for tons of reapplications due to sweat, humidity, and dips in the ocean. Bonus points for eco-friendly, ocean-safe sunscreen.
8. Forgetting the Insect Repellent
You're also going to want protection from insects in Florida. Mosquitos are most definitely a problem (let's not forget that Miami was a Zika zone) and are particularly fond of dawn and dusk, though they are almost always present around swamp areas and places with high humidity and vegetation. Florida is also home to a small biting insect called noseeum. These bugs are completely invisible as they fly around in the air and are so small that they can easily go through the holes of a window or porch screen. You'll also want to beware of fire ants. They may look small, but their bites are painful, often leading to swelling and itching. Be careful where you're putting your belongings in parks or porches, and where you stand on hikes. These reasons and more make packing insect repellent a must.
9. Skipping the Natural Springs and Lazy River Rides in Florida
Looking for a wild ride without the metal roller-coasters, screaming kids, and high entrance fees? Pack a cooler, grab your unicorn floats, and head to one of Florida's gorgeous natural springs or rivers. Most of the freshwater springs are concentrated in the northern half of the state, giving visitors several easy-to-access options. Strap on a snorkel, hike the nearby area, or spend the day floating down a river. We particularly like floating down Rainbow River (30 minutes east of Ocala), caving and swimming at Ginnie Springs (45 minutes from Gainesville), spotting winter manatees at Three Sisters Springs in Crystal River, and seeing mermaid shows at Weeki Wachee.
10. Not Bringing Flip-Flops
Whether you call them flip-flops, thongs, slippers, or jandals, you're going to want to pack a pair. Why? It gets hot in Florida, and having the least amount of coverage on your feet will feel like a godsend. They are also essential for any beach-going activities, as no one wants to be shaking sand out of their tennis shoes. The only time tourists should avoid wearing flip-flops is during hikes or other activities that require protection from insect bites, snake bites, or just the rouge branch.
11. Calling Florida a Part of the South
Although the rest of the country might argue with this point, Floridians do not consider Florida as part of the South. With absolutely no disrespect to the southern states, Florida considers itself its own entity. If you visit, you may see why this is valid (although certain parts of northern Florida feel more like their bordering brethren Georgia and Alabama).
12. Assuming Everyone is a "Florida Man"
By now, Florida is just about as well-known for its beaches as it is for its outlandish, often violent news headlines. However, it would be a big mistake to assume everyone in the state is ready to eat your face off in a dark alley or that the car in front of you at Wendy's is going to toss alligators through the drive-thru window. Like most states, Florida has a variety of locals, but on the whole, the state is home to good people.
13. Not Sampling the Local Specialties in Florida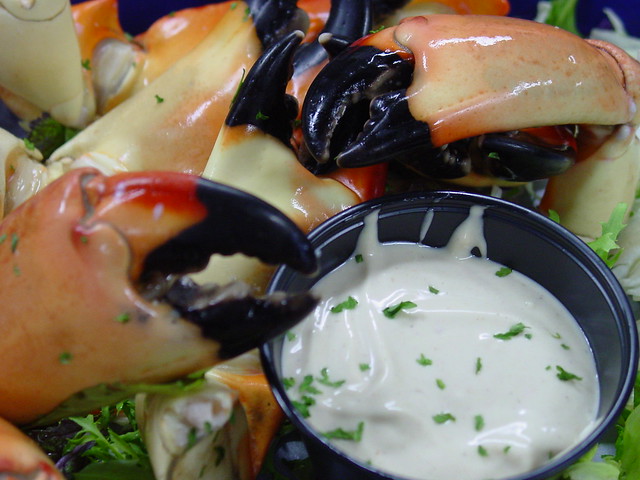 On the topic of locals, you'd be foolish to overlook some of the local food specialties in Florida. Make sure to indulge in a slice of Key lime pie, crack open a few sweet stone crab claws, try a fresh grouper sandwich, or sip on a glass of freshly squeezed orange juice. Other must-try menu items include alligator bites, Apalachicola oysters on the half shell, conch fritters, and smoked fish spread. It's also the only place to get a real Cuban Sandwich, especially if you are Tampa, where the sandwich was created. Strawberry lovers should check for anything made with the ripe red fruit while it's in season between April through June.
You'll Also Like:
All products are independently selected by our writers and editors. If you buy something through our links, Oyster may earn an affiliate commission.