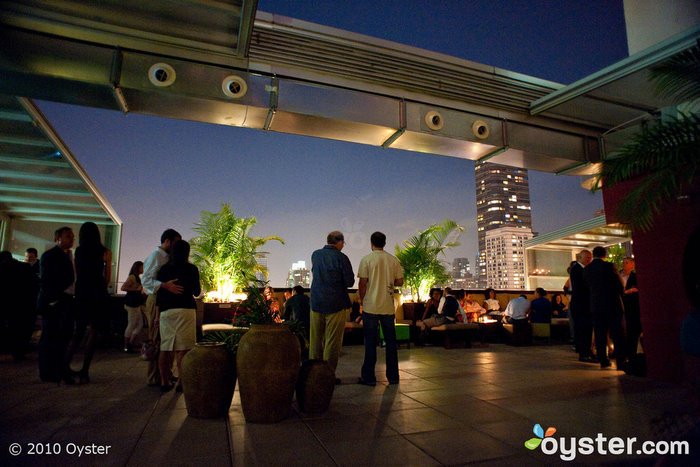 [js_single_hotel_rates_cta hotel="67386" /]
So you're ready to take the plunge and tie the knot. If you're planning a wedding, we're willing to bet that you've visited your fair share of conventional wedding venues. BOR-ING.
But why not spice things up a bit? Below we'll tell you about seven unique weddings spots around New York City that will make your celebration the absolute talk of the town. Even better? Every one of them is on a rooftop — prime real estate in this vertical city.
So whether you're planning your own wedding or you're just bored of all the normal weddings you've attended lately, check out our top picks for rooftop weddings in New York City.
When we think of romance in the Big Apple, The New York Palace comes to mind – probably thanks to the steamy affairs on Gossip Girl filmed here. But the Palace offers plenty more than fictional lusty teenagers, including three lavish triplex penthouses with terraces that provide beautiful views of the New York skyline – a perfect backdrop for your ceremony. (For your reception afterward, you can move downstairs to the gorgeous Gilt restaurant, or one of the hotel's other event spaces, some of which can hold up to 300 guests). While the Palace may be rich in tradition – it was built in 1882 as a private mansion – a skyscraper-filled ceremony on a terrace would give your wedding a unique, modern twist.
With sweeping views of the Upper West Side, The Empire Hotel's rooftop – which features one of New York's best rooftop bars – is a rare gem. This space can host a reception of 400 to 500 guests for standing cocktails and passed hors d'oeuvres, or 50 to 60 guests for a seated dinner. In a separate area, the hotel also houses a guests-only rooftop pool, a great location for weddings guests to catch some sun before the big day. Inside the hotel, the decor is warm and plush, with leopard- and zebra-print seating in the lobby and a balcony on the second floor. Built in the mid-1890s, the Empire is one of the city's oldest hotels and still sports an old-fashioned neon sign on top, giving the innovative rooftop a hint of nostalgia.
The Maritime – a hip, nautical-themed hotel in New York's trendy Meatpacking District – has two cabanas that sit one floor above its restaurant, La Bottega. Combined, they offer a total of 6,320 square feet and can accommodate 550 guests for a standing reception. The northern cabana is slightly larger and is permanently enclosed, which means the outside area is heated during the cold months. The southern cabana can also be enclosed in the winter, giving you the option of having a sunny outdoor reception all year round. And if you're looking to hold your fete higher up in the air, we think the hotel's penthouse roof has great potential for something intimate.
Although it may not be an ideal spot for a wedding reception, the Bookmarks Lounge at the Library Hotel is perfect for a luncheon, afternoon tea, or bridal shower. This cozy rooftop space seats 30 guests for a sit-down luncheon and can hold up to 60 for a buffet-style meal. Realistically, the space is too small to fit a DJ or a band, but the sound system has an iPod hook-up and XM radio. The hotel offers discounted rates to wedding parties, and there's a love-themed room that is popular among newlyweds (there's an erotic literature-themed room, too, if you're into that).
Hotel on Rivington's penthouse suite sits 21 stories above New York and comes with a fabulous terrace (complete with hot tub) overlooking the city's Lower East Side – an edgy, gentrified area that has a hip reputation. Perfect for a couple who share a rebellious streak, this glass-enclosed space can house a cocktail reception for 250 guests or a seated reception for 50.
Press Lounge – Ink48's rooftop bar and lounge – opened in April 2010 and can host 300 guests for a cocktail reception with passed hors d'oeuvres. When we visited the lounge, the hotel pointed out that this indoor-outdoor rooftop space – which overlooks the city on one side and the Hudson River on the other – would be prime real estate for a wedding (especially if you're willing to share your nuptials with a hot tub and a reflecting pool). The hotel's penthouse suite has a balcony that overlooks the rooftop, a great spot for the newlyweds to relax and gaze upon their party.
The Standard houses a coveted lounge called the Boom Boom Room (formally called the Top of the Standard), which connects to the hotel's Black Room bar and its retro-looking, AstroTurf-lined rooftop space. Although the Standard does not regularly accommodate weddings, they will agree to consider proposals on a case-by-case basis (read: if you're famous like Lady Gaga, or perhaps have as much money as she does). It's worth a try!
All products are independently selected by our writers and editors. If you buy something through our links, Oyster may earn an affiliate commission.