Best Beach Hotels in Paradise Island, New Providence Island
Take a look at the best beach hotels in Paradise Island.
See All Paradise Island Hotels
1
Those looking for a relaxed vacation with some yoga thrown in should look elsewhere. This is a serious ashram by an established group (there are nine Sivananda Yoga Ashrams throughout the world) and the 5:30 a.m. wake-up bell proves it. Guests focus on postures, breathing, positive thinking, and meditation, and have some free time to take advantage of the beautiful beach setting. Seemingly a world away from neighboring mega-resort Atlantis, this five-and-a-half acre, mid-range oasis has a range of accommodations from tents to Beachfront Suites (most rooms have shared bathrooms, though). Two vegetarian meals are prepared daily right after each two-hour yoga class , while morning and evening satsangs (a mix of meditation, chanting, lectures, singing and dancing) help create a sense of community. Extra workshops and lectures are built into the daily schedule, and there's a wellbeing center for massage treatments and Ayurvedic body treatments.
2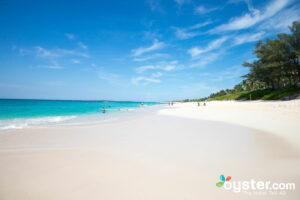 Smack dab between Atlantis Resort, Riu, and the One&Only Ocean Club on Paradise Island, this hidden gem offers 26 units ranging in size from one-, two-, three-, four and even five-bedroom options. Room decor varies depending on the owner's taste, but these spacious villas all have fully-equipped kitchens, coffeemakers, sofa beds, and patios at generally great prices. Guests can walk to the aforementioned neighboring resorts for restaurants and nightlife, or rent a car for more island freedom. Lounge chairs are never a problem at one of two pools, but do not miss out on having private access to Cabbage Beach; since the entire stretch of sand is completely public, guests can grab a beer from Archie's stand and choose the party vibe in front or walk further down for near isolation. Sunrise's on-site restaurant serves breakfast, lunch, and dinner, and offers occasional live entertainment (that can stay loud late).
3
There's nothing quite like The Ocean Club, A Four Seasons Resort, on Paradise Island, or anywhere in the Bahamas for that matter. The 105 rooms and suites are incredibly luxurious, with features like flat-screen satellite TVs, iHomes, free beach accessories, private balconies or patios, and massive modern bathrooms with separate walk-in steam showers and soaking tubs. Expansive manicured grounds have three outdoor pools (including a beachfront infinity pool), a romantic garden and statuary modeled after Versailles, and the pristine white-sand beach. Health and wellness nuts are spoilt for choice with free yoga classes led on an oceanfront deck, an 18-hole golf course, tennis courts, an indoor/outdoor fitness center, a Balinese-style spa with private villas, a running trail, and free bike rentals.
4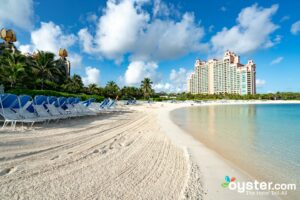 This modern, luxurious condo-hotel with nearly 500 residential-style units is located on the far edge of the enormous Atlantis complex. The big studios, one-, and two-bedroom suites (many with views) are well-suited to families, and have pull-out sofas and fully equipped kitchens or kitchenettes. It's one of the priciest Atlantis options (though not quite as expensive as Cove), but families will likely appreciate being able to cook to save money, as Atlantis' 19 bars and 21 restaurants are notoriously expensive. The property has a nice stretch of beach and a large family pool that is exclusive to Reef and Cove guests, and major Atlantis highlights such as Aquaventure are within walking distance. A Starbucks and a convenience store are available in the lobby, or guests can walk or take a shuttle to the resort hub for more selection.
5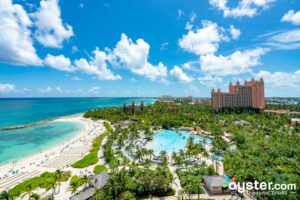 This 600-suite tower opened in 2007 and displaced Royal Towers as the best, and therefore most expensive, address at Atlantis. Chic open-air surroundings, oceanfront suites, and an air of exclusivity attracts families and couples who prefer to be slightly removed from the thickest crowds. Modern, sophisticated suites (many with views) have modern technology, balconies, and extra large bathrooms. The property shares a separate beach and large family pool with neighboring Reef Tower, but only Cove guests have access to the party pool called Cain at the Cove -- for adults only -- with private cabanas, outdoor gambling, and a live DJ. Like all Atlantis pools, the Cain closes early, so dressed-up guests can then spend their cash at upscale restaurants on-site, such as Mesa Grill, or take a shuttle to Royal Towers and Marina Village for more selection.
6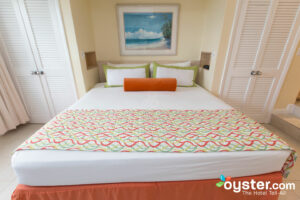 Paradise Island Beach Club is a three-pearl hotel set on Cabbage Beach. The resort is composed of 44 cheerful two-bedroom villas, all of which have roomy living areas, full kitchens, and private balconies or terraces. The property's on-site amenities, which include two outdoor pools (one with a swim-up bar), Reef Bar & Grill, and a fitness center, are similarly generic. The only striking feature here is the direct access to beautiful Cabbage Beach. It's worth comparing rates and amenities with the nearby Sunrise Beach Club and Villas which has fresher rooms and a prettier pool.
7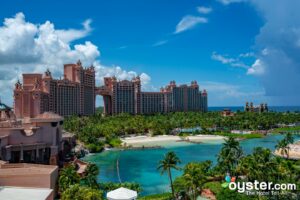 When most people think of Atlantis, they immediately envision Royal Towers -- the massive, pink, now-iconic structure that opened in 1998 and houses over 1,000 spacious rooms. It sits along a near-perfect (if it weren't for the vendors) stretch of beach in Paradise Island. Atlantis has six separate sections, and Royal Towers is the mega-resort nerve center; guests staying here will find themselves within easy walking distance of the best pools, a luxury spa and fitness center, the 141-acre Aquaventure for incredible waterslides and river rides, and activities at Dolphin Cay. Other notable features of the complex include the largest outdoor marine habitat in the world, a hopping casino, and a total of 19 bars and 21 restaurants -- all with a hefty price tag. Contemporary rooms are larger (and pricier) than rooms at the Beach and Coral Towers, but most have French balconies with standing room only.
8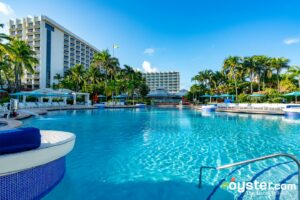 With 600-plus rooms, the comfortable Coral Towers (formerly the Brittania Beach Hotel) is a section of Atlantis that appeals to mid-range travelers -- mostly families. It's cheaper than the Royal Tower but closer to the action (and crowds) than the budget-friendly Beach Tower. Though decor and amenities are similar to the Beach Tower, Coral offers larger room options, such as the Regal Suite, which has two full bathrooms. It sits next to the harbor (some rear-facing balconies have views of it), and offers easy access to Marina Village for more choice in restaurants, shops and after-dinner strolls among the yachts. In the front is the Paradise Lagoon for non-motorized water sports (for a fee). Expect to pay a hefty fee for just about everything, but this is a once-in-a-lifetime trip for many.
9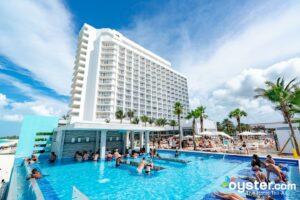 The Riu Palace Paradise Island, located next door to mega-resort Atlantis, is one of the few all-inclusive resorts in the Bahamas. Those familiar with Spain-based Riu's palatial Caribbean resorts -- like the one in Aruba -- might be disappointed by this aging property, with crowded pool and beach areas (saturated with vendors) and rowdy groups that come for free booze. Riu is slowly making progress, though, and the 379 rooms and suites have been renovated with contemporary decor, and include Riu trademarks such as stocked minibars with liquor dispensers and 24-hour room service (both free). The buffet spreads change often, thanks to the talented, long-standing executive chef, and four a la carte options help stave off all-inclusive monotony. After dinner, there's typical all-inclusive nightly entertainment as well as an all-night sports bar. The Riu brand spa, Renova, offers couples massages and treatments.
10
The "cheap seats" property of the Atlantis (though no part of the resort is cheap) has approximately 500 rooms in an aging retro structure dating back to the 60s. Renovations to these family-friendly accommodations include clean tropical decor with flat-screen TVs, iPod docks, mini-fridges, and coffeemakers with free Starbucks; bottled water, however, is not free, and is the first indication of just how expensive the resort is. Take it for what it is, though: Guests at the Beach Tower have access to 11 pools, including a lazy river and large pool next to the property, and a long stretch of white sand beach, as well as free admission to the 141-acre Aquaventure, marine exhibits, nightlife, and casino of the greater Atlantis resort. It's a lot of walking to get around, but it has less crowded environs and a shuttle service between towers. Expect to be aggravated by restaurant prices and fluctuating hours of operation. Water-view rooms are highly recommended.