Best Luxury Hotels in Kuta, Bali
Take a look at the best luxury hotels in Kuta.
See All Kuta Hotels
1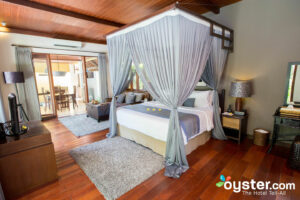 Villa de daun is a boutique four-and-a-half-pearl, all-villa property located in downtown Legian, next to Bali's wild nightclub scene. The hotel has spacious lawns with tall trees adding some tropical romance, and the ambience is tranquil and laid-back -- a glaring contrast to the buzz of activity outside. Facilities include a lovely spa and a restaurant serving international and Indonesian cuisines, but are otherwise limited. Villas are stunning, and include private plunge pools plus extras like Bose speakers, espresso machines, and butler services. Afternoon tea and free minibars are also included in rates. As an alternative, guests may want to check out Sun Island Villas, which has similar amenities and slightly cheaper rates, though a slightly less refined style.
2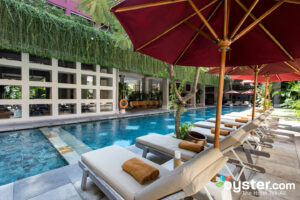 Amnya Resort Kuta is an upscale hotel ideally located in the heart of downtown Kuta, a five-minute walk from Kuta Beach, Waterbom Bali, and Discovery shopping mall. The hotel features 116 modern suites with stylish contemporary interiors; the rooms are bright and airy and have spacious balconies, an open plan design, and quality modern amenities. On-site facilities include a long outdoor swimming pool, an all-day restaurant serving authentic Indonesian cuisine, a gorgeous spa, a fitness center, a lobby lounge, and a multifunction event space. Free extras like afternoon tea, shuttle services, Wi-Fi, and weekly cultural activities add value to the stay. As an alternative beachfront hotel option, Patra Jasa Bali Resort & Villas offers direct beach access and resort like facilities for slightly lower rates.
3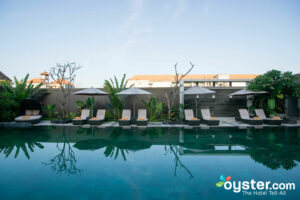 Opened in 2013, this 92-room upscale hotel nonetheless offers budget-friendly rates, and is located near the main intersection in Kuta, close to area attractions and the airport -- but a bit far from the beach. The Kana Kuta has a nice outdoor pool, small fitness center, free area shuttle, and free breakfast. Rooms are minimally decorated but spotlessly clean, with high-quality mattresses and linens, and flat-screen TVs, free Wi-Fi, mini-fridges, and coffeemakers; some rooms have balconies. The kids' center is a draw for families. The Kana Kuta might be slightly removed from the action, but it's good value for the money.
4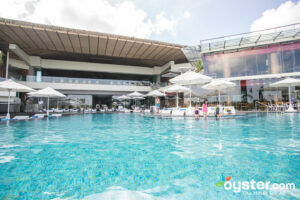 The family-friendly, 203-room Sheraton Bali Kuta Resort is a luxury property with beautiful ocean views right on Kuta Beach. Modern, bright rooms have splendid tile bathrooms with free Wi-Fi, rainfall showerheads and soaking tubs as well as balconies with seating. Some rooms have ocean views and outdoor hot tubs while others suffer street noise. The outdoor infinity pool with ocean views is a plus for couples and families, as are the on-site restaurants and bars, and full-service spa. Guests looking for a more intimate hotel may want to try The Kana Kuta for similar features, though it's farther from the beach.
5
The upscale 185-room Four Points by Sheraton Bali Kuta is a fun hotel with beautiful grounds and interiors. It's located within walking distance to shops, restaurants, and nightlife, and is within a 10-minute walk from Kuta Beach. Guest rooms are modern with a minimalist design and all feature private balconies, flat-screen TVs, and free Wi-Fi. Some have direct access to the central lagoon pool. The three outdoor pools, several on-site restaurants, bars, and kids' club are a plus for families and leisure travelers. There are also a fitness center and spa, as well as three meeting rooms for any business travelers passing through. The only real downside is the exclusion of breakfast from some rates. As an alternative, the Kuta Paradiso Hotel includes a free buffet breakfast.
6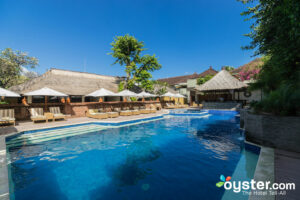 Across the street from Kuta Beach, the 80-room Alam KulKul Boutique Resort is an upscale property with plenty of amenities. Modern rooms have some traditional design elements, and most have balconies and walk-in tile showers. Some have plunge pools and rainfall showerheads. The two outdoor pools and kids' pools feel private and serene -- as does the full-service spa -- and there are two on-site restaurants and two bars. However, the property lacks fitness facilities and elevators, and only some rooms have access to the AlamClub. Guests desiring a beachfront hotel with lower rates should consider the Grand Istana Rama Hotel Bali.
7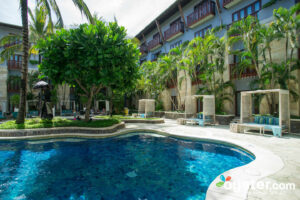 The 418-room Hard Rock Hotel Bali -- Asia's first Hard Rock outpost -- is an upscale, family-friendly resort in the middle of bustling Kuta, just across the street from Kuta Beach. Large, contemporary rooms have iPod docks and Nespresso coffeemakers, and many have kid-pleasing perks like bunk beds and game consoles. The are multiple pools, including a kids' pool, and several on-site restaurants and bars plus a spa with treatments for adults and kids. Of course, the brand's signature rock 'n' roll memorabilia is displayed throughout, and there's plenty for music enthusiasts. That being said, rates and restaurant prices can be steep, and guests should compare rates at the Sheraton Bali Kuta Resort just up the beach.
8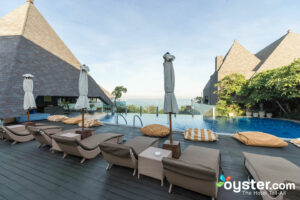 The Kuta Beach Heritage Hotel Bali is a four-pearl property with 159 rooms in the heart of Kuta, across the street from the beach. Rooms are chic and spacious, with a tasteful nautical theme plus air-conditioning and minibars -- some feature large balconies with sea views. The infinity pool has excellent views of the ocean and other highlights include well-liked restaurants, a large and varied breakfast buffet, plus a spa and fitness center. This is one of the nicest spots that we've seen in Kuta, though the vibe is lively and may not please those looking for peace and quiet. Given its upmarket finish, rates can be a relative bargain. As a comparison, the Bali Dynasty Resort has similar features and pleasant decor, though it's more expensive and less stylish.
9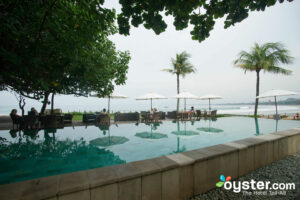 The 177-room Bali Garden Beach Resort is a sprawling, three-pearl resort overlooking Kuta Beach and less than a 15-minute walk from the beach town's many restaurants, shops, and attractions. Rooms are large and unfussy, outfitted with all the requisite amenities and decorated in slightly dated Balinese style; many have balconies or terraces, and either ocean or garden views. Family Rooms and Villas are especially spacious, and have private courtyards and kitchenettes. The 13 restaurants and bars offer a range of international cuisines and drinks -- some paired with panoramic ocean views -- but the resort's standout features are the three outdoor pools, one of which has a small kids' area and a swim-up bar, though all three close early in the evening. There's also a spa, which offers a full range of treatments and has a deep soaking tub. Breakfast is included in all rates and there is free parking, but spaces are limited.
10
The upscale 228-room Patra Jasa Bali Resort & Villas is beachfront hotel with exceptional grounds within a five-minute drive of Kuta's attractions and restaurants. Contemporary rooms all have balconies (some with ocean views), air-conditioning, and free Wi-Fi, while exceptional Villas have extras including private pool access and 24/7 butler service. The airport is essentially next door, but plane noise isn't a bother here, though there are minor upkeep issues in guest rooms. The three outdoor pools plus several on-site restaurants and bars are a plus for the families and large group tours that pass through, and there is a full-service spa as well. For a resort this size a fitness center would be a welcome addition, and guests should compare rates at the Bali Garden Beach Resort, where that feature is included.
11
The 136-room Fontana Hotel Bali is an upscale property with minimalist, contemporary interiors and an emphasis on art -- hallways throughout the property are lined with artwork, and the stylish, modern rooms are also adorned with art pieces. Minibars stocked with free goodies, coffee and tea facilities, free Wi-Fi, and lovely walk-in rainfall showers are just some of the in-room perks, plus there's a hip cafe on-site that brews artisan coffee, as well as an Italian restaurant. The spa offers a wide range of treatments and includes a hair salon, but the fitness center is small and has limited machines. The hotel's outdoor pool is set in a pretty courtyard surrounded by lush tropical greenery and padded loungers, but the area unfortunately does not get much sun throughout the day. The location of the property is a bit out of the way of tourist attractions, shopping, and the beach, however, but the hotel does offer a free area shuttle.
12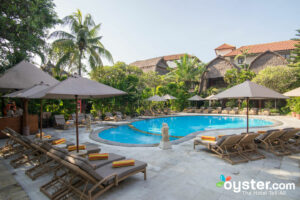 The 214-room Ramayana Resort & Spa is a centrally located, upscale property combining a tranquil, tropical setting with plenty of great features. Guest rooms have traditional Balinese touches, as well as modern amenities including air-conditioning and stocked minibars; some have balconies with daybeds, or pretty pool views. This property offers two pools and a poolside bar, as well as six eclectic restaurants/bars, a spa with beauty salon, and on-site classes -- from mixology to relaxation. Wi-Fi is free, and the beach is just a five minutes' walk. Traffic and general resort noise can be an issue in some rooms, though.
13
The family-friendly, 250-room Kuta Paradiso Hotel is an upscale property with beautiful grounds that's a five-minute walk from many of Kuta's restaurants, the beach, and top attractions. Bright, simple rooms all have balconies with pool or ocean views, though slightly outdated furniture shows a good deal of wear and tear and street noise can be an issue. The three-tiered pool and swim-up bar have a lagoon like vibe, nestled amid tropical foliage, and the hotel also serves a great free breakfast. The hotel features a full-service spa and fitness center in addition to free Wi-Fi and a kids' club, making this a popular choice for families on holiday. Guests looking for more chic surroundings and a more intimate atmosphere may want to consider the Kana Kuta, which is less expensive, though the beach isn't within walking distance.
14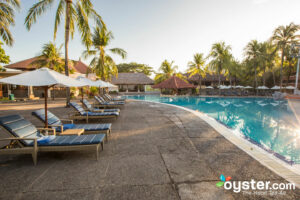 The beachfront, 402-room Ramada Bintang Bali Resort is an upscale property on expansive tropical grounds that's within a five-minute walk of restaurants, attractions, and shops. Slightly dated rooms all have balconies, free Wi-Fi, and large flat-screen TVs, plus marble bathrooms, though we did notice wear and tear on some furniture. The large, zero entry outdoor pool has a swim-up bar, and the resort also features a fitness center, a kids' club, and several dining and drinking establishments -- the free breakfast receives particularly excellent reviews. Guests looking for a more intimate hotel stay in this area of Bali may want to try the Kuta Seaview Boutique Resort & Spa -- rates will be cheaper, though the property lacks a fitness center.