Most Romantic Hotels in Legian, Bali
Take a look at the most romantic hotels in Legian.
See All Legian Hotels
1 This upper-middle-range property offers 10 guest villas with private pools and outdoor whirlpool tubs complete with floating swans that are ready for Instagram pics. Featuring bright and inviting contemporary decor, the villas have living rooms as well as dining areas and kitchenettes, plus they're equipped with modern tech like flat-screen TVs, DVD players, iPod docks, and free Wi-Fi. There are no common facilities or features here, but the hotel does offer a number of perks like free daily a la carte breakfasts, room service, and free shuttle service to the nearest beach and to Seminyak. The location's five minutes from Dewi Sri road and about a 20-minute walk to the beach. For an alternative that's closer to the beach, check out the upscale Abia Villas Legian, which has a cafe and small spa.
2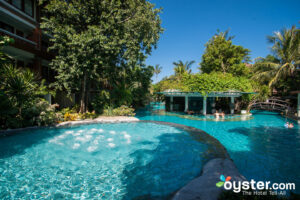 This 432-room, luxury hotel is nestled near the beach on 6.8 acres of landscaped tropical gardens. Family-friendly -- with a kids' club and three huge swimming pools -- the resort is about a 10-minute drive to the traditional art and fashion markets, and showcases artwork throughout the property. In addition to the three outdoor pools, there are six restaurants, a full-service spa (with sauna and steam room), a fitness center, and tennis courts. Rooms are large and clean, and have comfortable beds and balconies, minibars, flat-screen TVs, free Wi-Fi, and air-conditioning. Kid-friendly activities include fish feeding and contests in the family pool, which has two waterslides. The S.K.A.I. Beach Club serves cocktails and light fare, and is a lovely spot to watch the sun go down. However, there are numerous complaints of mosquitoes.
3
The four-pearl Abia Villas Legian is conveniently set in the center of town, close to plenty of shops and dining options -- plus it's a 10-minute walk to Legian Beach (there's also a free shuttle service offered). Fifteen stylish, modern villas offer privacy and luxe indulgences like private pools set in lovely gardens and gorgeous bathrooms with soaking tubs and walk-in rainfall showers flanked by lush tropical plants. There's a small spa (but no fitness facilities), as well as a cafe serving tasty fare and free breakfast. Other thoughtful touches include free welcome drinks and fruit baskets as well as bikes to borrow. For a beachfront option with separate pools for adults and kids, check out the upscale Bali Mandira Beach Resort & Spa -- but expect to pay more.
4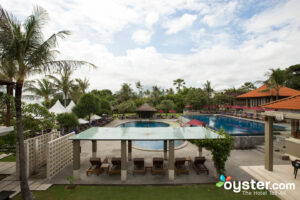 The 57-room Bali Niksoma Boutique Beach Resort is an upscale, beachfront property with an elegant Balinese style and superb ocean views. Modern, handsome rooms have minibars, furnished balconies, and flat-screen TVs, and some have private pools and outdoor showers. There are awesome ocean views from two outdoor pools, where free fruit and drinks are offered each afternoon. The property also has a beachfront restaurant/bar, a serene spa with a hot tub, and a gym with a sauna. This is a good option for travelers seeking family-friendly accommodations downtown, though guests may also want to consider the nearby Padma Resort Bali at Legian, which has kids' activities, though is a bit farther from the beach.
5
Guests like the upscale Bandha Hotel & Suites for its modern design and long list of resort-style amenities in a boutique-like setting. It has two outdoor pools with swim-up bars, a hot tub, gym, spa, and a pretty beachfront location. The restaurant offers a mix of Indonesian and international cuisines, plus a free breakfast buffet. The 90 suites are sleek and clean with minimal design, kettles, air-conditioning, and flat-screen TVs -- though no minibars. Some suites have direct pool access or plunge pools. For destination weddings, the rooftop wedding chapel offers ocean views. Families might want to compare rates at the nearby Bali Mandira Beach Resort & Spa, as it offers kids' perks like a children's pool and kids' club.
6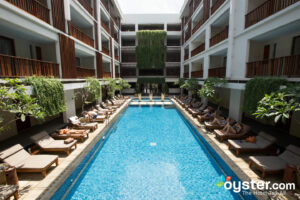 The 108-room Magani Hotel and Spa is an upscale, contemporary property in a busy area with restaurants, shops, and the beach within a five-minute walk. Big, sophisticated rooms offer furnished terraces or balconies, and some have whirlpool tubs or private outdoor plunge pools. This fresh, pristine property offers a Mediterranean restaurant, pool with swim-up bar, and spa with two saunas. The business and fitness centers are modern, and Wi-Fi is free. Because of its desirable location, the hotel (and especially the street-facing restaurant) tends to be somewhat loud and can draw partiers. Guests may want to consider the Ossotel, another upscale option in Legian that's less expensive and offers free breakfast.
7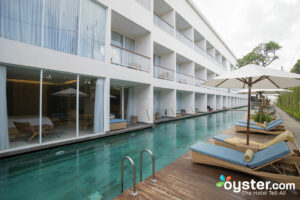 The 66-room Ossotel is a three-and-a-half pearl, trendy boutique hotel in Bali's hip Padma Legian Beach area, one block from the beach. The clean-line, contemporary rooms are equipped with requisite inclusions, such as minibars, air-conditioning, and flat-screen TVs, and have similarly modern bathrooms, with large rainfall showers. Romeos Bar & Grillery, the on-site restaurant and bar, is popular with guests and locals alike, and the free breakfast has a notably good selection. The outdoor pool winds its way between seating and greenery, and all ground-floor rooms have direct access, but it's worth noting that the pool is primarily in the shade. Free Wi-Fi and an area shuttle are available, in addition to 24-hour concierge and room services. The nearby Hard Rock Hotel Bali has chicer rooms and a waterpark, but rates are higher.
8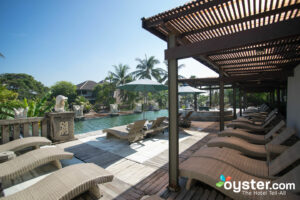 The 191-room Bali Mandira Beach Resort & Spa is an upscale hotel on Legian Kuta Beach with a modern yet authentic Balinese style and awesome ocean views throughout. Rooms are bright and contemporary, with flat-screen TVs and air-conditioning; some have balconies with ocean views, small private pools, or open-air showers. This lushly landscaped property offers two outdoor pools for kids and adults, a beautiful full-service spa, a poolside bar with oceanfront terrace, an Indonesian restaurant, and a rooftop terrace with panoramic ocean views. Wi-Fi, breakfast, and outdoor parking are free. Facilities here tend to get crowded -- particularly the pools and restaurant. Guests may also want to consider the Padma Resort Bali at Legian, which is located next door, similarly priced, and offers luxury accommodations.
9
The Stones Hotel - Legian Bali, Autograph Collection is a contemporary four-pearl hotel across from the southern tip of Legian Beach. There's plenty to see and do all around, and the hotel's massive pool with a swim-up bar is one of the best in the area. The Stones also has a spa, fitness center, and kids' club, along with several well-liked restaurants. All 308 spacious rooms include marble bathrooms, minibars, iPod docks, free Wi-Fi, and 42-inch flat-screen TVs, with a simple, contemporary style. Some have balconies overlooking the pool. While the style here is subdued and tranquil, the hotel can get busy and even crowded at times. Travelers looking for a high-end hotel with more distinctively Balinese atmosphere might consider the Padma Resort Legian, which is up the beach.
10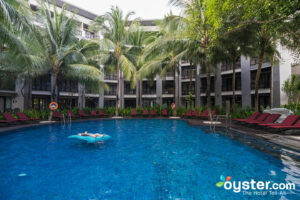 The Pullman Bali Legian Beach is an upscale 353-room resort located directly across the street from Legian Beach in Kuta. Rooms range in size and level of luxury, from standard Deluxe Rooms to Two-Bedroom Suites. Those facing the street can be noisy. Two large pools (one on the rooftop) with poolside bars and terrific sunset views, as well as a full-service spa, make this hotel a terrific choice for guests looking to relax. There's also a 24-hour business center, a well-stocked gym, and meeting spaces available. A delicious and varied international buffet is available in one of the three on-site restaurants, but it costs extra.
11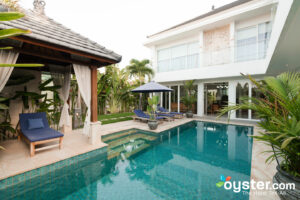 AQ-VA Hotel & Villas is a modern four-pearl hotel conveniently located between Legian and Seminyak, a 10-minute walk from Legian Beach, near dining and shopping. Highlights include two narrow outdoor swimming pools, a full-service spa, fitness center, and Indonesian/Mediterranean restaurant with an open kitchen. The 27 rooms include Studios, multi-bedroom suites, and villas, all of which are spacious and done in bright minimalist decor. Villas open to private swimming pools and come with butler service. All include balconies or terraces, minibars, DVD players, free Wi-Fi, and flat-screen TVs. Those looking for a fresh mid-range alternative should consider Amaris Legian Hotel - Bali, which is less expensive but lacks some of the bells and whistles here, including the high-end villas.
12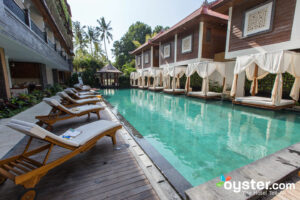 Astagina Resort is a contemporary three-and-a-half-pearl resort in the heart of Legian, a short walk from shopping and dining, and a five-minute walk from Double Six Beach. The 88 spacious and traditionally-furnished rooms feature minibars free Wi-Fi, and flat-screen TVs with DVD players. Some of the higher-category villas open to private pools For those whose rooms don't have their own pool, there's a large outdoor pool with poolside bar, plus a family pool, all of which is tucked into the hotel's lovely tropical grounds. A full-service spa and restaurant serving Asian and Mediterranean cuisines that gets mostly solid marks and serves an option-filled breakfast buffet for a fee. Guests who want a more intimate boutique option might try the nearby Bali Hotel Pearl, which has similar rates.
13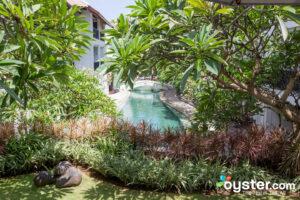 The Camakila Legian Bali is a three-and-a-half pearl resort on lush and secluded tropical grounds across a pedestrianized road from Legian Beach. The highlight here is the two outdoor swimming pools, one of which is a large lagoon pool and the other a small infinity-edged pool overlooking the beach and ocean. Also on site are a spa, sauna, and fitness center. The 117 rooms are spacious and modern, and come with minibars, free Wi-Fi, and flat-screen TVs. All have balconies and terraces, and some open to the lagoon pool. The rooms aren't quite as upscale as the nearby Bali Niksoma Boutique Beach Resort, but prices here are a little more affordable.
14
The 154-room Akmani Legian is an upscale hotel that's a calm oasis amid busy and wild Legian. All manner of shops, restaurants, and nightlife are in any direction, and the beach is less than 10 minutes away on foot. This contemporary property has two restaurants, a small spa, a fitness center, and a kids' club, but the highlight here is the rooftop deck, complete with a pool, a swim-up bar, and a lounge area with bar service. Rooms are contemporary and stylish, though they can be compact. The nearby Magani Hotel and Spa offers larger rooms, but rates are higher.
15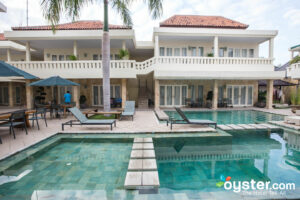 Bali Court Hotel and Apartments is a contemporary mid-range boutique located near downtown Legian and a 10-minute walk from Legian Beach. The 25 rooms are centered around two large adjoined swimming pools with lap pool and shallow kids' sections. Superior Rooms and Apartments are both modernly styled and feature balconies or terraces. Interiors are bright and airy and rooms are equipped with air-conditioning, flat-screen TVs, and mini-fridges. Both one- and two-bedrooms apartments are available and feature spacious floor plans with dining room areas, kitchenettes, and living rooms. Hot Mango Restaurant features open-air seating by the pool and serves international cuisine. As an alternative, the FuramaXclusive Ocean Beach is similarly priced, though it has a spa and is right across from Double Six Beach.