Best Value Hotels in San Pedro, Ambergris Caye
Take a look at the best value hotels in San Pedro.
See All San Pedro Hotels
1
El Pescador Resort is a family-owned fishing lodge that has operated on Ambergris Caye since 1974. This mid-range property's warm community atmosphere, dedicated full-time fishing guides, and top notch all-inclusive packages have been attracting repeat guests for over 40 years. Plus, its 21 rooms and excellent on-site dining make it feel more like a tropical resort than a fishing lodge. That said, travelers who aren't avid fishermen will likely feel out of place here, as almost everything revolves around fishing -- think early breakfast hours and fish-centered dinner conversations. Ramon's Village Resort is better suited for the non-fishing crowd, but doesn't have the same community atmosphere as El Pescador.
2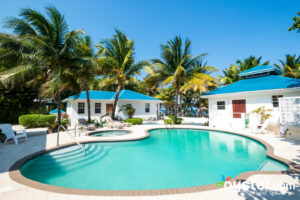 Travelers seeking a quiet hotel with a relaxing atmosphere that's still relatively close to town needn't look further than Cocotal Inn & Cabanas. Cocotal is an intimate three-pearl property with eight rooms, a small pool, and a beautiful beachfront location. All rooms are equipped with full kitchens, and come in studio, one-, and two-bedroom varieties. Guests can take advantage of the hotel's free bikes and kayaks, and can also rent golf carts for trips into town. Cocotal's best feature is its hands-on manager, Ben, who lives on-site and consistently goes out of his way to ensure guests enjoy their stay. Travelers looking for a similar hotel that's located within San Pedro town should check out Caye Casa, which has nicer rooms and similar amenities, but pricier nightly rates.
3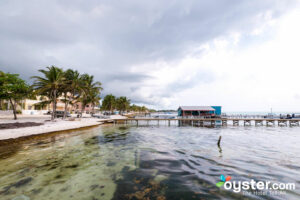 With rock bottom rates, a lively atmosphere, and an excellent beachfront location in San Pedro, Sandbar Beachfront Hostel & Restaurant is an excellent pick for backpackers and budget travelers. Sandbar has two 12-person mixed dormitories and several private rooms that accommodate up to three people. Private rooms have their own private bathrooms and a shared balcony, while dorms have shared single-sex bathrooms. All units have air-conditioning and locked storage compartments. Sandbar's on-site bar and restaurant is a popular spot, where guests and other young San Pedro travelers like to hang out -- though some guests complain that the bar gets a little too rowdy at night. Sandbar has a large pier with lounge chairs, umbrellas, and ocean access, and it's within walking distance of all San Pedro has to offer. It's worth checking rates at Pedro's Hotel, which has a similar atmosphere and comparable amenities, but it's father from town and isn't on the beach.
4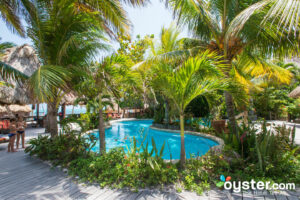 The upper-middle-range Ramon's Village Resort is the only resort-style property in the town of San Pedro, offering both resort amenities and easy access to local venues. Its jungle-meets-Polynesian-island theme can feel cute or cheesy, depending on perspective. The 71 rooms are decorated with dark woods and tropical prints, while thatched roofs and tiki heads dot the property. Acting as the hotel's central hub, the pool draws guest throughout the day. On-site dining options include Pineapples, an all-day sit-down restaurant, and Tropic Al's a coffee shop and bar. Travelers should note that the hotel's most budget-friendly rooms are actually located across the street at the Belizean Princess, a separate, different-looking property that's managed by Ramon's Village. Travelers in search of a more intimate property may prefer Caye Casa, a boutique hotel with nicer rooms but fewer amenities.
5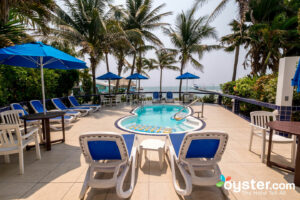 Blue Tang Inn is a charming beachfront property with a convenient location in San Pedro. The three-pearl hotel is within walking distance of almost everything San Pedro has to offer, including restaurants, bars, dive shops, and supermarkets. The 14 (slightly dark) rooms resemble studio apartments, and each has a full kitchen, dining table, futon, and one or two queen-size beds. The hotel has a tiny pool and a manmade beachfront, but like all beaches in San Pedro, the beach is used as a thoroughfare for golf carts and pedestrians. Guests can take advantage of the hotel's boat, Sirena Azul, by booking private sailings and snorkel tours. Note that the area around the hotel can be noisy at night. Travelers looking for a quieter location might prefer Cocotal Inn & Cabanas -- a similar property north of town that tends to offer more affordable nightly rates.
6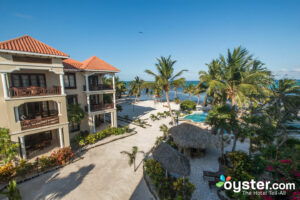 La Beliza Resort is an upper-middle-range property with 18 apartment-style rooms on a secluded beachfront. The hotel's one and two-bedroom units feature rich mediterranean inspired decor with lots of island accents, and are equipped with full kitchens, large living rooms, and outdoor balconies with partial or full ocean views. Many guests spend their days relaxing around the freeform pool or along the hotel's stretch of beach. That said, there's nothing of interest within walking distance of La Beliza, and the hotel is a whopping eight miles north of San Pedro town, which equates to a 45-minute golf cart ride on the island's potholed roads. Being this far from town can feel isolating, which may appeal to some travelers and distress others. Those looking for a quiet property that's a bit closer to the action in San Pedro might prefer Grand Caribe Belize, though it's significantly pricier.
7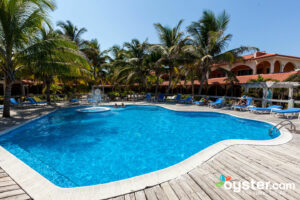 The waterfront, SunBreeze Hotel is a three-pearl property in San Pedro Town's bustling commercial heart, minutes from shops, restaurants, and grocery stores. Its 43 rooms -- some with ocean views -- are dated, but pleasant, with small TVs, mini-fridges, and queen or double beds. The hotel's sandy courtyard is full of coconut palms and lounge chairs. Unfortunately, frequent sea grass makes the oceanfront underwhelming, but the freshwater pool has ocean views and is surrounded by cushioned loungers. The popular Blue Water Grill -- the hotel's waterfront restaurant -- serves local and international cuisines and its second-floor gazebo is loaded with hammocks and catches great breezes. For a more intimate stay, Caye Casa boutique hotel on the south side of town has a swimmable beach, kitchenettes, and more thoughtful, artistic interiors.
8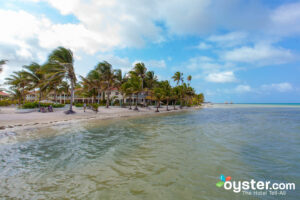 For sporty travelers looking for an Ambergris Caye getaway, the two-and-a-half-pearl Belizean Shores Resort is an unpretentious spot with plenty to do on-site. The 45-room oceanfront resort has free tennis and basketball courts, ping-pong tables, beach volleyball, and water sports. Lounge chairs dot its palm-lined beach, but there's frequently sea grass, so swimming can be a bit unpleasant. There's a great saltwater pool and hot tub with a walk-up bar plus lots of loungers -- the area is rarely crowded. Rustic suites are clean but dated and sport kitchens, tropical paintings, and bamboo furniture. Room service is available but the restaurant is expensive and gets mixed reviews. For a more intimate option, the nearby White Sands Cove Resort has more modern room plus a great restaurant and pool.
9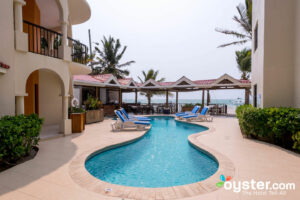 A condominium style hotel with 20 one-bedroom units, SunBreeze Suites is a solid mid-range option in San Pedro. All suites have full kitchens and separate living spaces, plus outdoor balconies with ocean views, although decor is lackluster. Outside there's a small pool and a beachfront restaurant that serves an eclectic menu. The beach, like most in San Pedro, is manmade and usually crowded with pedestrian and bicycle traffic, but the hotel does a nice job of keeping it tidy. Additional amenities include free Wi-Fi and a tiny massage room offering basic spa treatments. Some guests complain that the neighborhood is noisy at night, but this is a problem everywhere in San Pedro. Travelers looking for a quieter condo-style hotel might prefer La Beliza Resort, though its northern Ambergris Caye location is a whopping 45-minute golf cart ride from town.
10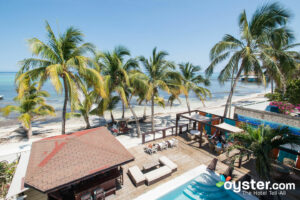 Ocean Tide Beach Resort is a solid lower-middle-range option in San Pedro. This no-frills hotel has 11 clean rooms with homey decor and nice amenities like flat-screen TVs, mini-fridges, and air-conditioning. The property's oceanfront pool is a popular hangout for guests, and the adjacent bar serves great cocktails throughout the afternoon and evening. Like all beaches in San Pedro town, the one in front of Ocean Tide is used as a thoroughfare for golf cart traffic, but the hotel has its own dock, so guests can access the ocean to swim. Nearly all of San Pedro's shops, bars, restaurants, and dive operations are within walking distance of this property, but some guests complain that the area can be noisy at night. Travelers looking for a quieter location might prefer the out-of-town Mata Rocks Resort, which is usually pricier but has nicer rooms and amenities.
11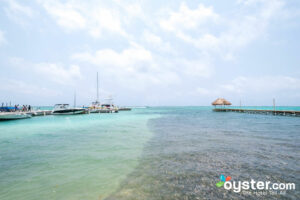 The budget Mayan Princess Hotel is a condominium-style property with an excellent beachfront location in downtown San Pedro. Though its 23 rooms are dated, all have kitchenettes and separate living spaces, plus outdoor balconies with spectacular ocean vistas. The Mayan Princess doesn't have a pool or on-site restaurant, nor does it serve breakfast in the mornings, and as such, it doesn't invite much lingering. Instead, it's best suited for independent travelers who plan to spend their days exploring the island. Travelers looking for a condo hotel with more of a resort feel might prefer SunBreeze Suites, which has a pool and a restaurant, though it tends to be a little pricier.
12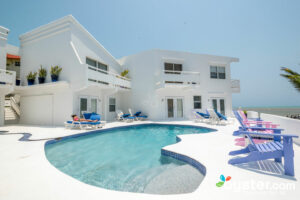 Mata Rocks Resort is a mid-range property located on the southern end of Ambergris Caye, about a 10-minute golf cart ride from San Pedro Town. The hotel has 17 rooms with simple, beachy decor and a tiny pool that overlooks the ocean. Its beach is marred by the piles of seaweed that wash up on shore, though travelers will notice this everywhere on the island. Mata Rocks offers free continental breakfast, free bikes, and free Wi-Fi, but there isn't much to see or do in the immediate area surrounding the hotel. Travelers who'd prefer to be in San Pedro Town should check out Caye Casa, a more sophisticated property with nicer rooms and slightly pricier nightly rates.
13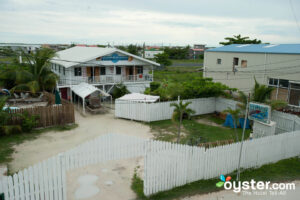 Pedro's Hotel is a well-known destination in San Pedro for budget-minded, party-hearty travelers. If it feels like a hostel, that's because it partially is. The non-hostel half of the property is located across the street and offers 31 low-priced private rooms: two twins, or two twins pushed together to form a king. Rooms are as barebones as it gets, but many guests who stay here are just looking for a cheap crash pad after hitting the town. The staff -- mainly, Peter (a memorable British fellow who owns the joint) -- rents golf carts, bikes, and diving gear during the day, and tends bar by night. This is when the sports pub springs to life, and there's plenty of good pizza, drinks (ahem, Jagermeister), live music and conversation to be had before stumbling into bed.
14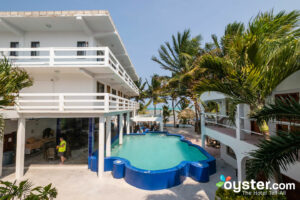 The beachfront Corona del Mar Hotel & Apartments is a no-frills value property about a mile south of San Pedro Town. It's ideal for budget travelers who don't mind dated decor, a small pool, or a skimpy breakfast. Rooms run the gamut, from tiny studios to large apartments with multiple bedrooms, bathrooms, and full kitchens. But all suffer from mismatched and dated furnishings, though most have flat screen TVs and new appliances. Freebies include breakfast, Wi-Fi, and a daily rum-punch happy hour. The property's small pool is awkwardly wedged in between two buildings, however the manmade beach is neatly kept. An on-site sports bar is popular with guests and locals, but it can get rowdy. Travelers looking for completely quiet surroundings might prefer Mata Rocks Resort, which is pricier, but has nicer rooms and amenities.
15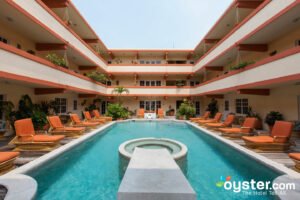 Banana Beach Resort is a 62-room two-and-a-half-pearl property on the southern end of Ambergris Caye that's seen better days. Dated guest rooms are air-conditioned and decorated with bamboo and wicker furniture. While some rooms have flat-screen TVs, others have tube TVs and -- in suites with kitchens -- rusted appliances and cracked tile counters. The resort has two pools that are quite lovely, though the sea-walled beach frequently has heaps of sea grass on it that hinder swimming. El Divino, the resort's moderately-priced restaurant, serves decent international cuisine and a simple, free breakfast is included in rates. Travelers looking for slightly nicer rooms with a tropical vibe might prefer Caribbean Villas Hotel, which has a great sandy beach, laid-back beach bar, and huge waterslide.