Best Party Hotels in Lloret de Mar, Costa Brava
Take a look at the best party hotels in Lloret de Mar.
See All Lloret de Mar Hotels
1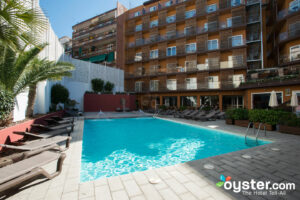 The four-pearl Alegria Plaza Paris is a fun and lively property that's within a seven-minute walk to the beach and Lloret de Mar. Its public spaces are attractive, and while some of its 146 guest rooms are sleek with flat-screen TVs, mini-fridges, and balconies, other rooms are dated. There's a full restaurant, bar, gym, pools, and hot tubs, plus a spa that comes with an extra charge. Overall, it's a good choice for couples and friends traveling together, but the young party crowd can get noisy at night. Note that this hotel closes in the winter. Travelers might want to compare rates at Gran Hotel Flamingo, which also has a fun, party-like atmosphere.
2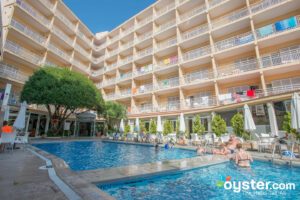 Gran Hotel Flamingo is a large, fun budget hotel catering to a young crowd. Rooms are spacious, with contemporary (if simple) decor and good amenities such as free Wi-Fi, mini-fridges, flat-screen TVs, and balconies. With a poolside bar, a taco shack, and a cocktail bar in the lobby, the hotel is a solid pick for those looking to party. Its central location right in the heart of the nightlife area and a short walk from the beach is a plus. But travelers who'd rather get a good nights' sleep and sunbathe by a quiet pool may want to stay elsewhere.
3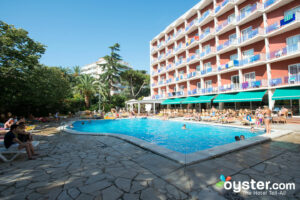 Gran Hotel Don Juan is a huge value property conveniently located a short walk form the beach and the city center. It features a wide array of amenities, including two pools, three restaurants, a kids' club, and poolside massages. But rooms are small and dated, and soundproofing is lacking. Low rates and all-inclusive meal plans draw groups of young partiers, so those looking to spend a quiet, relaxing vacation by the pool may want to stay elsewhere.
4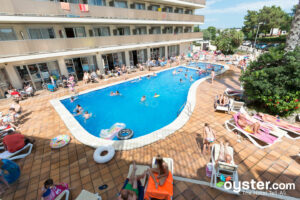 H Top Royal Star is a large budget hotel catering to families and couples, but popular during peak season among groups of young partiers. Rooms are spacious, bright, and perfectly adequate, with decent bathrooms, air-conditioning, and balconies. In-room amenities, however, are basic, and walls paper thin. Hotel highlights include two small pools, a buffet restaurant, a small spa, and a kids' club -- but this hotel is far from upscale, as its official 4-star rating suggests. Sister property H Top Royal Beach offers better rates, a location closer to the beach, and an overall more relaxing atmosphere.
5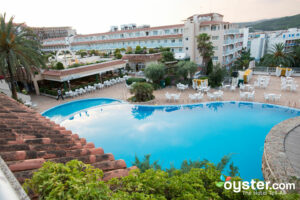 Guitart Central Park is a 647-room resort located blocks from two sandy beaches, many shops, and nightlife. Its five pools, five restaurants, spa, and low rates make it a good pick for families on a budget. But the hotel is popular with young partiers, and it can get loud and rowdy. Most rooms are small, featuring basic amenities and old tube-style TVs.
6
H Top Alexis is an aging budget hotel located a five-minute walk from the beach in Lloret de Mar. Its super low rates draw a mixed crowd of young partiers and couples on a tight budget -- but rooms are tired and dated (think: thin bedspreads, tube TVs, and poor soundproofing) and there have been complaints of lack of cleanliness. Property highlights include a plunge pool; three above-ground pools with a bar area on the rooftop, and a restaurant serving a decent buffet. All-inclusive guests can use the facilities at sister hotels in town, which is probably good news, as the hotel is in urgent need of extensive renovations.
7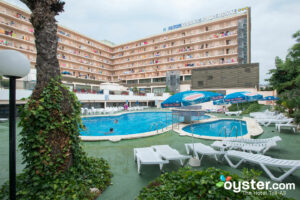 H Top Gran Casino Royal is an old, lower-middle-range all-inclusive popular with young partiers. It has a nice pool area and a central location in Lloret del Mar -- but little else can be highlighted here. Poorly maintained rooms feature dated decor and tube TVs; the restaurant serves an underwhelming buffet that does not vary frequently; and the hotel can get loud until the wee hours. Those looking for a place to crash after partying hard may find this hotel to be a convenient pick; everyone else should probably stay elsewhere.