Best Kid-Friendly Hotels in Cornwall
Cornwall, a peninsula in the southwest of the United Kingdom, is a popular holiday spot for families looking to be near the coast. There are some hotels in Cornwall, England more geared toward the traveling family — large rooms; pools with waterslides; playground facilities, etc. After visiting the county's most popular hotels, we evaluated each to see how they stacked up — all with children in mind. So if you're heading to the region of Cornwall and want to bring the kids along, you've come to the right place. Check out the best kid-friendly hotels in Cornwall and start planning your family getaway!
See All Cornwall Hotels
This holiday park has well-kept grounds and offers a full range of varied accommodations -- including caravans (trailer homes) for rent, wooden 'pods' for glamping, and pitch sites for privately owned caravans and tents. None are upscale, but most feature flat-screen TVs and kitchens, and tiny bathrooms. The park has its own recreation facilities (including water slides and an arcade-style facility), dining and bar options, and evening entertainment. The famous surfing beaches of Newquay are a few miles away, as are the zoo and golf course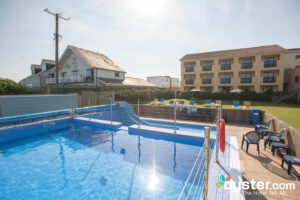 The Sands Resort Hotel & Spa is a large, mid-range, family-focused holiday resort located two-and-a-half miles from Newquay with views over the sea. Beyond the beaches (Porth Beach and Watergate Bay are within walking distance) there's not a great deal in the area, though a huge range of kid- and adult-friendly leisure facilities on-site means most people won't set foot outside the mid-range property anyway. Rooms, too, are particularly family-friendly -- most have two separate sleeping areas -- while the restaurant provides parents with some child-free time.
Gwel An Mor is an upscale resort with 61 Lodges and Residences by the sea in Cornwall. Guests can choose to stay in the cozy knotty-pine Lodges or in more modern, Scandinavian-chic Residences, all of which have full kitchens and views of the water from private terraces and balconies. With the beach a 10-minute walk away, and on-site features including a heated pool, spa, Mediterranean restaurant, and kids' activities, the resort is a wonderful choice for families seeking an active, outdoorsy holiday with all the comforts of home. However, it's in a bit of a dull area, with little action in the immediate surroundings.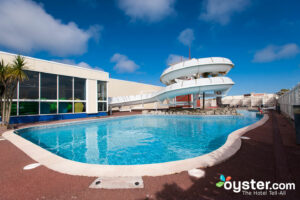 Perran Sands Holiday Park is a large, simple property near the beach with a variety of units, from domed tents and yurts to trailers with two, three, or four bedrooms. Despite lacking some of the recreational facilities typically offered at UK holiday parks, this property stands out: The decor is fresh and modern, both in rooms and in bars and restaurants, which include a fish-and-chips shop and a bar decorated with road trip memorabilia. There are also two pools, surfing lessons, and live entertainment, making it a great choice for families.
Budget travelers with children in tow make up the majority of guests at the Riviere Sands Holiday Park, an affordable vacation trailer park located on the coast of rural Cornwall, a 20-minute drive from Saint Ives. All of the units at the park are stand-alone trailers, known as caravans in the United Kingdom. Decor is old and dated, but all units have separate bedrooms, dining areas, and furnished kitchens. There are tons of activities for families on-site, including two pools, mini-golf, archery, and game rooms, as well as a few dining options for those who don't feel like preparing their own meals.