Most Romantic Hotels in Dubai
We traveled to Dubai to see the city's top hotels and how they stack up — spa facilities, comfiness of the beds, and swimming pools are just a few features that we take into account when comparing. If you're looking to take a romantic getaway to Dubai, a city that offers grand structures, pretty beaches, and markets ripe with local culture, we've found the properties that are sure to deliver. Take a look at our top picks for the most romantic hotels in Dubai and start planning your vacation!
See All Dubai Hotels
1
Plush, spacious rooms, lush gardens, and an outdoor pool are just a few of the features that helped Raffles Dubai take the number one sport for most romantic hotels in Dubai. Huge rooms and suites are cloaked in luxurious fabrics and materials with handcrafted decorative details, modern technology, lavish bathrooms, private terraces, and personal butlers on call 24/7. The hotel's expansive features include seven restaurants and bars, a gorgeous pool with swim-up bar, and spa facilities in the gardens ideal for couples.
2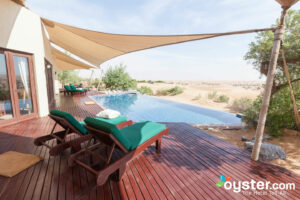 With gorgeous Bedouin-style architecture in a desert oasis, Al Maha sets the bar for Dubai luxury. With 42 standalone, intimate suites featuring top-notch amenities and services; a heated infinity pool; an upscale spa; and fine dining on-site, the property is arguably one-of-a-kind. It may not be ideal for those looking to explore the sights in central Dubai, but Al Maha offers a unique experience for couples and families with older children (kids under 10 are not allowed).
3
Dar al Masyaf is a destination unto itself. This exclusive hotel is part of Madinat Jumeirah, a massive, one-of-a-kind beachside resort home to over 40 restaurants and bars, three outdoor pools, several miles of waterways and jogging trails, a traditional shopping center, a turtle sanctuary, and a theater. Rooms are large and luxurious, with top-notch amenities and large balconies offering serene views. With an impressive array of on-site activities (rock climbing, fitness classes, a swimming academy, water sports, live shows.. you name it) and a beautiful private beach, only those looking to explore Dubai's attractions will feel the need to venture out.
4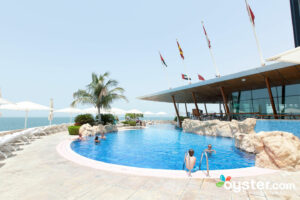 Billing itself as the "world's most luxurious hotel," Burj Al Arab is a destination unto itself. Situated just off the coast of Dubai on an independent island, visitors can access the grounds by attending high tea in the afternoon or dining in one of seven restaurants. Almost every aspect of the property is meant to evoke extreme decadence, from the butler assigned to each of the 60 floors to the 24k-gold iPads in two-story suites. Some guests have felt the phenomenally expensive prices to be unjustified for the food and the service, which can occasionally be disorganized, though most are happy to shell out for the once-in-a-lifetime experience.
5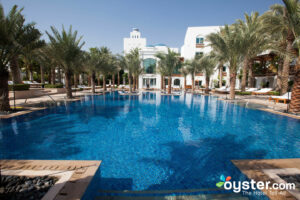 The Park Hyatt is an exclusive, sprawling property adjacent to one of Dubai's top golf courses. Everything here is top-notch, from the spa to the pool area to the restaurants and the services. Its 225 rooms are all stylish and spacious, with elegant Mediterranean decor sprinkled with Moorish details, and upscale bathrooms featuring deep standalone tubs. The hotel's location is a quiet oasis in bustling Dubai -- but most attractions are a drive away through busy roads.
6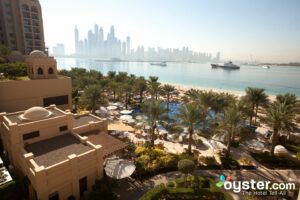 Fairmont The Palm is a swanky palatial landmark located on the trunk of Dubai's exclusive Palm Jumeirah archipelago with easy access to the mainland and a seriously impressive private beach. All the first-class facilities you'd expect are present and correct, including four swimming pools and an excellent spa. While all rooms have balconies, only higher category rooms guarantee sea and city views, and some look out over a busy road. The Fairmont offers a genuine taste of high-class Dubai -- with the premium price tag to match, but guests may not appreciate the expensive drinks and hefty fee for Wi-Fi.
7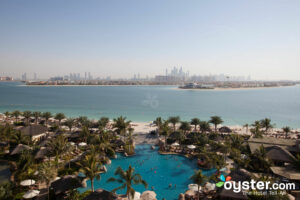 The Sofitel Dubai The Palm Resort & Spa is a five-pearl low-rise hotel situated on the East Crescent of Dubai's iconic Palm Jumeirah. Its 361 rooms are sleek and have gorgeous bathrooms; many also have sea views. While the resort's location makes it a poor choice for those planning on a lot of sightseeing, its restaurants, pools, and private beach make this self-contained property a hit with couples and vacationing families alike.
8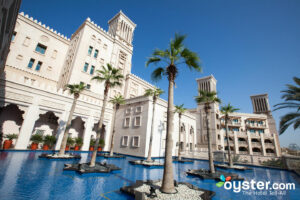 The 294-room Al Qasr is a seriously upscale, Arabian palace-style hotel with stunning interiors set in the exclusive Madinat Jumeirah resort in central Dubai. Comprising of lovely canal-like waterways and manicured tropical gardens that lead to a mile-long beach, the grounds are particularly impressive, as is the almost innumerable selection of facilities (a rock climbing wall, spa, playground for kids, and fitness center  among them). While rooms suitably reflect the hotel's deluxe pedigree, the vastness of the resort can mean sluggish service and dining get very expensive. However, for guests who can afford the eye-watering room rates of this super-lavish hotel that may not pose an issue.
9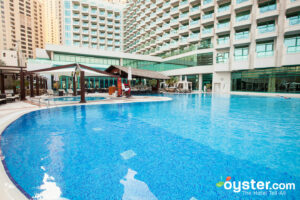 The 389-room Hilton Dubai Jumeirah Resort is one of Dubai's older upscale chain hotels and is set in the heart of the popular Jumeirah Beach Residence. It's one of the most affordable beachfront luxury hotels in Dubai, and standout facilities include a first-class Italian restaurant, large swimming pool with swim-up bar, and pristine white-sand beach with plenty of lounge chairs and umbrellas. Rooms with furnished balconies are pleasant if a little generic, and nearby construction certainly spoils the view from many. Overall, lack of kid-friendly amenities means families with young children should look elsewhere -- the nearby Le Meridien Mina Seyahi Beach Resort and Marina for example -- though vacationing couples should find more than enough to keep them happy.
10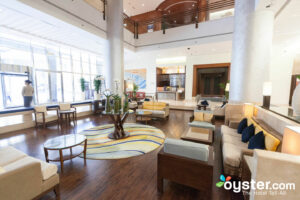 Amwaj Rotana is a luxury hotel located on the lively boardwalk of Jumeirah Beach -- aka The Walk -- in New Dubai. The property's private beach is just couple of minutes' walk from the hotel, and can be seen from all 301 rooms, all of which have private balconies. On-site amenities include a modern fitness center, three restaurants with Japanese, international, and Italian cuisine, an adult pool, a kids' pool, and babysitting services -- all of which make this hotel a solid win for couples and families.
11
The Anantara Dubai The Palm Resort & Spa is an upscale, Thai-style hotel located on the secluded east crescent of the Palm Jumeirah, one of Dubai's two artificial palm-shaped archipelagos. Arranged around several lagoon pools and extending to a white sand beach, the Anantara is certainly one of Dubai's prettier resorts, and it caters well to both romancing couples and families with kids. Over-water villas are particularly impressive, though all of the rooms come with excellent amenities. Rates certainly aren't cheap by any standards, and the location is awkward for sightseeing, but for a high-end holiday resort with plenty of facilities it's an excellent choice.