Most Romantic Hotels in Karon, Phuket
Take a look at the most romantic hotels in Karon.
See All Karon Hotels
1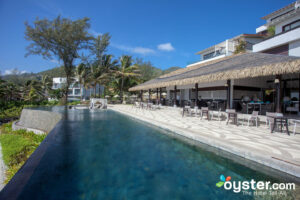 The Shore at Katathani is an upscale, 36-room villa hotel that caters mainly to couples and honeymooners. Its private location, tucked away in a cove along Kata Noi Beach, adds to the hotel's intimate, beachy atmosphere. Guests spend most of their time lounging beside their private plunge pools or in oversize daybeds facing the ocean at the main infinity pool. While the property, which includes a small spa and oceanfront restaurant, does not allow children under the age of 12, its sister property, Katathani Phuket Beach Resort, about a 10-minute walk along the beach, is family-friendly.
2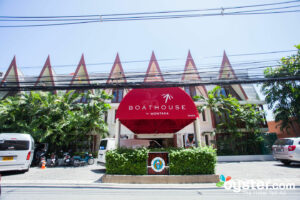 The 38-room Boathouse Phuket is a cozy and upscale romantic hotel directly on Kata Beach, offering postcard-worthy views from two small pools, stylish restaurants and bars, a spa, and a beach club lounge. Beach views are also available from balconies or terraces in rooms -- which are small but modern -- with flat-screen TVs, coffeemakers, and minibars. The crowded poolside scene and the night-time DJ and fireworks noise, however, might spoil the serene setting. For a secluded beach locale, check rates at the Mom Tri's Villa Royale.
3
Pacific Club Resort is not so much a resort as a relatively small, boutique-sized hotel set on a quiet hillside overlooking Phuket's Karon Beach. The location is ideal for those wanting somewhere away from the bustle of the popular tourist town below while still being within walking distance of its beach (though getting back uphill might be a struggle for some). The panorama from the rooftop pool is superb, and most rooms have sea views from balconies. Overall, the property is a solid upper-mid-range choice that's a slight cut above most hotels in the area while offering competitive rates.
4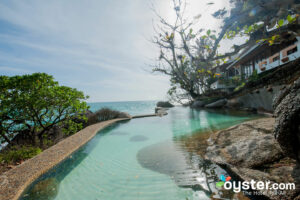 Mom Tri's Villa Royale is an upscale boutique hotel and spa set on a headland overlooking Kata Noi beach on the southwestern side of Phuket. The hotel's 35 rooms are housed in Thai-style buildings, including the former home of Thai artist and architect Mom Tri. Rooms are decorated with Thai antiques and have private balconies with sea views; some have direct shoreline access, or access to a private pool. There is a main pool overlooking the sea, saltwater pool tucked into the hillside, and separate pool for Kata Suites. The spa offers an outdoor steam bath and full range of treatments. Mom Tri's Kitchen serves excellent Thai cuisine, the wine cellar is consistently awarded for excellence, and there are a cozy piano bar and lounge. The hotel's unique Thai design is tough to compete with, but guests wanting a more modern setting could try the nearby Foto Hotel.
5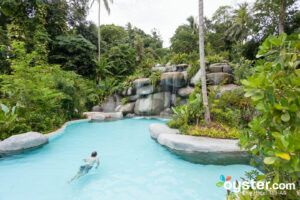 Marina Phuket Resort is a luxury complex set in a lush garden of dense tropical greenery overlooking the south end of Phuket's Karon Beach. Rooms are beautifully finished with outstanding technology that even includes Apple Mac computers, while bathrooms are impressively spacious with excellent amenities. The large lagoon pool is an on-site highlight and there's also direct access to the sea from the property. There isn't a spa, though there is an extensive dinosaur themed mini-golf course. Rates aren't cheap, but the Marina Phuket is a quality resort with little quite like it in the area.
6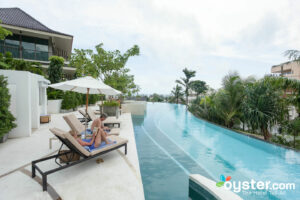 Opened in 2013, Mandarava Resort and Spa is one of the area's more recent arrivals and it shows in its chic, contemporary styling. This luxury property is set on a hillside, which means captivating panoramas though it also means a 10-minute walk to Karon's beachfront and a steep climb back up. Rooms are elegant with furnished balconies and superb views. Three infinity pools are impressive and the hilltop spa is a relaxing spot for a massage. Although it's one of the pricier options around, the Mandarava is also undoubtedly one of the best (though maybe not for the little ones).
7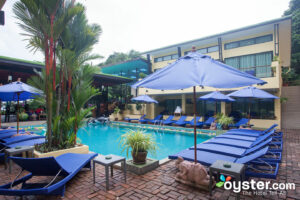 CC's Hideaway is an upscale boutique hotel with a hip and colorful vibe set on a peaceful hilltop overlooking the Phuket resorts of Kata and Karon. Being positioned far from the beach can feel isolating, but that gives the hotel a particularly secluded and tranquil ambiance -- perfect for its rooftop yoga or meditation classes. Some rooms benefit from superb sea and sunset views while -- unusual for the area -- its pool is open into the evening. All in all, the location won't appeal to everyone, but CC's is nonetheless an intimate retreat away from the crowds with relatively affordable rates.
8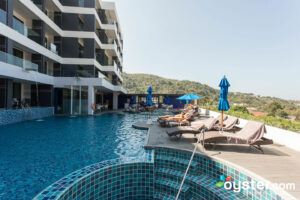 The four-pearl Yama Hotel has serenity in spades. This boutique property with its intimate size and quiet location aims to be a haven. And it certainly succeeds with its 104 stylish, streamlined rooms, most of which include deep soaking tubs along with robes and slippers. Its pool also offers tranquility, centered around a whirlpool and rimmed with loungers. There's even a small but appealing spa and fitness center. That said, the location, while quiet, is also removed from all the waterfront action, which can be a downside for those looking to hit the nightlife scene or walk to the beach. There also isn't a ton of features geared to kids, although kids' and teens' play rooms do contain some toys and video games. Those looking for a more central family-oriented property could consider the Deevana Plaza Phuket Patong.
9
The upper-middle-range Chanalai Romantica Resort is true to its name: a romantic and intimate adults-only spot that caters to couples, many celebrating anniversaries or honeymoons. Decor throughout is gilded and exuberant, including the 65 guest rooms, which come outfitted with soaking tubs, bathrobes, and balconies, some with direct pool access. A pretty pool, a restaurant with alfresco seating, and a location a short walk to the beach also enhance its appeal. However, despite its emphasis on romance, the resort lacks a spa, which feels like an oversight given how many other resorts in the area provide couples massages and similar treatments. Those seeking a boutique experience with a spa could consider the Foto Hotel or the Yama Hotel Phuket.
10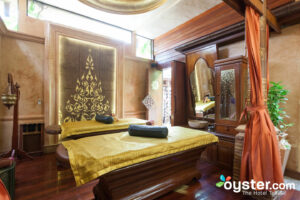 The upscale Baray Villa is an enchanting oasis in Kata Beach's bustling center, providing a fairytale setting with romantic Thai decorations and Moroccan latticework. The peaceful atmosphere is enhanced by bamboo and tropical landscaping, a pool encircled by greenery, a swim-up grotto bar, a lavishly designed spa, and a romantic restaurant. A total of 14 two-story intricately decorated villas have flat-screen TVs, hot tubs, and private pools (but sunlight is limited in villas and private pools). Most guests simply opt to sunbathe at the main pool or the beach.
11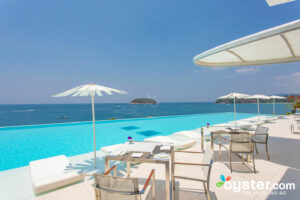 The 34 contemporary, minimalist apartments at Kata Rocks are unrivaled in an area where simple, traditional hotels are the norm. Sea views from this luxurious oceanfront property are a major attraction for couples of all ages looking for a romantic retreat. The full apartments themselves are as beautiful as the views outside, with sleek Italian decor, attractive private plunge pools, and west-facing terraces with ocean views across the bay. This resort offers on-site cooking classes and a good choice of Thai and international food from the poolside restaurant, plus a spa and fitness center. Unfortunately, though, there is no direct beach access. There's not much like Kata Rocks in the area, but travelers wanting private plunge pools in a more traditional package might try the Malisa Villa Suites instead.
12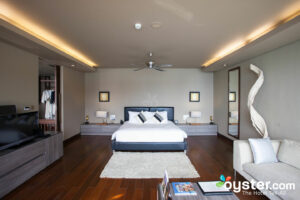 The 11-suite Impiana Private Villas Kata Noi is a romantic luxury resort perched high on a cliff overlooking Kata Noi beach. Each villa comes with its own infinity pool and a wall of windows overlooking the Andaman Sea. Add 24-hour room service, personal butlers, spa tubs, huge beds with sea views, and in-room spa services, and there may be no need to venture off-site, but an on-demand free shuttle is available for those who do. It's worth being aware, however, that a number of guests complain of maintenance issues.
13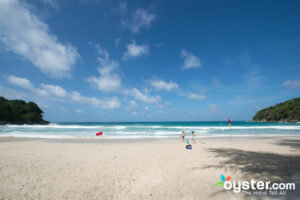 Le Meridien Phuket Beach Resort is a huge, self-contained complex surrounded by lush jungle that looks out over its own sandy beach. The hotel's large size can make it feel a little impersonal, but its scale does mean a vast array of facilities, including an enormous pool and a range of sport facilities. Spacious rooms have been sleekly renovated and many include lovely sea views. All this doesn't come cheap though, and you might also find yourself paying for plenty of extras -- including Wi-Fi -- if you book the room-only rate.
14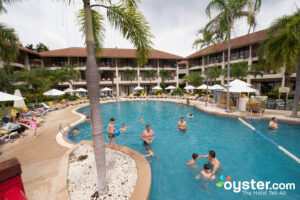 The 335-room Centara Karon Resort Phuket is a huge, self-contained resort located in Phuket's popular tourist area of Karon Beach. Unlike many resorts, the complex doesn't have direct beach access, but three large pools provide plenty of water-based activity. A choice of four zones means rooms can be suited to guests' needs, and there's certainly enough on-site facilities to keep everyone happy. Don't necessarily expect a peaceful vacation but, considering everything on offer, rates are reasonable.
15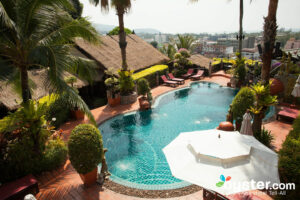 This three-pearl, 21-room resort on the outskirts of Kata Town is surrounded by lush tropical gardens and makes a good choice for couples or families looking for a quiet and peaceful retreat. The resort is located on a steep hillside, which isn't ideal for certain guests, but does mean that some rooms have beautiful countryside views. Built in the style of mountain chalets, the rooms are traditionally decorated and all have a private balcony. An attractive landscaped pool area adds to the feeling of relaxation. Freebies like Wi-Fi, on-site parking, the breakfast buffet, and a round-trip shuttle bus to Kata Beach are welcome extras. Those who prefer a livelier setting and don't mind simpler rooms should try the Baan Karon Resort, which has a similar price point.