Most Romantic Hotels in Salvador, State of Bahia
Take a look at the most romantic hotels in Salvador.
See All Salvador Hotels
1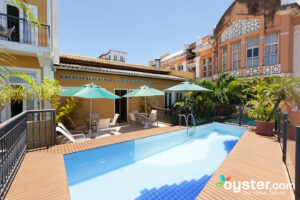 The upper-middle-range Hotel Casa do Amarelindo is a beautifully restored boutique gem in the historic center of Salvador, set amid colorful colonial buildings. This charming three-and-a-half-pearl property looks out over All Saints Bay, and its small rooftop pool is a rarity in Pelourinho. Other notable features include a traditional restaurant serving up home-style fare and a tropical garden bar. The 10 rooms are simple and stylish, with African-colonial decor and amenities like air-conditioning, free Wi-Fi, and Nespresso machines. The French owners live on-site, making things feel even more familial. This is a hotel for tourist couples and solo travelers; children under 14 aren't permitted. Downsides? The hotel can be tricky to find and there's no parking. For a similar experience, travelers could check out the six-room Aram Yami Hotel.
2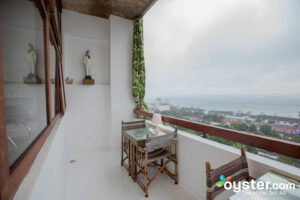 Given Salvador's dearth of high-end hotels, the Aram Yami is small but comfortable, rustic but bright and classy, replete with a refreshing pool and fresh breakfasts of warm baked goods and tropical fruit. The property is also within a 15-minute walk of the main square in Bahia's historic center and offers sweeping views of the harbor. Though lacking an on-site restaurant and spa, this boutique venue is one of the loveliest hotel options in the city, particularly for couples wanting to explore the area and have a romantic retreat.
3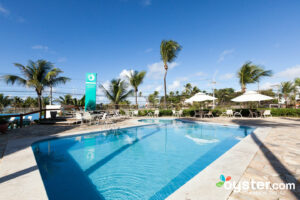 The upper-middle-range Mar Brasil is modern (having been updated in 2010), clean, and comfortable, directly across from the beach and 15 minutes south by car from the airport. It is one of Salvador's best value hotels but not terribly convenient for travelers wanting to explore the historic downtown area, which is about 30 minutes away by car. Still, as former home to poet Vinicius de Moraes, the place has culture and character. The 66 rooms are immaculate and breezy, and there's also a meeting area for business functions and two swimming pools to appease families and traveling couples wanting a safe and relaxing retreat.
4
With the 224-room Hotel Vila Galé Salvador located directly by the water, guests lounging by the pool or getting a massage will regularly hear sounds of the Atlantic crashing on the rocks below. The Vila Galé is one of Salvador's best options for couples and business guests alike, with the property 15 minutes south by car from the city's historic district. Although the beach below the hotel is not safe for swimming or walking, there are several bars and restaurants nearby. Taxi rides to most city and beach attractions are quick and affordable.
5
The 67-room Pestana Convento do Carmo is an upscale option located in the heart of downtown Salvador. It sits at the edge of the Pelourinho historic district, and there are many restaurants, shops, and bars in the area. The hotel is housed in a former 16th-century convent, so it is filled with historic charm, including in the spacious rooms and suites, which offer modern conveniences such as flat-screen TVs, air-conditioning, minibars, and espresso machines. The restaurant and bar have indoor and outdoor seating, though food gets mixed reviews. An outdoor pool is a relaxing place to cool off, and there's also a small spa and fitness center. A similarly priced alternative in this area is the Hotel Casa do Amarelindo, which offers views of the bay from its rooftop pool.