Best Boutique Hotels in Santo Domingo
Santo Domingo is a seaside city where 500-year-old churches stand alongside modern high-rise apartment blocks. The Dominican capital's best boutique hotels incorporate this same old-meets-new dynamic, with their enchanting blend of Spanish Colonial architecture and ambience and contemporary design and features. Take a look at the best boutique hotels in Santo Domingo.
See All Santo Domingo Hotels
1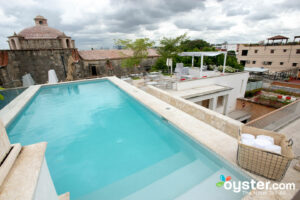 There are many reasons why this Zona Colonial boutique oasis is our number-one pick, but its 24 rooms may provide the strongest case for the designation. All seamlessly blend original 17th-century architectural details with modern design and high-tech amenities, like Smart HDTVs and Bang & Olufsen Wi-Fi radios. Guests can order 24-hour room service using bedside tablets, or request housekeeping or laundry service via touchscreen LCD panels near the door. Additionally, all rooms have private outdoor spaces and free minibars (with juice, bottled water, and soft drinks). Smart, sharp design and great features aren't limited to the rooms: the alfresco Castil restaurant and a modern bar serve as the property's prime social hubs by day, while the rooftop bar and infinity pool offer live music and a vibrant nightlife scene after dark. There are a small wellness center and fitness area in the hotel's basement. The former offers a full-service spa menu, and in-room appointments are also available. Continental breakfasts with local fruits and fresh juice, valet parking, self-parking in a secure lot, shuttle service, and Wi-Fi are all free.
2
The five-centuries-old buildings that house Hodelpa Nicolas de Ovando -- a UNESCO World Heritage Site -- form one of Santo Domingo's most charming and historic upscale hotels. The 97 rooms range from small to sprawling, but all include original, centuries-old design elements plus minibars, flat-screen TVs, free Wi-Fi, and Nespresso makers. The outdoor pool offers decent views of Rio Ozama and beautiful French La Residence restaurant (with live guitar music and available room service) is one of the city's most romantic alfresco dining spaces. The Hodelpa Nicolas experience is more patently historic and sophisticated and less chic and contemporary than the one found at Billini.
3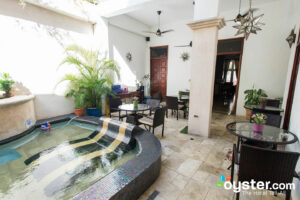 With equal doses of colonial charm and contemporary details, Casa Sanchez Boutique Hotel is a lovely boutique property that gets just about everything right -- all for low rates that include free breakfast and Wi-FI. The 10 rooms vary widely in size, and all include modern amenities like free Wi-Fi, mini-fridges, and flat-screen TVs. Spacious, apartment-style suites upgrade to kitchenettes and optional private balconies. A beautiful courtyard, lap pool, reading lounge, and rooftop sundeck with a hot tub offer far more social space than most boutique downtown properties.
4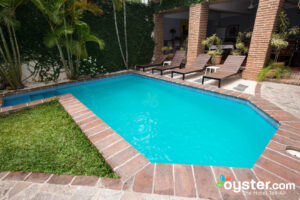 This nearly 100 year-old property's Spanish Colonial buildings are centered around a small, but lovely, outdoor garden courtyard with a pool. There aren't many additional common features (thus this hotel's position in the lower-half of our list), but the 11 rooms here are absolute charmers: Mediterranean and Moorish tile flooring, trendy fabrics, original artwork by local artist Jose Cestero, and distressed oak furniture all contribute to an eclectic and polished look. All rooms feature free Wi-Fi, air-conditioning, flat-screen TVs, and mini-fridges.
5
Though it has an unassuming pink front entrance, the interior of the historic Boutique Hotel Palacio beautifully blends historic Old World ambience (stone columns, arched entryways, original brick, a courtyard) and modern features (in-room flat-screen TVs and mini-fridges, a rooftop pool). Property-wide Spanish Colonial decor emphasizes the architecture's historic, intimate, and romantic atmosphere. While the historical nature of the hotel is charming, the lack of attention to detail is evident in some areas with peeling paint, missing light bulbs, and non-functional lamps and electrical sockets.
6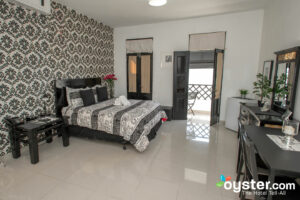 The contemporary design at the value-oriented Savoy Hotel Boutique Santo Domingo certainly stands out in an area packed with historic hotels. All 26 of the bold, glam-inspired rooms here include flat-screen TVs, air-conditioning, and mini-fridges; Suites upgrade to balconies. The hotel's location is its best asset as it sits at the western edge of El Conde -- a bustling pedestrian walkway that's home to dozens of tourist-friendly shops, restaurants, and bars. The cramped bathrooms, abundant street noise, and lack of features may dissuade some guests, but the bargain prices and decorative panache are real pluses.