Best Boutique Hotels in Antalya, Antalya Province
Take a look at the best boutique hotels in Antalya.
See All Antalya Hotels
1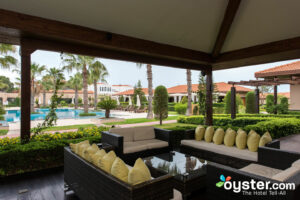 Set on several acres of manicured gardens that stretch all the way to a sandy beach, the upscale IC Hotels Residence is an all-inclusive property with a quiet atmosphere. Its 43 rooms range from two-bedroom suites with shared pools to four-bedroom villas with private pools and hammams. While not quite decadent, they're all comfortable, big, and well-equipped, and most have exotic Balinese decor. Though a restaurant serving Turkish and international cuisine, a spa, and serene outdoor pool are the only on-site amenities, guests get free access to all the amenities at neighboring sister property IC Hotels Green Palace, including its many restaurants, several pools, and entertainment. Travelers seeking something more luxe and stylish may want to compare rates at the Maxx Royal Kemer Resort, though it is about an hour from the airport.
2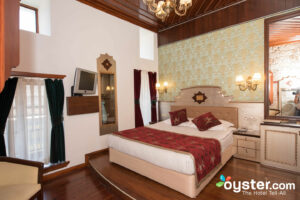 Housed in a historic building, the upper-middle-range Mediterra Art Hotel sits in the historical center of Antalya. Its 33 rooms have elegant, old-fashioned decor that reflects a sense of place. They're outfitted with minibars, flat-screen TVs, and air-conditioning, though no coffee- and tea-making facilities. In terms of features, highlights here include a pool, Turkish restaurants with some alfresco seating, and free Wi-Fi and parking. Unfortunately, the hotel's breakfast gets mixed reviews and the coffee is panned. Travelers might want to compare rates at the nearby Alp Pasa Hotel, which has three restaurants and rooms with coffee-making facilities.
3
Alp Pasa Hotel is a pleasant three-and-a-half-pearl boutique hotel with 50 rooms spread over several historic mansions. The hotel's central location in the heart of Antalya's Old Town, plus antiques and artifacts in the hotel's unique open-air museum, make this a great spot for history buffs. A small courtyard pool is a plus for previous guests, and three charming -- though expensive -- restaurants are on-site. Rooms are generally spacious and the three-bedroom villa is great for groups, but be warned that spotty Wi-Fi is only available in the hotel's common areas and Alp Pasa is stingy about free bottled water. Travelers who need Wi-Fi in their rooms might check out the nearby Mediterra Art Hotel instead.
4
The Tuvana Hotel is an upscale boutique situated in an 18th century mansion. There are only 46 rooms so guests are provided topnotch service. Elegant rooms feature local textiles and wooden beams, plus quality amenities that range from flat-screen TVs to minibars and kettles -- but past complaints about air-conditioning. Good thing there's a lovely pool in a courtyard filled with fruit trees. A free breakfast and three restaurants and a bar on-site provide plenty of dining options for any guest during their stay. The hotel is centrally located in the historic city of Antalya, making it easy to reach all main attractions in a 10-minute walk or less. The nearby Hotel Aspen is a good alternative with the added benefit of a sauna on-site.