Here's a bit of advice people are given when learning how to surf: "When in doubt, paddle out." In other words, get out beyond the breakers -- the spot that looks like the heart of the action -- to best prepare for, and execute, the perfect ride. Now let's apply this logic to beach vacations. The novice traveler might look at his or her social media feeds and see friends throwing back rum-and-cokes in the Dominican Republic or frolicking on the sand at a massive all-inclusive resort in the Bahamas and think, "That! There! I must go now!"
Take a deep breath, though, because envy can make the wisest of us blind (and lead to poorly planned, impulsive-decision making). With this in mind, we recommend that travelers should be willing to paddle out beyond the Caribbean, where they can find some truly spectacular (and different!) beach destinations around the world. They range from busy and bustling urban beach cities like Rio de Janeiro and Sydney, to more off-the-beaten track destinations like the Philippines' Palawan Islands. These ten sunny spots we've picked -- that are not in the Caribbean -- will scratch any traveler's itch to go far and wide while soaking up the sun in perfect style, or perfect seclusion.
1. Palawan, Philippines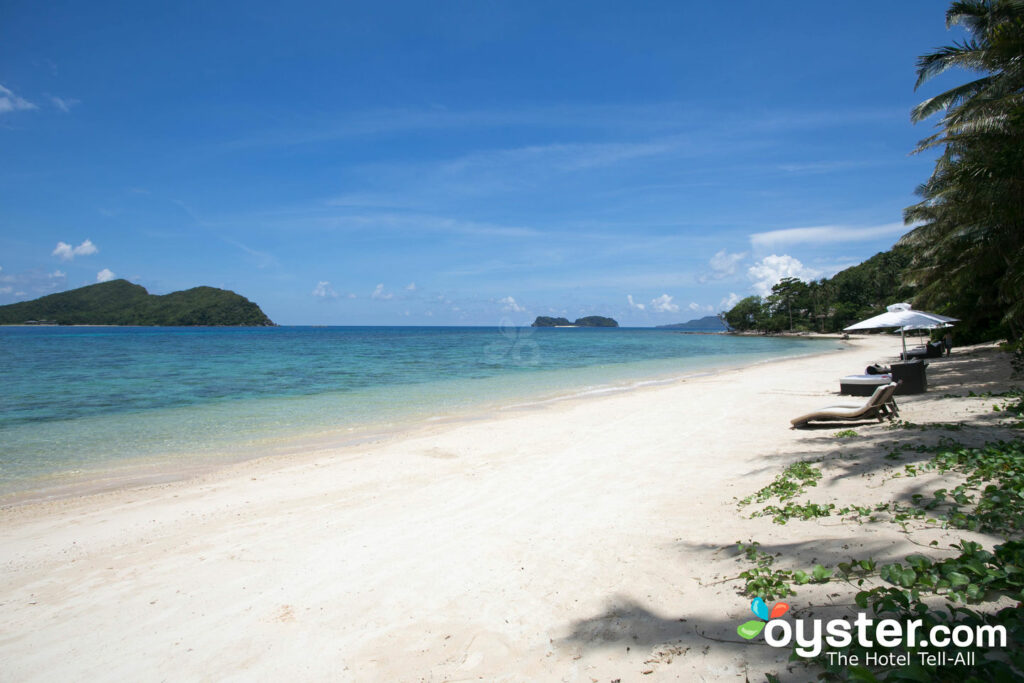 It's in a truly special
place on earth where visitors can feel like they've found their own private
retreat — in fact, many of us are searching for exactly that experience when we go on
vacation. This long chain of islands in the western Philippines delivers precisely that feeling for travelers willing to go off the beaten path. Palawan is the least populated of the Filipino
provinces, and the islands are home to a staggering number of wildlife species, many of which are found nowhere else on the planet.
Palawan's islands are
ringed with aquamarine waters and its uncrowded beaches are lined with palm trees; there's a corner of beach for everyone from budget hostel-goers to wealthy resort-hoppers.
The archipelago is also home to some of the world's best snorkeling and diving, and the laid-back island vibes are hard to top.
Hotel Pick: Palawan has
hotels of all types, from no-frills beach shacks to top-of-the-line luxury
resorts. El Nido Resorts Pangalusian Island falls into the latter category, but
without any of the pretense. The resort's 50 stand-alone villas make up the only
development on the island, so it's a perfect choice for those looking to be
left alone by the world.
2. Krabi and Phang Nga, Thailand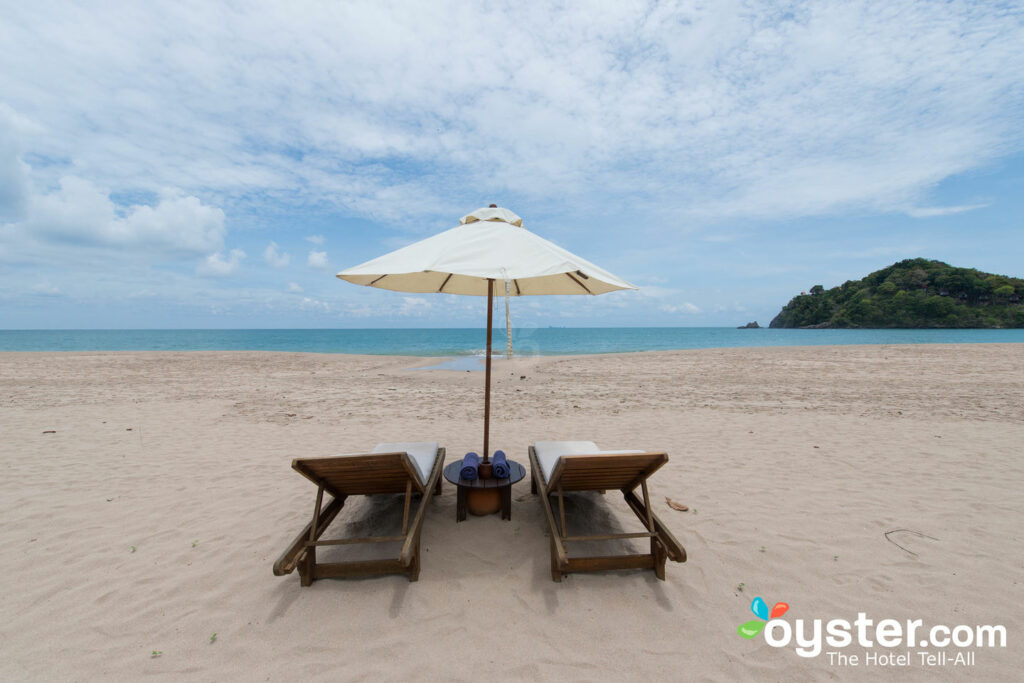 Krabi and Phang Nga are sometimes called Phuket's sleepy and less-popular sisters — but don't let rumors fool
you. Wrapping around the turquoise waters of the Andaman Sea's Phang Nga Bay, these two provinces
have an abundance of jungle scenery and tranquil beaches. Krabi is home to wildly
popular islands like Koh Phi Phi and Koh Lanta, while Phang Nga has the Koh Yao islands, an undeveloped glimpse of tropical island life amongst a
laid-back community of Muslim fisherfolk. The warm and shallow waters also happen to be some of the more soothing places to let go on the globe.
Phang Nga Bay is dotted with dozens of uninhabited, photogenic jewels that jut dramatically out of the sea, like James Bond Island and Hong Island. Keep in mind that tidal fluctuations are extreme in this area and at low tide, wide flats appear that are great for shelling — but limit swimming times. Still, when the tide is in and the
sun is setting over the islands in the distance, the beaches here are hard to
beat.
Hotel Pick: The Tubkaak
Krabi Boutique Resort sits on Krabi's mainland and its beach is one of the
prettiest along Phang Nga Bay. Villas and rooms are decked in teak, and the vibe is
secluded — the resort almost feels swallowed by the jungle. Views of the karst islands in the distance are worth the trip alone.
3. Sydney, Australia
No amount of imagination
will turn sprawling Sydney into a secluded tropical oasis, but for travelers
who like a big dose of culture and cosmopolitan flair alongside their surf and
sun, it's hard to beat this stunner of a town. There are plenty of beaches to
choose from throughout Sydney, and each has its own personality. Bondi Beach
is a slightly scruffy, bohemian neighborhood of casual restaurants, trendy boutiques, and surfer shops, while the crowded beach is backed by a street-art filled sea
wall. It's also home to the
tourist must-do, the Icebergs Club, a bar and beach club with a seaside pool
that's a fine place to sip a cocktail above the waves of the Pacific Ocean crashing below.
For a more locals-only scene, Manly Beach in the city's northern suburbs is a
solid bet. The neighborhood is home to plenty of surf schools, upmarket
cafes, bookstores, and shops. The beach is also much larger and less crowded
than Bondi, and there are smaller coves tucked into the stunning jagged
coastline.
Hotel
Pick: For the closest hotel-to-beach proximity, Manly Beach is one of the top picks in Sydney. We like The Sebel Manly Beach, which has simple-but-stylish rooms with big, furnished balconies. There's a pool on-site,
too, but who cares when the beach is just across the street?!
4. Uruguay
Brazil to the north,
Argentina to the south — tiny Uruguay often gets overlooked. But treating the
country like a fly-over state is a major mistake for any beach lover. From the
glitzy hotels and casinos in seaside Punta del Este to more slow-paced beach towns like
Rocha, there's a lot to love about Uruguay's Atlantic beaches, which spring to
life right when North Americans are beginning to freeze.
For a real bucket-list
breaking escape, plot a trip to Cabo Polonio. This secluded peninsula
is perfect for those looking to feel like they are on a beach at the end of the
world. The village is really just a collection of shacks and beach huts amid a
wide sweep of sand dunes and boulders, with calm seas on one side and pounding surf on the
other. There are no roads going here and travelers must pick up a ride on a
4×4 after being left on the side of a road by buses bound for Valizas from
Montevideo. Expect sea lions, lots of sand, and plenty of stars at night — Cabo Polonio is truly off-the-grid travel and the lack of streetlights means the night skies
blaze while the surf hits the beach.
Hotel Pick: Most travelers will want
to stop in civilization before or after heading out to the wilds of Cabo
Polonio. The Atlantico Boutique Hotel in Punta del Este has beachy,
contemporary rooms just a five-minute walk from tiny Playa de Los Ingleses.
5. Cape Town, South Africa
With the
Atlantic Ocean below and iconic Table Mountain overhead — not to mention an
enviable wining-and-dining scene — Cape Town is a multi-ethnic blend of
cultures that's home to some dazzling shoreline. The catch? These Atlantic
waters are skin-numbingly cold year round, so the beaches are best for
sunbathing, snapping pictures, and surfing. Surfers will find renowned
swells at Scarborough Beach and in Hout Bay, while there's plenty of tamer
coast along marginally warmer False Bay as well. Clifton Beach — an upmarket Cape Town suburb — is home to one of the city's most spectacular beaches, with picture-worthy sunsets and the Twelve Apostles mountains soaring overhead.
Hotel Pick: Visiting
Cape Town's best beaches requires a car, so staying just outside of the city
center is an attractive option. Glen Boutique Hotel is an LGBT-friendly
property that attracts tourists of all stripes thanks to its stylish interiors,
swish outdoor pools, and proximity to the ocean — Clifton Beach is just
a 10-minute drive from here.
6. Phuket, Thailand
Oh, Phuket — no beach
list would be complete without it, and yet it definitely inspires a love/hate reaction from most who have been to Thailand. Indeed, Phuket is the reason many package tourists, honeymooners, college spring breakers, and backpacker makes their way to Thailand in the first place, and the truth is that for many
travelers, Phuket has exactly the beach they need. Patong Beach — the main draw
for many Phuket visitors — is packed with vacationers looking to experience "Thailand,"
which is to say Chang beer, all-night parties, hungover days, and paid company.
Outside of the lively and crowded towns, though, Phuket still has some
quintessentially gorgeous beach areas. Head north from Patong to find plenty of seaside villages and resort complexes cresting along the Andaman's photogenic
turquoise waters. More relaxed options include Surin Beach, which is just
developed enough, and Layan Beach, an even more rustic option. For a little nature with all of the sun and surf, head to Surinat National Park, which is home to leather-back sea
turtles that nest on the beach.
Hotel Pick: The Surin
Phuket shares its beach with just one other high-end resort,
meaning that the crowds and hassles of other Phuket beaches are kept at bay. The resort's peaceful vibes are
maintained by yoga and meditation classes on the beach.
7. Rio de Janeiro, Brazil
One
cannot discuss beach vacations without mentioning the
queen of beach towns: Rio de Janeiro. Blessed with a jaw-droppingly beautiful
coastline, the sandy beaches and frolicking Brazilian beauties have inspired
plenty of admirers over the years. Its iconic beachside districts of Copacabana and
Ipanema are the main draws in town, though slightly less well-known Arpoador is
also worth considering (especially since it's wedged between its two glitzier neighbors).
If the sun
and sand become too much, take a day trip to the Christ the Redeemer statue — the largest Art Deco statue in the world — or hit up one of the cutting-edge
galleries in Ipanema and Copacabana, like Artur Fidalgo and Luciana Caravello.
Then again, why bother leaving the beach when everything from mate to
caipirinhas to esfihas (a type of flat-bread sandwich) will come right to you
from the many vendors traversing the sand?!
Hotel
Pick: Want a reasonable stay overlooking Arpoador's quiet, sandy beach? Try the
Arpoador Inn, which abuts the ocean and has bright rooms with a simple, modern
style. Willing to walk a few blocks to the beach? Ipanema's Casa Mosquito Hotel
has a rooftop pool with stunning city and ocean views, plus rooms that blend
colorful contemporary design with vintage accents in sharp contrasts.
8. Cape Le Grand National Park and Esperance, Australia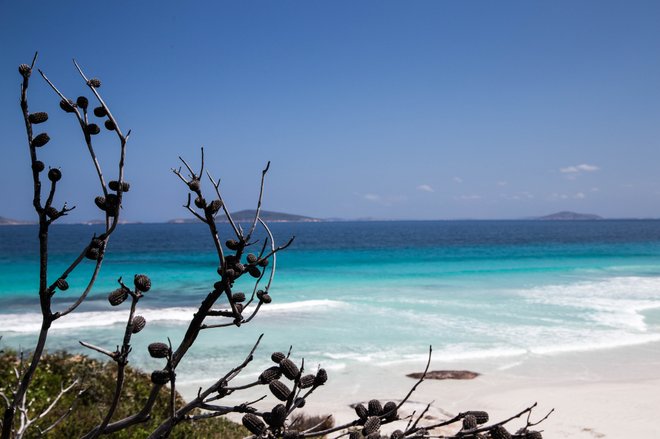 Do
not go to Cape Le Grand National Park looking for swank beachside eateries or trendy
boutiques. About 45 minutes outside of the town of
Esperance in Western Australia, this spot is instead an abandoned beach lover's dream. There are numerous
tranquil coves rimmed by white sand and dunes throughout the park, including
Hellfire Bay and Lucky Bay, and there's nothing in the way of development. Oh,
and the pesky saltwater crocodiles that live in the ocean in other parts of
Australia won't be a problem here either. Camping facilities are available in
the park, but other than that, there are no hotels or services. Nearby Esperance is the closest developed town for those needing to
stock up before spending a few days in the middle of nowhere, or who don't mind the drive back and forth for the perk of staying in a hotel. As an added bonus, Esperance is also
home to some truly pretty beaches of its own.
Hotel
Pick: Most flights to Esperance from Australia's east require a layover in
Perth, so why not hang out in town for a few days. The city is ringed by
wineries and beaches, and has a cultural cache to keep most travelers entertained.
The Richardson Hotel & Spa offers comfy rooms with plush details and is within
a quick walk of Perth's scenic Kings Park & Botanic Garden.
9. Goa, India
By no means a secret, Goa
is one of India's tiniest states and it attracts visitors in droves during
high season — with good reason. Its palm-lined shores and cliffside beaches are
some of the most well-kept in India, and the tourist infrastructure runs like a
well-oiled machine, making it easy to get around. Those looking to rave until
dawn should head north to Baga, Anjuna, and Vagator for dance parties, beach
bars, wild clubs, and surf. Our pick, though, is the comparably more tranquil beach scene in southern Goa. The small village of Palolem sits on a stunning crescent of sand that's framed by
tropical hills and lined with beach huts — not to mention the occasional visit from a villager's cow and mind-blowing sunsets. When the sun goes down, the surf
crashes under the moonlight and we swear that you'll never have a Kingfisher beer
that tastes as good again in your life.
10. Langkawi, Malaysia
While many of Southeast
Asia's idyllic beaches have been bulldozed by rampant development, Langkawi
has resisted the worst of mankind's tendencies to pave over what it loves. The
archipelago's official name translates to "Jewel of Kedah," which is the state
that Langkawi calls home — and it's an apt moniker.
Make no mistake, there are
plenty of chances to live the high life here, but Pulau Langkawi, the main
island, offers lots of secret-feeling beach destinations to help even the most
uptight office dweller unwind and forget about the cold world they've left
behind. Gorgeous sights like the Telaga Tujuh Waterfalls can be found inland,
but the beaches are the star here and include Pasir Tengkorak, Tengah, Tanjung
Rhu, and Cenang. Want to feel like you're on an abandoned island? Take a day
trip to Pularu Beras Basah or any of the other tiny islands dotting the waters
off Langkawi's coast.
Hotel
Pick: Those looking for luxury on Langkawi's Andaman shores have plenty of
choices available. The Four Seasons is as luxe as it gets and has some rooms
with private pools, plus an enviable location on the beach near Kilim Karst
Geoforest Park. For an even more isolated option with an eco-friendly focus,
The Andaman, A Luxury Collection Resort, has rooms that blend traditional and
contemporary style.
Related Links:
All products are independently selected by our writers and editors. If you buy something through our links, Oyster may earn an affiliate commission.