How is it already August?! This summer may be swimming by -- we have some pretty hardcore party scars to prove it -- but it's not over yet. The sun is still shining, so in our book that means that there's still time for clear booze and colorful sundowner cocktails. And, since there are only a few more summer Fridays to squeeze in before the school year starts, here's a list of hotels that won't throw salt in your summer party game (but they just might throw it in your margarita!). So, Cheers! Salud! Skål! Proost! Party like the summer's almost over because, well, we hate to break it to you -- but it is.
The swank Hard Rock is off the Strip, but it knows how to throw a party, particularly at the pool. Home of Rehab (arguably Vegas' best pool party), go-go dancers in the casino, live music at The Joint, partying at Vanity nightclub, and stylish cuisine at Nobu or Ago, this sinful Strip property has earned lots of Oyster Awards for partying. Arguably even more so than the Palms, Hard Rock is one of the most unapologetically hedonistic hotels in Las Vegas. It's a place where wanna-be rock stars and, well, real rock stars come to party, gamble, and trash their hotel rooms. Of course doing so will cost you, or your record company, a fortune.
Photo Credit: Carlos Pancheco, Flickr
This upper-middle-range, 180-room hipster haven has a palpable party vibe and frequent music nights with a live DJ. The style is retro, with 70s details such as record players and vinyl in the rooms. It can be really loud here, and the property draws a young crowd (with dogs in tow), so older couples who want to relax, and perhaps families, may not want to stay here. But it has easy highway access to the rest of downtown Palm Springs and a purposeful off-the-beaten-path vibe.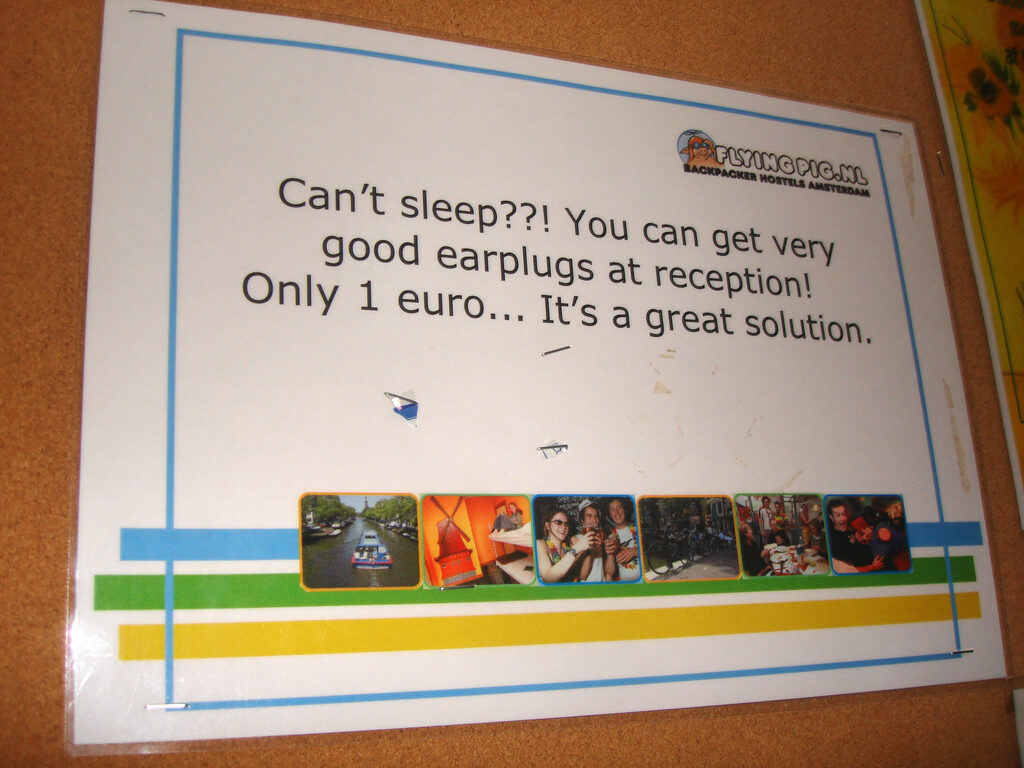 Photo Credit: Luke Montague, Flickr
One of the two Flying Pigs in Amsterdam, this (in)famous landmark hostel is unashamedly geared towards the young party crowd. Housed in an 18th-century townhouse, its bright colorful lobby attracts backpackers and weekend revelers looking for good times. Decor is fun and funky in common areas with colorful murals, eclectic furnishings, and a whiff of cannabis. The atmosphere (perhaps unsurprisingly) is relaxed and friendly, especially in the cozy cushion-scattered smoking room; things liven up in the evening in the busy bar with regular DJ sets. Battling a hangover or need a good night's sleep? Don't worry: Reception has got you covered with a set of (very good, apparently) earplugs.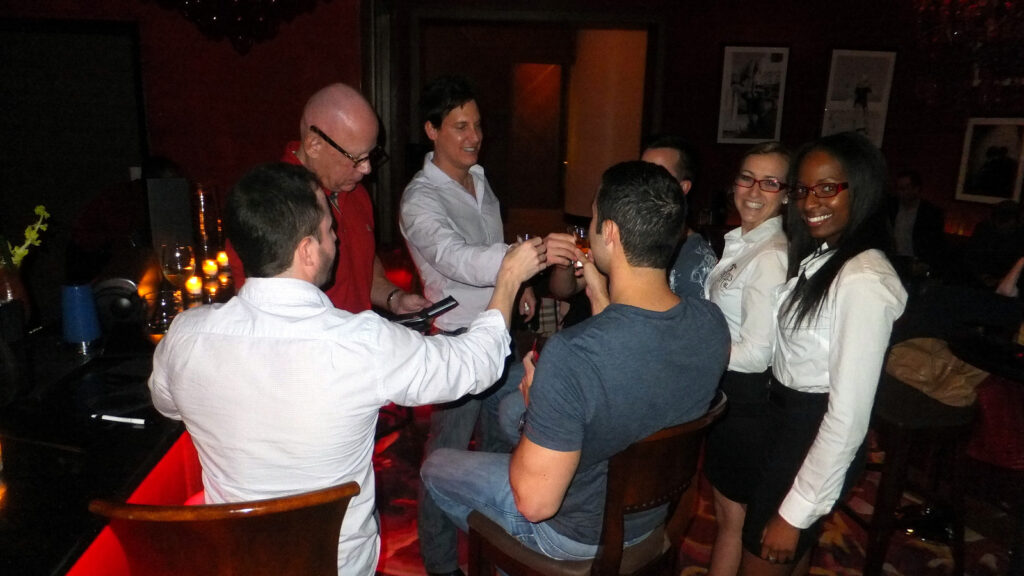 Photo Credit: Devils Cut Nola, Flickr
The Saint is anything but saint-like. Although the hotel is not a huge party destination per se, it does have a sexy Jazz bar, a rooftop bar with expansive city views, and 166 chic rooms with a couple of frisky touches, such as the "Do Not Disturb" signs that play with the angel/devil dichotomy. The Saint is a sleek hotel located on the border of the French Quarter and the Central Business District. There are great nightlife options on-site: a rooftop bar — offering expansive city views — and the sexy Burgundy Bar with live music. But foodies might want to explore the myriad dining options outside the hotel instead of eating at Tempt.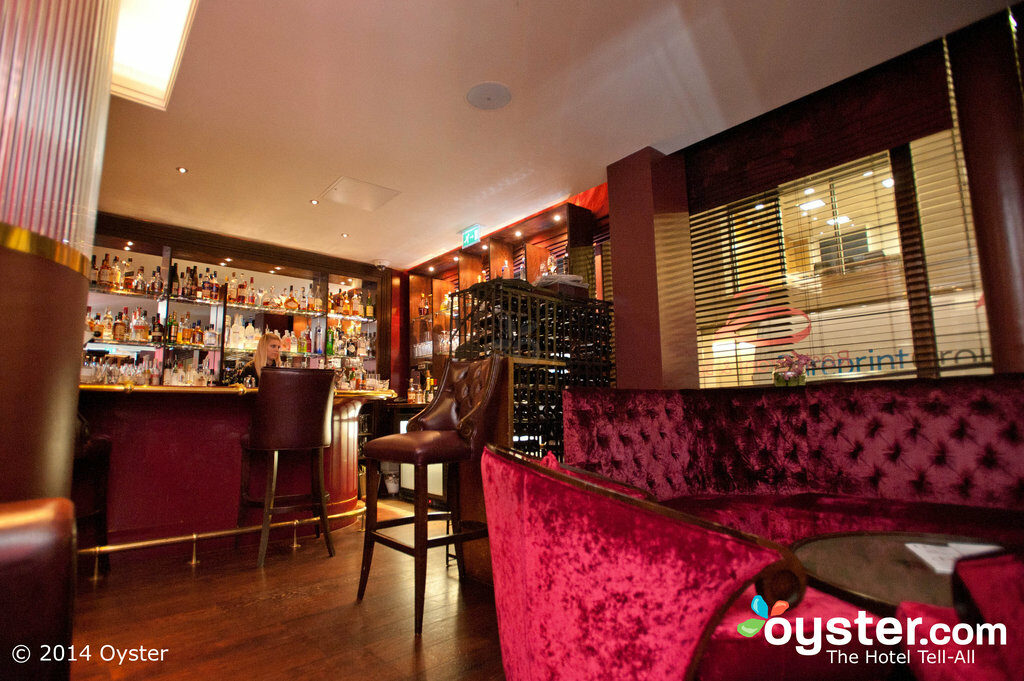 This boutique hotel exudes a playful rock 'n' roll vibe, thanks to extravagant details such as diamante-studded door handles and electric guitar rentals. Like any good party hotel, its rooms are starting to show a bit of wear and tear. In her past, the Sanctum Soho drew the likes of Britney Spears, but now it largely attracts British reality TV stars and rock star wannabes who like to party all night. This hotel's big party draw is its 24-hour rooftop bar, complete with a whirlpool. Since rooms are not well insulated from noise, light sleepers may prefer a more tranquil hotel.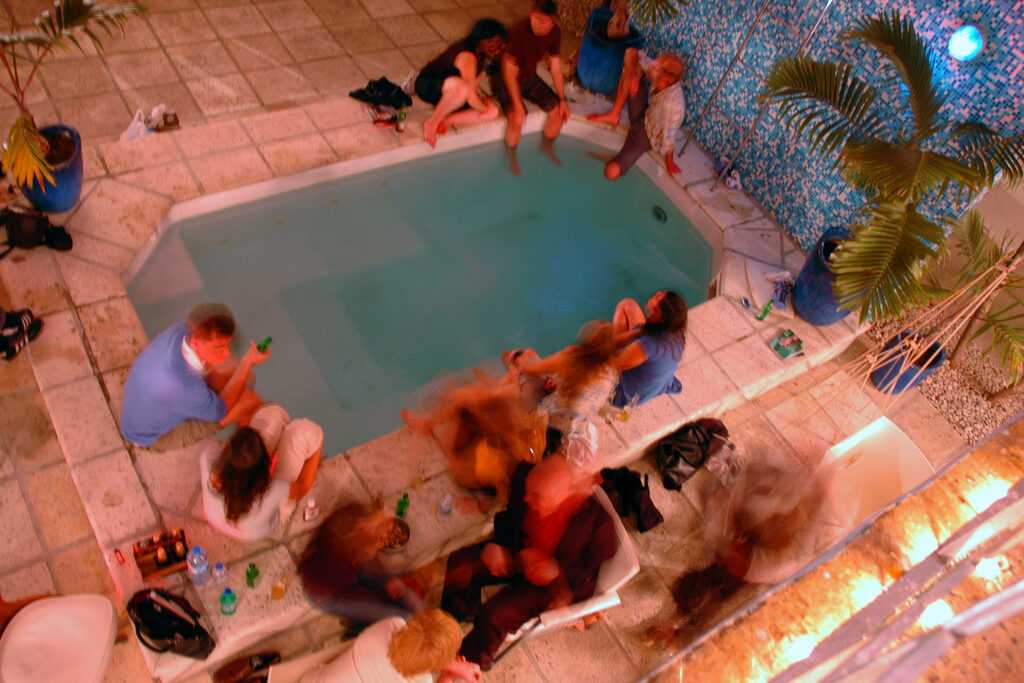 Photo Credit: Andy Pixel, Flickr
Located on Collins Avenue, one block from the beach and opposite a few high-profile party hotels like the Delano and the Raleigh, the 45-room Aqua is an ideal crash pad that won't break the bank. Not all parties have to be classy, and that is certainly the vibe at Miami's Aqua Hotel & Lounge. Let's put it this way: When we arrived, we walked by a room full of girls sleeping off their hangovers with the door wide open. When we checked out, more 20-somethings were celebrating the midday sun with a bottle of sparkling wine on the second-floor deck. Party on!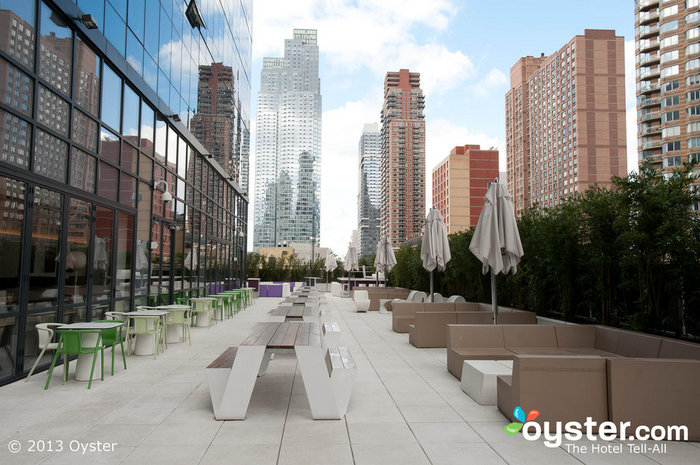 New York City's Yotel is part of a European hotel chain that cleverly combines the teeny-tiny quality of pod hotels with hip — and even luxurious — amenities. The Club Lounge is traditional and simple with entrees such as chicken and pasta, sirloin steak, and hamburgers. At night, the scene is that of a trendy bar, with "private cabins" serving as party rooms with bottle service. The party continues on the huge terrace, which features two bars and amazing views of the city. Summer weekends get day drunk when an "all you can eat, all you can drink" takes over the Dojo and the Terrace; brunch is served on the terrace during warm months. Surrounded by some of Manhattan's hippest socialites, you can listen to great DJs and live performances while enjoying the midtown view.
Situated in a Modernist section of the Eixample and only a block and half from Las Ramblas (Barcelona's party pulse), the 92-room Hotel Pulitzer Barcelona is housed in a beautifully restored 1920s building. The Pulitzer draws a young hip crowd to its buzzy party vibe and is conveniently located in the heart of the action and within stumbling distance from the Catalunya metro stop. The superbly designed hotel features sumptuous yet understated interiors with rich materials of wood, leather, and stone. The lavish rooms come with plush beds and flat-screen TVs. The excellent dining and drinking venues include a rooftop bar, which is a hip place to mingle and take in city views. The hotel also offers free access to a nearby health club with an indoor pool.
This 300-room Hollywood Roosevelt Hotel, literally an L.A. landmark, combines the shimmer of silver-screen history with a cutting-edge (and exhausting) party scene centered around its multiple bars and massive pool. But beware, they are selective. Not even guests can get on the list at A-list favorite Teddy's. But you can stay up late at the poolside Tropicana bar where parties go until 2 a.m. (Good to know if you book one of the cabana rooms that overlook that scene.) If kitschy is more your thing, check out The Spare Room–touted as a modern day gambling and cocktail lounge — and Beacher's Madhouse — a Vaudeville-inspired theater with nightly variety acts ranging from fire-breathers and contortionists to live animals and burlesque. Keep your eyes peeled for famous DJs on the tables and celebrities in the halls.
The adults-only Secrets caters to honeymooners and couples, but of the more party-hearty variety. The resort offers numerous on-site bars as well as nightly entertainment. Guests looking to unwind and let loose don't seem to mind the lack of a golf course, instead choose to take a swing at the pool's swim-up bar. The massive pool is indeed the resort's highlight, with a lively scene and volleyball net.
Check out Oyster's page on Google+
To learn more about Katherine Alex Beaven, visit her on Google+
RELATED LINKS: