Additional reporting by Anne Olivia Bauso.
Summer is here, which in Las Vegas means one thing: Pool season has arrived. All across town, vast hotel pool decks are shaking off their off-season sleepiness and embracing their summer selves -- which, for some hotels, means a serene oasis-like scene for beating the heat, and for others, the rowdiest party this side of Rio -- complete with nonstop bass and bikini-clad waitresses spraying guests with Champagne. So, whether you're looking to wind down or throw down, there's a Las Vegas pool with your name all over it. Here are the best pools in Vegas for every mood, and what to expect at each one. Note that hotel guests enjoy free pool entry, while non-guests can typically purchase day passes. Vegas pool parties with live entertainment require a cover charge for both hotel guests and visitors.
Encore at Wynn Las Vegas is not known for its restraint. The 2,000-plus-room luxury casino is a place with enormous rooms (you could host a small party in the bathroom), classy restaurants, and one of the best pool parties on the Strip. Encore Beach Club is open Friday through Sunday, several months a year. The poolside club is a whopping 60,000 square feet, and contains three tiered pools, cabanas, bungalows, and a gaming pavilion. The complex may be ginormous, but still expect to fight with around 4,000 people to get to the stage or a bar. Past performers include Diplo, Afrojack, and The Chainsmokers as resident DJs.
One of the first mega-resorts to hit the Strip, the 3,044-room Mirage goes relatively light on the glitz and is among the more family-friendly destinations in Las Vegas. Head out to the pool before 8:00 a.m. and you'll already see a line of guests with their beverages and books eager to be let in. Open and heated all year, the lagoon-like pool features cascading waterfalls and thick surrounding greenery. Relatively subdued music plays throughout the complex, which has hot tubs and decked-out cabanas — some more quiet and secluded than others.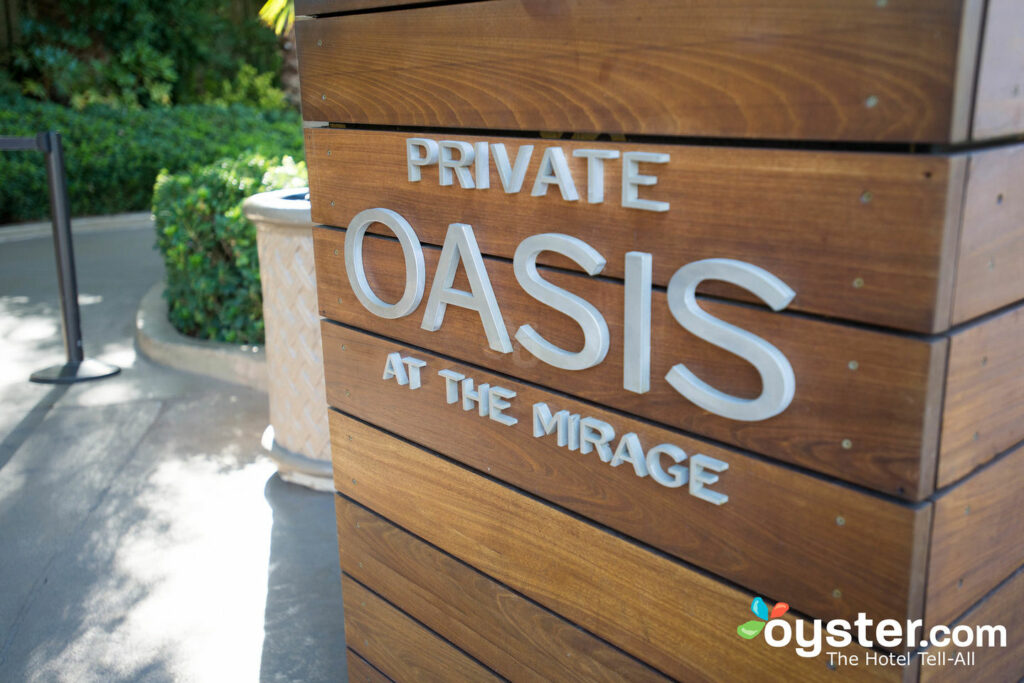 Mirage's Private Oasis, with comfy chaise lounges and poolside service, provides a more exclusive experience. There's also the — a topless-optional area just off the main pool with a bar and live DJs. Mirage guests get free entry before noon, but otherwise there's a daily fee.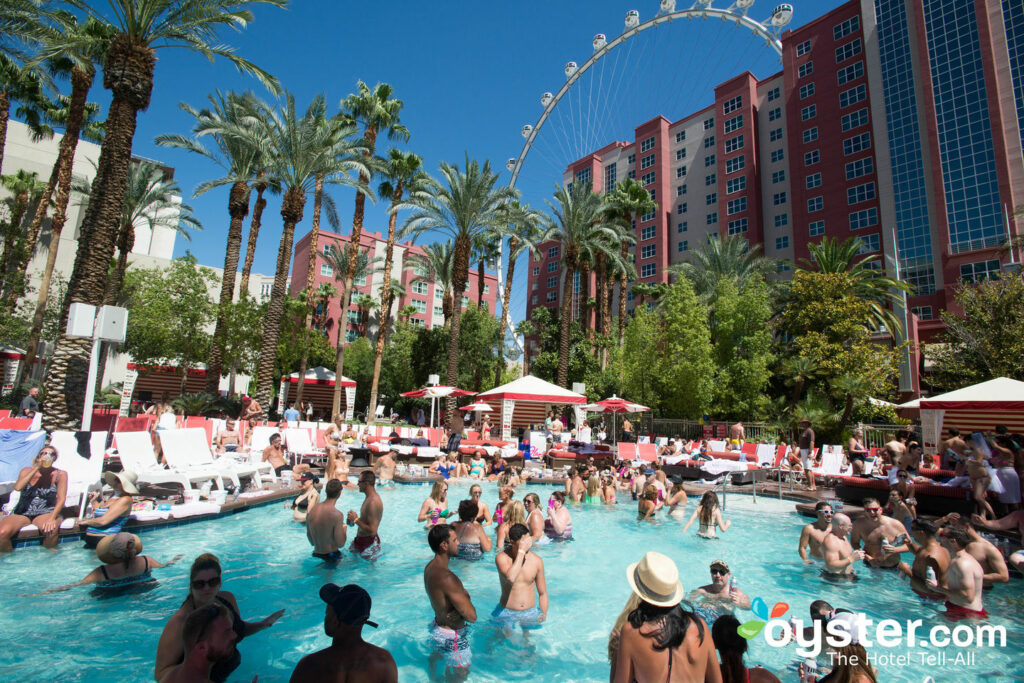 Opened in 1946 by mobster/bootlegger Benjamin "Bugsy" Siegel, the Flamingo is one of the most iconic resorts on the Strip. It figures prominently in Hunter S. Thompson's gonzo opus "Fear and Loathing in Las Vegas," and in the 1960 and the 2001 versions of "Ocean's Eleven," which were filmed on-site. The fluorescent-pink Flamingo is no longer the standard-bearer for Las Vegas lavishness, but it still draws hordes of young adults (especially bachelor and bachelorette party groups) and couples.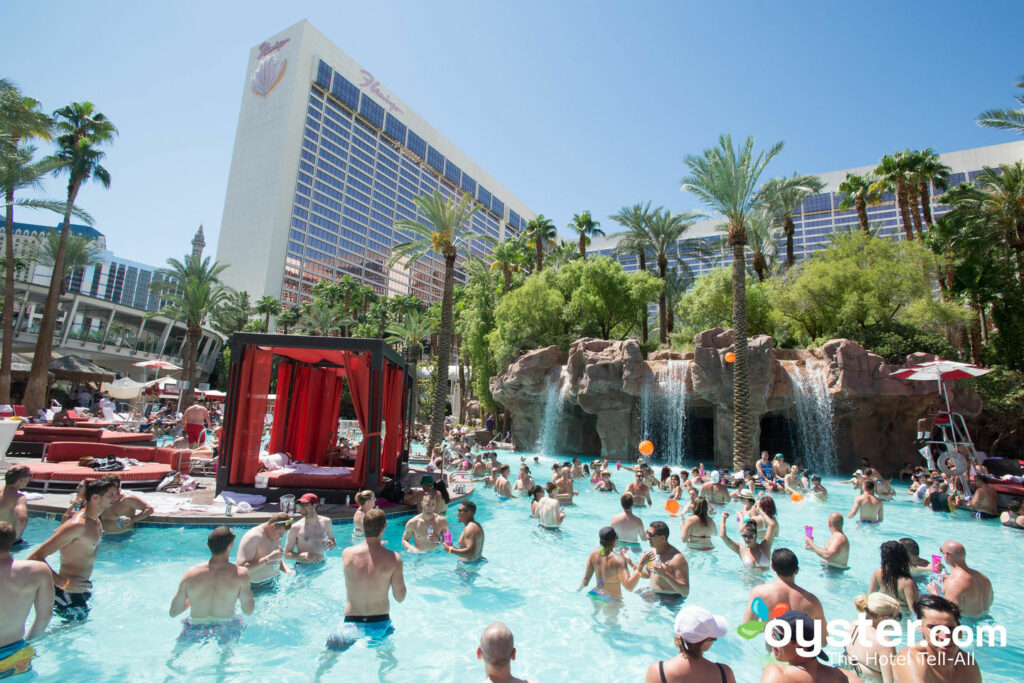 The hotel's huge GO Pool Dayclub, which hosts DJs seven days a week starting in early March, is regularly mobbed by the 21-and-over set. Surrounded by palms, waterfalls, pool chairs, and bars serving frozen cocktails in pink cups, the crowded spot is best for guests who want to partake in — or at least watch — limbo and booty-shaking contests. Travelers can reserve a daybed or cabana.
Hard Rock is one of the most unapologetically hedonistic hotels in Las Vegas. The hotel's sprawling, five-acre grotto pool complex includes three different pool areas, including the guests-only Nirvana Pool and 21-and-over Breathe Pool. However, Labor Day 2019 marks the end to the legendary Rehab Beach Club, which held buzzing party on Fridays, Saturdays, and Sundays. Rehab practically launched the whole daytime pool party scene in Vegas, but after 15 years, it's shuttering due to the hotel reportedly changing to a Virgin property.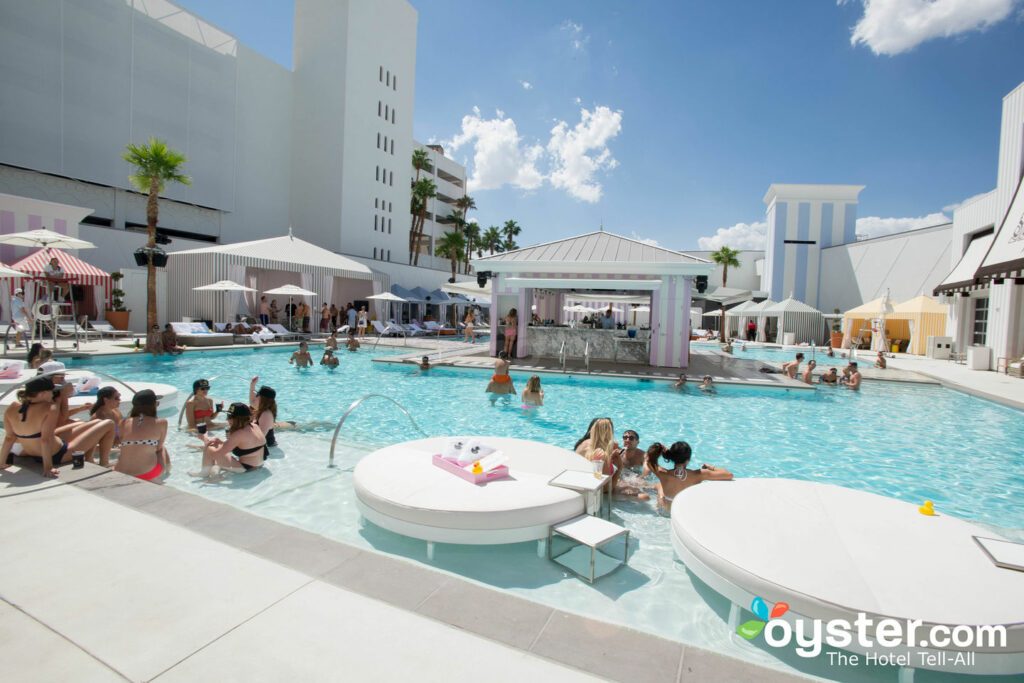 The Philippe Starck-designed SLS Las Vegas has a gorgeous outdoor pool with sun loungers, a bar, and weekend DJs. Although music is blaring and the Foxtail nightclub is adjacent to the pool, the vibe is relaxed (again, by Vegas standards) and — like the hotel — attracts a crowd of mostly 20- and 30-somethings. Like its sister property in , the SLS Resort Pool has a rubber ducky theme, including a huge metal duck near the entrance, ducks printed on the towels, and yellow rubber duckies sitting on the daybeds.
There are also a seasonal rooftop pool, Rertro Pool Lounge, which is family-friendly, and an adults-only Rooftop Pool called the Alexandria Pool. The latter is for adults 21 and over, has a bar, and permits European sunbathing.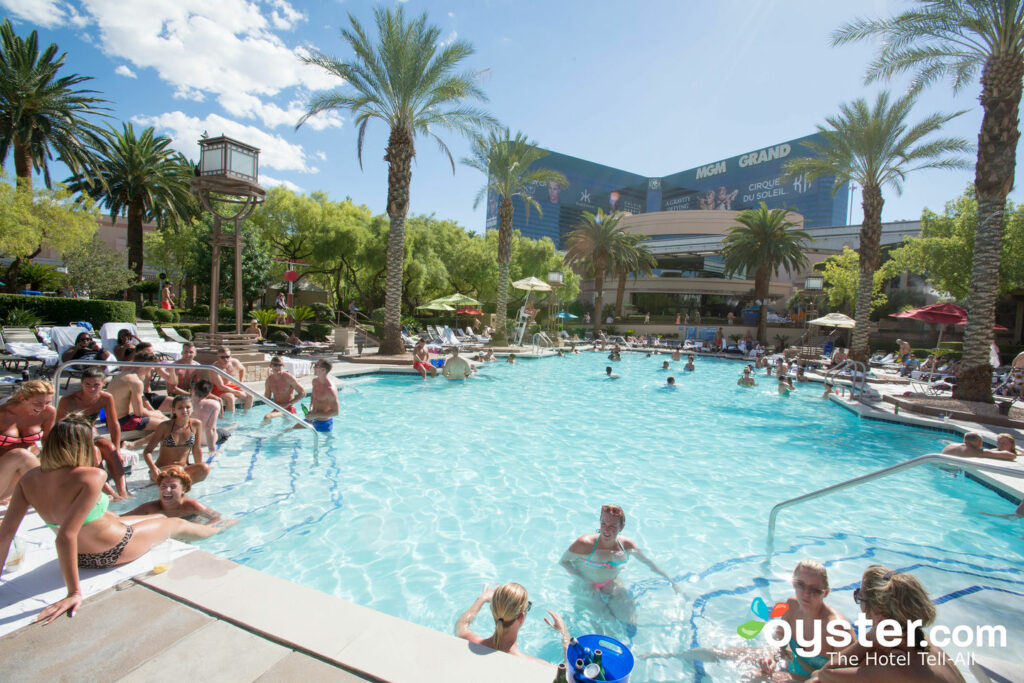 With waterfalls, caves, hot tubs, islands, cabanas, and palm trees, the pool complex at MGM Grand is one of the most impressive in Las Vegas. It's also one of the biggest — its five pool areas cover six-and-a-half acres. One of the pools is a long, winding river for inner tubes that puts the lazy-river pool at Mandalay Bay to shame. Two warnings: The MGM pool complex can get seriously crowded in the afternoons (the pools at the MGM Signature are much mellower) and the entire complex shuts down in the winter.
Although some of the main areas already have a party vibe with speakers blasting Top 40 hits, extreme revelers can go to the adjacent 54,500-square-foot party pool. Generally open on weekends most months of the year, Wet Republic brings in world-class EDM DJs, like Calvin Harris and Kaskade, to rile up the lively crowd. However, expect long wait times to get in, pricey drinks, and sometimes dirty-seeming water.
A 4,004-room mammoth of a hotel, ARIA aims to outdo its fellow Strip giants with its roughly two dozen restaurants, bars, and lounges, and a nightclub. At ARIA's three pools, guests (mostly adults) are simply soaking up the sun, scrolling through their phones on loungers, dipping in the water, or roosting on the perimeter with friends and a bucket of beer. Having three small to medium-sized pools allows for a quieter, more relaxing atmosphere, though speakers piping out pop music provide a bit of a beat. The pool bar serves light fare and drinks, and waitstaff circles the deck until late in the afternoon.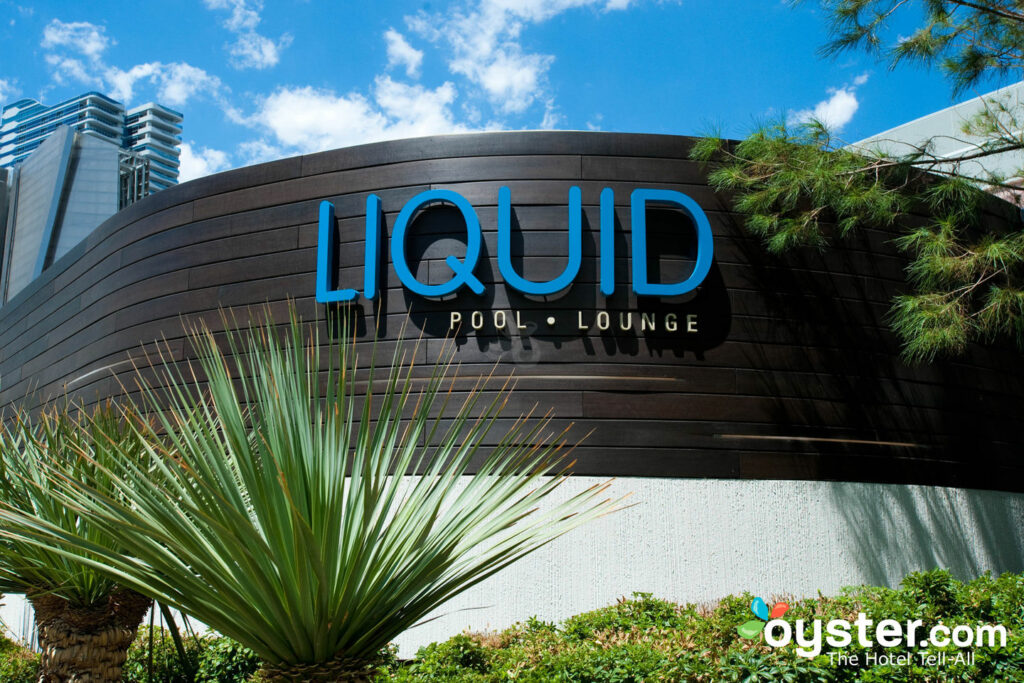 Club music plays at the adjacent Liquid Pool Lounge, a 21-and-over spot with DJs, two pools, private cabanas, and a bar that serves drinks and lunch food. Liquid is typically open Wednesday through Sunday, with a particularly large scene on weekends.
After undergoing a large renovation, the pool complex at Palms Casino Resort is now open. The Palms Resort Pool is open Monday through Thursday from morning until about 6 p.m. Chic blue-and-white daybeds are partially submerged in the pool, while more couches and seating are found around its perimeter. From Friday through Sunday, the 73,000-square-foot space hosts Kaos Dayclub, a pool party spread over a couple pools with a huge 60-foot bronze statue designed by Damien Hurst at its center. It offers a rotating roster of DJs.
"Boutique hotel" and "Vegas Strip" are unlikely bedmates, but The Cromwell beautifully combines the refined style and small size (in this case, 188 rooms) of a boutique hotel with a prime Strip location. The hotel is also notable for its Drai's Beach Club parties, held Friday through Sunday at one of the Strip's only rooftop pool decks. Drai's 25,000 square feet of space can get so thronged with partygoers, it can be hard to even spot one of its eight pools.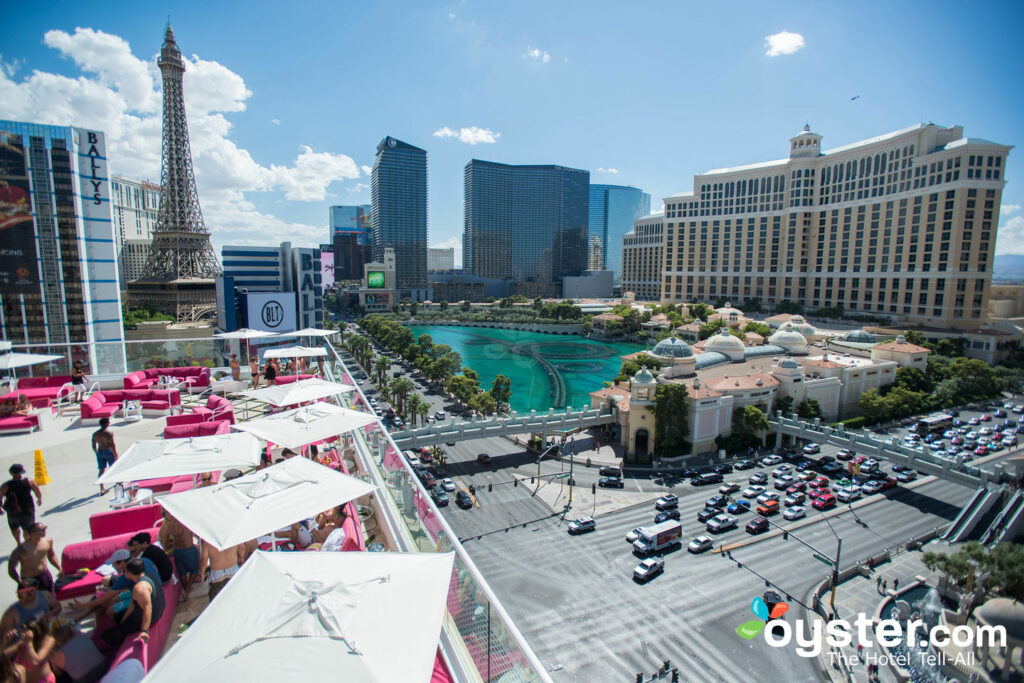 Deep-pocketed visitors can book one of the 15 second-floor cabanas that have stunning panoramic views of the Bellagio fountains. But there are knock-out Strip views (and unblocked sunshine) throughout the rooftop club, which also has a DJ booth with LED screens and two bars. Guests of the hotel or other Caesars Entertainment properties gain free access before a certain time. Some events are also held on weekdays.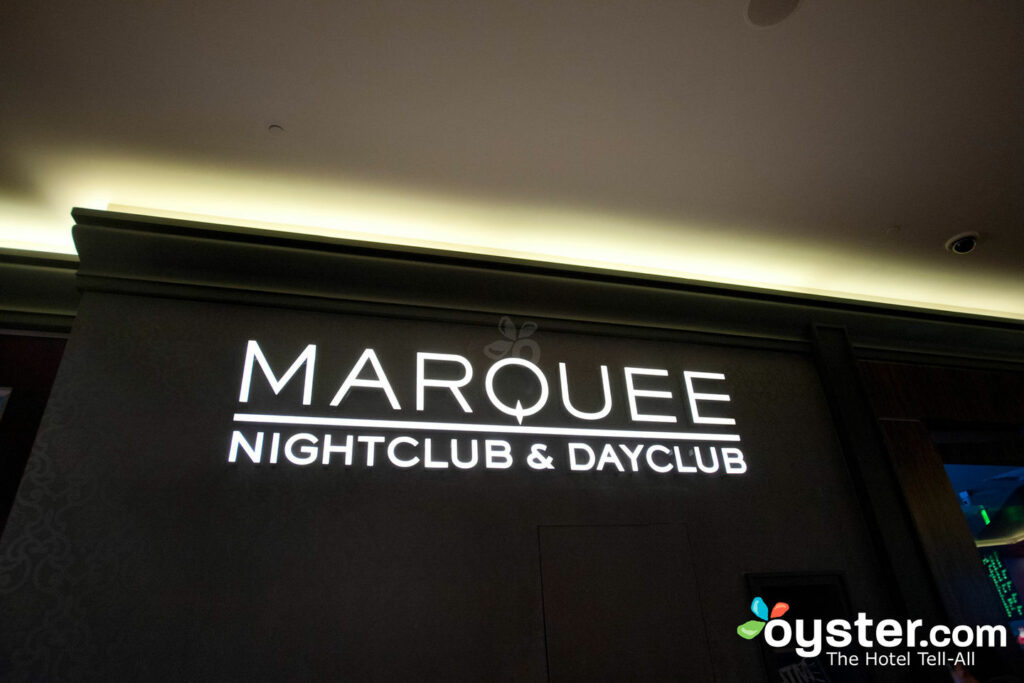 There are three distinct pools found at the trendy Cosmopolitan. Two feature soft music and sedate vibes, while the third — the 22,000-square-foot Marquee Dayclub pool — is part pool, part powerhouse club. Entrance to this rooftop venue is technically free, but there are fees to use the loungers and cabanas (which have private glass-edge infinity pools). With two bars, a gaming section, and DJs spinning high-energy dance music, this decadent daytime bash rages until dusk seven days a week in the summer.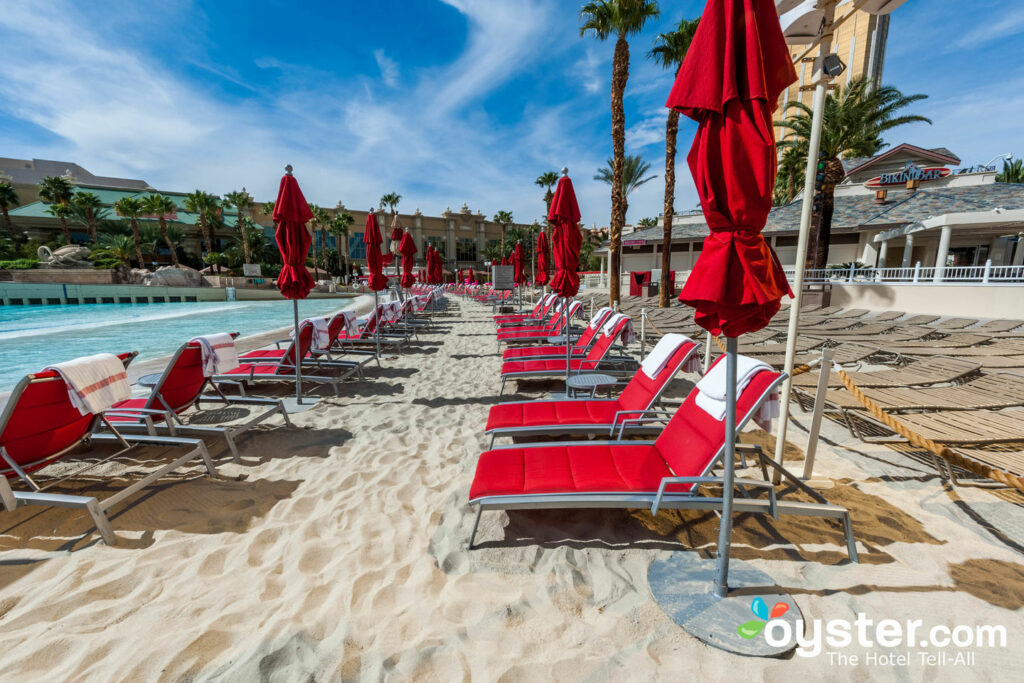 Mandalay Bay Beach — this hotel's enormous pool complex with an open-air bar and a small casino — is pretty incredible. But even with four pools and 2,700 tons of sand across 11 acres, it still manages to get crowded, as guests at the connected Delano Las Vegas and Four Seasons both have shared access to the pools here. The wave pool (the only one on the Strip) is clearly the kid favorite, though the lazy river winding under waterfalls is a close contender. A rowdy topless-optional pool party can be found at the 21-and-up-only Moorea Beach Club pool, which requires a cover charge to enter. But the party here doesn't quite have the same appeal as Wet Republic. Daylight Beach Club, open Thursday through Sunday, aims to compete with those infamous debaucheries with its roster of electro house DJs.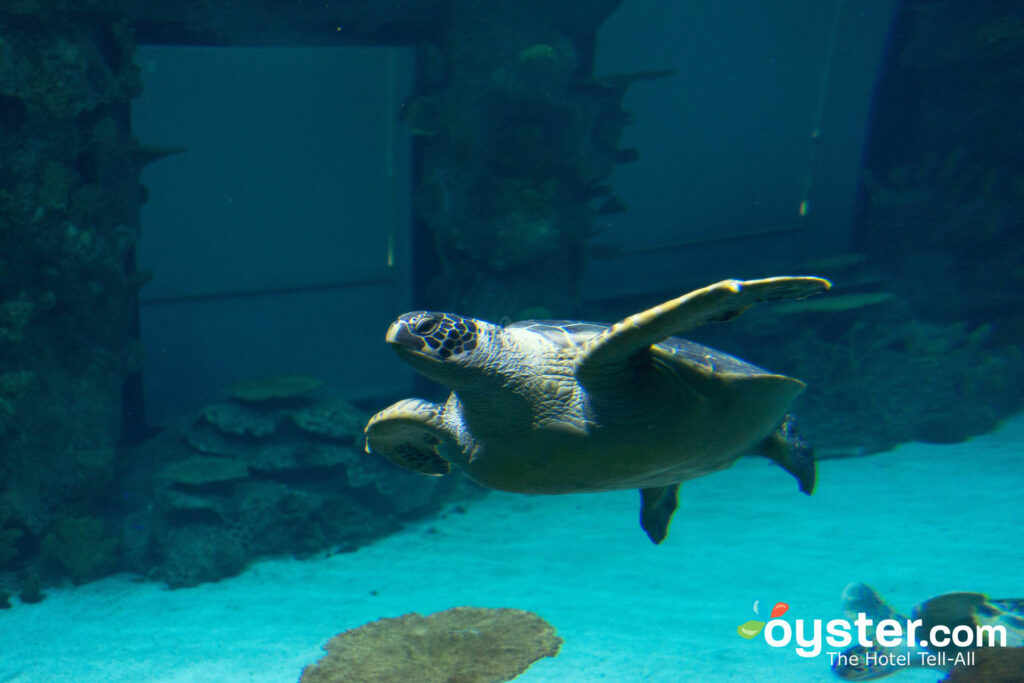 With 1.3 million gallons, Mandalay's Shark Reef Aquarium is one of the largest tanks in North America. Here, guests can try to spot the 100-odd marine species, including sea turtles, rays, and more than a dozen different species of sharks.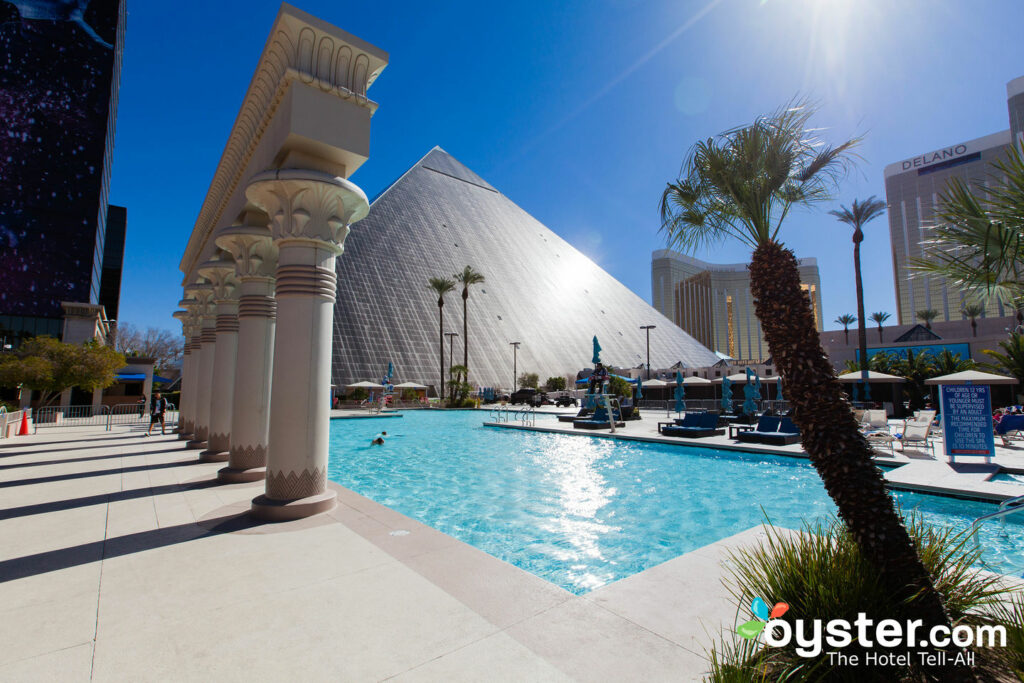 The Luxor's four pools sit on a 125,000-square-foot pool deck. That's a lot of real estate, but with tan concrete decks, standard plastic lounge chairs, and only a few scattered palms, the area is definitely more Egyptian desert than oasis. One nice feature: The massive main pool sports cement islands, where guests sun themselves or deposit beer bottles. A team of attentive cocktail servers bring drinks from the Oasis Pool Bar. Guests have to pay for anything else that enhances the pool experience, like the rentable padded lounge chairs, daybeds, and cabanas (all come with bottled water and rafts). A major draw here is the gay-friendly, seasonal Temptation Sundays party thrown at the North Pool; for a small fee, guests can enjoy drink specials, DJ music, and go-go dancing.
You'll Also Like:
All products are independently selected by our writers and editors. If you buy something through our links, Oyster may earn an affiliate commission.