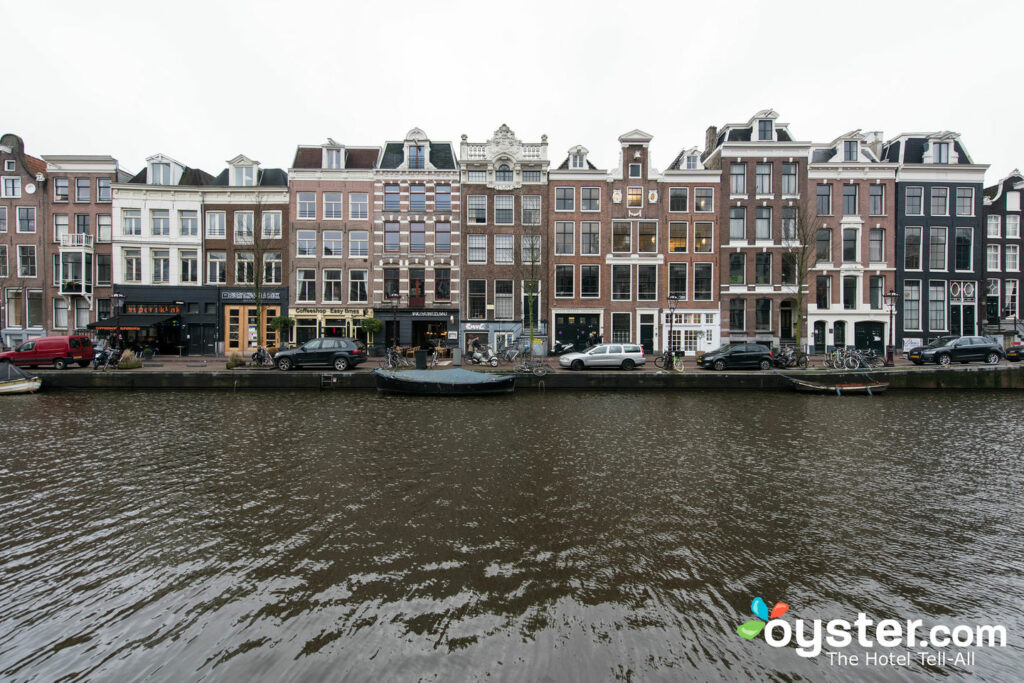 Whether it's a tiny boutique hotel with a cozy fireplace or a plush property edging the Red Light District, a canal-side stay is quintessential Amsterdam. These eight awesome options might differ in style and amenities, but each one offers charming views of one of the city's most famed features. Spoiler alert: Many of our picks are located in the Canal Ring, a system of connected waterways that earned UNESCO World Heritage list status in 2010. Now more than 400 years old, the loop encircles the medieval center of the city, with action centering around the Prinsengracht, Keizersgracht, Herengracht, and Singel canals.
Situated on the Prinsengracht canal — the longest and perhaps most picturesque of the city's main canals — Hotel Seven one Seven is an upscale boutique hotel with just nine rooms. This cozy property occupies a carefully restored, 19th-century canal house that has the feel of a wealthy residence. Historic details, like crown molding, combine with an eclectic array of artwork for an elegantly lived-in vibe. Two suites offer canal views, while rooms (named for artists, writers, and composers such as Tolkien and Liszt) have lounge space and period antiques, plus minibars and rainfall showerheads. A free Dutch-style breakfast, with hot dishes on request, is served in the elegant breakfast room or out on the maple tree-shaded courtyard patio in the summer. While there aren't too many amenities here, little perks do add up. For instance, during Amsterdam's chilly winter months, guests can curl up with a book in the cozy library, complete with a fireplace and hardwood floors.
The 177-room Sofitel Legend the Grand Amsterdam is a luxury property with a twist: its historic building was a convent in the 15th century. Today, it sits at the fringe of the city's famed Red Light District. Conveniently located in the heart of the Old Center, the hotel is within walking distance of popular sights like Dam Square and the Canal Ring neighborhood. Inside, the library is decked out with rich velvet seating and a fireplace, while a lush two-floor spa features a heated indoor pool with a jet stream. There's more space for quiet unwinding, over afternoon tea or modern bistro fare, in the tucked-away courtyard garden. A raw bar, high-end French-Dutch restaurant, and cigar lounge round out the impressive dining options. Rooms are modern yet warm, thanks to playful design touches, Nespresso machines, and ceiling-mounted rainfall showers. Suites, some of which occupy historic canal houses, can feature kitchenettes, private hammams, and butler service.
For architecture buffs and travelers who appreciate history, the Grand Hotel Amrath Amsterdam hits the mark. Constructed in 1912 as an office for shipping companies, the massive, Art Nouveau-inspired building is now a historic landmark and upscale hotel in the Old Center, between the Waalseilandsgracht canal and the eastern docks of the harbor. Original details throughout the building include elaborate woodwork and stained glass windows with maritime symbols, while the 165 rooms showcase soaring ceilings and a colorful blend of pattern and texture. Free minibars are a nice perk and the hotel also serves traditional high tea in a bar and lounge overlooking the canal. Another fun twist: so-called "walking dinners," which serves each course in a different space, from the rooftop terrace to the wine cellar (for a fee). Other amenities include an indoor pool and small spa where guests can unwind after making use of the hotel's bike and Vespa rentals.
This luxury Canal Loop property offers direct views of the waterway from most of its 225 rooms, which extend throughout 25 restored historic buildings. Other rooms overlook a leafy garden in the hotel's central courtyard, which finished renovations in August 2016. Bose speakers, stocked minibars, and weathered-brick accent walls enhance rooms that feel young and modern. Families are also well cared for with split-level, four-person rooms and nice touches like free stroopwaffels for kids. Along with a terrace that's surrounded by pretty canal houses, the Hotel Pulitzer features a handsome bar that offers classic cocktails with canal views. Meanwhile, Restaurant Jansz is a stylish and warm setting for international cuisine with a subtle Dutch spin.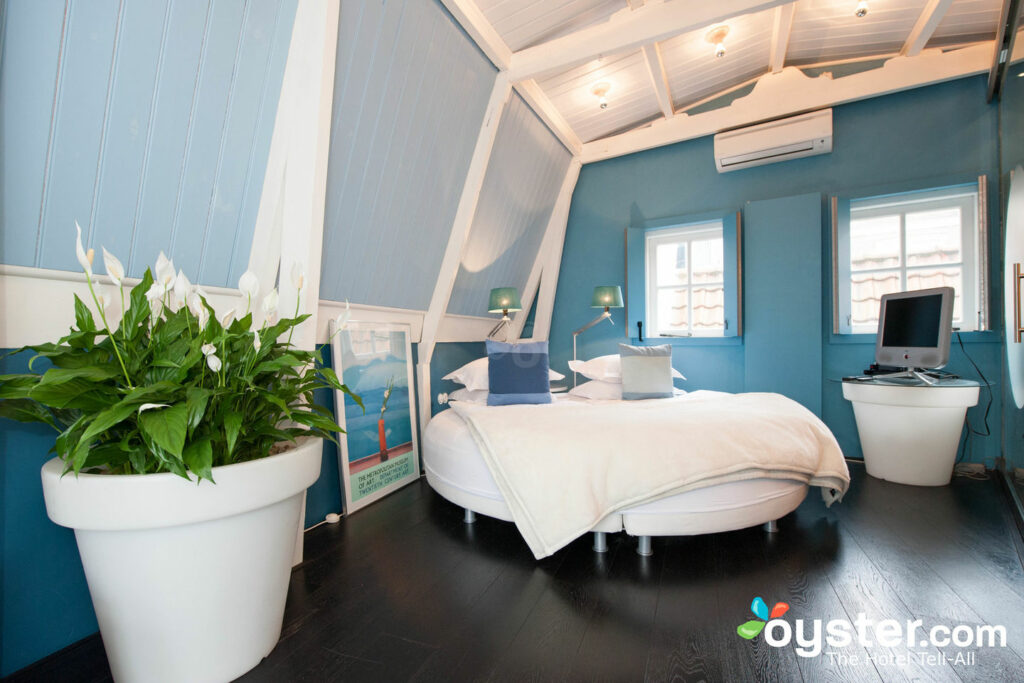 With a Canal Ring setting, iMac-equipped guest rooms, and five-course champagne breakfasts, the Boutique B&B Kamer01 is a standout luxury property. There are only three rooms inside this renovated 16th-century townhouse, which is tucked against the Singel canal. Each room is individually — and impeccably — decorated with Le Corbusier sofas, glass work tables, and marble bathrooms with Philippe Starck-designed toilets. Rooms are also stocked with DVD libraries and stacks of design magazines (the rooftop terrace is a fine spot for summertime reading) and a stroll around the house reveals 18th-century wallpaper and a 16th-century spiral staircase. To top it off, guests can even help themselves to free drinks and snacks throughout the day.
Located in Amsterdam's Canal Ring district, the Canal House is a 23-room luxury property with a dark and romantic vibe. The black-painted brick facade, which looms above a canal, hints at what's to come: a decadent lobby where gilded accents and black walls fuse with purple chairs and silver lamps. A similar look, amped up with a purple carpet, defines the Great Room and bar, which hosts art exhibits and serves snacks and drinks throughout the day. This small boutique hotel lacks amenities, like a gym or spa, instead focusing on the spacious guest rooms. Along with Bose iPod docks and Blu-ray players, rooms offer minibars with locally-sourced snacks. The rooms' open layouts, individualized artwork, and opulent mix of fabrics — leather, silk, and velvet — also set them apart. Free breakfast is served and there's an elegant back garden for warm-weather lounging.
The Toren is an upscale, romantic boutique hotel with an intriguing past as a safe house during WWII. Purchased by its namesake family in 1968, the 38-room property sits in the peaceful Jordaan district, just a short walk from the Anne Frank House. The neighborhood is filled with quintessential Amsterdam scenery: street-level canals, cobblestone roads, and 17th-century grand canal houses. The hotel itself occupies two such houses overlooking the Keizersgracht canal, but is decidedly modern inside. Decor is flashy and ornate, characterized by velvet furniture, bright-red walls, chandeliers dripping in crystals, and elaborately-carved ceilings. Rooms are spacious and opulent with plush fabrics and flock-patterned details along with private terraces and jetted tubs in some. Breakfast is pricey, but tasty, and the bar serves light snacks and sandwiches during lunch and dinner hours. The back garden, which is outfitted in black-and-white patio furniture, is great for cocktails on warmer evenings.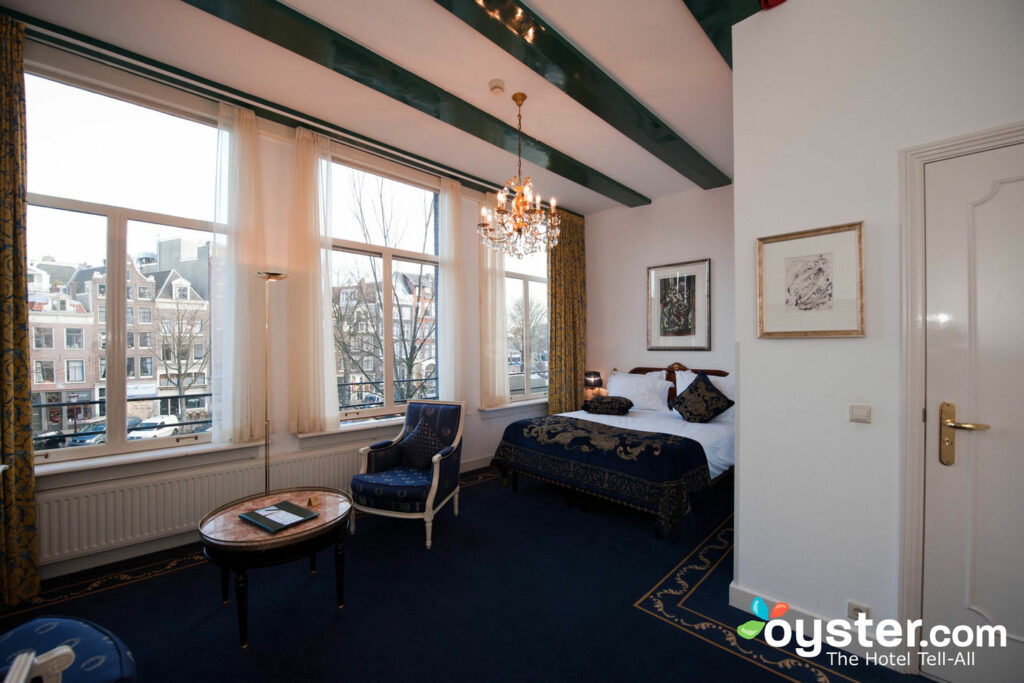 Classy and traditional, the Ambassade Hotel includes a series of 17th-century buildings along the Herengracht and Singel canals. The buildings connect to one another via short staircases and landings, while the interior decor includes antiques (such as the lobby's 18th-century ball-leg table) and modern artwork from the Cobra and Amsterdam Impressionism movements. The impressive Library Bar specializes in whiskeys and features signed books from past author guests. Guests can also opt for the extensive breakfast with traditional Dutch pancakes served in a canal-side room or dine on classic French dishes at Brasserie, a modern space with views of the Herengracht. The 58 rooms aren't huge, though are individually decorated, and some have canal views through oversized windows.
Related Stories: